6 Steps To Start Your Own WordPress eLearning Platform
WordPress eLearning platforms are gaining significant popularity due to their ability to meet the growing educational and training needs worldwide. You can judge its significance by the fact that during the COVID-19 outbreak, the world witnessed the rapid shift of the $700 billion higher education industry toward e-learning platforms.
"The worldwide eLearning market is expected to be worth $325 Billion by the year 2025" – Forbes
According to experts, the concept of accessible, effective, and flexible education will stay even after the pandemic dies down. Your decision to build an eLearning platform is undoubtedly an appealing opportunity to earn profits by meeting the growing educational needs around the globe.
Apart from education, you can offer such platforms for various individuals like professionals looking for skill development. Today we will help you with a comprehensive guide to creating your eLearning platform using WordPress.
Why LMS Integration is the best option for a WordPress eLearning platform?
WordPress is used widely for blogging, business websites, government websites, and educational institutions. This platform offers you a wide range of applications that can benefit you, especially when looking to build an online learning platform.
The unmatched flexibility of WordPress and easy integrations with LMS help you build a feature-packed WordPress eLearning platform with the ability to generate profits for you. Though you don't need extensive coding knowledge to create your own WordPress Learning management system, hiring WordPress development services will always put you at a great advantage. Check out some advantages you get by choosing WordPress LMS integration services.
A simple and feature-rich admin panel with a user-friendly interface
WordPress is SEO-friendly right out of the box.
The wealth of customization choices with themes and plugins
Subscription-based access to your courses.
A plethora of plugins to improve the overall functionality
How to kickstart offering online courses using WordPress?
Though there are many types of eLearning platforms, Learning Management System WordPress Plugin is the first preference for the people who want to offer online courses for the common masses. Whether you wish to build a free learning platform or want to monetize, LMS can help you accommodate your needs.
Though the selection of the eLearning platform will depend on your requirements, LMS has all the basic functions required for developing, conducting, and hosting online courses. The best thing is that you also have an option to build a Custom WordPress Plugin to facilitate eLearning on your WordPress website.
Before we start discussing the steps for creating a WordPress eLearning platform, let's assume that you want to use a WordPress website for course offering and have already decided on the domain name and hosting plan. We will jump directly to the steps you need to integrate LMS on the WordPress website.
Step 1: Setup WordPress and choose a website theme.
Well, it is the first thing you need to do for creating an eLearning platform using WordPress. Once your website is up and running, the next step will be to install a relevant theme for your website. While there are numerous free and paid themes for WordPress, always choose the theme that behaves well with the plugin. Just do a quick google search and you can find the most suitable themes easily.
Pick a Domain name for your eLearning Platform.
Sign up for a web hosting plan.
Add domain name and hosting to free WordPress software.
Choose a relevant WordPress theme for your website.
At The Brihaspati Infotech, we delivered a project where the client wanted to set up a unique eLearning platform using WordPress. While we do have an option to implement pre-existing themes, any of them were unable to satisfy the expectations. So, we decided to use the Twenty Twenty WordPress theme with custom modifications to match the client's expectations.
Step 2: Choosing the Right LMS Plugin for WordPress eLearning Platform
Once your platform is ready for WordPress LMS integration, it's time to choose the compatible LMS plugin. You have many options, but choosing the tried and tested LMS solutions for your WordPress website will be much wiser. If we start preparing a list, it may take a long time, so let's check out the most dependable LMS plugins for WordPress.
Tutor LMS
Tutor LMS is one of the most popular LMS solutions for WordPress and is powering more than 40000+ eLearning portals. The unique features of this plugin and continuous development by its parent company Themeum make it an unexceptional choice for your eLearning platform. Let's look at some of the features that made it irresistible.
Separate dashboard for students, instructors, and admin
Drag and drop certificate builder and email templates
Quiz Builder feature and ability to create monetization plans.
Student forums and Q/A functionalities for knowledge sharing
Advanced analytics & reports with data-driven insights
LearnDash
It is another great option for people who wish to build an eLearning platform using WordPress. The plugin is already in use by some of the top educational institutes and universities around the globe.
The plugin is equipped with numerous features like tools for content dripping, selling courses, rewarding learners, and activating triggers based on actions. Check out some outstanding features of this LMS Plugin for WordPress below.
A self-hosted LMS with complete control over content and architecture
Extensive functionalities with a broad library, plugins, and add-ons
Fully customizable to match your unique needs and brand values.
Built-in dynamic forums and automated notifications through emails
Template override structure makes Learndash compatible with any theme.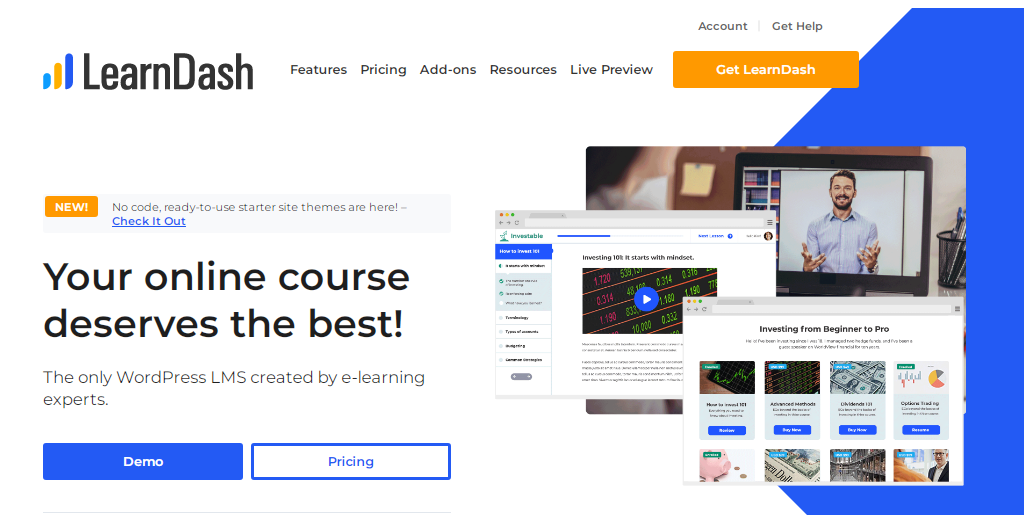 LearnPress
LearnPress is another widely recommended comprehensive LMS plugin to sell online courses using your WordPress website. Opting for this LMS plugin will make creating online courses quick and easy even if you don't have coding knowledge. It is a free yet high-quality plugin that can help you build a fully loaded WordPress-based LMS with utmost ease.
LearnPress is a free plugin with all the necessary features for eLearning.
LearnPress Certificate and LearnPress myCred to gamify learning
Landing page templates for ad linking and details of the courses
It supports all popular payment gateways like Authorise.net and Stripe.
Inbuilt features like random quizzes, paid memberships, and more.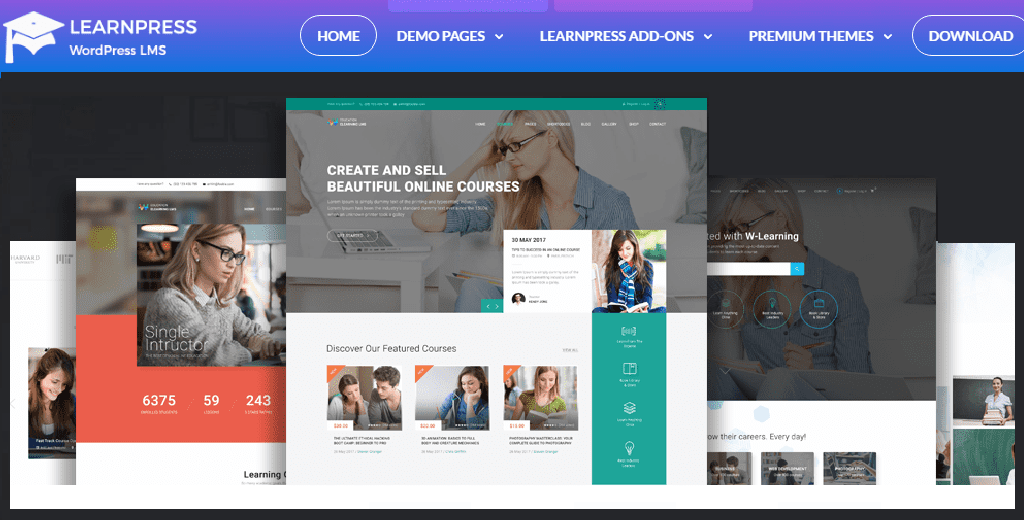 These were the top LMS Plugins that can help you build an outstanding eLearning WordPress website with ease. Though there are a lot more similar plugins available for the WordPress website, you should remain vigilant with the features those plugins offer.
Our team recently delivered a fully-functional eLearning website built using WordPress. Deciding the right plugin was one of the most daunting things, as every LMS plugin seems to be a good choice.
However, after careful study of features, costs, and scalability concerns, we found that Learndash was the best option to satisfy the project requirements. Though we are not against using other plugins, Our WordPress development team found that LearnDash is the easy-to-use and most feature-rich LMS plugin available these days.
If you are unable to find all the required features with a single pre-built Learning Management System WordPress plugin, The Brihaspati Infotech can help you develop a unique LMS solution from scratch. We can help you get features and functionalities from popular LMS software to create a unique plugin to accommodate the requirements of your store.
Step 3 – Installing the LMS plugin to WordPress Website
After deciding on the LMS plugin, now it's time to integrate it into your WordPress website. We are assuming that you have chosen the LearnDash plugin for your eLearning website, however, the process of installing the LMS plugins on your website will remain the same for all LMS extensions available for WordPress. Follow the below steps to add the learning management system WordPress plugin using your WP admin dashboard:-
Navigate to the PLUGINS section and click Add New option
Click Upload Plugin
Browse for and select the .zip file you downloaded
Click install now and activate the plugin
Step 4 – Select the best LMS template.
Even if you have the best LMS plugin in the world, your eLearning platform can't succeed without a template/theme that compliments your business. Once you have chosen the LMS plugin and installed it using the WordPress admin panel, now you need to search for a theme that matches your business logic.
Most of the LMS plugins have some inbuilt themes that accommodate all basic functionalities and requirements of an eLearning platform. The lessons, courses, quizzes, and all that your users are going to access will be powered by these LMS templates.
However, you may find them unsatisfactory for the custom or unique requirements. Hiring a good WordPress development company can solve such issues. We have already helped our clients to tweak the existing templates or create them from scratch to match the client's needs. Check out the customized LMS templates from one of our WordPress LMS Integration projects.
Step 5 – Creating Courses, Lessons, and Quizzes
Once you complete step 4, you can gear up to start creating the courses, lessons, quizzes, and more for your users. Your users will access these courses and lessons in an interactive manner due to the LMS template you added in the previous step. If you are using the LearnDash plugin, creating such stuff is going to be fun for you.
However, other LMS plugins also have convenient options to create and manage courses, lessons, and more for the users. We will recommend you to go for the custom LMS WordPress template as it can add to your brand value by creating a unique and memorable experience for the users.
So let's check out how you get started with courses and lessons on your website. We will try to explain these steps by taking LearnDash as an example. Different LMS plugins may have different ways of creating courses, lessons, and Quizzes, but it's not hard to figure out as they all have easy options for admins.
Setting up a LearnDash Course
Courses refer to the container that holds all the lessons on your eLearning platform. To add the courses, you need to follow the below steps:-
Go to the course tab within the sub-menu of LearnDash and click new.
Enter the Course name and its description.
Head to the course builder using the menu on the course page.
Add lessons and click on the update/publish option.
Setting up a LearnDash Lesson
The actual course content will be delivered through the lessons available on your platform. If you wish to add a new lesson to existing courses, follow the below steps:-
Visit the LearnDash sub-menu and click on the Lessons option.
Enter the content of the lesson using a new post that opens after step 1.
Publish the lesson after filling in the lesson details.
Setting up a LearnDash Quiz
All popular LMS plugins provide a convenient way for adding quizzes to your online learning platform. Just decide the type of questions you want to add and follow the below steps to get them added to your portal:-
Go to the Quizzes sub-menu and click on the 'Add New' option.
Enter info on your quiz in the form of a title and description.
Hit the publish button, and your quiz will be live in a second.
Step 6 – Adding eCommerce elements to WordPress eLearning Platform
You will never run out of options while finding the LMS plugins for WordPress, but you may face difficulties finding all eCommerce elements in a single plugin. Once you integrate a pre-built LMS plugin or a custom WordPress LMS solution, the next step is to integrate all the necessary eCommerce features to make your eLearning portal successful.
You might be hoping that integrating the WooCommerce plugin can offer a complete commerce solution but unfortunately it too lacks certain features. Recently the WordPress development team at The Brihaspati Infotech got a chance to work on a WordPress LMS platform where the existing LMS templates failed to accommodate all commerce features. Our team worked on enhanced customization to add all desired eCommerce features by tweaking the existing theme and LMS template.
However, we don't restrict your eLearning portals to pre-built templates. If the need arises, we can create such templates from scratch too. Our experts can help you add numerous additional features to leverage the scope for security, scalability, and convenience of your users. Just have a look at some features that should be on your checklist while building your eLearning platform.
Document library, course modules, and video tutorials
Password protection, suitable payment gateways, and voucher option
Course evaluation and certification after course completion
Group chats, notifications, video calls, and student/tutor forums
Uploading/Downloading project assignments with security encryption
Encryptions to prevent the compromise/misuse of website data
Custom reporting tools and technical support for your eLearning portal
Final Words
Investing in your own is undoubtedly a great initiative as the concept of eLearning is here to stay with a handsome number of people joining such platforms for online courses and skill development. Setting up your LMS platform using WordPress is much easier than you might be thinking, so you better capitalize on this shift and start your eLearning portal today.
We hope that now you have better insights for building an eLearning portal using a learning management system WordPress. We know that building a full-fledged eLearning portal can become challenging especially due to the lack of appropriate plugins, and eCommerce elements. Engineers at the Brihaspati Infotech facilitate the continuous evolutions of the eLearning platforms with custom out-of-the-box solutions curated to match your needs.