9 Most Popular Magento Subscription Modules to Boost Your Online Business
The world is witnessing exponential growth in subscription commerce, and it is undoubtedly one of the best models to start your eCommerce journey. At The Brihaspati Infotech, we admire how subscription-based product offerings are shaping eCommerce. It helps the merchant bestow the sustainability of their sales while offering unmatched flexibility that users deserve.
Around 20% of online buyers sign up for subscription services. It is a significant number because we have more than 2 billion online buyers in 2022 – McKinsey & Company.
The merchants can enjoy predictable sales, easy management of inventory, and customer retention by investing in this eCommerce model. If you own a Magento store and wish for subscription-based offerings, then you have landed in the right place. Today we will discuss the best Subscription Membership Module Magento to help you enjoy leap and bound growth for your business.
Reasons behind an unprecedented rise in the Subscription product model
If I take you a few years back, magazines, gym or mobile recharges are the only subscriptions that you might have had. If we talk about the present scenario, subscriptions are everywhere from food, apparel, household items, and even your favorite TV shows.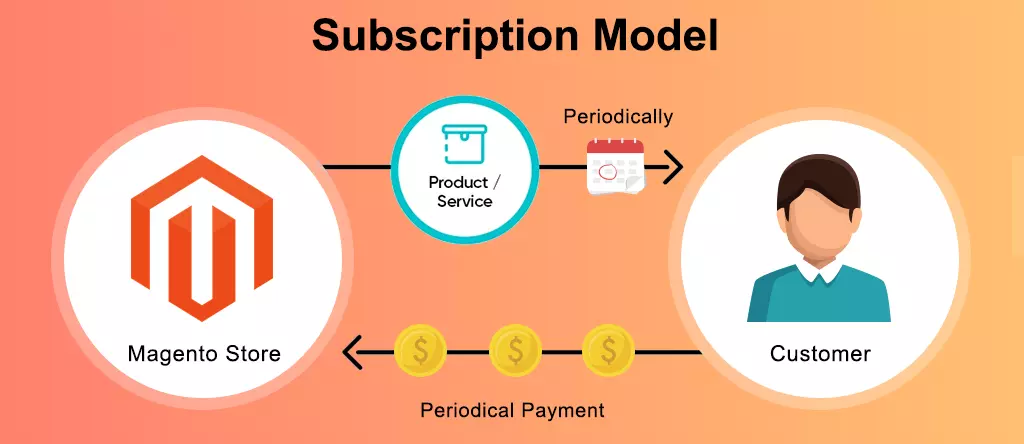 The whole idea behind using the subscription model is to sell the products/services to get recurring revenues while focusing on retaining the existing customers. A model where the customer pays multiple times for your products and services instead of a high single upfront cost will surely win the game for your business. Let's overview some significant benefits of working under a subscription-based business model.
It implies repeat recurring income, thus offering a better return on acquisition spending.
Minimum spend on retention marketing as it includes automatic repurchasing.
It promotes better financial forecasting, therefore, you can predict your revenue stream accurately.
It is easy to anticipate the demand and supply of the products.
Promotes better customer relations as you can customize your offerings.
Magento or Shopify – What should be your preference to sell subscriptions?
We can understand that you might be thinking about why to hire a Magento development company when Shopify is topping the charts for such product offerings. Even a seasoned eCommerce player can struggle with this question. The below points will help you understand why selling subscription products using Magento is a turn-key solution for your business.

Magento is an open-source platform, while Shopify is a hosted platform. Therefore you get complete control of your store by choosing Magento.
Magento lets you manage multiple stores from a single admin while this functionality is still unavailable with default Shopify.
Shopify is a commercial product, while Magento is free to use. However, if you are still a beginner, Shopify will suit you better.
You get better payment processing options with Magento. Shopify imposes the transaction fees unless you use restrictive Shopify Payments.
Unlike Shopify, Magento offers limitless opportunities to make your store unique, provided you have the technical expertise or a Magento developer by your side.
Magento offers enhanced functionalities for shipping, inventory management, and B2B features. It is something that you will not find with Shopify unless you use third-party extensions.
How to implement the subscription product model in Magento 2?
Though the subscription and recurring payment are not present as a default feature, you can achieve it for your Magento 2 store by choosing to hire Magento developer for building Subscription Membership Extension Magento. The first thing you need to consider is the flexibility of the subscription plans. Depending on the level of flexibility, you can take the below approaches for implementing the subscription product model:-
The subscription model managed on the payment gateway side.
Subscription model management at the Magento side
At The Brihaspati Infotech, we have been helping our prestigious clients with custom modules and extensions for Magento for many years. You can get in touch with our team to enjoy unparalleled expertise in building a Subscription Membership Module Magento exclusive to your Magento 2 store.
Though building custom Magento 2 subscription modules is a good idea for your business, it can become a tedious process. You have an option to use the pre-built extensions that facilitate the subscription management, but using an underperforming extension can harm your business.
To ease your efforts in selecting the best Magento recurring payment modules, we present ten of the best Magento subscription management extensions. These pre-built extensions have a proven history of bringing efficiency and thus can become a great tool for the growth of your subscription-based business.
Best Magento Subscription extensions to facilitate Subscription-based offerings
1. Magento Recurring Payment Module by Amasty
If you are looking for an extension that helps you sell the products on a subscription or recurring price model, this extension should be your first choice. It is packed with numerous features like creating multiple subscription plans, thus enabling users to buy subscriptions with regular products on your store. Below are some of the features that make this Magento 2 subscription module one of the best choices for businesses willing to offer subscription-based products.
Annual Pricing – $399 – $699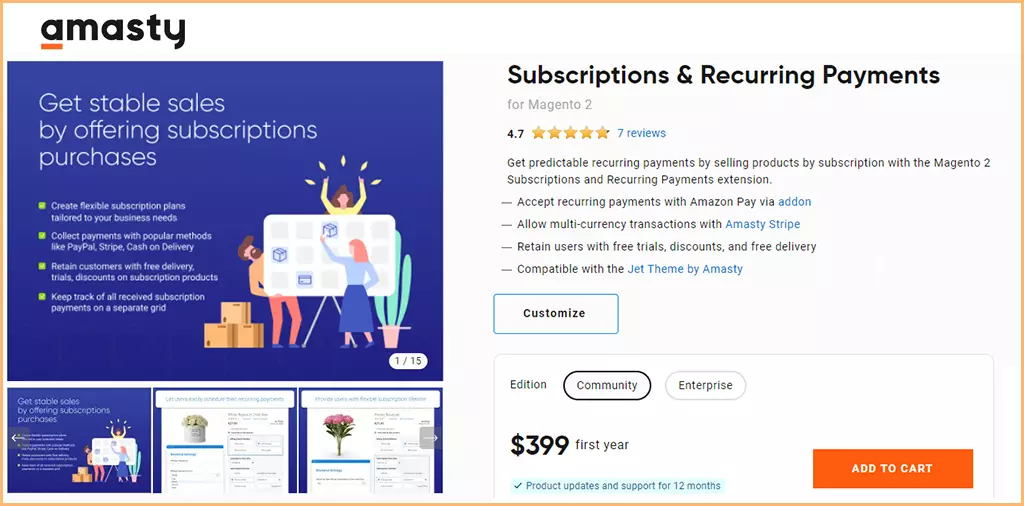 Ability to generate stable cash flow with subscriptions.
Enhanced flexibility for both creating and offering custom subscription plans.
Multiple options to excerpt payments, including PayPal.
Ability to support both recurring and one-time purchases.
Features like free trials and custom promotions to stimulate buying.
Our Review – We found it great because store owners experience drastic improvements in the shopping experience of their store. Despite being one of the most budget-friendly extensions to rely upon, it offers great functionalities with unparalleled support from the Amasty team.
The most admirable feature is the ability to configure subscription settings for each item separately. You can also set individual trial prices, initial fees, and discounts by applying one of the created subscription plans. It is available in Enterprise Edition and Community Edition costing $699 and $399 respectively.
Learn More about Magento Recurring Payment Module by Amasty.
2. Subscription Membership Module Magento by Aheadworks
It is yet another popular Magento subscription extension to facilitate subscription-based commerce using Magento. In addition to allowing you to create multiple subscription plans, it also focuses on detailed product information to mold the user's buying decision. Below are the features that make it an unexceptional module for subscription businesses.
Annual Pricing – $424 – $764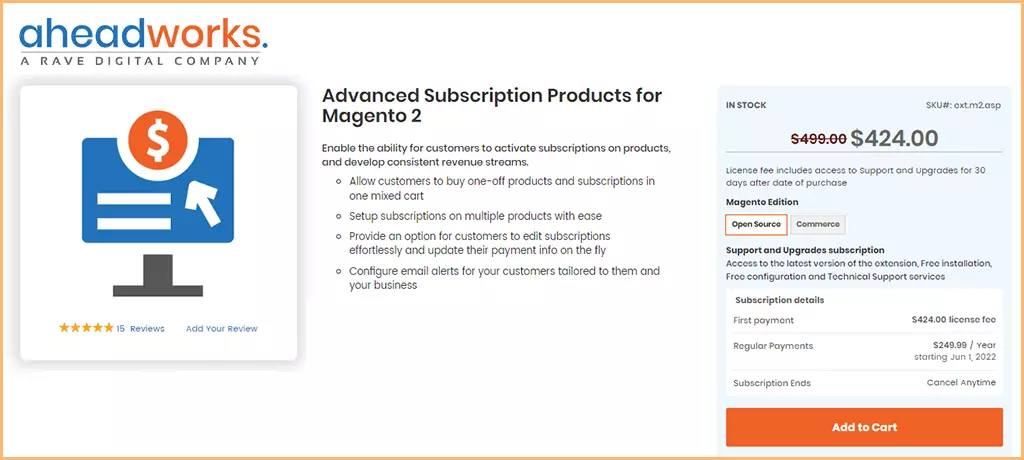 Allows the users to create bundles while buying subscriptions
You can configure the products on a trial basis.
It facilitates mass actions while building subscription products.
A transparent checkout process to build user trust.
Enables check out using popular payment options like PayPal and Stripe.
Our Review – We will recommend this Magento 2 subscription module for every Magento store willing to offer subscription and recurring payment-based products because it has many advanced capabilities. You will find the module pretty convenient as it is compatible with all product types and support multilingual multi-stores.
You can also integrate this module with Reward Points, Web API, and GraphQL support. The extension is available in annual and monthly subscription plans. The price including installation is $429 for the open-source edition and $764 for the community edition.
Learn More about Subscription Membership Module Magento by Aheadworks.
3. Magento 2 Recurring Payment Extension by Magedelight
Apart from facilitating the buying and selling of subscription products, streamlining and easing the purchases is equally vital for your store. If you wish to delight your customers with curated subscription plans, auto-shipments, and security compliances, the Magento 2 subscription modules by Magedelight are indeed a good choice. Below are some of the best features you get with this extension.
Annual Pricing – $399 – $849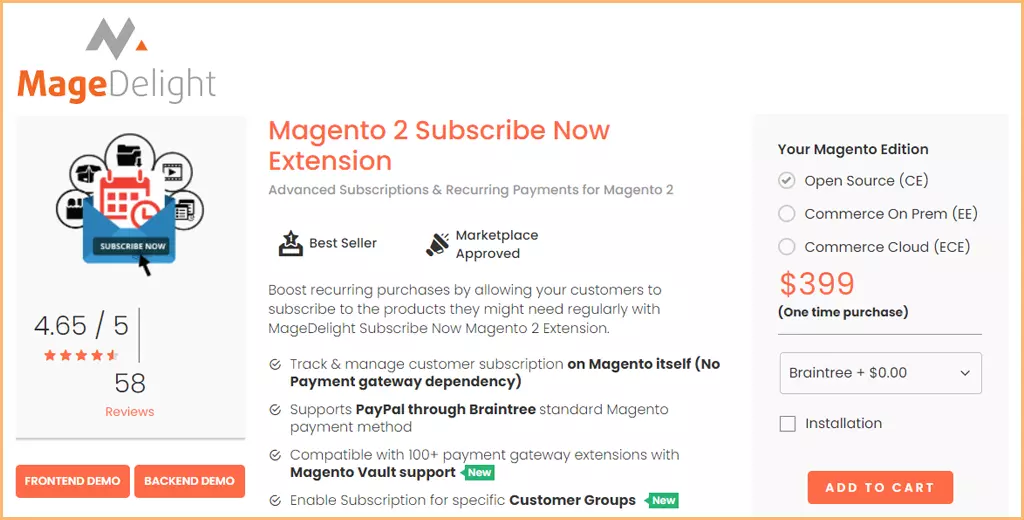 It supports multiple payment gateways thus facilitating purchases
You get a highly secured and PCI-compliant option for Magento stores.
Subscription Membership Extension Magento notifies the failure of any subscription
Instant notifications to users when changes happen with subscriptions.
Seamless options to manage and monitor your subscribable products.
Our Review – It is one of the leading Subscription Membership Module Magento that money can buy these days, therefore we will suggest it for your Magento store. It allows your customers to subscribe to the products with several useful features that ideal Magento 2 subscription modules must-have.
It comes in three editions Open Source (CE), Commerce On-Prem (EE), and Commerce Cloud (ECE) which will cost you around $399, $799, and $849 respectively. You also need to pay a one-time installation fee of $49 to use this extension on your Magento store.
Learn More about Magento 2 Recurring Payment Extension by Magedelight.
4. Adaptive Subscriptions by Paradoxlabs
It is yet another dependable extension to facilitate the buying and selling of subscription products using Magento storefronts. Apart from allowing you to create curated subscription plans to fit different needs, it also enables the users to subscribe to your services as guests. We would recommend this extension for the Magento stores looking for dependable revenues and customer loyalty.
Annual Pricing – $699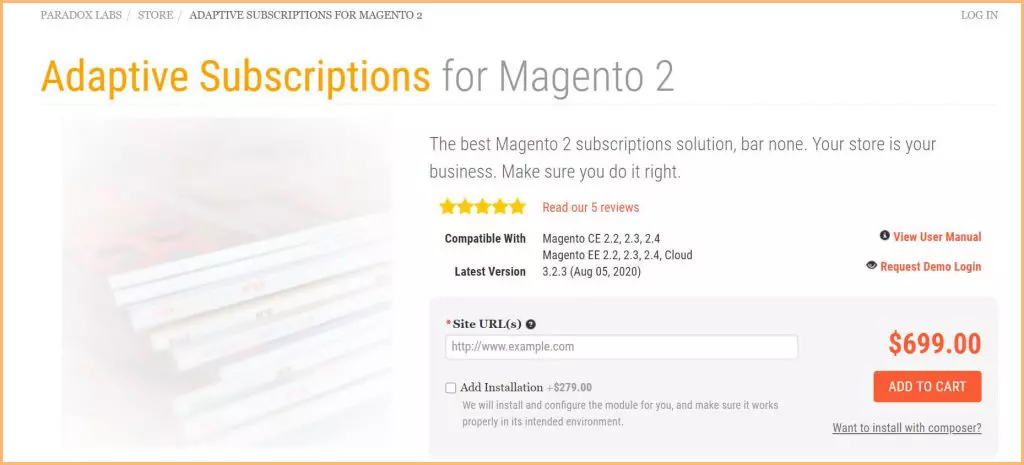 Allows creating subscriptions for guest users.
Facilitate the payments using multiple payment methods.
Customers can easily manage the subscription plans.
Allow you to define pricing for each custom subscription plan.
Facilitates the users to choose the frequency of subscriptions.
Our Review – If you wish to have dependable revenues, Adaptive subscriptions by Paradoxlabs are among the top Magento 2 subscription modules to vouch for in 2022. The extension is the result of years of careful development and modifications by their team, thus offering a one-stop solution to address the needs of the Subscription businesses. The best part of using this Subscription Membership Extension Magento is that there is no ongoing cost, and you can avail lifetime free updates once you buy the license.
Learn more about Adaptive Subscriptions by Paradoxlabs.
5. Recurring and Subscription Payment Module by Milople
Take your subscription services to the next level by integrating the Magento 2 Recurring Payment Extension by Milople. Integrating Milople extension for capabilities like rentals, curated subscription plans, and memberships will surely delight you as a store owner. Let's check out the most admired features of this extension.
Annual Pricing – $259 – $359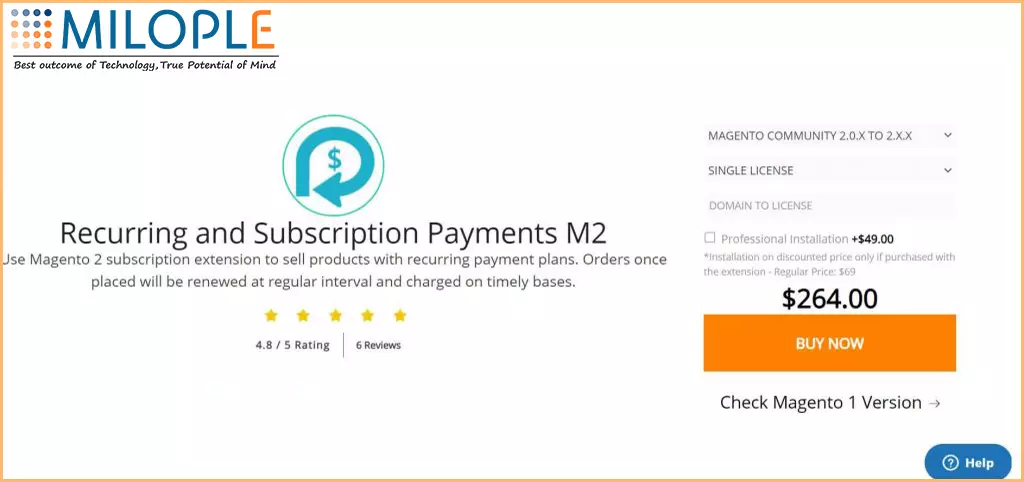 Your buyers can choose subscriptions on both the cart and checkout pages.
It has the capabilities to apply multiple subscription plans to specific items.
Ease to control the subscription plans and terms associated with them.
You can apply discounts on subscriptions for specific user groups.
It allows you to configure the subscription plan at the backend.
Our Review – Magento 2 Subscription Modules by Milople offers some unique features to the admins therefore you can manage your business with added convenience. You can place the subscription orders on behalf of users too. It provides an easy-to-use dashboard, thus offering unique capabilities to brand the subscription plans and customize them for registered, guests or specific customer groups. You can buy two different plans namely Magento community editions and Magento enterprise editions of this extension with pricing of $259 and $359 respectively.
Learn more about the Recurring and Subscription Payment Module by Milople.
6. Magento 2 Recurring Payment Modules by Magenest
This extension is among some of the best Magento 2 Subscription Modules for Magento stores. It lets the customers subscribe and manage the subscription with added ease, thus improving their overall experience while availing of your services. It also allows the customers to cancel, renew and modify their subscriptions using a single dashboard.
Annual Pricing – $299 – $699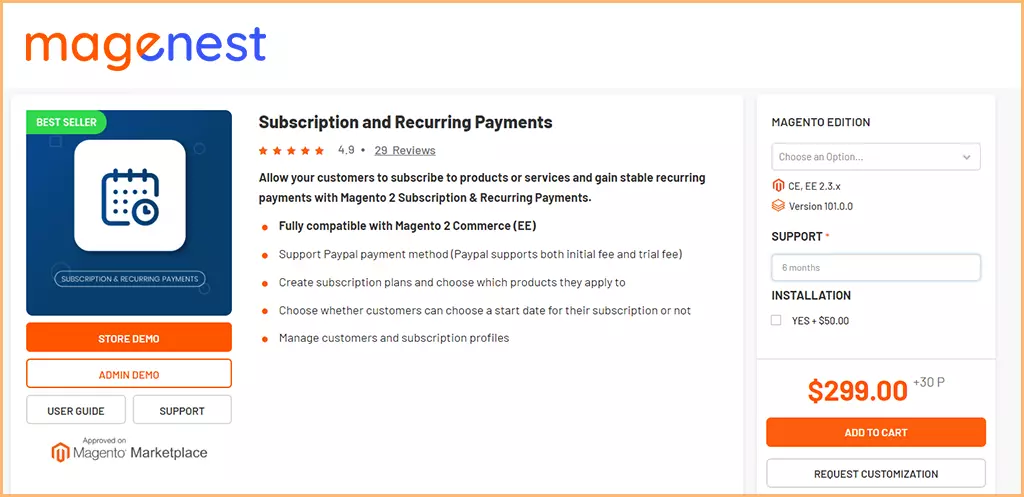 Create and assign the subscription plans to specific products.
Flexibility to choose the start date for the subscription plan.
Offers multiple payment options, including PayPal and COD
Enhanced abilities to manage user and subscription profiles.
Suspend, cancel, and renew your subscription with ease using the account dashboard
Our Review – The experts from our Magento development company found that Subscription Membership Module Magento by Magenest is one of the best options for subscription businesses dealing with simple, virtual, and configurable products. The module offers endless features including the ability to create flexible subscription plans even for individual products in your store, thus it is a good choice for subscription business.
You can create trial plans with a small, nominal fee and a short trial period, which will reduce the risk for customers, thus encouraging them to buy your products. Currently, it is available in open source and commerce editions with pricing of $299 and $699 respectively.
Know more about Magento 2 Recurring Payment Modules by Magenest.
7. Eway Subscription Membership Module Magento by MageComp
It offers a recurring profile for users to facilitate subscription management and payments. If you wish for Magento 2 subscription modules that help you sell subscription products while providing outstanding recurring services, we will suggest this subscription and recurring payment tool by MageComp.
Annual Pricing – $299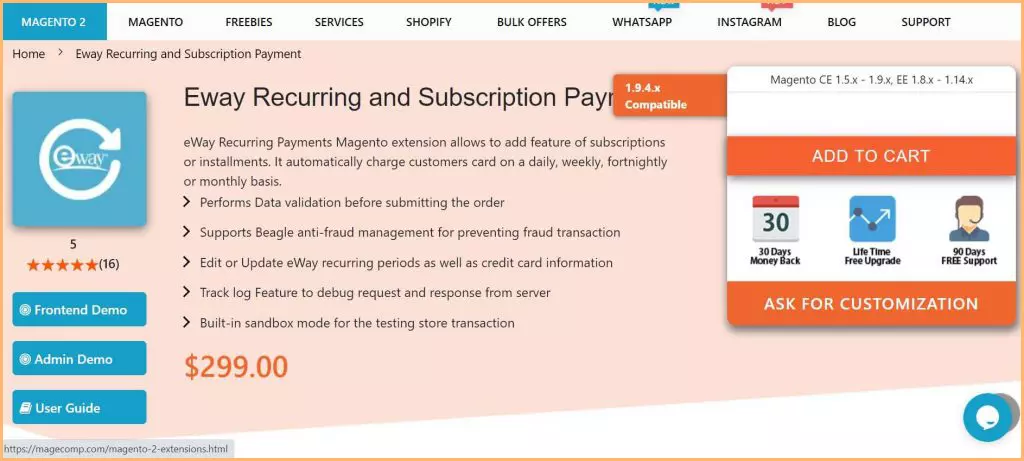 It supports flexible payment periods for curated plans.
The extension supports both ordinary as well as virtual products.
It facilitates the users to recur the payments using PayPal.
Securely submits the order information to the eWay payments.
Creates invoice, submits order information, and send invoice emails.
Sandbox feature to test the transaction before the live transaction
Our Review – We can vouch for the eWay recurring payment extension Magento due to its incredible features to facilitate the eCommerce subscription businesses. We were impressed with unique features like the built-in sandbox for transaction testing, Tracklog feature, Beagle anti-fraud management automatic charge, etc. As per experience, it is one of the best Magento 2 Recurring Payment Modules that you can buy for under $300.
Explore more about Eway Subscription Membership Module Magento by MageComp.
8. mPower Subscription & Recurring Payment Solution
It is yet another native subscription management solution that enables you to leverage the recurring revenue model within your store. This extension offers an intuitive automation option, thus making your subscription business a breeze. The mPower Subscription and Recurring payment extension are designed to keep customers happy and loyal to your store without putting in much effort therefore we will recommend it for your store.
Annual Pricing – $1497 – $4997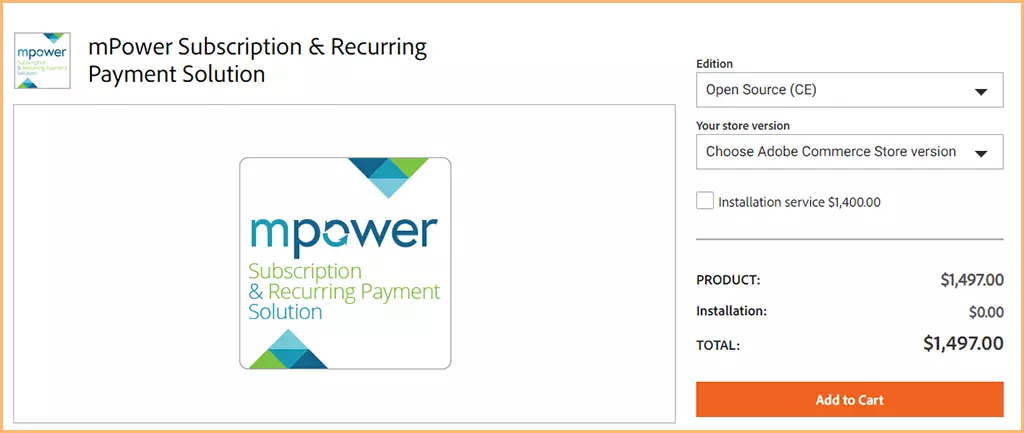 Easily accept recurring payments.
Accepts recurring payments without any hassles.
Dive into precise customer order details and preferences.
Easily modify customer preferences.
Configuration options to accommodate any business model.
Automatic merchant and customer notifications.
Our Review – It is undoubtedly one of the leading Subscription Membership Modules for Magento. It comes with hundreds of features that can expedite the revenues for your online subscription business. The only thing that will make you think twice before choosing is the pricing.
The extension is available in three plans Open Source (CE), Commerce On-Prem (EE), and Commerce Cloud (ECE). The cost for these plans is $1497 and $4997 respectively. Apart from pricing, nothing can beat this extension while choosing Magento 2 Recurring Payment Extension for your store.
Check more about mPower Subscription & Recurring Payment Solution.
9. Subscription Membership Module by Webkul
Our list will probably remain incomplete without mentioning the Magento 2 Recurring Payment Module by Webkul. This Magento 2 Subscription module offers you many advantages over other similar extensions. We will suggest it to any Magento store owner willing to sell products on a subscription-based model. Check some of the most admired features of this Subscription Membership Extension Magento below.
Annual Pricing – $148.50 – $297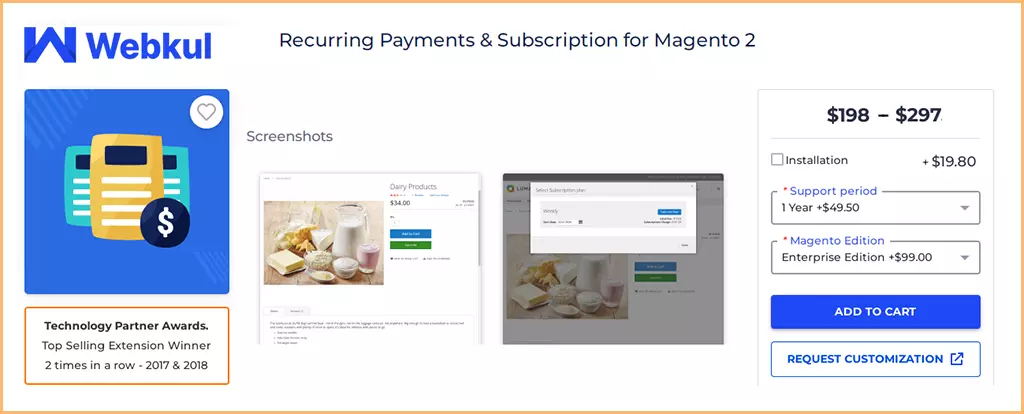 Ease to manage subscription plans with enhanced tracking for recurring payments.
Users can avail of the facility to make recurring payments using both online and offline modes.
Store owners can manage the subscription durations and details in a breeze.
Customers can avail options like PayPal and Stripe for recurring payments.
Our Review – Webkul is one of the reputed sources for Magento extension capable of delivering extraordinary functionalities. While working on this extension we found that it is one of the cheapest yet most effective extensions to facilitate the subscription businesses using Magento stores.
It offers highly advanced options to manage subscriptions, online/offline payments, and online recurring payments using PayPal and Stripe therefore it is a good option indeed. The module can accommodate a wider range of customers beyond month-to-month plans. You can avail of the Community, Enterprise, and Enterprise cloud editions with annual pricing of $168 for the community edition and $ 336 for the other two.
Know more about Subscription Membership Module by Webkul.
Conclusion
These are some popular plugins that you can use for your Magento store dealing with subscription-based products. We know that pre-built solutions often fail to satisfy the unique needs of the store owners, but here is where our skills come into play!
Here at The Brihaspati Infotech, we can customize any of the above extensions to match your unique needs. We offer end-to-end services, thus developing custom Magento 2 Recurring Payment Extension from scratch to provide an exact match for your needs.
We can help you build a unique Magento 2 Subscription module that accommodates your specific requirements. Apart from it, you can also hire Magento developers with us for the following services:-
Custom Magento Web Development
Magento Theme Development From PSD
Responsive Magento Theme Development
Custom Magento Extension Development
Magento Payment and Shipping Integration
Magento Support And Maintenance Services
Get in touch with one of our experts today so that we can work out effective solutions for your Magento stores to expedite user engagement and revenues.
*Prices mentioned in this Blog are subject to changes always refer to the Module's official website for the latest prices. The Brihaspati Infotech doesn't endorse any of these third-party extensions.