Adobe Acquires Magento: Everything There Is To Know
Magento, the E-commerce giant that stood tall for years among its competitors as one of the most complete E-commerce solutions is now acquired by Adobe.
A good part of the Magento community is still not really sure how to react or predict the future repercussions of this acquisition.
To begin with, let's clear up the air by mentioning that what transpired on May 22nd was just an announcement of the acquisition which would gradually be implemented over the course of next 6 months. Hence, for now, we can only do an in the moment analysis to figure out what this acquisition could mean for the Magento community in the time to come.
So let's begin.
Why Adobe acquires Magento?
The $1.68 billion investment to purchase Magento was done so Adobe can compete effectively with its competitors like Salesforce and SAP. While both Salesforce and SAP already are way ahead than Adobe – having acquired Demandware and Hybris respectively, Adobe will certainly get a major boost by acquiring the community-driven open source Magento.
For those not much aware of Adobe's offerings, Adobe has been providing "digital experiences" across three cloud platforms:
Adobe Experience Cloud
Adobe Creative Cloud
Adobe Document Cloud
With the inclusion of Magento, Adobe might have just found the missing piece to complete their Experience Cloud which currently offers analytics, advertising, and marketing tools. Adding Magento to this list of services can give it's competitors a run for their money.
What Adobe's acquisition means for Magento?
For starters, Magento has been acquired multiple times in the past as well. It's earlier acquisitions includes:
2014 – Acquisition by eBay for $180M
2015 – Acquisition by Permira
2017 – Hillhouse became the single largest shareholder by investing $250M
This time around a lot more money is poured in and Adobe is one of the largest software development company which has acquired Magento yet. Additionally, Adobe's target audience has always been Enterprise grade customers, whereas Magento generates their fair share of leads from Small to Medium size businesses. Not to forget, the open source Magento CE is one of the most used E-commerce platform ever.
This certainly raises some questions when it comes to the future of Magento with Adobe. The expert Magento developers at The Brihaspati Infotech has been keeping a close eye on this acquisition. Based on our analysis, we try to answer few questions that have been asked the most by the Magento community since this acquisition took place.
Will Magento CE still be relevant?
This is probably one of the most debated topics since the acquisition, and rightly so. With a major part of the community favoring the open source Magento community edition, nullifying the community version can be a really scary thought.
On top of that, Adobe's track record with open source software and preferences towards enterprise clients could just make the nightmares come true.

Our analysis:
We still believe that the Open Source version will not be nullified. Magento invested heavily in building their Magento community – most credits to Magento CE and the development community that has built themes and extensions to match virtually every possible need. Not just that, Magento has even partnered with different service providers like Page Builder, BlueFoot, Amazon Pay, since the last 12 to 9 months.
Moves such as these might just be an indicator that Magento was simply getting ready for the Adobe acquisition and their cloud.
To bolster our beliefs further, Matt Asay, Head of Developer Ecosystem for @Adobe clarified in his blog and a twitter post that – "The point is: open source, and open development, is in our DNA."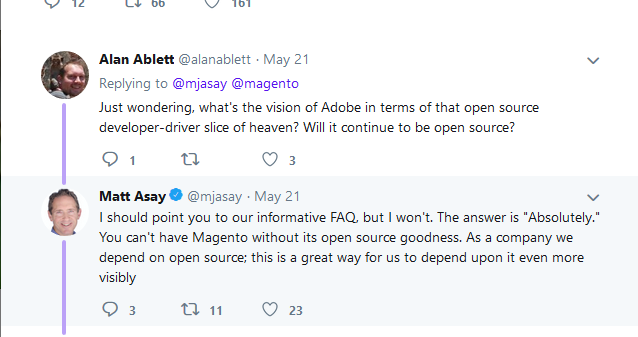 Will Adobe change Magento's brand name?
With Magento going to the cloud under the "Adobe Experience" banner, there are questions regarding whether Magento will still be "Magento", or will have a name change — "Adobe Commerce" does have a nice ring to it.
Our Analysis:
A name change is certainly on the cards. Magento has experience of working under changing management since their inception. On the other hand, Adobe has been famous to monetize their products and services. This includes branding and marketing them. Don't be surprised if Adobe re-brands "Magento" in order to make it an integral part of it's cloud services.
Will Magento Enterprise still be relevant?
Amid all the questions about the future of Magento community, there are concerns about Magento Enterprise as well. Magento supports some big names like Coca-Cola, Accent Group, JCB and others with their Enterprise version.
Our Analysis:
It seems impossible that Adobe will restructure the Magento Enterprise edition features completely. On the contrary, we believe that support and advancements in features for both Magento Enterprise and Magento community will become more rapid. Adobe will look to integrate their existing cloud services with Magento (maybe as package based add-ons) as Magento goes to the cloud.
Will there be a change of faces in Magento management?
Throughout Magento's past acquisitions, there haven't been any major reshuffle in management for Magento. It could be one of the many reasons for Magento's success.
Our Analysis:
Over the years, Magento's ever-growing community has established a certain faith in the team that has been running Magento so far and re-building the management isn't even a question. In his blog about Adobe acquiring Magento, Brad Rencher, Executive Vice President, and General Manager, Digital Experience, Adobe, said, "Magento CEO, Mark Lavelle, will continue to lead the Magento team as part of Adobe's Digital Experience business, reporting to me."
Bottomline
It's true that Adobe hasn't always preferred open source development at large. However, with the Magento acquisition, there certainly seems to be a change in trend. While some see this acquisition as the end of an era for Magento CE, we at The Brihaspati Infotech look at it as a huge vote of confidence in Magento by a massive software company/ecosystem which is Adobe.
Change is inevitable in this industry and huge acquisitions like these always come up with some surprises down the line, however, it is up to us for embracing the change and remaining the community that we have been over the past years.