Leveraging Artificial Intelligence (AI) in Magento eCommerce Store
Today, the retail industry primarily uses artificial intelligence (AI) applications to perform discrete internal business processes such as customer intelligence, supply chain management, and so on. We can see it in our daily interactions with favorite retail brands like Amazon or Apple.
Undoubtedly, the rapid development of AI-powered tools and techniques is leading towards an era of new retail at a global level. Currently, several Fortune 500 retail companies are adopting AI to cope up with the dynamicity of the marketplace. While some are succeeding with voice commerce, the others are opting for supply chain upgrades for better positioning in future retail.
The global marketplace for AI (Artificial Intelligence)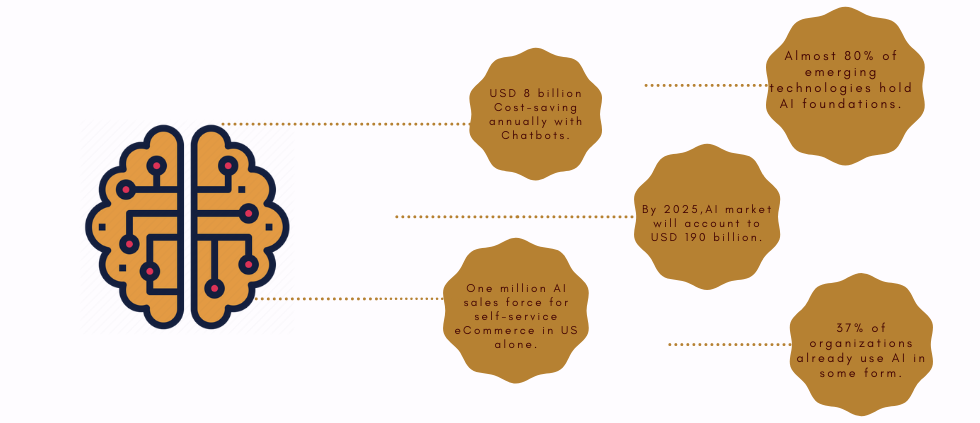 This infographic is quite appealing for all the retailers. Not only it explores the spread of AI in the near future but it also digs upon benefits of AI intervention in different areas of the retail industry. For instance, Chatbot instead of human assistance in customer service is saving a huge amount of cost for hiring personnel, especially for the ones with huge web traffic.
Moreover, multiple emerging technologies revolving like AR, Image/facial recognition, cloud computing, etc. also hold an AI foundation. Therefore, it will not be wrong to state that many successful retail companies are at a higher risk of disappearing if they will not adapt to the shifting retail trends online.
We are in 2020 and AI-based retail solutions still hold plenty of room to grow. However, we can get an idea from some real-world AI applications that have already proven its business value and can definitely help the retail business grow.
Artificial Intelligence in Magento eCommerce Strategy
Magento eCommerce is very popular amongst retailers, serving in different industries, due to its cutting-edge features and technology behind. Moreover, it is the most scalable web platform due to which it is often preferred to set up a business online.
Talking about artificial intelligence in Magento 2, the scope is huge. Ranging from customer service to payments, to advertisement, to finalizing the future business strategies, AI applications for Magento powered retail stores can be implemented in any area.
In general, if we categorize an eCommerce setup, it consists of two phases, i.e., operations and consumption. And, each phase plays an important role in your business success. Here, I will take you through a brief explanation of each phase, in the following part of the article, with possible AI applications in detail. Let's start!
'Operations', AI applications for Magento Retailers
The business operations are the defining factor for a successful Magento eCommerce. It involves four terms- marketing, order logistics & fulfillment, shipping, and inventory management. After setting up a Magento store, there comes the need of promoting it and further, order monitoring.
Below are some real-time use cases, where AI applications for Magento do the job for you:
Automated inventory management: For large Magento eCommerce stores, managing warehousing, inventory monitoring, and establishing a smooth flow of products or items turn out to be quite challenging. If the merchants start to use conventional methods and to keep the tracks manually, the operational costs can go up. Moreover, the size of the books will grow insanely.
Not only storing and delivering the products but inventory management also deals with the demand predictions, planning, and modeling of products. Here, AI solutions can provide massive support to Magento sites, too in multiple ways. No matter what size of inventory you hold, AI is sufficient for the best use cases.
As artificial intelligence can store, analyze, and provide useful insights on customer behavior patterns that can be taken into account different aspects influencing the demand. The artificial intelligence prowess can analyze over 50 elements in regards to products and user preferences that contribute to successful stocking, planning, and scheduling product deliveries. Additionally, you can automate the product restocking, thereby, increase the efficiency in delivering.
Advertisement: Whether offline or online, marketing or advertisement is the soul of a business. When we consider eCommerce, artificial intelligence (AI) and automation make personalized marketing and chatbots (as sales agents) possible.
By reducing tedious work patterns including collecting user feedback, reading and analyzing, etc. artificial intelligence brings automated and personalized marketing standards. Moreover, AI brings you the prowess of predictive analysis with which you can predict customer behavior to apply the most suitable marketing model for desired outcomes.
To achieve more accuracy in marketing, there is always a scope of building AI-powered software for marketing optimization in Magento eCommerce. Doing so will allow you to simplify the whole marketing process.
'Consumption', AI applications for users

In eCommerce, every touchpoint where the retailers expect user involvement and actions is linked to consumption end. For instance, when a visitor lands on your Magento store, the web design and content that you have offered is a consumption element. Similarly, the consumers performing different actions on your website fall under the same, i.e., consumption.
Below are some of those consumption areas where AI use cases are highly fruitious for the eCommerce vendors.
Product try-ons: The online stores that utilize AI prowess are no less than physical storefronts when it comes to try-on products. Just like a showroom, customers can choose a product and try it virtually to see the look in real-time.
One fine example of a retail brand is 'Lenskart' that has accelerated its sales and revenues with a 3D try-on, backed up by AI. Similarly, if you deal with a product line that needs to be tried and tested before purchase, you can also undergo AI app development for Magento that allows the consumers to try-on products.
Customer assistance: For almost every online retailer, customer-experience has always been a topmost priority. Additively, a burgeoning impact of cut-throat competition amongst retailers has made it an obligation to provide outstanding customer service on their websites.
Chatbots, another boon of artificial intelligence, help in this area with automation in multiple responses while communicating with consumers. Behind these, concepts like NLP and ML are utilized to find out the accurate answers to user queries.
With AI applications in Magento, you can bring a 'hybrid customer service environment' that can easily take care of essential customer handling tasks to an extent.
A perfect example of this is Amazon's chatbot that doesn't only chat with the user but it also recommends products based on user's past purchases and a lot more. Let's have a glimpse of it below:-
One important benefit involves here is increased customer engagement as you can answer consumer's queries instantly while suggesting products as well. However, customers might know that they are communicating. But, a 24X7 assistance is well-appreciated by consumers, plus it puts your work at ease.
Here users do not need to look here and there to perform different activities.
Integrating AI-powered chatbots in Magento can be done easily while hiring Magento developers for custom development. Yes, you can tailor your chatbot to perform the activities that you want.
Shopping recommendation: Many times people lose interest in your website after spending a few minutes on it- they may not find any relevant or preferred service/products that they like. And, some other retailers aim to bombard all consumers with product recommendations relevant to their interest.
And, many pieces of research conducted on the same have found that personal recommendations got higher chances of customer retention as well as engaging UX. Here, Artificial Intelligence has a huge role to play while bridging the gap between consumers and retailers.
Product search: One perfect sales tool for your Magento store is a product search by a visitor or an existing customer. Any improvement in this area of consumption can lead you towards great benefits.
AI offers you the privilege of building your own visual recognition model that can address the needs of potential consumers on the Magento store while looking for any product or service. The similar AI advancements have already given a competitive edge to several retail giants like Amazon and Google.
Not only large Magento enterprises but this methodology can also be implemented for SMEs or startups.
With a visual product search on your Magento store, you can tag, organize, and search content automatically by simply utilizing the image or video's labeling features.
Well, these above-listed AI advancements in any retail business online can work wonders. As I said earlier, there is a lot more to come in the near future from Artificial Intelligence that will serve the best from the better. So, all we need to do is to keep an eye on the current trending AI-powered solutions along with the future hold.
FINAL WORDS
Artificial intelligence has introduced a whole new way of advanced online retailing. Unlike traditional analytics for data-driven retail industries, AI-driven tools and software, with new levels of data processing, are leading to profound business insights.
Over the past few years, a real-time implementation of AI applications in retail has splurged immensely. Several retail giants like Amazon and others are leveraging artificial intelligence greatly to work in their favor.
And, if you are also one of those aspiring retailers who wish to expand with AI for Magento development, contact our team of experts as we can help you with the best-suited and tailor-made solutions for your retail business.