6 Popular Drag & Drop Paid WordPress Themes: Comparison
WordPress is one of the most popular names when it comes to effortless content management and easy website development. It has been acing the market of content management and website creation by providing fast, reliable and easy to manage themes and plugins to its users since 2003.
WordPress has gone through 15+ years of journey in providing fast, secure and easy to manage drag and drop themes to its consumers along with the scope of endless customization. Let's have a brief look into the stats that clearly showcases its performance:
Over 75 million websites on the internet are powered by WordPress – According to Wordcamp Reports.

Around 60.2% of the content management market is acquired by WordPress – Search Engine Journal

People searched for WordPress 32 million times on google as compared to 7 million searches for Drupal and 3 million for Joomla – Google Trends
This exponential popularity of WordPress can be credited to its unique out of the box features that include highly customizable drag and drop themes and amazing frontend page builders. These unique addition has enabled even amateurs with zero coding knowledge to create and manage websites of their own.
Why use Drag and Drop Themes?
Although you can create a website from scratch to cater to all your requirements, it might take a considerable amount of time and money. However, with the drag and drop themes, you can easily achieve your goals at a minimal cost almost instantly. Below are a few reasons why you should use drag and drop themes to design your webpages:
Speed: With drag and drop themes your website will be ready to launch within an hour whereas creating a theme from scratch would take months. Hence drag and drop themes are more time-saving options that could give you instant results.

Cost:

Hiring a designer to create a webpage can do a number on your budget. But using the themes that come with a pre-integrated page builder where you can drag and drop elements and customize your website by yourself can easily help you in cutting down the overall cost.

Ease of use:

The drag and drop themes enable you to create changes in your content and the website's design easily. Further, it also saves you from the troubles of searching for HTML and CSS Modules on the backend to apply minute changes.
Hence with a proper drag and drop WordPress theme you can create a completely customized website easily. Therefore, with WordPress, you only need to choose a theme that offers all the functionality you need along with a drag and drop editor to create an easy to manage a website.
6 Popular Drag & Drop Paid WordPress Themes: Detailed Comparison
With the vast sea of both paid and unpaid themes available in WordPress, it can be quite confusing to choose a theme that gives you all the features along with the endless scope of personalization. So, to save you from the troubles of going through the infinite theme catalog of WordPress here's a list of top drag and drop WordPress themes:
Avada – Design Visually. Create Efficiently

Avada is one of the most popular themes used in WordPress. With an intuitive design, multilingual support and the vast option of customization, this theme can cater to the requirements of almost any niche. With free lifetime updates, unlimited stylish icons, and colors this theme provides all the customization options and features you need to smoothly run your website. Below are a few key features of the Avada that make it stand ahead of the curb:
Fusion Builder:

The Avada theme comes with a built-in page builder for customization named Fusion Builder. It is loaded with hundreds of customizable elements that give its user freedom of personalization. Further, it is also compatible with a number of tools and platforms due to which it makes the integration quite easy. Moreover, with regular updates and changes, this builder enables users to create almost any website using the Avada theme.
Mobile Visibility:

Avada also provides mobile visibility mode as well where you can customize the look and feel of the mobile version of your website. This enables the users to reach a wider class of audience easily.

Compatible:

Avada is compatible with a number of third-party tools and plugins which makes it the perfect theme for almost any type of website. This theme is supported by WooCommerce, BuddyPress and a number of other third-party integration tools.
Avada is a theme that has all that one would need to make their website run swiftly. From the Fusion theme option to customize and change the feel of your website to the Fusion page option for managing individual pages it is a one-stop solution to cater to all your requirements. Which makes this versatile theme as one of the best options to choose for creating websites.
Divi – Ultimate WordPress Theme & Visual Page Builder

Divi is also another popular theme available in WordPress. With this theme, you can create any type of website you wish. From business websites to eCommerce stores this theme can create almost all variety of webpages. This theme aids you in creating custom layouts for posts and pages in both backend editor and visual frontend editors as well. Also, it has a variety of customizable content modules in it which will enable you to customize your web pages to your heart's content. Below are some of the features of this theme that makes it one of the most loved themes in WordPress:
Divi Builder:

This theme uses Divi page builder for customization. This page builder enables you to drag elements into the layout of your website and customize it according to your requirements. Further, it offers customizable content elements that you can add in any location you need for improved customization. Further, it lets you customize your menu as well, according to your taste. This makes the Divi page builder very diverse and versatile for catering to a variety of user requirements.
Divi Theme Option:

The freedom of customizing your theme to give it your own personal touch is endless because of the Divi Theme Option. Here you can add and customize the menu and other elements of your site easily. Also, it has a dedicated integration section as well where you can add codes for further personalization. Additionally, it has a dedicated SEO section in it as well for search engine optimization in it.

Multilingual:

This theme also supports multiple languages as well. So it can be used to build websites on any language. Moreover, it supports translations as well which helps you in cutting down the language barrier and reaching out to a wider range of audiences.
Therefore, with unlimited customization, SEO support, and a multilingual facility Divi can be considered to be one of the best themes available for WordPress. As its wide range of features can aid in creating a variety of versatile websites.
Uncode – Creative Multiuse WordPress Theme

Uncode is another popular theme that is widely used by many websites in WordPress. The best thing about this theme is that it is very easy to use and can be used by amateurs as well to create webpages. Further, it has all the functional customization one could ask for in a WordPress theme to create a lightweight website. Moreover, its frontend editor lets you save time on creating changes as well. Since with its easy to use interface you can easily customize and create a website without any hassles. Below are some of the features of Unicode which sets it apart from the rest of the WordPress themes:
WP Bakery:

The Uncode theme uses Wp Bakery as its page builder. This makes this theme highly customizable and flexible. With the features of responsiveness, plugin support, and powerful shortcuts this page builder makes customizing and designing your page a piece of the case easily. It's easy to navigate interference along with the SEO Friendly approach enables you to create amazing websites.
Built-in Media Library: Uncode also has a built-in media library in it. This enables you to embed your youtube videos, Spotify tracks and much more for drawing traffic to multiple channels.

Third-party integration:

This blog supports third-party integrations as well. It also comes with wooCommerce add-ons. Along with the unlimited scope of integration which makes this theme highly flexible for users.
So, with its simplicity and easy to use features Uncode is one of the best themes to use. As with this, you can quickly set up an easy to manage a website and operate it without any hassles.
Astra – Fast, Lightweight & Customizable WordPress Theme

Astra is yet another beautiful WordPress theme that has been loved by a number of WordPress users. From personal hobby blogs to high-end eCommerce stores Astra has powered versatile websites. With Astra, you can also import high-quality website designs as well and personalize them to a great extent. This theme comes in both free and paid versions, with its paid version you can have extended functionality which can help you in creating a fully customized website in the blink of an eye. Below are some of the unique features offered by Astra which credits to its functionality:
Beaver Builder:

Astra is supported by the Beaver page builder. It is a frontend visual editor that lets you edit and customize your website and posts through using drag and drop features. This amazing page builder enables you to create amazing responsive websites. Further its large variety of content modules aids in adding functionality to your web pages easily which helps you in creating a better user experience in the blink of an eye.
Free plugins:

The free plugins offered by Astra is also an extra topping to its whole package. Apart from being user-friendly and lightweight, this theme comes with a number of integrated plugins to give your website added functionality. These plugins include custom fonts, Unlist posts and pages, Template and much more to give you the ultimate freedom to personalize your website.

Easy Integrations:

Astra Pro plan enables users to add hooks and filters which makes it easy for developers to add extra features and functionality to the website without digging into the base code.
Therefore, the Astra theme can be ranked as one of the best themes available for WordPress as it not only helps in easy customization. It also provides the scope of the addition of extra features without any hassles which let you add endless functionality according to your requirements.
Total – Responsive Multi-Purpose WordPress Theme

Total is rated to be one of the most popular themes on ThemeForest. Focused on endless customization and ease of operation, this versatile theme is a perfect catch for almost everyone. Along with the scope of adding your own CSS to make a personalized design this theme also provides important functionalities such as custom login pages and much more to its users. Total also has all the functions you need for smooth operations in the form of integrated plugins and add ons. Below are some of the key features which make it one of the most widely used WordPress theme:
Visual Composer:

The Total theme comes with a Visual Composer in it. This is an easy to use Drag and drop page builder which let's user do changes in the theme and add elements according to their requirements. This page builder is loaded with interesting components that allow them to create lightweight and beautiful pages.

Layer Slider:

Adding Sliders on your homepage lets you express your services, ideas, and vision easily. This Total theme comes with an inbuilt tool named Layer Slider in it. This lets you add interactive and creative sliders on your website without touching the base code with ease. This helps in expressing your ideas better and makes your website more interactive as well.

Custom Taxonomy:

Custom Taxonomy is a feature that is completely unique to Total. This built-in feature helps in grouping together blogs which should be read in order. This is a perfect tool if your website includes a series of blog posts.
Therefore with a number of customized add on features Total can be considered as one of the best themes for creating a visually appealing website. This multipurpose theme has a wide variety of plugins and widgets to aid its user to unleash their full potential through a personalized webpage. Hence, If you are looking for an easy to use theme that provides an endless scope of creating a visually appealing blog this would be the perfect pick.
X – Simple, Flexible And Multipurpose WordPress Theme

X is yet another unique theme available to WordPress. With amazing key features such as ready to implement page layouts and a variety of different pre-built design options, creating a quick website is just a piece of cake with this theme. Further, it also provides amazing add ons and in-built features along with the scope of infinite integration which makes it an ideal theme to opt for. Below are some special features of theme X which make it a unique theme in the catalog of WordPress.
Cornerstone:

X theme comes with a pre-integrated page builder named Cornerstone which makes the customization easier. Cornerstone is a frontend drag and drop theme builder that enables theme customization. With this, you can easily embed your media files and links in your post as well. Additionally, this lets you customize your content in the form of rows and columns according to your requirements.

Seo Friendly:

The X theme is designed while keeping in mind the best SEO standards. This implies that a website created through the X theme will always be up to SEO standards in terms of appearance, performance, and speed. Further, it also allows integration with SEO plugins such as YOAST SEO which can aid you in creating SEO friendly content.

Multi-Lingual Support:

The X theme is translatable in a number of languages. This feature enables you to create a website using the X theme in your local language with ease. It also supports WPML Plugin which allows easy creation of multilingual websites.
So, the X theme can be considered as one of the best themes to opt for creating a lightweight SEO friendly website. With its easy customization and multilingual features, this theme enables its users to create highly appealing webpages with ease.
Quick Comparison between Page Builders Used by Popular Themes
When it comes to drag and drop themes, their revolutionary ease of customization is credited to the versatile page builders integrated into them. The page builders are responsible for aiding you in all your customization from adding new sections to personalizing your footer. Further, a good page builder also aids you in easy and codeless alterations for creating a website of your choice. Below are the key differences of page builders used by the above themes to give you a better insight into each of its unique features: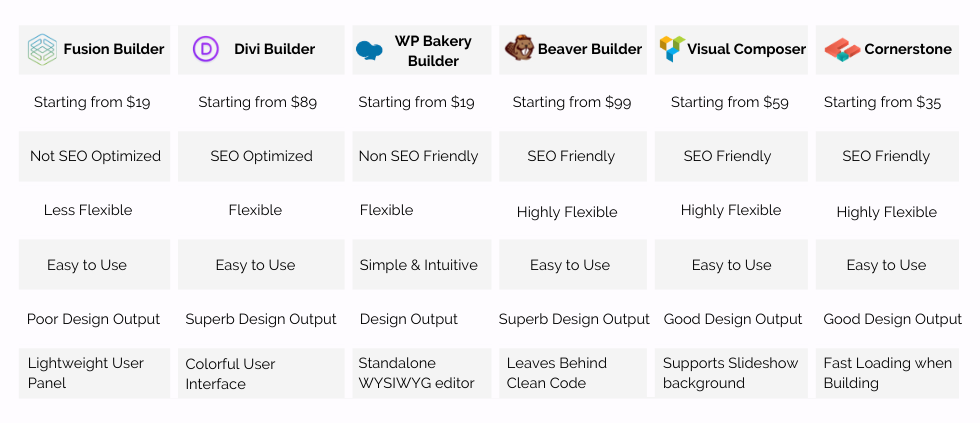 To Wrap it up
A drag and drop theme can revolutionalize the way you design and develop the website and its content. The themes mentioned above can cater to almost all your requirements with their inbuilt features and can aid you in maintaining your site at a top-notch state.
However, if your needs for customization and features are unique and getting them framed into one theme is a tough cup of tea, you can also get a customized solution as well. Our WordPress web developers can easily help you in creating an easy to manage highly customized theme along with custom plugins as well to cater to all your requirements. Alternatively, you can also drop us an mail anytime.