BigCommerce Dropshipping: A Case Study Of Zero Inventory Retail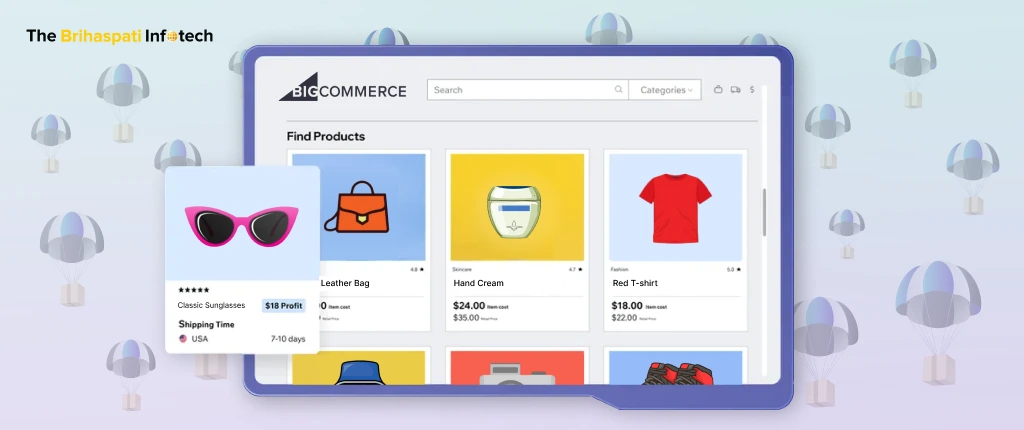 eCommerce entrepreneurs always strive to seek opportunities that reap good profits without demanding huge capital investments. BigCommerce Dropshipping is one such business model that can help you score good net revenues without worrying about the inventory or fulfillment aspects of the business
"We love marketing & we hate fulfillment. So dropshipping was the perfect option for us" – Yuliya Chernkyhovskaya, Co-Founder at AVL Fulfill.
Giants like Amazon, eBay & Etsy are real-world examples of the potential of dropshipping business models. Moreover, there has been a significant increase in dropship providers in recent years, thus offering you numerous options to streamline the fulfillment part.
Today we will explore what BigCommerce dropshipping is. Why is it becoming the first choice for eCommerce entrepreneurs & what features do you need to get the right start with dropshipping business on top of this platform?
What is BigCommerce Dropshipping?
BigCommerce is one of the finest options for setting up an online store, irrespective of your product niche. Apart from that, it is among the top preferences of store owners who sell products from various manufacturers and retailers without investing any money to store or manage product inventory.
So, Dropshipping for BigCommerce refers to a business model where a BigCommerce store owner will act as a middleman between suppliers and customers. He will set up a store and list the products sourced from third-party suppliers. Once the order is received, he will pass on that information to the suppliers so that they can handle the fulfillment part.
BigCommerce development services for dropshipping development lets you exploit an opportunity to sell products stocked in the already existing warehouse facilities of manufacturers/retailers. All you need is to focus on the marketing strategies. Additionally, you should also ensure that every sale leaves a big-enough cut for you as a profit.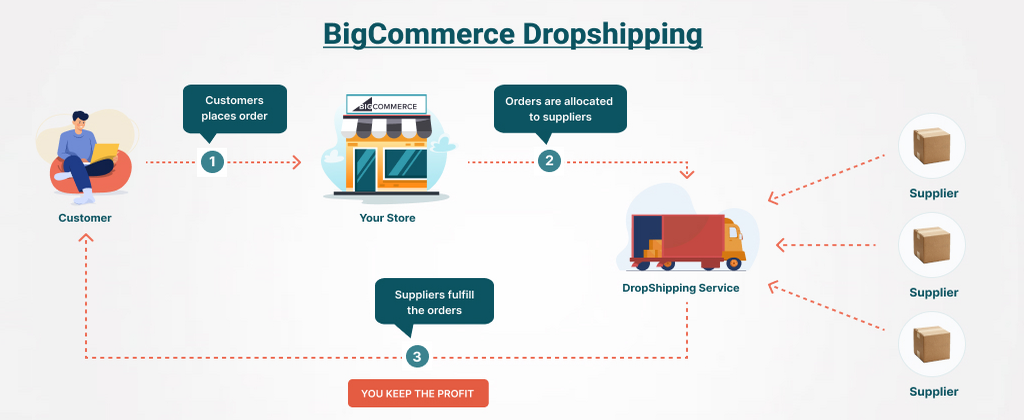 Our experience: Bigcommerce dropshipping store development from scratch
At this point, you must have a good understanding of dropshipping fundamentals. While BigCommerce offers you all the stuff to launch a dropshipping store, there are a few things that you need to consider right from the start to save headaches and time down the road.
So, before you put your money into dropshipping stores or BigCommerce dropshipping app development, here are a few things that can help you achieve better results with the venture.
We will use the demonstrations and examples from one of our recent custom BigCommerce dropshipping store development projects. Some of them are mandatory from the outset, while others are just great ideas to achieve good customer experience and ROIs.
1. UI design development for custom BigCommerce dropshipping store
Brand identity plays a vital role in success in the online world. The same applies to BigCommerce dropshipping too. A good UI design & responsive theme improves the user experience, thus making your customers perceive you as a credible business.
The first step is to create a UI design for the dropshipping store. You have to take help from an experienced web designer to create an objectively good store design. It is a must to use well-established principles & techniques that can be converted to codes with ease.
Something similar was required in one of our recent BigCommerce dropshipping store development projects too. Therefore, our designers decided to go with Figma as this web-based app comes with auto layout, asset libraries, and most importantly shareable prototyping features to get quick approvals.
2. Converting the UI design into a fully functional and responsive theme
The next step was to convert the Figma design into a fully functional and responsive BigCommerce theme for our custom BigCommerce dropshipping store. Responsive design has become crucial for any dropshipping store as more and more people are now accessing the websites on mobile phones.
The inability to adapt to multiple screen sizes can turn into a hindrance to growth. Therefore, you can't expect good results with stores delivering jarring experiences on mobile devices.
As we already have an approved UI design built using Figma, our Figma to BigCommerce conversion expert transformed it into a pixel-perfect, retina-ready, cross-device, and cross-browser compatible store to facilitate dropshipping on BigCommerce.
3. Dropship automation software to streamline inventory
The Dropshipping store in question was meant to sell a wide variety of products. It includes various categories like healthcare, grocery, beauty, and more. With such a massive catalog, manual processes for product updation, catalog management, and synchronizing the inventory manually were big challenges for our team.
The first approach was to use an off-the-shelf inventory management tool, but none of them satisfied the client. So building a custom BigCommerce dropshipping app development to monitor, integrate, and update product data was the only option left for our team.
The client provided us with a list of some trusted drop shippers. We integrated them with our custom BigCommerce dropshipping app to manage inventory. Our engineers used their extensive knowledge of Yii 2.0 PHP framework and BigCommerce Webhooks and APIs to deliver a custom dropshipping automation app with the following capabilities:
Ability to load products and images from integrated suppliers.
Catalog management and custom pricing setup with simple controls
Automatic synchronization of inventory & prices with the suppliers
Ability to send email notifications to the suppliers for every new order.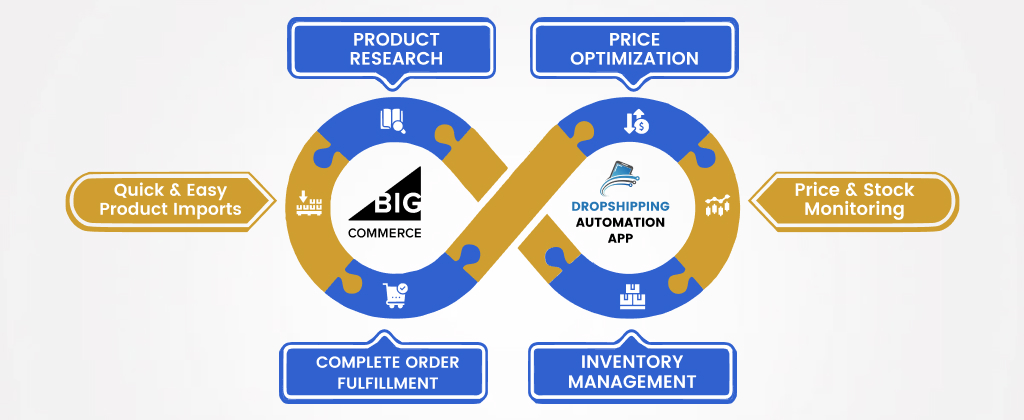 4. Order tracking and return management for dropshipping store
Order tracking and return management are some of the little-discussed and undervalued topics in the eCommerce industry. Our experience says they both play a significant role in a healthy supply chain.
They are also imperative for customer satisfaction and can boost the bottom line for any BigCommerce dropshipping store. Though we have plenty of options to streamline them, unique requirements from innovative entrepreneurs often surpass their capability.
Something similar happened in our case too. Our client wanted us to create a separate page in his custom BigCommerce dropshipping store. The objective was to let the customers track their orders.
Apart from it, he also wanted that return orders should not ship directly to the suppliers. He requested to find a solution to implement his personal PO for accepting the returned products. So let's find out how our Bigcommerce development team solved this riddle:
Solution for tracking the orders on the separate store page
Our BigCommerce developers decided to create a custom order-tracking app to create a separate page for shipment tracking. The idea was to offer a separate store page to view and track the orders, thus ensuring minimum frustration for customers. Additionally, it was also helpful to increase engagement and traffic to the client's store.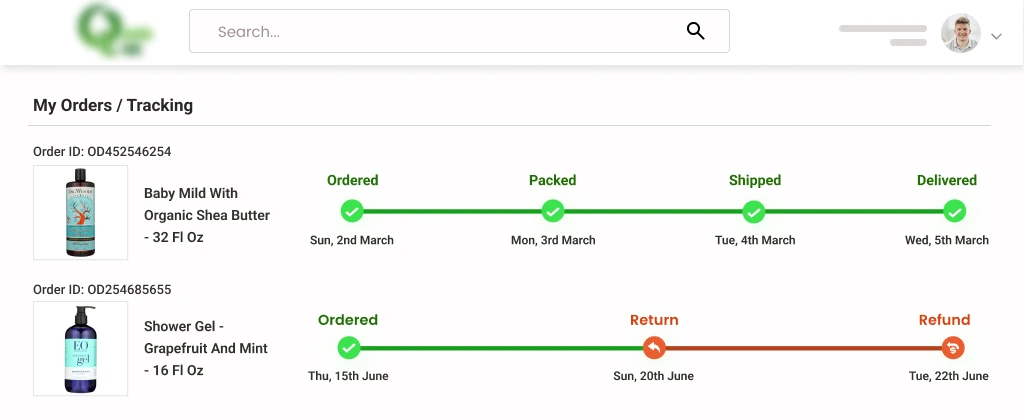 Return management for dropshipping on BigCommerce
The next step was implementing a perfect return management solution for the store. In our case the client wanted us to ensure that every returned order should be delivered to his PO box. You might be wondering why to ship return orders to the client's PO when they can be sent back to the suppliers directly.
Well, here's the catch! By doing this, the client wanted to save on the excessive shipping charges by accepting the returns on his PO. Then he wishes to use bulk pricing rates thus saving on international shipments.
Moreover, it also helped clients to process refunds quickly. He can now process the refund on receiving the items at his PO rather than making the customers wait until the client receives the refunds from suppliers.
5. Configuring the most suitable payment & shipping methods
Sound payment and shipping strategies can put you at a competitive advantage. Most eCommerce CMS solutions often restrict you to limited shipping and payment options. Though things can be much more favorable on BigCommerce, dropshipping stores may need to consider every payment and shipping option carefully.
Every store owner should evaluate and choose options with minimal costs so that the margins don't suffer. Higher shipping costs or payment processing fees may reduce your revenues drastically, especially when we talk about the dropshipping business model.
Customizing the payment gateway settings
BigCommerce offers integrations with more than 65 payment gateways, but all of them don't suit the dropshipping model. Here is when the role of an experienced BigCommerce development agency like TBI comes into play. The client wanted to integrate the payment gateways that don't hurt his margins.
So, we decided to go with PayPal, Google Pay, AliPay, and PayPal Pay Later payment options. These options are among the most preferred payment methods with minimum transaction fees. Apart from it, we also have the plan to integrate crypto payment gateways into his dropshipping store in the future.
Shipping gateways that suit the dropshipping
Shipping is yet another crucial part to consider while BigCommerce dropshipping store development. Thankfully, BigCommerce offers great flexibility in this area with the option to avail of flat/fixed rates, table rates, and real-time rates for shipping.
In our case, the client wanted to set up a table rate shipping, where the shipping rates are based on the total order value. We feel that table rate shipping relates to the dropshipping business to a much greater extent than the other options.
Few more tips for a successful BigCommerce dropshipping store
We've covered the fundamentals of no inventory retail using BigCommerce so far. We hope that now you have enough of the general requirements for dropshipping on BigCommerce. Before you plan your launch your dropshipping store, let's get familiar with some other areas to focus on.
An intuitive design or robust functionalities will not take your business to the level it deserves. You need to consider the following points as these are some of the must-do actions that can make or break your venture.
Pay Attention to Quality Customer support
Choose the right dropshipping suppliers
Identify the right market for your business
Market your business to beat the competition
Don't forget to consider the sales cap
Final Thoughts
If owning a scalable dropshipping business excites you, dropshipping on BigCommerce is a perfect way. All you need to succeed at it is a good strategy and the right set of features in your store. Dropshipping on top of BigCommerce can be fun as well as challenging at the same time. That's why having an experienced BigCommerce development agency by your side can set up your bigcommerce store for success.
At The Brihaspati Infotech, we have a dedicated team of dropshipping store and app development experts who are at the forefront of every new technology. If you wish to create and launch an ideal experience on a store meant for dropshipping on Bigcommerce, get in touch, and propel your business with the right expertise.