BigCommerce V3 Product Experience: Why Stores Need It?
BigCommerce comes with robust tools to thrive in the eCommerce industry. Its inbuilt features make it easy to operate fully-features stores with utmost simplicity. Updates like the BigCommerce V3 product experience keep improving its store management capabilities.
"From what we're seeing, BigCommerce leads the league with outstanding commerce features. BigCommerce V3 product experience is yet another update to ease the sellers.- Nishant Bansal, The Brihaspati Infotech.
The native features are tempting enough to make anyone fall for the platform. Moreover, you can also extend your store capabilities using the services of BigCommerce experts. It is one of the prominent reasons why more than 90,000 online stores use it across 120 countries.
What is the BigCommerce V3 product experience, and what does it bring?
Being a storeowner using BigCommerce, it's obvious to wonder about the BigCommerce V2 to V3 migration. If you assume it is a mere design change, you are wrong! V3 upgrade will transform the whole product management experience. That's why we are calling it a BigCommerce V3 product experience.
Most store owners will fail to identify whether it is BigCommerce or not once they sign in to a new V3 store. It's not wrong to see it as an extension of visual updates that BigCommerce was working on recently.
Log in to your BigCommerce and visit the product area. You will find the tabs along the top to help you add and manage product details. It is the BigCommerce legacy V2 product experience.
Practically, besides page organization, most things like field names are the same in the V3. If you are acquainted with the V2 dashboard, there will be no problem. You can overcome the functional differences by adapting to the new way of doing things. Let's boil down some of the significant differences after the BigCommerce V3 upgrade.
BigCommerce V3 Product Experience VS V2 Product Experience
Navigation Placement
Left navigation is one of the noteworthy changes after BigCommerce V2 to V3 migration. Currently, you are navigating the product section using tabs on top of the screen. With the BigCommerce V2 to V3 upgrade, these tabs will appear on the left side of the page.
Most of the BigCommerce experts are anticipating this move as an effort to enhance the mobile experience. Unfortunately, the story is a bit different.
It requires excessive scrolling due to more options than what you see on mobile devices. The content area is too wide for the mobile screen. Therefore, product editing may become painful on mobile devices after BigCommerce V2 to V3 migration.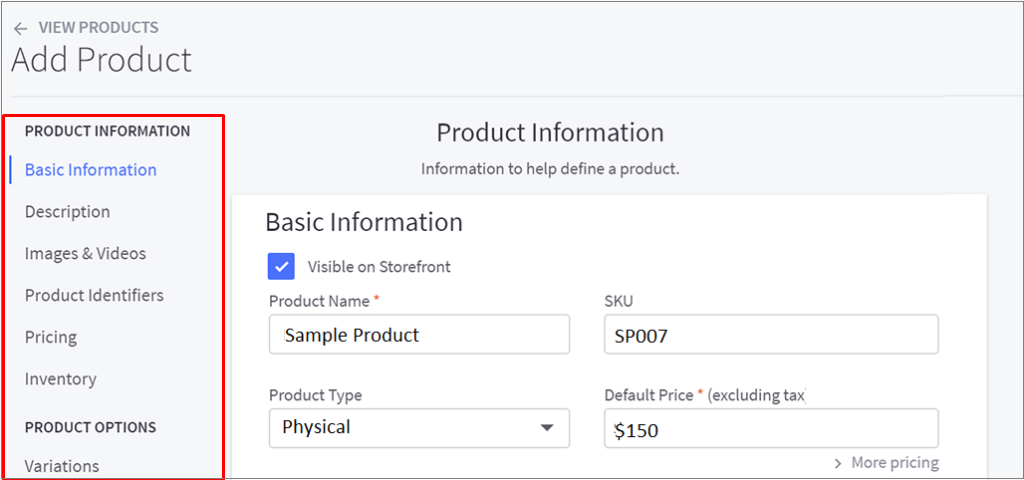 Adding Product Images from URL
Pulling images from the web is time-consuming with the BigCommerce V3 upgrade. Instead of multiple boxes allowing you to add up to 5 product images in a go with V2, you have to do it one by one due to the availability of a single box with V3.
Once you enter the Image URL, you can preview and add the image to your product.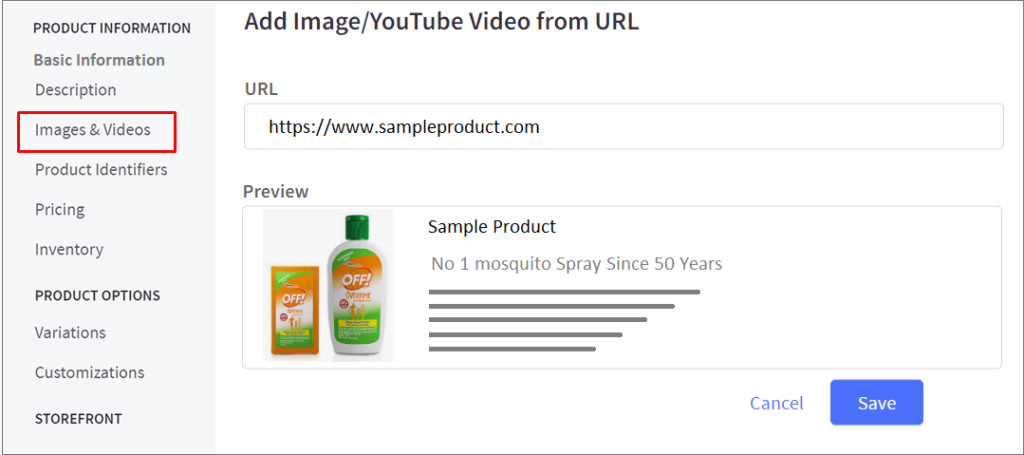 Variations replace the term Options.
V3 Upgrade for BigCommerce brings in a refreshing change in how you use to handle the options. Instead of options, the product attributes are called variations.
The specific combinations of such variations for the product are called variants. V3 also forces the storeowners to use SKUs for such variations if they are not doing it already.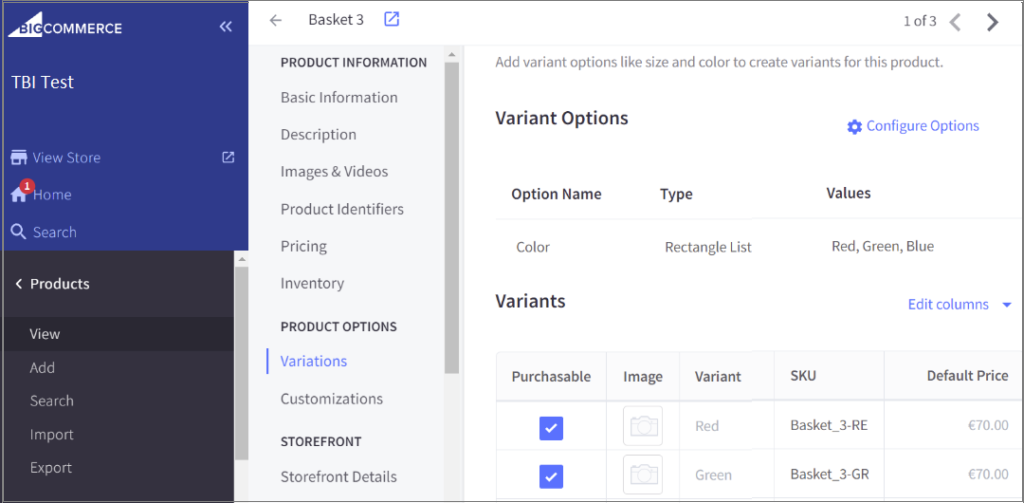 Product Pricing Options
BigCommerce V3 upgrade also brings a change in the way to assign prices to the products. If you wish to add MSRP, price, and cost to products, you need to use the advanced pricing option.
The V3 version will only display the basic price with details like product name and category. Now, the store owners do not require to use rules for price adjustment of the variants. They can assign prices to variants directly.
Creating New Product Categories
Adding the new category to stores with the BigCommerce V3 upgrade is a breeze. Unlike V2, where you need to leave the product editing page when you forget to add a new category, V3 does not require you to leave the page for adding it.
Click on Add category option and create a new product category on the fly.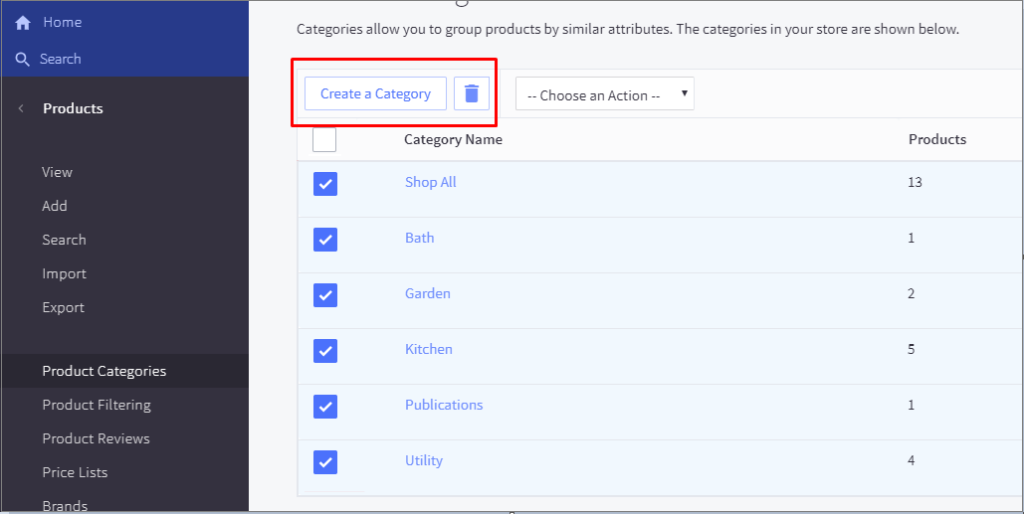 Stock keeping Units
You need to manually add stock-keeping units(SKUs) to the products in the V2 version. Whereas stores with BigCommerce V3 product experience upgrades can enjoy an automatic generation of SKUs for products. They also got an option to edit these SKUs manually in the later stages.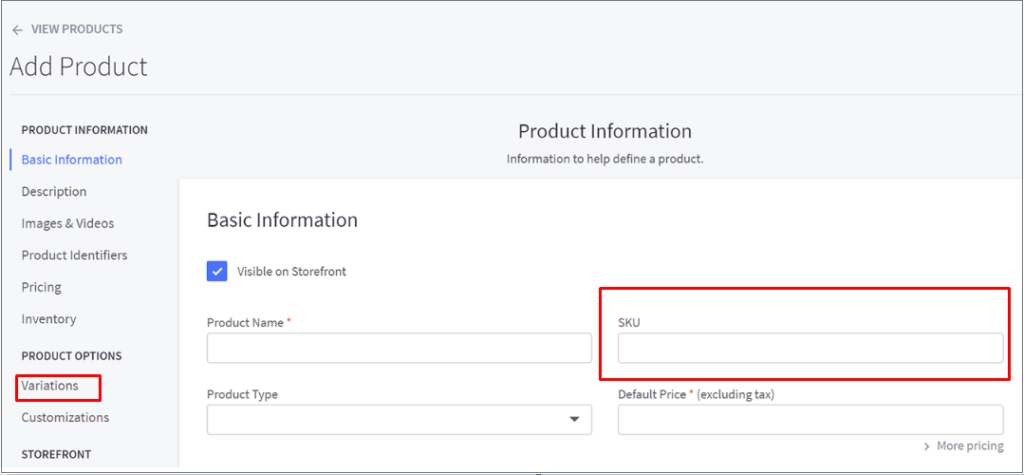 Pre-requisites before BigCommerce V2 to V3 Migration
The BigCommerce V2 to V3 upgrade can take hours, days, or weeks depending on the number of products. Factors like the complexity of options, google shopping, etc play a vital role in deciding this time frame. However, if you wish for BigCommerce V3 migration, the following prerequisites are crucial:
Creating option sets associated with products Manually
After BigCommerce V2 to V3 migration, all the associations with shared option sets will disappear. Though V3 will recreate the options, they will be for the individual products. You may need to dedicate more time to Shared options with the V3 version as you need to create them manually.
Remove all configurable fields.
If you are using configurable fields for product listing, ensure to remove them before initiating the V3 upgrade. You can check for these fields under the custom field tab.
Just remove all the text from these fields and disable the checkbox if it is checked. You also have an option to update these configurable fields using API.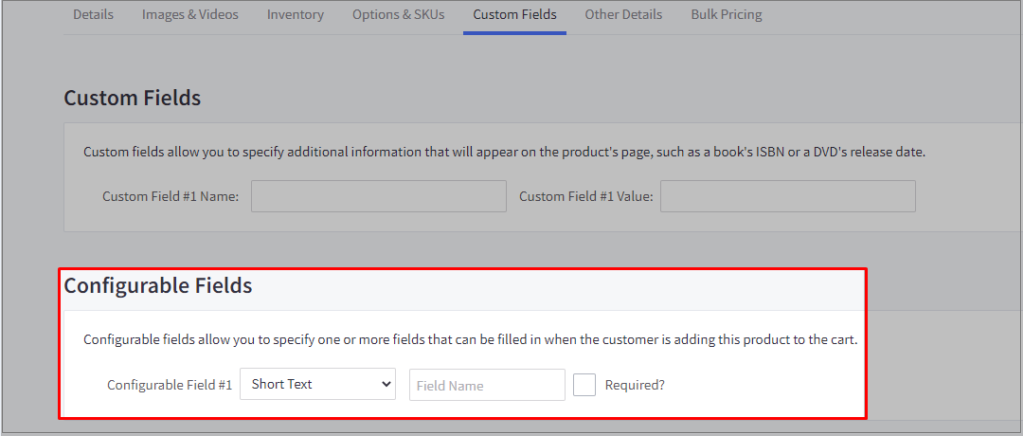 Remove products or categories with Google Shopping fields enabled
Ensure disabling Google shopping for every product and category before commencing the V3 upgrade. BigCommerce V3 migration is not possible without disabling Google Shopping.
If you have fewer categories, you can disable Google Shopping manually. But for tons of product categories, you can choose to delete them all and re-add them after the migration is over. It is wise to go with BigCommerce V3 migration services for such cases.

Is it the right time for BigCommerce V2 to V3 upgrade?
It is reasonable to assume that BigCommerce may stop supporting both V2 and V3 versions soon. So the question should be whether you should do BigCommerce V2 to V3 upgrade now or later in the future. Though BigCommerce is not forcing stores for V3 migration, you have to do it sooner or later.
The ease, effectiveness, and efficiency of Options, option sets, and configurable fields is a plus point after BigCommerce V2 to V3 migration. They have helped developers to come up with unique solutions in the past.
Even we have created apps like Custom knife builder apps and Custom product configurators using them. So always take your time to decide whether you need BigCommerce V3 migration services or not. If that confuses you, we would advise you to stay on V2 if:-
You do not want to remake the whole catalog of options and option sets.
You wish to continue managing the product catalogs using APIs.
If you desire to use CSV for importing/exporting option sets.
If you like to continue adding images from the image manager in the control panel
You want to continue tracking inventory and assigning SKUs to option types.
If you need to create selective product variants
Conclusion
Whether your store is ready or not depend upon several factors: how easy it is to manage option, option sets, and configurable products. If products using those features are on hold, how much does it impacts day-to-day sales? Does the V3 experience provide outstanding value addition to your customer experience?
Get in touch to assess whether you require a migration to v3 and get BigCommerce V3 migration services for technical assistance to carry out a seamless switch to v3.