BigCommerce vs WooCommerce: Better Ecommerce Alternate for WordPress
WordPress, a well-known blogging platform, has been continuously expanding. With the evolution of technology and vast plugin development, it has today emerged as an effectual e-commerce solution for the merchants.
So far, WooCommerce was considered as the most viable e-commerce plugin to transform a regular WordPress website into an e-commerce engine. However, as the scalability increases and the sales graph starts shooting up, some merchants find it difficult to administer their WooCommerce enabled stores and a need for a dedicated server, WooCommerce development team, additional extensions, and site maintenance support arises.
Recently, an eCommerce giant BigCommerce has extended arms to partner and support WordPress with highly scalable and managed solutions – BigCommerce for WordPress plugin.
It can prove to be a game changer for businesses on WordPress to start selling online through a more comprehensive e-commerce platform, BigCommerce. At the same time, it eliminates the need for migrating from WordPress to an e-commerce platform like Shopify or Magento.
In this article, we'll talk about the comparison BigCommerce vs WooCommerce for running your e-commerce store and how BigCommerce and WordPress can be used in tandem. Finally, we will discuss the essential features of BigCommerce plugin and how can it help to scale your e-commerce.
Before digging deeper, let's start off with the basic differences in:
BigCommerce vs WooCommerce for E-commerce
BigCommerce is a software-as-a-service (SaaS) based self-hosted e-commerce platform which means all the elements of an eCommerce store including hosting, content, design, cart, payments, support, marketing features, etc. are bundled into a single software and is accessible as a service on subscription.
Whereas, WooCommerce is the most popular WordPress plugin which is a full package of all the functions that you would need to run successful e-commerce.
Both BigCommerce and WooCommerce are powerful solutions for eCommerce websites, selecting the right platform solely depends on your business's unique needs and goals. If you aim to jump right to a concise recommendation, we've collated the key differences between these two leading platforms to help you choose a befitting solution for your business.
1. Development Costs
WooCommerce is free to install yet to get the most out of WooCommerce, investing in premium extensions and plugins becomes necessary.
Whereas, BigCommerce is a paid platform, having different pricing plans offering generous options with no hidden costs. Even if the packages are not utilized fully, BigCommerce still offers good value for money.

2. Customization & User-friendliness
WooCommerce is an open-source platform which allows you to integrate a lot of apps into your website, thus providing extreme flexibility. However, configuring customization settings in WordPress can be confusing. In such cases, you may need a developer.
On contrary, the simple setup process in BigCommerce allows merchants to build an e-commerce website within 1 hour. You can simply register to the BigCommerce and create an e-commerce website and add products.
With its growing community of apps, it allows merchants to add more features to their stores. Moreover, it offers a variety of free and paid themes which are highly responsive and mobile-friendly. As it provides plenty of options at the backend, BigCommerce is focused on being user-friendly, especially for starting website owners.
3. Hosting, Speed & Security
Using a combination of WordPress and WooCommerce, you are responsible for your business's hosting speed and security needs and you will have to choose a hosting company.
On the other hand, being a self-hosted e-commerce platform, BigCommerce takes care of your hosting, speed, optimization, and security (SSL) all as part of your monthly subscription.
4. SEO & Marketing Tools
A combination of WordPress and WooCommerce supports a robust family of free and premium plugins for every situation. However, your WooCommerce developers need to have root access to get anything custom developed like adding the YOAST SEO plugin or any marketing plugin. In case any added marketing tool is incompatible and a white screen appears, you need to be responsible for the backup and for ultimately making everything work together.
BigCommerce's SEO and marketing tools are robust, built-in, and simple to the user. It takes care of almost everything including advanced technical tools such as Schema, Sitemaps and even SSL. Moreover, BigCommerce allows you to integrate most of the tools directly in their software rather than via app.
5. Customer Support
Talking about customer support, with WordPress you get access to your hosting company's support team. Though the hosting support team can help you solve technical issues with WordPress and the hosting company. However, there is no assurance that they would be able to troubleshoot specific problems in your specific WordPress installation.
Whereas, BigCommerce representatives who know BigCommerce completely can provide full support. They can even log in and look at your entire site set up to provide you with the feasible solutions. With seamless integration and advanced fulfillment, BigCommerce observed more than 7.6% increase in conversion.
So, if you feel comfortable working with the backend of a website, want to control and customize everything or if you are just more comfortable with WordPress then choose WooCommerce.
Otherwise, if your focus is on selling, marketing, and inventory instead of thinking on the technical side of running an online store then BigCommerce is the right choice.
How to use WordPress & BigCommerce Together?
A year ago, the solution to this question was to use BigCommerce as an "e-commerce store" and WordPress for the rest of the blog/website as bringing these two platforms together on the same sub-domain was quite impossible.
Fortunately, today it is feasible. Installing one easy-to-use BigCommerce for WordPress plugin enables you to access all of BigCommerce's handy features powered by the flexibility of the WordPress platform.
'BigCommerce for WordPress' is a fully-featured integration that scales your business with WordPress on the front-end and frees up server resources such as processing payments, catalog management, order management, and managing fulfillment logistics and much more with the BigCommerce on the back-end.
Thus, the plugin allows you to achieve perfect 'headless commerce' integration for WordPress.

Benefits of using BigCommerce For WordPress:
Listing BigCommerce products directly on your main WordPress website will allow you to do content management around your products in a better way. Thus, you will be benefited with both a blogging website and a selling powerhouse.
It allows you to display content and do commerce on the same URL which is beneficial to your SEO perspective. Moreover, it is simpler to track your statistics because all of your traffic will now be on a single site.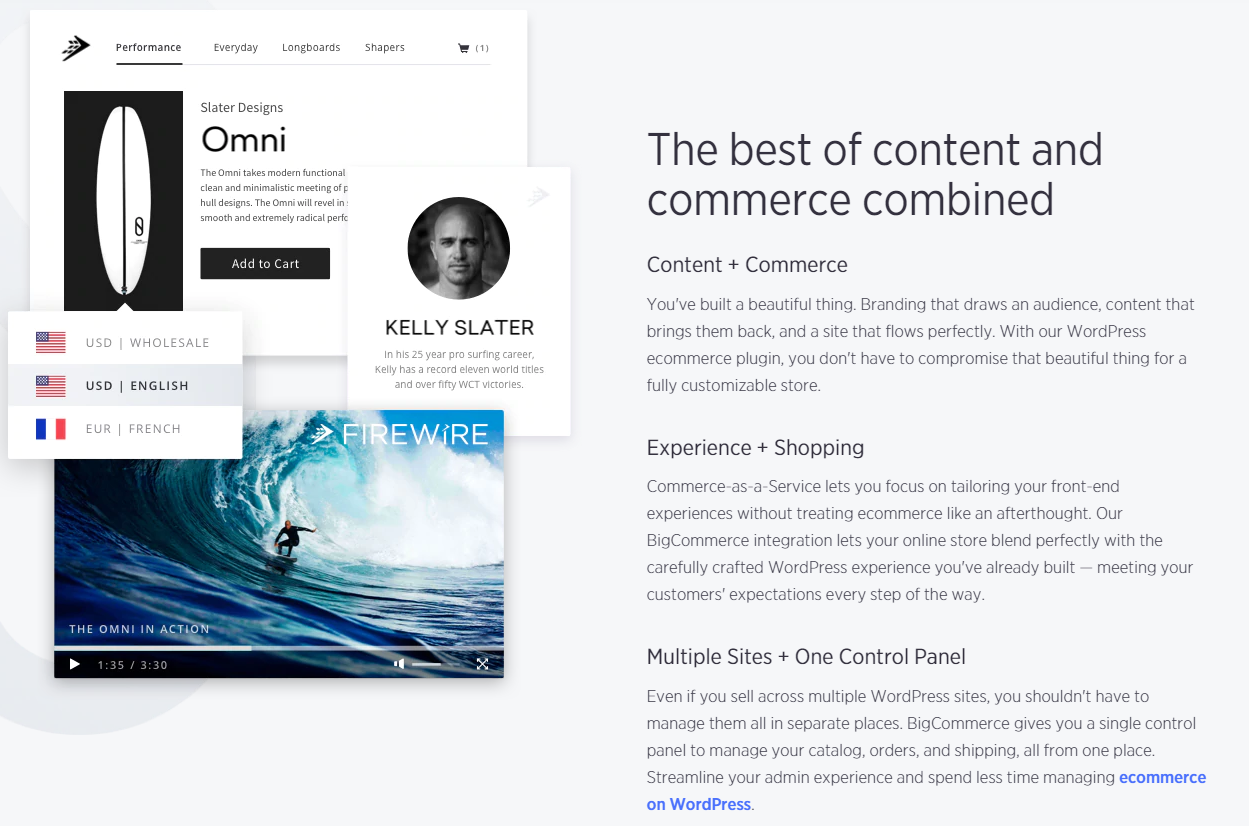 It helps you to manage multiple sites at a single control panel.
But, what makes BigCommerce for WordPress plugin so unique? Let's discuss next.
BigCommerce WordPress Plugin: Key Features
To provide you with a grip on everything, here is a list of noteworthy features of WordPress E-commerce Plugin:
1. Scalable e-commerce
The robust plugin lets you tap into the unlimited customization of WordPress powered by the most scalable SaaS e-commerce engine. BigCommerce allows you to manage large volumes of traffic, orders, and analytics and build complex catalogs.
Moreover, the plugin eliminates the need to install additional extensions to access the common e-commerce features.
2. Ease of Customization
The plugin can be easily customized without the need to have knowledge of iFrames and Javascript.
You can even access all your catalog data within your WordPress dashboard. Simply, open the BigCommerce plugin and design or develop in any way you want your storefront to appear. To add any custom feature to the plugin, you can reach out to expert BigCommerce developers anytime.
3. Build complex catalogs
With BigCommerce you can create extensive catalogs, handle large volume orders, and manage up to 600 SKUs per product. It provides 250+ options which allow you to create a completely customized product catalog.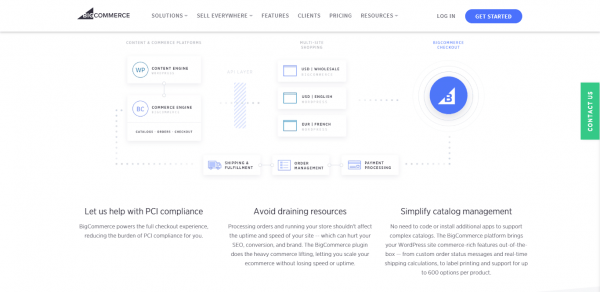 4. Access to numerous Payment gateways
With the access to over 65 payment gateway integrations, BigCommerce serves 100+ countries and enable over 250 local payment methods.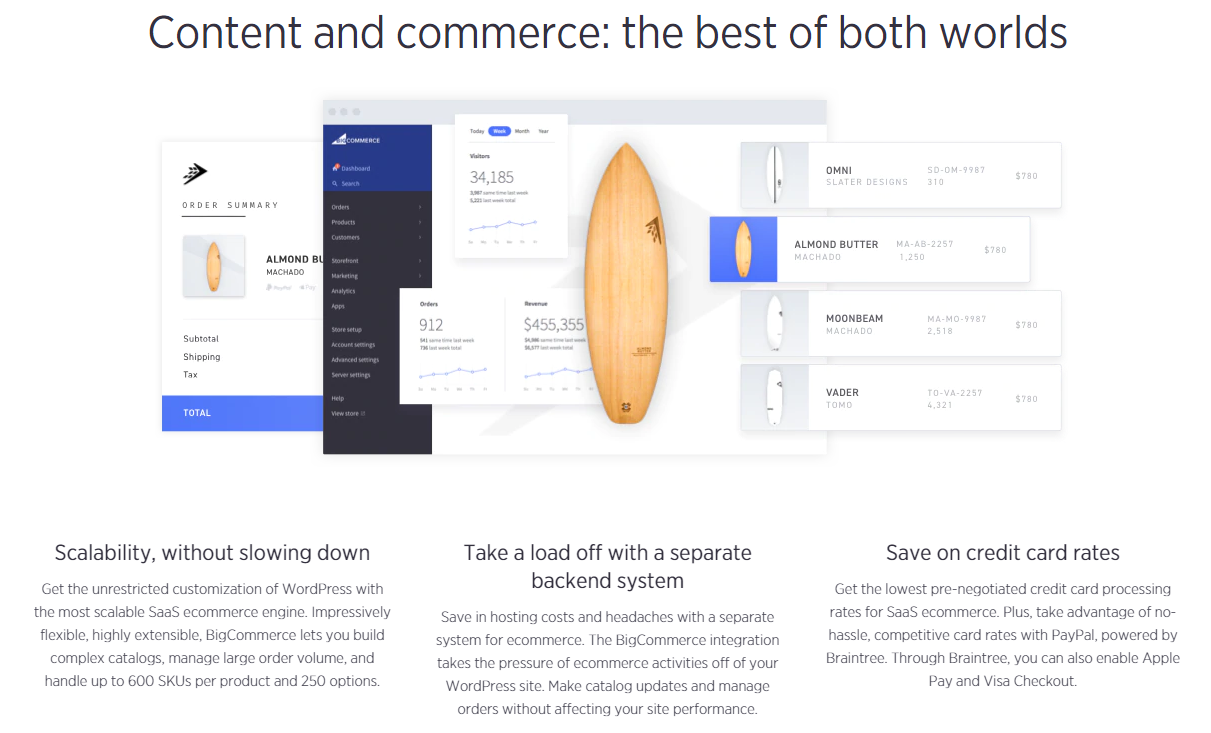 5. Manages PCI Compliance
The plugin integration provides a powerful entire checkout experience which means you need not to worry about PCI compliance.
6. Secure user accounts and logins
Not only the safe checkout, but BigCommerce also provides safe logins, accounts, and payment information storage for your customers. This feature ensures that your shoppers enjoy a pleasant shopping experience on your website.
7. Multiple sites managed via the single control panel
In case you are selling across an array of WordPress sites, BigCommerce lets you handle them all from a single control panel where you can oversee your orders, catalog, and shipping information related to all your stores.
With all the information in one place, you can streamline administrative tasks. Thus, you save a huge amount of time and energy managing it and focus on scaling your e-commerce business.
8. Streamlining Global shipping
Supporting major global couriers, BigCommerce provides real-time global carrier quotes. It also allows you with options like free shipping, drop shipping, flat rates, and much more.
BigCommerce's integration with ShipperHQ helps you specify rates by category, product, quantity, dimension, destination, etc. This means it's customizable!
9. Flexible shopping cart
BigCommerce's flexible shopping cart with the extensive customization options provide merchants with enterprise-grade promotions and discounts within a fully responsive layout. The good news is these options are provided without the need of any additional extensions that other WordPress e-commerce plugins require.
10. Large community
BigCommerce allows its customers to have access to their large online community which comprises entrepreneurs and online store owners who have similar business aspirations and goals.
As a member of the community, you can discuss e-commerce strategies, get answers to your questions, write your thoughts on the industry news, and so much more!
11. Save on Credit Card Rates
BigCommerce enables you to have access to their pre-negotiated credit card rates which are currently the lowest fees available within the SaaS e-commerce space. You can also benefit from the BigCommerce's affordable PayPal rates.
As you grow your business and upgrade your BigCommerce plan, you enjoy decreased credit card rates!
Final thoughts on BigCommerce For WordPress
Undoubtedly, BigCommerce vs WooCommerce highlights the important features of each e-commerce giant. BigCommerce for WordPress is an excellent way to add the powerful e-commerce features of BigCommerce into your flexible WordPress platform.
With its enhanced conversion-boosting features and constantly upgrading functionality, BigCommerce WordPress Plugin is empowering e-commerce merchants to create an e-commerce store that sells more.
If you are looking for any e-commerce plugin development in BigCommerce or WooCommerce feel free to reach us.