Data-Driven Strategy with BigCommerce Analytics to boost Sales
BigCommerce is not a new name when it comes to eCommerce platforms. With its rising popularity by each passing day, it has empowered more than thousands of websites and has guided them towards higher profits. Hence revolutionizing the way sellers do business through amazing products and services. We dig into the features that make this platform one of the best choices for merchants, here are a few stats from Trends revealing the awesomeness of BigCommerce:
BigCommerce is 4th most popular hosted solution on the internet

BigCommerce users experience an average growth of 28% yearly.
Hence, BigCommerce is clearly among the most popular eCommerce platforms across the globe. This platform is the go-to choice for large scale businesses such as Toyota and Clark, which itself showcases the reliability and richness of this incredible platform.
Why BigCommerce is seen as a perfect eCommerce Solution?
BigCommerce is becoming the preferred eCommerce platform for a number of merchants. The credits for the rising popularity of BigCommerce goes to its amazing inbuilt out of the box features. With its massive variety of features that are ever-increasing, this platform provides a perfect fit for solutions for almost every business niche. Here are a few unique features of BigCommerce Analytics to boost sales that set it apart from others of its kind:
The inside analytics of your store lets you understand your customer behavior which you can use to frame your marketing strategies.

You can gain a clear insight into your sales figures through different channels to understand the user's experience with your brand and work on it.

Further, BigCommerce lets you handle abandoned carts as well by providing you data regarding it and aiding you in generating automated emails.
Let's take an in-depth look into the ways you can use the built-in BigCommerce features to boost sales.
#1 Learning About Customer behavior using Ecommerce Analytics
Knowing about how your customers traverse through your store is a must to gain a deeper insight into their psyche. By tracking the pattern of your visitors on your site you can gain a better insight into how you can guide them for making purchases.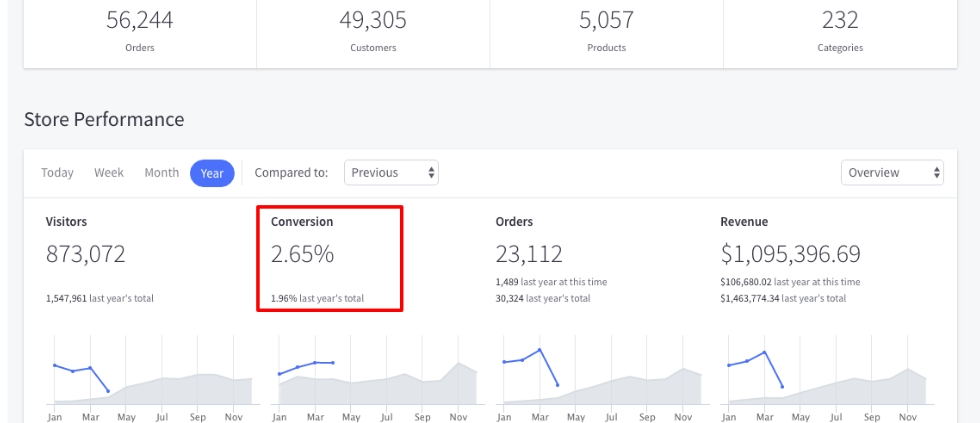 For this BigCommerce provides its merchants with the periodic report on conversion. You can use this data provided through BigCommerce Analytics to gain profit in the following ways:
1. From the analytics section, you can understand the consistency of your previous customers along with how many new consumers you are able to reach out over a specific period of time. As in the customer reports section, you can gain insights into the total number of new visitors along with returning customers. From this data, you can easily generate an idea about your customer's consistency to your services. Further, you can use this data to generate marketing campaigns that would draw users back to your site's services. Also, you can form better campaigns as well to draw more consumers into your online shop.
2. BigCommerce also provides deeper insights into the trends that are engaging the consumers more by providing you data about the most popular purchases made by visitors. This data can help you in getting a deeper understanding of how your offers affect the customer's behaviors along with guiding you in generating offers that can increase your sales efficiently. As with the idea of most favorable products you can create an onsite personalized recommendation for them which will surely impact your sales in a positive way.
#2 Find your consistent buyers with RFM
Sales are not only about drawing new visitors and making them buy your services and products. Sometimes you need a loyal base of consistent customers to increase your sales figure. For this, you can use BigCommerce Analytics to gain profit by generating the RFM model to elevate your sales figures.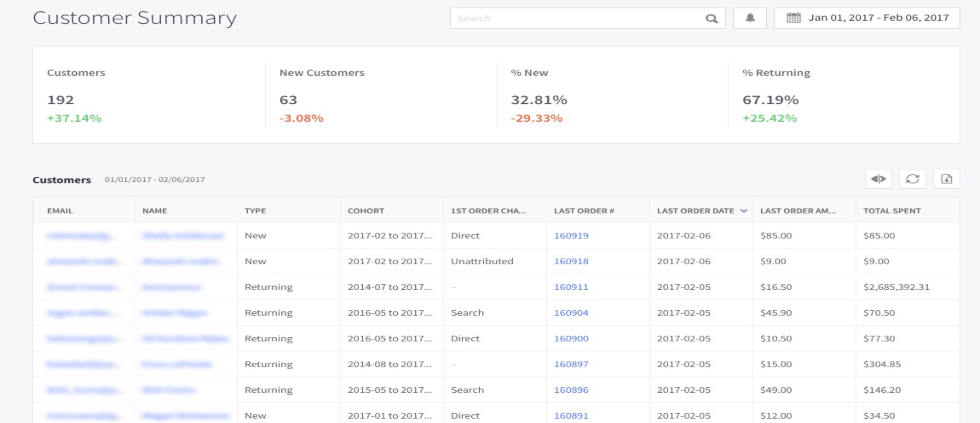 In the RFM model which is also known as Recency, Frequency, and Monetary model you can track the buying habits of every user. By this, you will gain insight into how each customer makes a purchase in a given period along with the cost as well. To know how you can use this data generated with BigCommerce analytics to boost sales, follow the steps discussed below:
1. With RFM Model you'll get insight into the shopping trends of each individual customer with information like how frequently they make purchases from you and how much they spend on your website. With this, you can easily create a list of the most valuable customer to whom you can send special offers and discounts.
2. With the list of active and high-value customers, you can also create targeted campaigns to address them and generate more revenues. Hence with this data, you can generate a personalized experience for your consumers which is a proven way to generate higher sales from your click store.
#3 Get valuable customers by mindful marketing
Merchants can spend thousands to market their services and products without getting relevant buyers if their campaigns are ineffective. Hence knowing how each of your campaigns brings you new leads is a must for developing a marketing strategy that brings profits.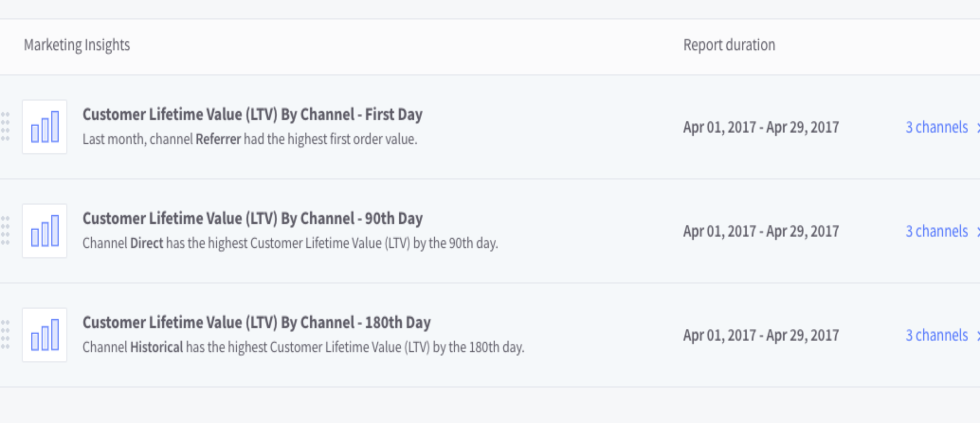 With BigCommerce doing so is easier than ever with their valuable insights regarding all your marketing platforms. With this, you can observe the performance of your marketing campaigns running on different channels. Also, you can use this data to understand the approaches that bring you effective leads for your business.
Here are a few amazing ways to use these insights generated by BigCommerce Analytics for profits by generating effective marketing campaigns for your click store:
1. The marketing insights generated can give you a clear idea about the channels that help you in gaining the highest number of consistent consumers. With this data, you'll gain a clear understanding of the marketing channels that favors your business niche the best along with the unique campaigns that bring you the maximum customers. This would give you a basic idea about the channels that you can use to market your products and services.
2. Moreover, you'll also have access to all your product insights as well. With this, you can easily get an idea about the trending products in your store. These trending products can also be used in your marketing campaign to act as a landing page to bring in more sales for your business.
3. Further, such Marketing insights by BigCommerce to generate higher sales can also give you insights about abandoned carts and wishlist products for whom you can easily generate attractive offers to woo your customers.

#4 Right Words as a tool for Better Results
At times customers might not be able to find the products they are looking for through your instore search bar. This can lead to a higher bounce rate which might not be a piece of good news for your business.
However, with your BigCommerce store, you can gain insight into the phrases and words as well which do not provide any search result and create relevant changes according to these. This is one of the most underrated yet crucial pointers to keep in mind. As it can elevate your store's user experience dramatically.
Conclusion
On an endnote, the in-built BigCommerce features have made it quite easier for merchants to manage their online store and gain useful insights. Further, through these insights, you can easily improve your marketing strategies and campaigns which ultimately leads to higher profits. This, as a result, provides you with all the resources and data you need for expansion and heightened profits which makes it a perfect platform to opt for giving your brand a competitive edge.
So, if you're looking for a platform to open your click store BigCommerce is undoubtedly one of the best. Also if you're at a loss about where to begin for setting up your store you can contact us or drop us an email at any time. Our BigCommerce developers can create a custom easy to manage a BigCommerce store easily for your brand to flourish.