Build A Better Blog With 'Quickblog'
Writing an effective blog can be a challenging and laborious task for anyone. When starting with writing a blog various questions often arise such as:
How to create amazing and SEO-friendly content?
How to put together blog posts strategically and efficiently?
How to get content out to the masses?
Searching for a reliable solution to the above-listed questions can again be a time-consuming task. But, now the Laravel Development Team of THE BRIHASPATI INFOTECH has come up with a solution that facilitates the process of setting up a full-fledged blog.
Our team has developed a SaaS-based platform known as 'Quickblog' that can help anyone to set up a free and SEO-ready blog. Quickblog is very flexible and makes the process of building a blog straightforward.
Quickblog developed by the team of THE BRIHASPATI INFOTECH is featuring on various platforms such as:
In addition to this Quickblog is also getting positive ratings from customers using it. Some ratings given by customers can be seen in the attached below image :

The in-house team of SaaS Platform Development at THE BRIHASPATI INFOTECH accomplished Quickblog project by thoroughly following Agile Methodology and making use of state-of-art technologies.
Moving further in this blog we will discuss what exactly is Quickblog, its working flow, benefit and will shed some light on its main key feature.

Quickblog is a SaaS-based platform that can be used by bloggers and agencies to create an embedded, super-fast, SEO-ready blog for their websites and clients' websites. No, specific knowledge for theme coding, editing, or design is required to use Quickblog.
By following some simple steps users can create a well-curated blog in just a few minutes. For more insight Quickblog working flow can be seen in the attached below image :

The Quickblog platform is very well-designed by the team of THE BRIHASPATI INFOTECH in order to make it intuitive and user-friendly.

Between 2021 and 2025, the global SaaS market is expected to grow by $99.99 billion.
As Quickblog platform is SaaS-based so no particular installation of software is required to use it. Users just need to create an account by signing up on the platform and get going with the setting up of a blog. Quickblog is responsive i.e. can be accessed on desktop, laptop as well as on mobile.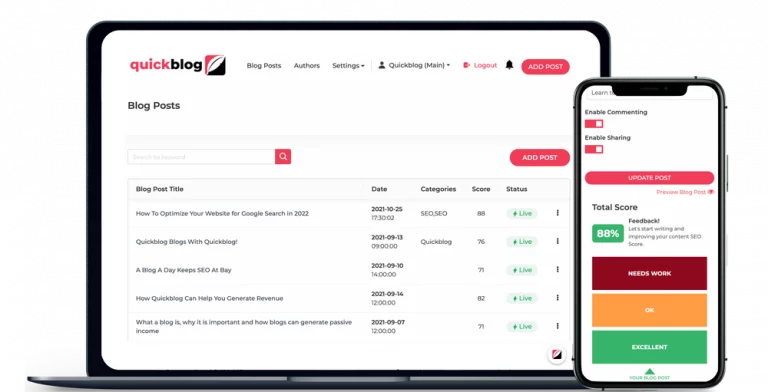 Some other major benefits of using Quickblog platform are :
It works with any website builder software and no sub-domain is needed
Users can write blog 16 languages i.e mulilingual functionality
Quickblog hassle-free integrate with Shopify. This allow users to add products to their posts
In order to save time users can also directly import blogs from Google Sheets
Manage multiple blogs by creating teams (Ideal for agencies)
Generate branded login domain, logo and email address with Whitelabel

1. Publish Blog Without The Website Or With The Website :
Quickblog can help you in posting a blog even if you don't have any existing website. For instance :
Users can post blogs without registering any particular domain and getting a website
All blogs will go live on Quickblog domain itself
Managing (add, update, delete) blogs is easy with user-friendly dashboard
If you have an existing website on any platform. Then follow simple three steps and post your blog :
Step 1 : Draft a complete blog stuff (Content, Images, etc) on platform.
Step 2 : As soon as blog is ready after that an embedded code for blog will generate. Copy this code.
Last step : Paste the code in an existing website HTML block
2. SEO Score Tool :
This tool evaluates the content written by the user and provides suggestions to optimize the content in order to make overall content SEO-friendly. The SEO score tool calculates the score for in terms of :
Blog URL Score
Content, Title and Blog Description Score
Score of images used in blog
3. Various Blog Setting Options :
As soon as blog content is finalized thereafter comes the part where users can set the appearance of the blog. As can be seen in the image below numerous options are offered by Quickblog for setting up a blog.
4. Creating Teams Under Agency Account & Whitelable:
Specifically, this feature is useful for agencies, teams of bloggers, and start-ups. Using Quickblog Agencies or start-ups can :
Create Teams and Sub-accounts
Set specific account with different permissions
Eventually, create and manage multiple blogs for the particular business
Apart from this agencies can set business branding using the 'Whitelabel' feature available on Quickblog. For instance, under this feature agencies can :
Customize Logo, Favicons
Generate custom login domain as well as e-mail address
Create custom scripts
5. Shopify Integration :
'Shopify Integration' feature is significantly important for e-commerce based websites. Quickblog & Shopify integration feature helps in :
Including products direclty in blog
Increasing conversion rate as well as making content more engaging
6. Some Other Key Features Of Quickblog :
WordPress integration : Quickblog has a WordPress Plugin. This plugin makes easy to export and import blog posts from an existing WordPress website.
Scheduling of blog posts : Users can set a specific time for each blog post i.e. at what time of day the blog should go live.
Mutlilingual : More than 16 different languages options are available on Quickblog for blog creation.
Google Sheets Integration : Users can directly import blogs from google sheets into the platform.
Final Words
Quickblog platform built by the in-house team of developers at THE BRIHASPATI INFOTECH has proved to be a valuable product and day by day it is being used by many bloggers and agencies.
If you also have any idea for offering any service through the SaaS model then without a delay get in touch with us today and turn your idea into a reliable product.
We make use of the latest development trends while building custom solutions for our clients and offer ongoing development support as well.