Credova Plugin for WooCommerce: Guide to Streamline Financing
The eCommerce marketplace is becoming extremely competitive where customers hold all the power to select merchants based on not only products or discounts but also on the ease of payments. Today's consumer base is dependent on flexible and custom payment methods for purchase such as credit apps/cards, etc.
However, retail finance is another powerful choice for consumers over traditional credit cards where they are given a fully-organized cover to buy expensive products in easy installments. This trend is a common seeing in today's eCommerce.
| PayPal states that digital sales that utilized consumer financing solutions have experienced a 15% increase in AOV.
While serving the consumer's needs, the payment industry vendors have broken new ground in the past several years. There has been a lot of improvements in the way people pay to online retailers for the purchase of the product in different business verticals.
If you've been a retailer lately, you must have noticed the spread of consumer credit products or consumer financing solutions. We can better understand these terms as a choice of paying the full price of a product in some easy installments to 3rd party credit provider. In this mode, the retailers are paid fully by the credit company on behalf of consumers. Thus, there comes no risk to the merchants too.
Although it is a traditional approach that was earlier seen in other industries like banking, etc. such choices have actually held true for online retail businesses as well.
Some common benefits of Retail Financing options on websites:
enhanced sales and increased AOV,

full upfront payment for the retailers,

free service,

frictionless and custom checkout experience,

lastly, the merchants can cut down on abandoned carts to a certain extent, especially in overcoming intricate payment processes.
This blog will discuss one similar advancement, i.e., integrating Credova to WooCommerce directly, thus covering the retailers as well as consumers.
Integrating Credova with WooCommerce- A custom approach to consumer financing
Under this section, I will be discussing a custom 'Credova Payment Method Plugin' that our dedicated team of programmers developed for the merchants, to satisfy the needs of custom payment gateway plugin for WooCommerce while leveraging the prowess of Credova.
Let's begin with a basic understanding of Credova Payment Extension on a business website below: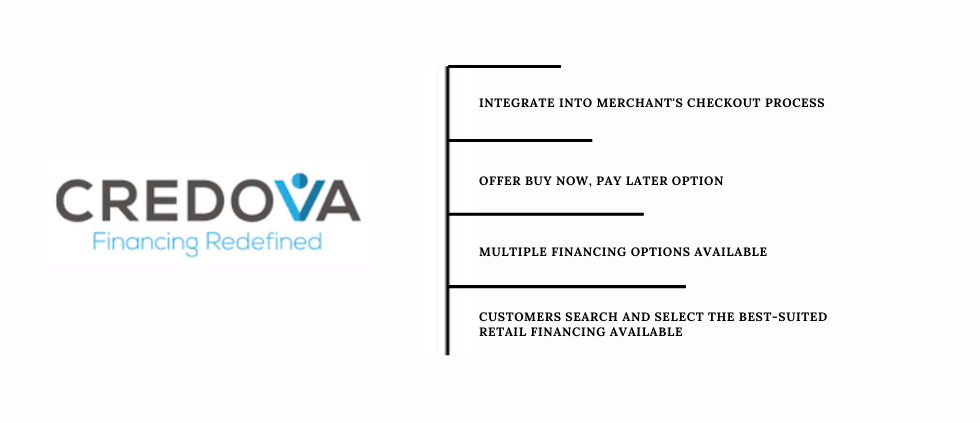 As depicted in the image above, Credova plugin for WooCommerce satisfies the needs of both merchants and consumers. Also, it provides an opportunity for different financing companies to reach potential lenders. Not only online merchants but Credova integration with WooCommerce also facilitates the customer on their in-store checkout after shopping.
Credova Payment Method Plugin for WooCommerce
At The Brihaspati Infotech, we always stay up to develop solutions that can facilitate the merchants struggling from different website management complexities and challenges. This time we decided to work on a custom plugin for Credova payment extension, especially for WooCommerce vendors.
To better understand the features that you can get with this plugin, let's have a look at the below-given pointers. These will help you understand the vision and scope of this custom Credova plugin available at the WordPress marketplace.
An Easy Control to Credova Payment Extension in WooCommerce Dashboard
To serve the users with the best buying option, websites tend to choose and integrate Credova financing extension. However, there always stays a need for easy management of the same in the admin panel.
And, this custom WooCommerce payment plugin allows you to take care of both needs. Its easy integration in WooCommerce will get you a custom configuration section in the admin panel from where you can enable or disable the Credova extension.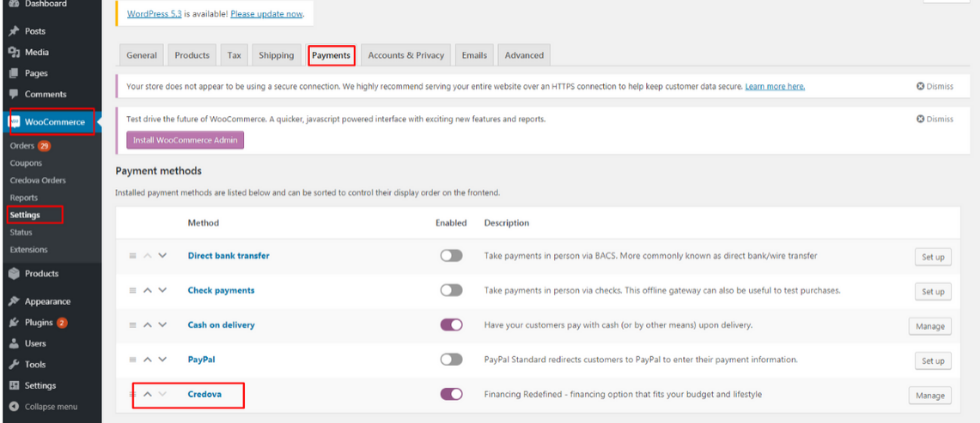 As depicted in the above screenshot, the store owner can easily control Credova extension from the Payment options under the settings section of WooCommerce.
Moreover, the Credova WooCommerce integration serves the need of multiple stores with centralized access on the admin panel. That means, there is a back-end integration of custom WooCommerce plugin that binds together multiple sites to make the management streamlined at the merchant's end.
Then, the Credova extension will be called through a custom API in the WooCommerce admin dashboard where the store owner can easily enter his details and get started with the process. Also, the details of the owner will be stored in the database via an API request. Doing so will help the merchant to get easy and fast utilization of the feature.
Credova 'as low as price' API
This project of Credova integration was not only biased towards merchants but it also had a vision of rendering the best customer service. To ease down on the hassles of consumer financing solutions, the merchants can display the lowest EMI possible from the list of available credit options on both Product Page and Checkout Page.
It is also capable of handling your huge database of products and information, as our WooCommerce developers had implemented Credova 'as low as' API for every single product available for financing.
Product Page
Whenever integrated, a pop-up will display for every product at the user's end as depicted below: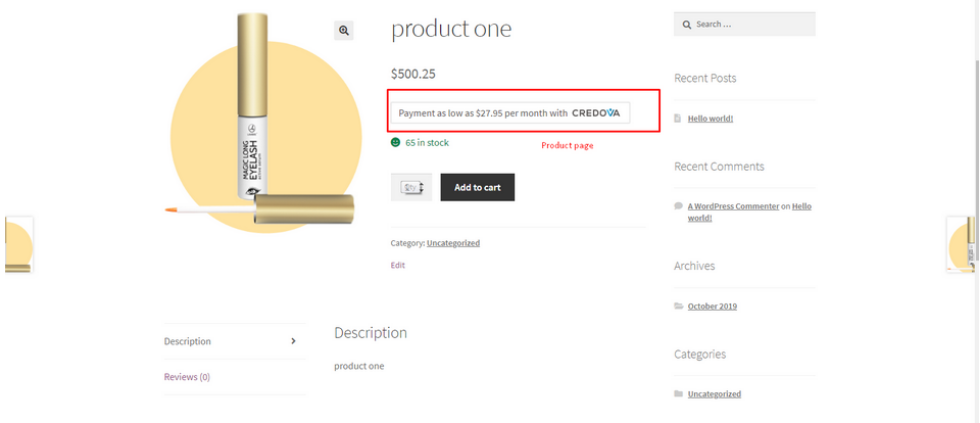 Checkout Page
Similarly, this API will work on the checkout page at the user's end. When the customer will be filling out the personal information for delivery, he will see it as an option illustrated in the screenshot provided below: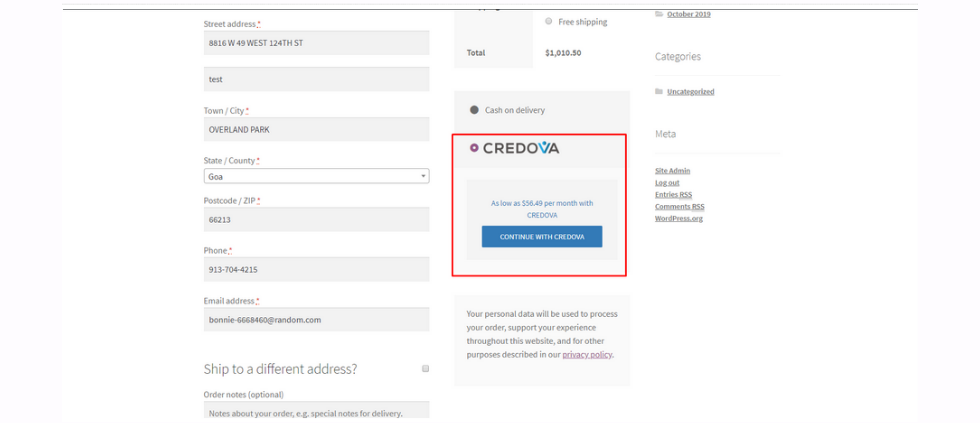 The scope of this feature is based on providing easy access to the financing options via Credova integration with WooCommerce. By ticking the Credova options, the customer will be directly taken to the Credova payment gateway for the final payment processing.
Furthermore, this plugin captures responses for order approval and confirmation for the merchant's reference.
Post-purchase Order Management from Admin Panel
Once the order has been placed with any of the financing options from Credova payment extension, there comes the need to keep a check on the order place for its various statuses till the final delivery.
This custom plugin created for WooCommerce will allow the store owners to see a panel (grid view) of all the orders made by Credova finance solutions as illustrated below.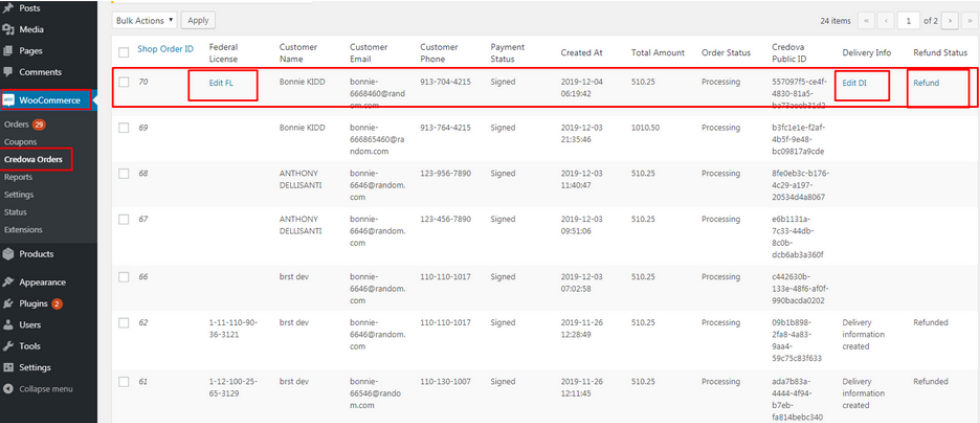 Here, they can see the order listing and perform multiple operations such as entering FL (federal license) number or create and upload one if it doesn't exist. Additionally, the merchant can also create order delivery information (if the order is ready to ship), etc.
Considering all these features together, the capacity and scope of this custom WooCommerce plugin for Credova integration are emphasized to cover both retailers and consumers. One can not only offer the customers with the best financing options but can also manage everything skillfully in the back-end.
If this plugin made you curious about exploration, you can easily access it on the WordPress marketplace under Credova Financial.
By July 2021, the plugin was installed across 30+ global stores. The plugin is regularly updated by our developers ensuring that it stays updated with the WooCommerce platform versions.
Key Takeaway: Credova Integration with WooCommerce
Well, online retail has become a competitive place where merchants always try to implement more advanced features and functionalities. And, WordPress is one of those flexible platforms that leverage a great scope of expansion and integration.
An expansion in the field of adopting advanced payment methods is always a win-win situation for retailers. And, this custom WooCommerce plugin for Credova extension is a perfect solution for the merchants who plan on serving the customers with the best choices along with ease of management at their end.
If you are also one of those and are looking for custom solutions for your Payment gateway integration, feel free to consult our team of developers.