Crypto payment gateway for Magento 2 eCommerce: Everything you should know
No matter how hard you try to ignore talks about blockchain eCommerce, it is inevitable to hear about them in conversations. Whether you believe in the viability of this concept in eCommerce or not, each passing day is making it clear that Cryptocurrencies in eCommerce will stay.
"In 2021 the global crypto market was worth USD 1.3 billion. It is expected to reach around 2.8 billion by 2028 with an annual growth rate of 12%" – Mrinal Khullar, Co-founder, TBI.
The use of the Magento 2 payment method by customer groups in the digital retail world has shown exponential growth. Brands have already started accepting cryptocurrencies and if your store is lacking them, you are already behind in the game.

Relevance of Cryptocurrency payments in Magento eCommerce
With gross merchandise value worth more than $100 Billion, Magento is and will always remain a strong contestant for eCommerce stores. The plethora of built-in features allow merchants all around the globe to nurture and expand their online enterprises.
The survey of the top one million eCommerce stores by Builtwith suggests that Magento is the third most used platform. While Magento 2 continues to expand fast as the leading platform for eCommerce there are frequent debates about establishing the viability of a payment gateway for blockchain eCommerce.
From the ability to secure transactions to lower processing fees, the crypto payment gateway for eCommerce has several reasons for being a part of the Magento 2 eCommerce store. However, this technology is still evolving. You must not ignore the factors and challenges that any eCommerce development company faces with crypto payment gateways for eCommerce.
What is Cryptocurrency, and why use it in eCommerce?
Cryptocurrency refers to a digital asset that facilitates the decentralized mode of exchange. Thus, it is encrypted and validated using a Blockchain consisting of a series of computers to keep records of transactions forgery-proof. It is similar to the digital peer-to-peer ledger books of banks.
Each crypto coin uses its Blockchain for records and verify every transaction dynamically, thus enforcing added security to the process. There are a lot of Cryptocurrencies available these days. To the extent, Blockchain eCommerce is concerned below are the top selling ones with an open possibility to integrate others:-
Bitcoin (BTC) – Cryptocurrency with the largest market cap.
Ethereum (ETH) – Energy-efficient Cryptocurrency with the second largest market cap.
XRP – Faster international transactions with the lowest transaction fee.
Bitcoin Cash (BCH) – Relates to Bitcoin but is faster and more cost-efficient.
Reasons to use Crypto Payment Gateway for Magento 2.
Adding a crypto payment gateway for Magento 2 provides a clear advantage over your counterparts. As the concept of blockchain and crypto payments is still growing, the technology and implication of such Magento 2 payment methods by customer groups for eCommerce will continue to proliferate in the coming years. Check out some benefits you get by Cryptocurrency payment gateway integration:-
Broader Market consisting tech-savvy consumers
Faster transactions, thus enabling quick access to fund
Lower transaction fees for each transaction
Enhanced security from fraudulent transactions
Increasing hype and popularity of your brand
How to integrate Magento 2 custom crypto payment gateway?
We have seen a rapid surge in the number of payment gateways and processors to facilitate crypto payments on the Magento 2 store. You can check for such options using the Magento marketplace but beware of weighing the pros and cons of such modules before using them for your business. Some of the vital factors to consider are:-
Transaction Fees
Frequency of the Payouts
Supported Countries and Currencies
Customer Service
Protection against Volatility
At the Brihaspati infotech, we are helping merchants to integrate custom cryptocurrency payment processor solutions on varied platforms like Magento, Shopify, BigCommerce, and more. Customizing the already existing modules or building a Crypto payment Magento 2 Module from scratch, thus overcoming most of the drawbacks of readily available options.
Our recent shot on Magento 2 Cryptocurrency payment gateway development
Recently the Magento development team at Brihaspati Infotech got a chance to work for a client willing to offer custom cryptocurrency payment gateways for leading eCommerce platforms, including Magento. Though the client was already in the business of cryptocurrency payments, he wanted to extend his services to Magento stores as well.
This opportunity concluded into a highly versatile and secure crypto payment gateway for eCommerce that has already captured the Magento merchant community's extension in every positive way. Let's overview some features and functionalities that we added to this custom Magento 2 payment method that uses cryptocurrencies:-
Option to Choose crypto on the Checkout page.
Once any merchant integrates the custom Magento 2 payment method for Magento built by our team, his users will get an option to pay using the cryptocurrencies on the checkout page. It was important for a seamless buying experience as hence we need to be extra careful. Hence, our solution lets the buyers choose crypto as a Native payment option just like how they were selecting the other payment methods in the past.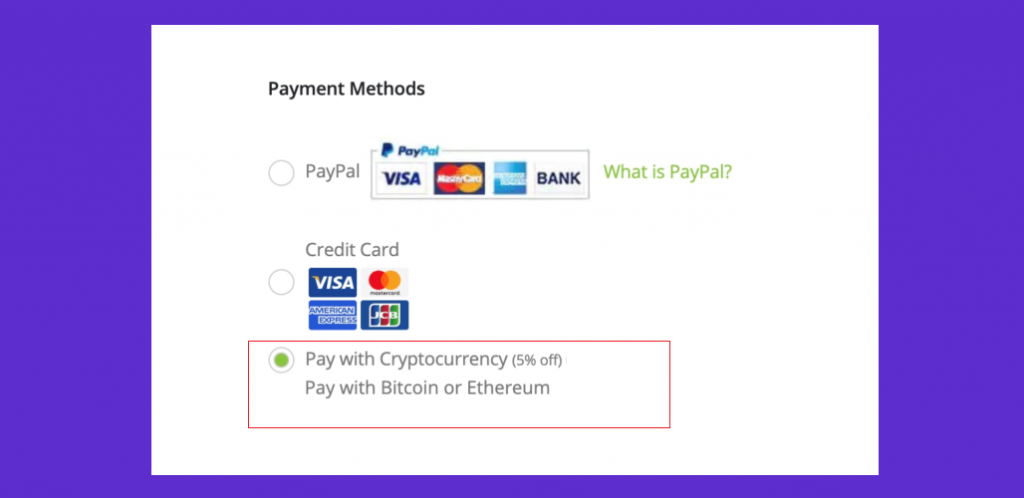 Custom Magento 2 Payment Method to Accept Multiple Cryptocurrencies
The client doesn't want to restrict the customers to a single cryptocurrency payment processor. Therefore, we added multiple currencies like Bitcoin, Ethereum, Utrust, and more to process and receive payments using popular crypto wallets. Apart from choosing the preferred cryptocurrency, the users will be able to see the exact amount of crypto they need to pay against the order value on any Magento store.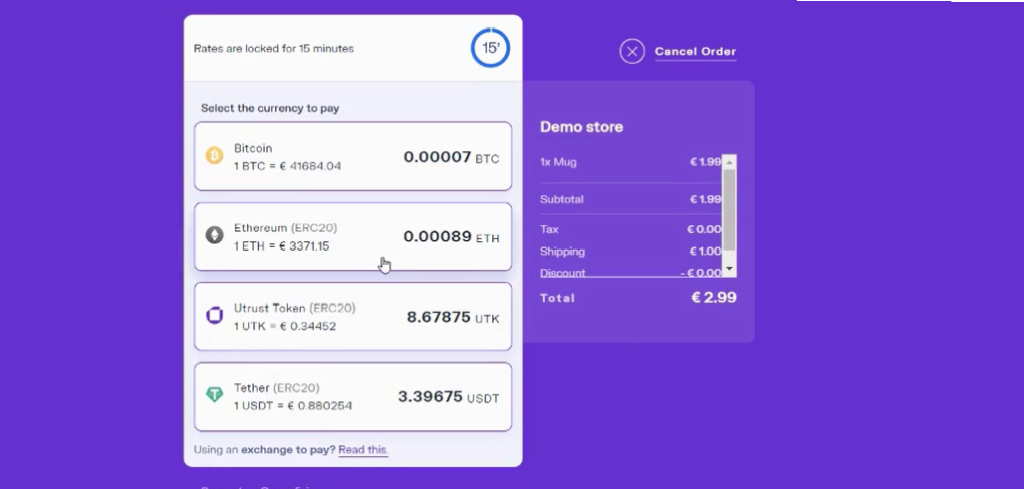 Barcode scanner to expedite the payments
Making the shopping experience seamless was a vital requirement of the custom Magento 2 payment gateway project. Thus, we added an option of a QR code to expedite the payments by users. The customers can scan this QR code to complete the transactions using the crypto payment gateway for Magento 2.
Once the user scans the QR code or proceeds manually, he will be redirected to his cryptocurrency wallet to confirm and make payment using his preferred crypto. It was indeed a significant edge over other Magento 2 payment gateways in use these days.
Crypto payment gateway for Magento 2 with a custom dashboard
Keeping track of payments is a vital challenge while using cryptocurrencies in eCommerce. Most of the existing extensions lack a feature-rich dashboard to facilitate it. Our eCommerce development experts knew this pain point, so they built a robust dashboard to track sales and transactions that happens using cryptocurrencies. The merchant can log in to their account with our custom extension to get transaction history.
These were some key features that we added to the custom cryptocurrency extension for the Magento platform. Apart from building this custom crypto payment gateway exclusively for Magento, we already have accomplishments in building custom crypto payment gateways for almost every popular eCommerce platform.
Learn more about our expertise with custom eCommerce payment gateways here.
Our Advice to Merchants Reluctant to Crypto Payments
We have seen exponential growth in interest in using cryptocurrencies in eCommerce. The portals like Crypto.com and FIS global suggest that around 70% of eCommerce players are gearing to jump on board. While jumping ahead to secure your market share is wise, you should do it thoughtfully.
Your focus should be on building and using flawless cryptosystems, not the ones built on aging credit card systems. You should remain forward-thinking and alert to emerging trends, but most importantly, you should consider customers' preferences. If you hang back to play safe, you might be left holding the bag due to a wait-and-see attitude.
If you know that your customers include crypto holders, we can help you run a pilot program for the crypto payment gateway for Magento 2 to confirm the benefits. Both consumers and merchants have been clamoring for simpler solutions to legacy credit card systems. Hence, custom Magento 2 payment gateways can become a solution for prolonged settlement times and frauds.
Conclusion
It is evident that cryptocurrency is a genie that is not going back into the bottle. There will be continued momentum in the adoption of crypto payment gateway for eCommerce. We are working on Magento 2 create custom payment methods for around five years, thus we believe such payments will continue to get easier and more robust in coming times.
Apart from building and integrating a crypto payment gateway for Magento, we facilitate cryptocurrencies in eCommerce with the following solutions:-
Crypto Payment Gateway for Shopify
Cryptocurrency payment processor BigCommerce
Cryptocurrency payment processor WordPress
Crypto Payment Gateway for Ecwid
Crypto Payment Gateway for PrestaShop
Developers at The Brihaspati Infotech have diverse experience building payment solutions that meet the ever-evolving needs of the eCommerce ecosystem. We provide reliable solutions that meet industry standards providing your stores an edge in the consumer experience.