Custom Directory Listing Platform
Not only does modern technology help businesses get found online, but it also helps them convert visits into revenue through a Custom Rental listing platform. Thus, A custom directory listing platform is the software you can use for managing reservations for your services.
We live in a world where almost everything is inseparable from the internet, businesses topping the list. Thus, it's now crucial that every business has a recognizable online presence, no matter its sector.
Be it a pool, fitness center, gym, yoga studio, or a parks & recreation center a Custom Rental booking & reservation system allows all kinds of service businesses to:
Accept bookings & appointments online
Manage their phone and in-person bookings with ease.
Get smarter insights into the business.
Increase efficiency.
Take the business to a global level.
There's a multitude of businesses out there who have a website and are listed on Google, but only a few have an online booking system in place.
Specifically, by having a Custom Directory Listing reservation platform, you're one step ahead of the game. It helps you to tip the scales in your favor when prospects research and compare your capabilities against your competitors.
The need for a custom directory listing platform
In recent years, travel enthusiasts can be seen headed out on adventures in any month of the year. Some of the travellers like to travel on their bikes, but, some of them choose private vehicles (buses and taxis).
Thus, the motorhome has been becoming famous among travellers nowadays. For many people, the draw of a motor home is being able to enjoy the tranquillity of the great outdoors without giving up the comforts of home.
Still, when camping with a motorhome, the options are a bit more limited than camping in a tent. People have to consider several situations/challenges:
The length of the motorhome.
About the parking space/pads.
Safety concerns about daily routine include meals, electricity, water availability, and other stuff.
Considering the growing trend of motorhomes among travellers and to eliminate the pain points, finally, we decided to create a Custom Directory Listing reservation platform.
In brief, the aim was to help them connect camping with specialties, shopping, and unique people from the region.

Hence, the concept provides an innovative source of income for landscape farms, winegrowers, and regional producers as well…..!!
Highlights of the custom rental listing platform provide

1) Mobile Optimized ? :
Our Custom Rental booking & reservation system for campers is compatible with mobile phones as well.
Users can get access to their member portal even when they are out and about, search for hosts, save their favorites.

2) Information about Discounts and Campaigns ? :
In this directory Listing platform, users can edit and use their profile data, favorites, and searches
Additionally, they will get updates about discount campaigns and host events in the portal.

3) Feedbacks and Reviews ✍ :
The reviews of other users help everyone make an effective decision while reserving a host.
Our Custom Directory Listing booking platform allows the users to share and read the feedbacks as well.

4) Map Integration ? :
It is best to have a look around in the map search.
Members who already have more precise ideas about the location or type of host can also search using these criteria.
Moreover, they will get map help to their desired host location.
The solution that we offered
To conclude, the ultimate goal of our Custom Directory & Listing platform was to search for the host who would provide an ideal location for their stay.
Hence, we needed to develop a bridge between the users and the hosts. This will help the users to check every detail of the hosts from their homes.
So, let's go through the Dashboard that we created and the insights that it provides….!!

➼

Custom Dashboard

:
For such a Custom Directory Listing Platform, the dashboard should be effective and user-friendly at the same time. You can Hire the WordPress Developer team from TBI, who came up with an idea for this impressive dashboard.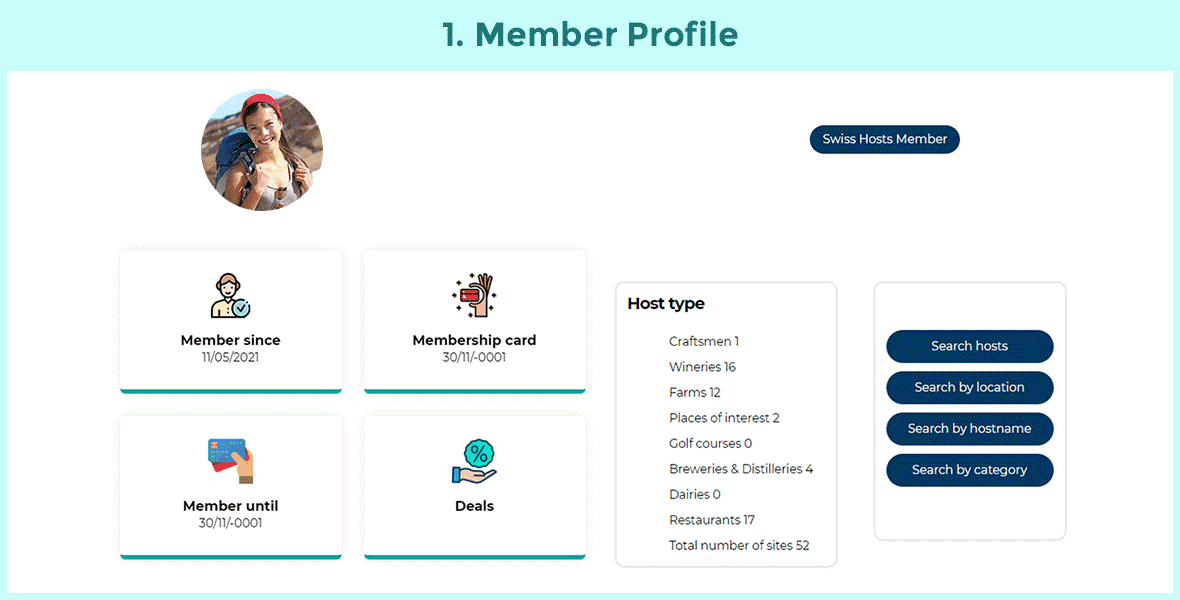 Our development team aimed to make it as user-friendly as it could be. Besides, this dashboard equipped the users with various abilities. Users would be able to:

1) Manage their profiles :
Using our custom dashboard, users would be able to:
update their profile info (email, contact numbers, and passwords).
view or download their membership cards.
check the date of joining or expiry of the membership.

2) Search for an ideal host to stay :
Searching for the ideal hosts would have never been this easier. Thus, our Custom Directory & Listing platform will allow the users to search for their hosts by:
Location.
Hostname.
categories (craftsmen, wineries, restaurants, farms, sights).

3) Host details :
The primary concern for the users would be to get complete information about their desired hosts. Hence, our dashboard provides a dedicated section for all the users where they would be able to see:
Description of the host's property.
Location details.
Parking Space Information.

4) Host Photo Gallery :
Our custom rental booking and reservation system allows the users to get a complete insight into the hosts.
The insight could be incomplete if not provided with a dedicated 'Gallery Section'.
Hence, our dashboard allows the users to get a sneak peek of all the photos of the host's property.
It would help them to make a better decision when it comes to the selection of an ideal host.
Final Words
Custom Rental booking & reservation system for RVs is a specialized and unique website connecting camping with specialties.
Considering the unique challenges of camping along with motorhomes or buses, we developed this Custom Directory Listing platform to help travelers/campers.
Our web development team worked on all the requirements and overcame all the hurdles that came across in our way to design this custom Directory Listing website.
If you have any such ideas….. Hurry, contact us and get the top-notch Custom Directory Listing booking platform for your business…!!