Custom Payment Gateway Integration: Checkfront for WordPress
Checkfront is a popular solution for businesses dealing in tours, accommodation, rentals, and guiding services. It is one of the best comprehensive booking management systems available for businesses. Apart from it, third-party integration capabilities for solutions like custom payment gateways make Checkfront even more suitable for your business.
"Checkfront has given our business the key to online bookings and providing excellent customer service. We spend less time taking bookings and more time giving our customers the support and service they expect and deserve". – Jeoffrey Nathan, Coastal Urge
Being providing Checkfront integration services for quite some time, we have observed that there is hardly any counterpart to match its features. Its outstanding abilities to provide live inventory management, dynamic pricing, channel distributions, and customer notifications make it easy to grow and scale your business by automating the administration.
Despite being one of the popular solutions to manage online bookings, Checkfront also suffers some drawbacks. However, you can overcome those drawbacks using the services of a skilled agency providing custom Checkfront integration solutions. Today we will discuss the viability of Checkfront for your business and how you can overcome its most discussed drawback, i.e., a limited number of payment processors.
What is Checkfront, and how it benefits your business?
Checkfront, as mentioned earlier too is an online reservation management solution that helps businesses dealing in tours, activities, accommodations, and rentals to manage online bookings in a breeze. According to a report by Latka, with over 5000 happy customers and around $6.6 million in revenue, it is a leading SaaS-based booking management solution available these days.
Apart from facilitating online bookings, Checkfront also helps your business with operation management, better administration, and selling services online. If you have plans to stray from the old-school telephone-based systems and scheduling tools to get your share of what the internet has to offer, Checkfront can become a great option to think upon. The below image demonstrates how easy is it to use Checkfront on your website.

Though the advantages of integrating online booking systems like Checkfront may not be immediate, it will help your business to sustain and grow with the following benefits:-
Centralization of reservations and administration of the business.
Get started with accepting bookings through your website.
Complete automation of invoicing and payment processes.
Track the bookings and increase engagement with customers.
Facilitate the tracking of sales and commissions of partners.
Drawbacks That Requires Payment Gateway Integration Checkfront
Moving back to our topic, despite so many advantages that it caters to your business, Checkfront suffers some drawbacks too. The major lag was observed in its payment processing capabilities and limited options for third-party integrations. Though none of its drawbacks are strong enough to overshadow its significance, here are four major drawbacks that can force you to opt for custom Checkfront integration solutions.
1. A limited number of Payment Processors
Apart from its in-house gateway Checkfront payment, you have the option to integrate around 30 more global payment gateways to streamline the payment process. You can check the list of these available Checkfront payment processors. Things can be pretty simple if the payment gateway you wish to use is already supported by Checkfront. However, things can get complicated if the payment processor your desire is not supported by default.
2. High Transaction Fee on reservations
Higher transaction fees can become an overburden for your business, and the same happens when you rely on default payment processors offered by Checkfront. With an average transaction fee of around 2.5% on each transaction, you have to let go of a significant chunk of your profit.
However, you can take the help of Checkfront integration services to use a custom payment gateway or other third-party payment processors with lower transactional fees.
3. Not suitable for High-risk merchants
Travel is one of the high-risk industries that often bring strict implications for businesses willing to use online payment gateways or booking engines on their websites. It is generally because this industry is prone to a higher number of legal restrictions and commercial disputes.
As Checkfront has limited capabilities for high-risk merchant accounts, you might need Checkfront payment gateway integration to empower your business with high-risk payment processors like Payline Data, Inovio, and HighRiskPay.
Custom Payment Gateway Integration Checkfront for WordPress
Custom payment gateway integration Checkfront is one of the most popular ways to overcome the above drawbacks of this comprehensive booking solution. Recently, our team got an opportunity to solve this puzzle for a Travel agency operating in Indonesia.
Checkfront does not support the direct integration of payment gateways other than the ones its supports by default. Checkfront payment gateway integration to add unsupported payment options like Midtrans can become a substantial challenge for any integration expert.
Let's explore how you can overcome the hurdles to integrate your custom payment method with Checkfront:-
1. Edit eCommerce setting for Payment Gateway Integration Checkfront
If you wish for a custom payment integration in Checkfront, the first task will be to edit the eCommerce setting. We changed it to no payment required at the time of booking. It is also known as reservation-only mode and lets your customers complete the booking without full or partial payment.
2. Setting a custom receipt URL for the payment page
The next target was to allow the customers to make payments using the custom payment gateway integration Checkfront. Our team added a custom landing page to the custom receipt URL section. This custom URL redirects the customers to the Midtrans payment page, where they can pay for the booking.
3. Processing the payments on the custom payment page
The custom receipt URL, as mentioned above, was intended to redirect the users to the payment page by Midtrans. Once users land on this page, they use the Midtrans payment gateway to make the payments for the bookings. These are the same bookings they made using the reservation-only mode of the Checkfront payment gateway.
4. Using Checkfront API to update booking information/status
Though the process of bookings is complete in the step above, there are still some hurdles for us. The next task was to update the payment status of bookings in the Checkfront Dashboard. We used Checkfront Public APIs and Midtrans APIs to fetch this data by passing custom variables in the URL. You can consider it something similar to an external tracking link.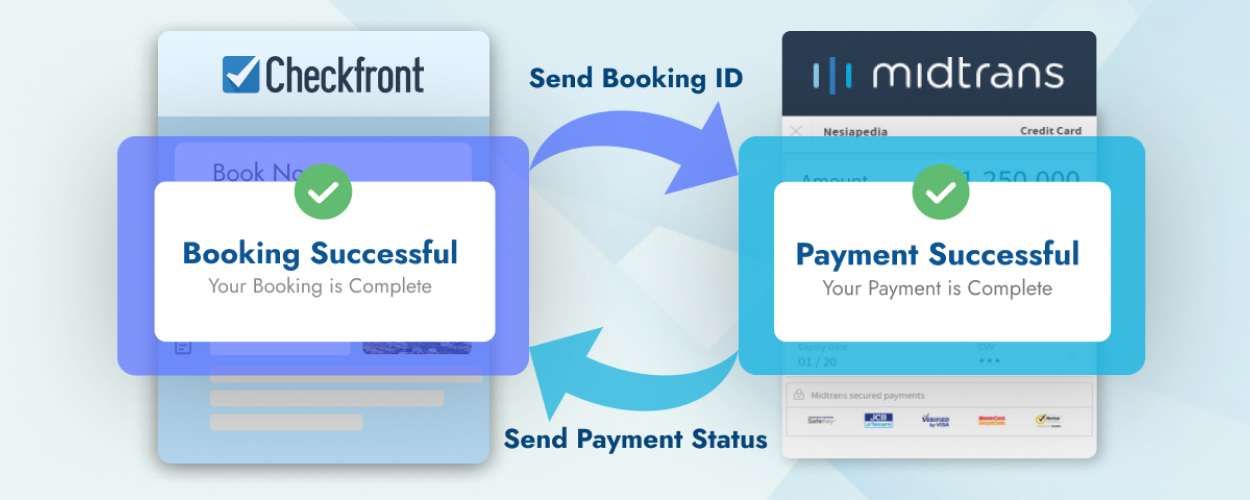 Final Words
These were insights on how The Brihaspati Infotech helps businesses add more features to existing websites and web applications. Our API integration solutions can help you get more out of customer experience, performance, and business operation management tools.
Let's connect today if you are also looking for solutions like custom payment gateway integration Checkfront. Our skilled engineer will help you develop the right integration strategy to make the right decision from the very beginning.