A Custom App for Shopify Restaurant Order Management System
USD 122,739 million revenue generation in the food ordering segment for 2020.
an anticipated annual growth rate of 7.5 percent by 2024, accounting to USD 164,002 million.
These statistics, released by Statista for the online food market, are quite beguiling while deciding on expanding your restaurant business online. Undoubtedly, online food ordering systems for restaurants are providing convenience and choices for consumers worldwide.
Allowing consumers to save time for stepping into restaurants and waiting in the queues for order placement, are two common benefits of food ordering websites. Moreover, the owners of restaurants can also save their wealth setting up seating places for the consumers and other facilities of the physical setup of eating space.
Nowadays, the business models of food ordering systems can vary according to the projected aims of the vendors. For instance, there are three major classifications of food ordering websites, i.e., a platform to consumers, food delivery, and food order and pickup websites.
While the market potential for such restaurant food ordering apps is huge, the existing apps also represent an extremely competitive marketplace. Apart from competition amongst each other, there also stays a major concern of internal management of food order and delivery processes that keep alarming owners. And, it is of utmost importance because a stable and well-organized internal business workflow contributes to streamlined user experience.
Shopify for Restaurant Order Management App (Delivery or Takeaway)
Shopify is one of the regular eCommerce solutions that is widely being accepted by small concepts aiming to offer online food ordering systems for delivery or takeaways. Also, the business can opt for custom Shopify food ordering apps that can be specifically tailored to their needs in terms of designs, functionalities, and so on.
However, there always remains some constraints when it comes to getting an internal management tool for product/order import while assigning it further for processing. If you wish to follow the standard norms of order management, Shopify can work the best for you.
But, if you are planning to attain a custom tool for internal order management to streamline the workflow, there are a few Shopify apps available. And, they might also miss out on some tailored features. The cost of purchasing such apps is also high.
So, what can you do?
You can bring a custom order management system for your Shopify website that is specifically tailored to your requirements. Doing so will help you to get things done just the way you want them to be.
Clover POS Integration:
Click Here
to learn more about our capabilities
Our Experience in Custom App Development for Shopify Restaurant Order Management System:
At 'The Brihaspati Infotech', our Shopify development services include a wide array of offerings. Talking about one relevant exposure, our professionals got to have an experience with a requirement of an internal order management solution. Our client is an overseas top-seller of bakery products, owning a Shopify powered food ordering website.
Client requirements:
The client had already set up an online Shopify food ordering system. Additionally, he purchased an order management app from Shopify App Store. This app was helping him to import products and orders placed on websites in an excel sheet.
However, the client wanted to have a solution that doesn't only let him import products/orders but also allow him to perform multiple actions like changing order statuses or assigning the duties to the staff members, etc.
Our Solution:
Although the client was already using a paid Shopify app for order management, there were multiple features that he was missing out. Therefore, we helped him with a custom tool, developed over Yii PHP framework, that he can use to manage the restaurant's orders.
Below is a detailed list of features offered in the restaurant order management app that our team of Shopify experts provided on client's request. Let's begin!
By default, an admin can not add an order manually in the back-end of a Shopify website. And, when you deal with a food ordering business, there are multiple times customers walking in or placing the order over the phone.
Our client wanted to keep a record of such types of orders placed within his order management tool. Therefore, we allowed him to add order on his own while filling out a form within the app as displayed below:-
Here, the user can enter the customer's personal details, payment status, the pick-up store location, etc.
All-in-all, this custom internal restaurant management app is capable of adding manual orders with an in-depth detailing of the order.
This online tool contains all the features that are necessary for a great order management at the admin level. For instance,
View Order, it was a feature provided by our professional where the client was able to see the details of a placed order like pickup date, time, store, and other relevant information.
Edit Order, a feature where the user can make amendments in an already placed order. Let's say if the staff is not able to make the product ready at the chosen time of the consumer. Then, he can manually do the changes and intimate the same to the consumer.
Delete Order, we also provided the client with an ability to delete a placed order if anything goes wrong at either end.
Lastly, Audit Order, this feature is only applicable if there has been any editing done with the existing order. Opting for this action, the admin can simply check the changes done by any of the tool users.
This is quite a time-saving feature of this restaurant order management tool. In the food industry, the ingredients of the products are crucial for consumers. And, an easy label generation, viewing, editing, and printing labels are involved in the seller's task list while packaging the products.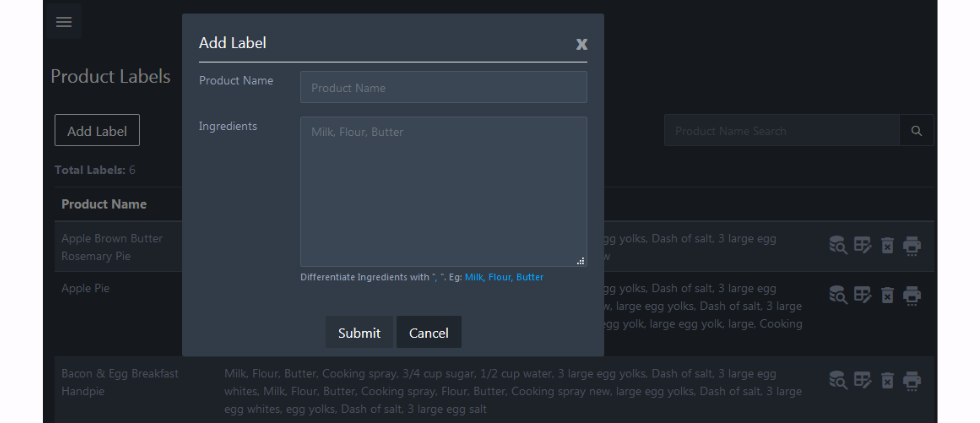 Plus, this custom-built tool comes with a minimal interface (a search bar on the top right-hand corner) from where the user can browse the available labels and perform the actions that are required.
This feature comes handy when you sell a variety of products.
User and Location Management
In addition to the order management, the ability of this tool developed for online restaurant services is to manage internal users of the restaurant as well as pick-up locations of the consumers.
As per his own convenience, our client was able to assign the users to each profile. For instance,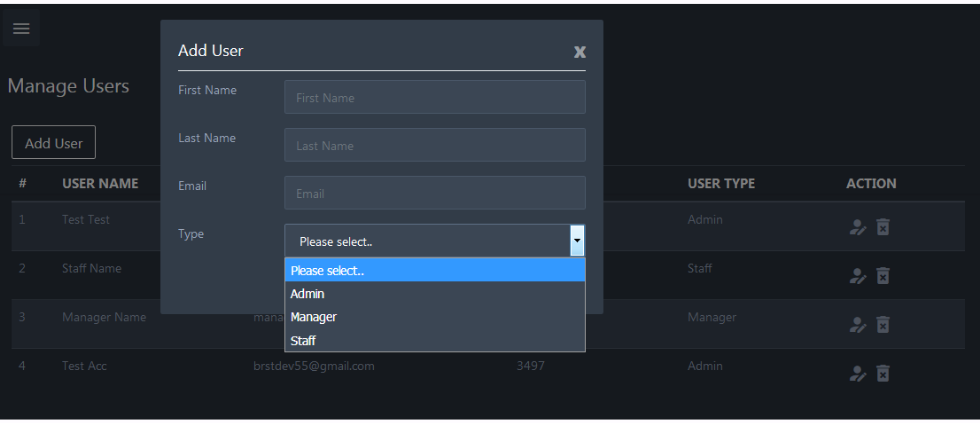 Plus, if you are dealing with multiple pick-ups or food delivery locations, there are times when there is the unavailability of staff or products. With this custom tool, you do not need to worry about such instances as well. As you can set the timings of each store and can display the blackout days on holidays.
From the "Add Location" button on top left corner, the admin can also add a new location and perform similar activities.
Implementation Scope:-
While the solution was developed particularly for a Shopify vendor, the scope and implementation of it is up to the retailer. That means you may be using any CMS for your food ordering services including Magento, WooCommerce, or others still you can choose to build such a custom restaurant order management system and get the things done in your desired manner.
The implementation and usage simply include calling the website's API to synchronize the data with this PHP-based custom food ordering app. In the live project done by us, our Shopify developers simply utilized Shopify API and Hooks for data synchronization.
If you have a different platform like WooCommerce or Magento, the process of development will be the same; the only change will be of calling the APIs and webhooks of the particular CMS.
FINAL WORDS
Undoubtedly, the restaurant food ordering industry is booming at the global level. With more and more people preferring online modes of buying food items, it has become challenging for the restaurant owners to manage the workflow both internally and externally.
In this article, we have gone through a custom-built order management tool for streamlining the internal workflow of a food service provider.
This tool is quite flexible and scalable to fit into any business needs, irrespective of the web platform. So, if you are struggling from some similar challenges in any traditional app, you can contact our team of experts for a tailored approach.