Custom Time Tracking App Development: With Zero Recurring Cost

Are you concerned about employees spending more time surfing the internet for unproductive things while there are pending tasks during office timings? Believe it or not, the absence of measures like screen tracking apps can turn computers and the internet into factors behind the lost productivity. The irony is that employees often fail to resist abusing the privileges, thus causing low productivity and longer time to complete the tasks.
"The Time Tracking Software market in the U.S. is estimated at US$515.7 Million in the year and is projected to reach the mark of $5 Billion by 2027″ – Grace, Report Linker.
It can result in the loss of enormous money you will not even realize without using an employee monitoring system like the custom time tracking app. In this article, we will explain what screen time tracking apps do and how they can help you overcome the challenges of unproductive hours by incorporating an effective employee monitoring system in your organization.
Before that, let's go through some stats to understand why custom employee time tracking app development for solutions like upwork time trackers is becoming a necessity for businesses around the globe.
What is Computer screen monitoring software, and how do they help?
Managing your workforce, especially when you are working with a remote team has many challenges. You will always find it difficult to verify the time spent on tasks assigned to your employees. It can become a big pain point by jeopardizing the productivity of your workforce.
Real-time computer screen monitoring software helps you track user activity on a PC. Additionally, they can also take screenshots of the computer screens to monitor the productivity and conduct of both in-office and remote teams. To be precise, they can help you get answers to the following questions:-
At what time the team members are clocking in?
What are the tasks on which they are working?
How much time does an employee spend on his tasks/projects?
What is the time for completion of the individual task or projects?
What are the websites that employees browse while working on assignments?
We believe these questions may resonate with what comes to your mind while thinking about the productivity aspects of the employees. Thankfully, employee monitoring tools like a custom screen time tracking app can help to get meaningful answers to the above questions. You also have an option to go for custom software development to get screen tracking solutions that fit your business needs.
How custom time tracking app benefit your business?
The screen time tracking apps for employees are not just for real-time monitoring of the screens and capturing screenshots. Our experience says that apart from monitoring the activity on computers, these apps can also assist to keep employees disciplined and motivated toward work.
They have a wider scope for utility and can help you achieve great overall results with minimum effort. Let's check out some advantages of custom screen tracking apps to gauge their worth for your business:-
Employee time tracking app helps to manage the workforce efficiently.
Employee monitoring tools eliminate micro-management.
Improve collaborations with remote or in-office team members.
Help to identify and eliminate threats before they materialize.
Apart from it, there are many more benefits that your organization gets by deploying screen monitoring tools to track the activities of employees during working hours. The below image will help you identify a few:-
Screen tracking app features to boost productivity monitoring
We hope that now you understand the significance of screen time tracker apps as an employee monitoring tool and might be willing to use them in your organization. However, you should pay heed to features before vouching for such solutions. You can also choose pre-built computer screen monitoring software, but trust me, they will start annoying you at some stage due to hefty recurring costs and limited features.
Apart from that, modern employee time tracking app solutions are not limited to just capturing screens and time logs. Their utility has grown over time and they have evolved as versatile tools to perform a variety of functions for your business. Let's go through some of the most significant features of a modern time-tracking app solution:-
Ability to track time-consuming activities on desktops and mobile devices.
Feature to automate the process of attendance and time tracking.
Options to track the apps and website for detecting productivity.
Ability to generate invoices on an hourly, daily, or monthly basis.
Activity levels are based on keyboard strokes and mouse clicks.
Detection of the working patterns to enhance team performance.
Custom vs. Off-the-Shelf Screen time Tracking App: What's Best for Business?
Having choices is great, but making choices can become daunting, especially when you need screen-tracking apps for your workplaces. Choosing an employee monitoring system should not be centered around personal preference. It is all about your specific requirements and what is good for your business.
Your quest for a screen tracking app will land you on two choices. You can either go with the off-the-shelf applications or hire a software developer for custom screen tracking app development. Apart from that, there are hundreds of business aspects that you need to consider before making a decision.
However, things can be easier after going through the below disadvantages of off-the-shelf screen tracking software:-
Huge Recurring costs
Limited features/functionalities
Limited scope for gathering actionable data
Inabilities to work in offline mode
No Personal touch to match brand values
Our experience with building a custom time tracking apps
Being one of the pioneers in the field of custom web and mobile app development, we often get a chance to work with entrepreneurs looking for a custom time tracking app development for monitoring the activities of employees during work hours.
Whether you need a cloud-based or on-premise solution, our web, mobile app, and custom extension development experts can do it all. Just look at some features we integrated to track the activities of remote employees and see if any of these resonates with your business need.
Before we start, let me put some light on the project. This custom time tracking app was built for the Philippines-based UpWork-like platform for Job Seekers and Recruiters. The goal was to track the activities of remote employees by deploying an app with the below features:-
Ability to Capture Screen
Screen capturing capabilities are one of the must-have features for any time tracking app. It let you know what your employee is doing on his desktop/laptop. Our app can capture and record screenshots that employers can view later on. Apart from that, our developers ensured that the time of screen capture stays random to prevent time theft.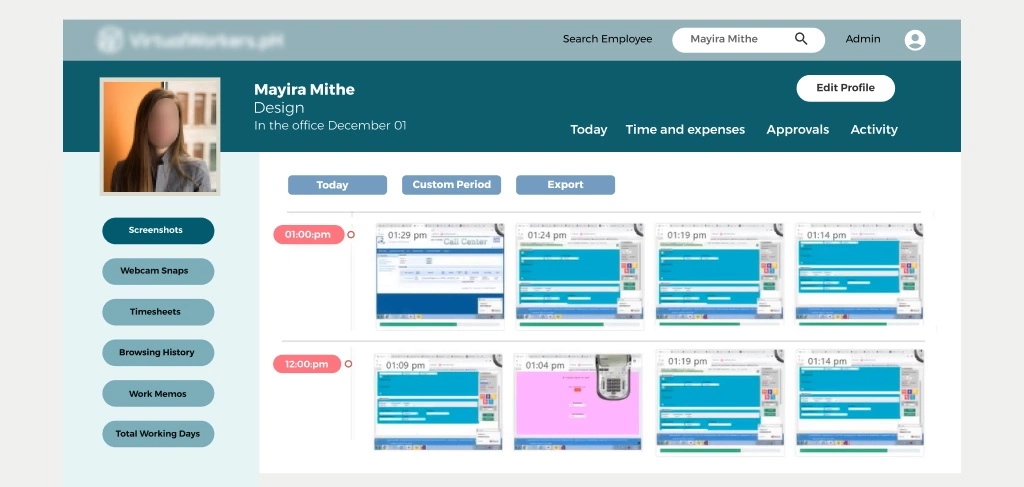 Camera Snapshots
It is yet another unique feature you hardly find with any off-the-shelf app. Our custom time tracker can take camera snapshots to ensure the physical employee's presence at the work desk. Although it may not seem as effective for the in-office workforce, It is a revolutionary idea for improving the efficiency of the remote workforce.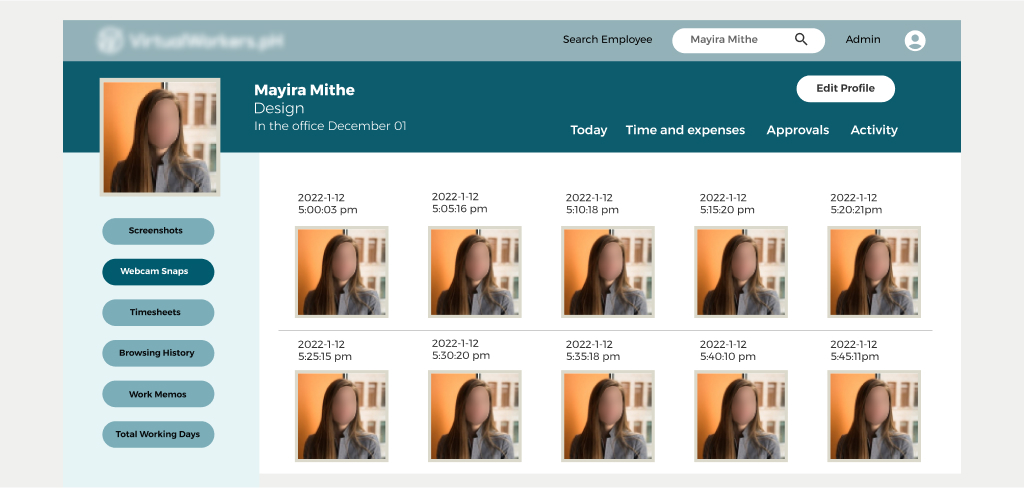 User's Browsing Activity
While the internet is a resourceful tool to perform work responsibilities, some employees may misuse it during working hours. Monitoring the browsing activities provides clear insights into how your employees use the internet in the office. Similarly, our custom time tracking app can record the browser activities of remote workers while time tracking is on.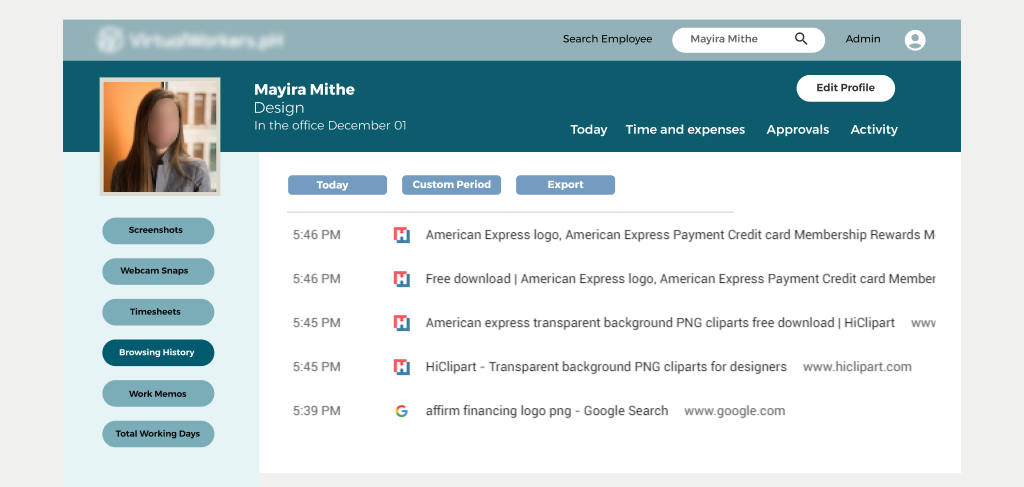 Work Memo Section
Being an employer, you must know what your employee is doing during a work session. To ensure it, we integrated a feature to add work memos. The employee can add a note on what tasks he will work on during the current session. We also added an option to change the memos, but only when the employees change their tasks.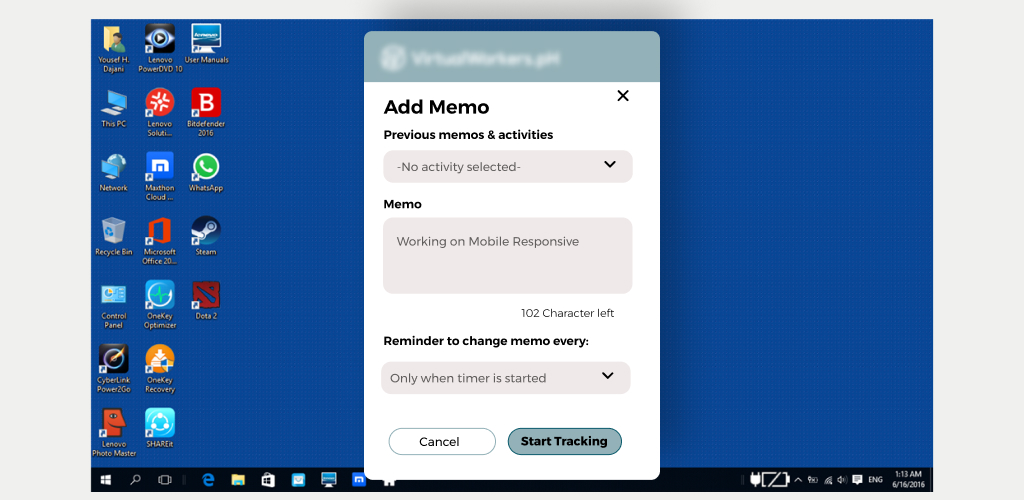 In-built Chat Feature
We equipped this screen tracking app with in-built chat features for a secure way to share work-related information, updates, files, and more. Apart from that, we also added a chat monitoring feature to allow the employers to identify suspicious behavior and potential breach during the communications happening among the team.
Smart Timesheets and reports
Our time tracking was capable of creating time sheets and reports on the basis of screens and time captured during working hours. The app pre-fills the timesheets with recent activities, memos, billing summaries, and screenshots to generate time utilization and compliance reports.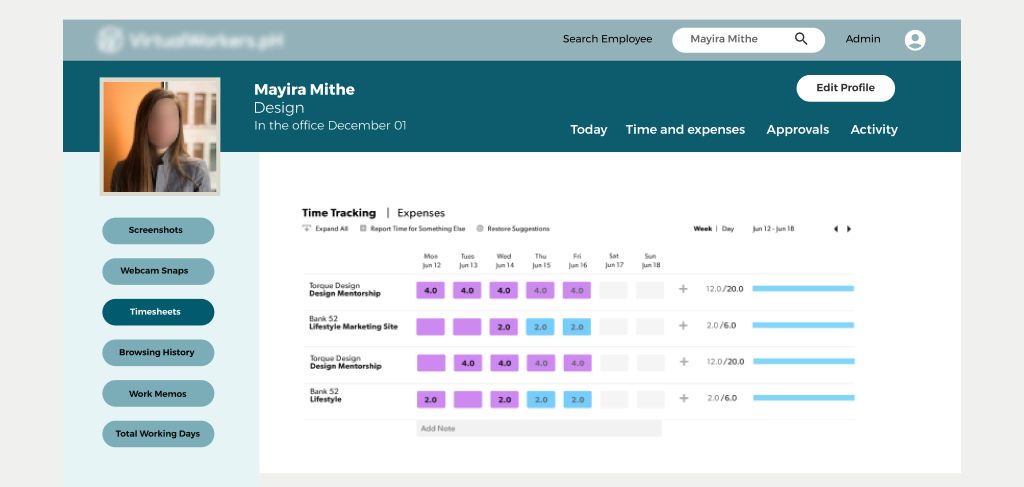 These were only some of the top features that we integrated into our recent time tracker app for an Upwork-like platform. Though these features are sufficient to streamline the remote workforce, we have plans to upgrade it with more features like invoicing and payments, Pomodoro timer, compatibility with other project management tools, and more.
Let's get started with building your custom screen tracking app
Wherever there is a business, you need some sort of tracking and employee screen tracking software can become a one-stop solution to track every meaningful metric like time, expenses, revenue, and so on. We hope that now you must have a clear idea of how a screen tracking app can benefit your business by promoting better efficiency and more productivity
That pretty much does it for today's portion of knowledge from The Brihaspati Infotech's blog. If the idea of using time tracking and computer screen monitoring suits your needs, let's start gauging productivity and performance with a custom time tracking software tailored to your business-specific needs.