Custom Wix theme development: How to do it right?
Wix is one of the best website-building platforms out there. Like WordPress and Squarespace, this platform is well-tuned to mark your digital presence. Custom Wix store theme development helps you avoid getting your hands dirty with HTML coding.
"Wix offers robust tools to build websites for clients belonging to different industry verticals. It's simple and does a lot of the legwork such as providing pre-made templates and color schemes.- Ashish Thakur, eCommerce Expert, TBI
If we speak about building the website using Wix, an intuitive drag and drop system is the most significant advantage. While experts in Wix development services consider it best for small businesses, it is not true. The certified Wix experts can deliver Wix-based websites for stores with complex structures.
Features that make Wix Store Development Ideal For Your Business
More than 800,000 stores use Wix, and it is still a preferred choice for building custom business websites and online stores. Apart from incredible inbuilt features, the platform keeps developing tools for something new and useful every time. You also have an option to hire a Wix website expert or a Wix landing page designer to get more out of the bucket.
Let's walk through some of the incredible features you get with Wix:-
An easy learning curve with an intuitive interface for Wix store development.
More than 500 templates with the option to use the services of Wix design experts
Easy-to-use Dashboard and Built-in tools for marketing.
Automated Tax rates and integration with Stripe.
SEO Optimized and Multilingual storefront for Global reach.
No hassles with maintaining website hosting.
Readily available POS app.
ADI (Artificial Design Intelligence) can build the website and content in just a few clicks.
Wix App market generates even more possibilities for merchants.
Wix does make life easy for an owner through ADI, the App market, and an easy-to-manage merchant interface. But the eCommerce market is a challenging sphere. Even with Wix, every merchant should follow certain best practices to get the most out of the Wix eCommerce theme.
Key features perfect custom Wix theme development for your Brand
Whether you manage your store yourself or hire a Wix landing page designer, It's important to understand that leveraging the Wix solutions to stand ahead of your competition requires exploring its potential.
You need to discover capabilities that suit your business. A website that resonates with your brand values needs Wix custom theme development or the services of a Wix landing page designer.
It's important to understand that there is never one right way to design the perfect Wix theme. Several key factors combine to establish an ideal theme that can be created and managed using the Wix Editor. These includes:
Setting up the right color combination
Establishing a practical Navigation Header
Choosing the right Font/Typography
Designing a conversion-centric Product detail page
Getting the mobile experience right
Let's dive deeper and understand how these best practices are necessary and what is the right way to introduce them in your Wix eCommerce store.
1. Choosing the right color combination for your Wix theme
The color combination is a vital mood-setter for the users. It articulates the website's message without words. Besides impacting look and feel, it also compliments the design and user experience. Never choose the color combinations on a whim. Color patterns always influence the subconscious assessment that users make about your products.
The color combination and fonts should always be a reflection of your Brand. These elements should give out a subconscious message to your customers. Ask yourself a couple of questions while deciding on your color combinations:
Are your theme colors complimenting your product images and logo colors?
Are CTAs set up with contrasting colors to the base colors so they demand attention and take the customer journey forward?
Here's an example from a recent custom Wix theme we designed for a Jewelry website.
The jewelry niche is sensitive to social, psychological, and economic factors. The right combination of colors in design enhances navigation while stimulating intuitive interaction. Below are some tips for creating a user interface with full advantage of color selection:-
Integrating your branding with color combinations
Implementing the color psychology basics
Acquainting yourself with color theory
A/B testing different color combinations
Wix editor offers plenty of color theme presets to apply on your website. You can browse these presets to get the perfect option suiting your brand values. From palettes to outstanding pastel, Wix editor offers you all and that too with easy editing options.
2. Setting Up a Practical Navigation Header
According to Google, 50 ms is the time that a user will take to form an opinion about any online store. These days, the focus has shifted toward triumphant minimalism. It has caused a significant increase in the role of the website header design to catch the eye of your users.
Mapping out the perfect header is crucial as:-
It will be the first thing your visitors encounter when they land on your website.
The user's acquaintance with your brand starts here.
If you are starting your eCommerce journey through Wix, the following are the most crucial elements that your navigation header must have to assure optimal conversions:
Company logo & Tagline
Access to Shop's collections
Contact method
Shopping cart
Press/Customer reviews.
For budding brands, Wix design experts always recommend a minimalist approach that provides easy access to the products and accessible links like Reviews and Contact details that establishes trust with the buyer.
While designing your Wix eCommerce store's header, it's worth auditing if the header elements assure the following::-
A clearly visible Brand identity.
Links to product collections.
The shopping cart is in the customer's line of sight with clear indicators of whether it is empty or has some items ready to be purchased.
Link Reviews and Contact section for communicating that your store is reliable and reachable. This tactic massively improves conversions.
Bonus Option – If there is room in the header and you have a large product collection, add a search bar.
A header is something that sets the tone of your website and ensures people know exactly what your store is all about. That's why it is so important and you need to follow certain tactics to make it work for you. Check out the below examples of practical headers used by some eCommerce websites.
3. Choosing the right font for custom Wix theme development
Illegible typography can confuse and turn off your users. It can happen despite having a breathtaking design of your online store. If you wish to get a response from the buyers your store needs to be as clear as it is beautiful.
Using Wix development services to create worksheets defining the font style is a wise step. Fonts/Typography impacts all website elements like headers, main content, paragraph text, links, side column text, and buttons are vital.
A certified Wix expert all focuses on the typeface, style, weight, and color for each such element to establish a good font hierarchy.
The below example shows how a good font selection is more effective than sophisticated graphic design. Check how different fonts play an instrumental role in communicating the store message for a jewelry store.
Clever use of font and color evokes positive emotions while providing great readability to the users. Apart from it, you also need to consider your niche before choosing the fonts.
Pay attention to the following details while choosing the fonts and establishing the typography:-
Always maintain consistency with fonts and never overdo anything.
Select the colors that complement the brand values.
Never ignore the importance of color contrast
Consult a Wix website expert to cross-verify the font styles across industry standards.
Wix offers super easy tools to choose a text theme, edit its styles, and change text elements. You also have an option to upload and use custom fonts. As evident below, the Wix editor gives an unmatched advantage when it comes to adjusting text styles including fonts, spacing, and size.
4. Designing an attractive Product detail page
The page where conversions actually happen can't go unnoticed. Its effectiveness decides whether users will complete sales or you lose them to competitors. It is not wrong to say that product page layout, design, and features are the centerpiece of the whole eCommerce experience.
Your product page should grab attention with product information once the user reaches the finish line of buying journey. Believe it or not, an effective product page can become a difference between converting the users or losing them to competitors. Check the below example of custom Wix theme development for a perfect product page design for a jewelry store built using Wix.
There was a great improvement in bounce rate and conversions after the implementation of this design. You should focus on more strategic aesthetic choices to get the products into your customer's hands.
Following are some vital recommendations from a Wix eCommerce designer while setting up the product detail page:-
The overall page is minimalistic with a focus on the product, its details, vital T&C, and Add to cart button.
Featured image of the product
Product Image Gallery is interactive and the images are pleasing
The product overview ( title, price, and features) is well written without any technical jargon.
Social proof, reviews, and ratings are included.
Similar/Best selling product suggestions.
WIX Bonus: Ability to switch between products like a catalog without leaving the product detail page.
You need to master messaging, value proposition, and product description for a captivating product page. Check the below examples of product pages. They can inspire you to create a product page that makes users believe you are selling something they need to own.
5. Optimizing the design elements for Mobile Users
Not paying heed to a responsive design is not wise for any business website. You need a responsive design so that your customers can browse your website irrespective of the devices.
Mobile commerce sales will reach around $3.5 trillion by end of 2022. Ignoring the responsive designs can make you leave a big chunk of revenue on the table. Custom Wix theme development experts can help to improvise on this massive opportunity.
We often come across cases where Wix websites fail to reformat the experience on different devices. Wix expert by your side can help you overcome them till the platform provides any concrete solution for it. The below image demonstrates a tailored mobile view for a Wix website dealing in jewelry.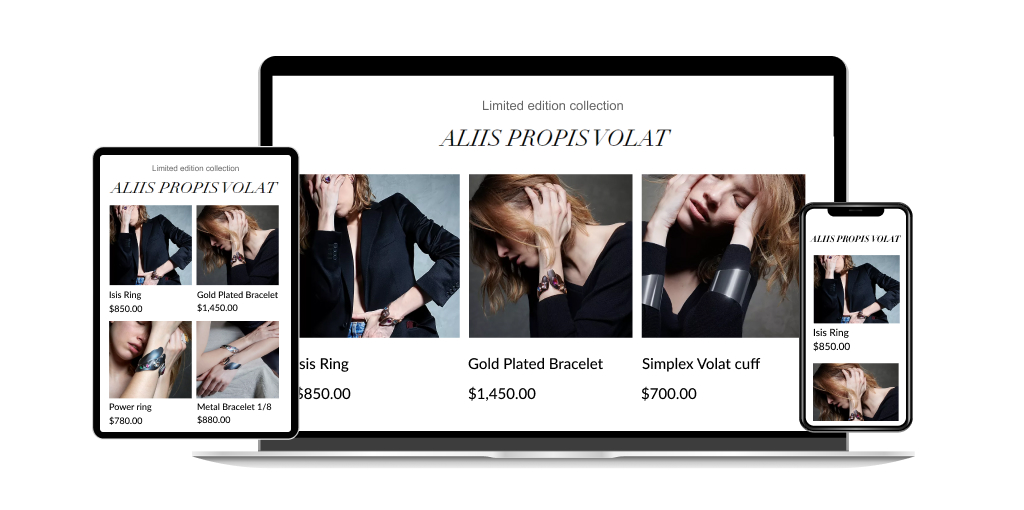 If you struggle with the responsiveness of your Wix online store, try these hacks recommended by the best Wix designers around the globe:-
Rearrange web page elements using drag and drop options.
Modify font sizes, font colors, and text alignments.
Check pages/elements you wish to hide in the mobile view.
Delete Space to remove the gaps, and use the mobile tools.
Platform Limitations That Need Certified Wix Experts
We agree that Wix should be your preference while building your business website, but it has some limitations too. While being an excellent website builder, it still fails to deliver a complete package when it comes to custom Wix theme development for business. Let's go through some of these limitations that you can encounter with Wix:-
It possesses complications to position well in google rankings while using Wix websites.
Custom pages generated using the Wix platform offer suffer from slow loading speeds.
Inventory management backend starts getting sluggish after 100+ products.
Store owners often struggle with mobile device compatibility after customizing default templates.
Complexities with the migration and updating of website templates without losing data
No ready-made solution to migrate Wix stores to other platforms like WordPress or BigCommerce.
The free plan displays ads and Wix branding unless you upgrade to paid plans.
Though it may not sound best for advanced needs and some features may cost more, it gets the job done at the end of the day. Custom Wix theme development or Wix development services can overcome every Wix issue. But, before you do that, don't forget to consult any of the reputed Wix development experts.
Conclusion
You can find yourself in a daunting situation when choosing the one that offers what you need. With around 2 million new users each month, Wix may seem like the right platform. Yet, numbers are not the only players in the game.
You need a skilled Wix website expert to overcome the limitations discussed above. That's why Wix development experts at The Brihaspati Infotech offer you a wide range of services that includes:-
Wix Website Setup and Customization
Custom Wix theme development
Wix API Integration Services
Consultancy services for Wix Stores
Migration services for Wix e-stores
Wix support and Maintenance services
Consult us to decide on the eCommerce platform that suits your business to get tailor-made user experiences for users. Don't wait for more! Power your digital business with industry-leading and affordable Wix store development services today!