13 Essential Features Of A Complete B2B Ecommerce Store
The year 2017 has proven E-commerce model is not only meant for online-only stores. It is now an essential cog in the wheel for Brick and Mortar retailers as well.
While the figures are emphatic for B2C E-commerce businesses, the figures are gradually rising for B2B business as well who are adopting the E-Commerce way.
Forrester reports suggests that U.S. B2B e-commerce sales will reach $889 billion this year, up 7.2% from $829 billion last year, grow 7.3% annually for three years, then climb 7.9% between 2020 and 2021 to reach $1.184 trillion.
Although in its infancy, the rate at which B2B E-commerce sales are increasing indicates that B2B customers are growing more comfortable with E-commerce and online engagement.
Consequently, B2B companies are being forced to fundamentally rethink how, when and why they engage customers and support their needs with dynamic commerce infrastructure.
Industry research shows that B2B customers have substantially shifted their research and transaction activities online and onto their mobile devices.
According to Forrester, 74% of B2B customers already research half or more of their online work purchases. 56% believe they will make half or more of their business purchases online by 2018.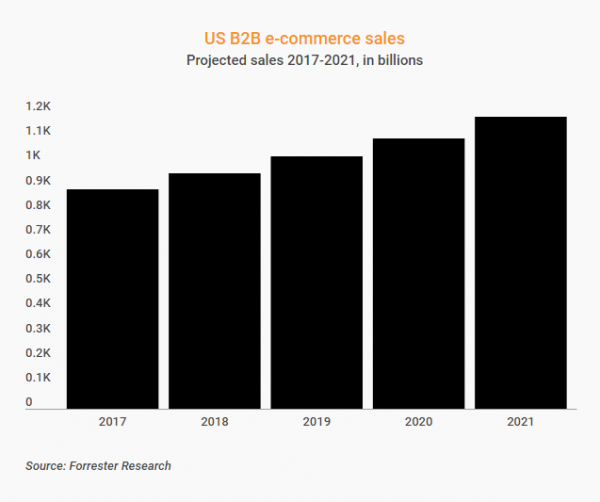 Need of getting the User Interface right
Selling B2B is various things, including:
Wholesale
Distribution relationships with large or chain retailers.
Selling to organizations (schools, businesses, non-profits).
Supplier selling to resellers.
This puts a lot at stake for a B2B business owner. Their ideal customer is much more valuable on a per order value basis as compared to a B2C customer. Losing a single customer will make a dent in the monthly sales report.
For a B2B E-commerce store to be successful, the website needs to compliment the business model effectively and should deliver buying and engagement options that go beyond print catalogs and voice call order.
With that in mind, we have accumulated 18 essential features listed under the 4 pillars of B2B E-commerce websites:
1. Customer onboarding and store navigation
2. Ordering and quotes
3. Inventory management
4. Customer Support
Ready? Let's Begin
Customer On-Boarding And Store Navigation
B2B customers today want to be treated as individuals, not as companies or account numbers. The B2B customer interface should treat them accordingly as well.
Right from the moment they first land on the website until they check-out, the customer experience should focus on making the ordering process as simplistic as possible.
Following are few features one should be aware of while setting up a B2B E-commerce customer experience.
i. Product's detailed information
In a B2B business model, discussing product quantities, descriptions, variations are usually agreed upon over a phone call or business brunches.
With E-commerce in the picture now, it is a lot easier to get the information through to the shopper.
Yet, it is essential that each minor or major details of a product should be accessible on the website for the shopper. So, customers can know as much as there is to know about a product.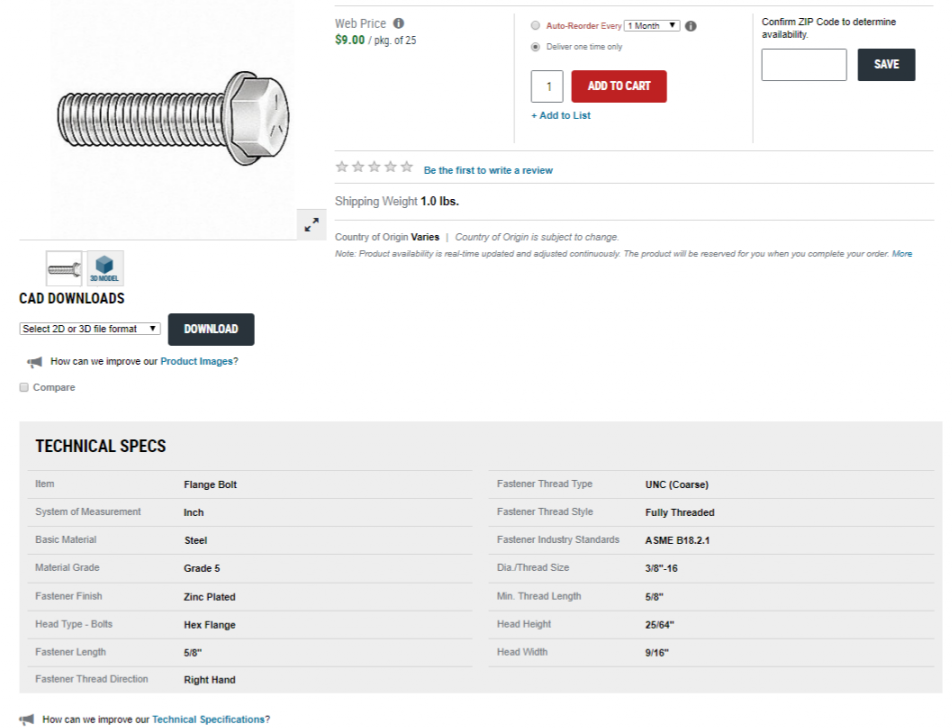 For each product customers should have options of downloading the following:
Product Sheets: It will include the product variants information and description.
Imprint template: It will show the measurement and the actual size of the products.
Missing out on any of this will mean that they will seek it elsewhere.
ii. Products Virtualization
Product virtualization is an essential feature which always delights the customers.
For example, products like T-shirts, Smartphone Cases, Stickers & Decals, Eyewear and more, can come along virtual customization options that can then be implemented on the deliverable.
Giving shoppers to configure their products before ordering can be a cherry on the cake for your website customer experience.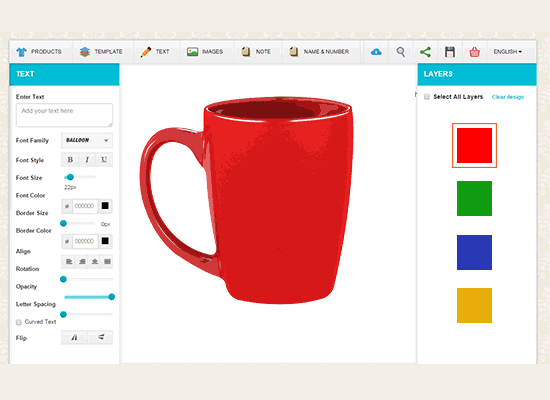 For illustration, you can offer the following product customization options:
Select color of the product.
Upload your artwork
Custom messages.
There is unlimited potential which can vary according to the product niche.
iii. Advanced search
B2B businesses usually feature immense product catalogs and having robust search capabilities are essential in E-commerce.
In the consumer market, online retailers give consumers the ability to perform accurate searches across a variety of product attributes.
B2B E-commerce platforms need to provide the same level of convenience, allowing clients to go beyond basic SKU-based searches and locate items according to product details, price, and availability.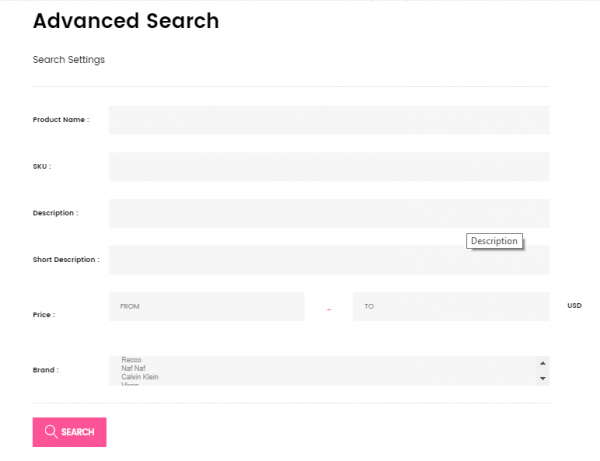 The easier it is for shoppers to search for the exact product which they want to order, the better the conversion rate will be.
iv. Handling Shipping Costs
As Businesses orders their products in bulk, they are much more concerned about the shipping costs.
Displaying shipping cost for the deliverable upfront is not just an effective conversion tactic, but should be mandatory for B2B businesses.
Almost all shipping providers, like: Fedx, DHL, Aramex etc. can be integrated using their web API's with any online B2B store.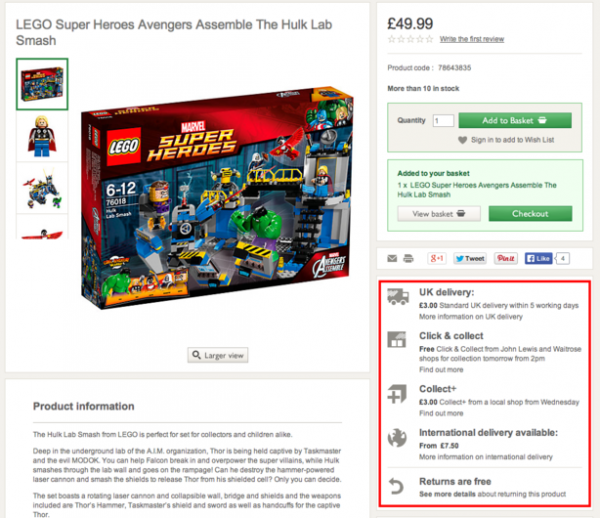 This allows merchants to fetch accurate shipping cost from the shipping providers which can be displayed it to the user automatically based on the following parameters:
Quantity
Location
Service type
Product weight
Hire us for ecommerce development and integrate your local shipping provider's web API in your B2B E-commerce store
Ordering And Quotes
Once bulk orders from businesses start coming in, the order management section of a B2B E-commerce store can become intimidating and difficult to work with for the customers.
Ensuring a neat and minimal order management interface that is productive for your customers and yourself is a necessity.
Your store must have the following features to keep the same in check:
i. Quick Order
How often have you found yourself re-ordering products like Shaving kit, Dogfood, Your Printer's ink toner or anything else on a weekly or monthly basis?
Would you prefer to go online and spend time to search for the same product every time? Or would you like the ability to simply log-in and hit reorder to have your order shipped again.
Many end user stores allow customers to set up automatic orders (subscriptions) for the products they tend to order on a repetitive basis.
The same is true with B2B E-commerce as well. B2B customers no longer prefer several offline steps for making their orders. Often, they know exactly what they want, even the exact item number or SKU.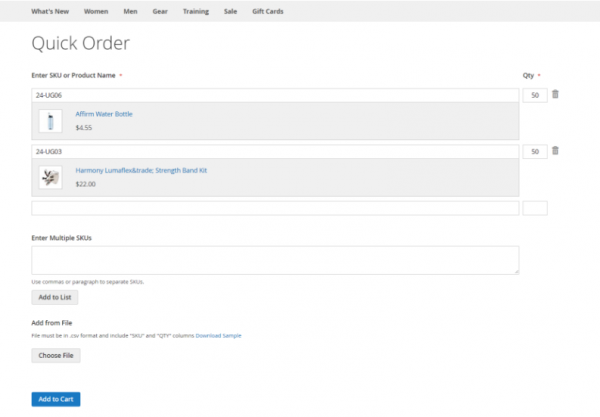 A quick order feature in B2B E-commerce website can easily allow them to either re-order their previous orders or easily fill up a form with the SKU's or item numbers and quantities, to quickly add items to their cart without spending efforts in browsing and searching for the same product each time.
ii. Minimum order quantity
Another essential sales strategy that many B2B stores ignore is setting up a minimum order quantity.
Instead of taking for granted, that B2B customer will eventually purchase products in bulk, merchants should study sales trends of their inventory and set up minimum order quantity for specific products to generate maximum sales.
iii. Cancel/update orders
While this feature is not something new in end-user E-commerce stores, B2B merchants tend to be concerned giving this ability in the hands of the customer.
However, they need to understand, the rules of B2B customer engagement have changed, and antiquated commerce strategies must change with them.
If our clients need to make changes in their orders this should be done in their account. There should be no need to make calls and sending emails for these simple actions or requests.
To begin with, you can activate this feature only for the orders that have not been processed yet.
iv. Automate Quotes
While manual quotation process has long been used in the B2B business model, automating it using an E-commerce website saves significant time for both merchant and buyer in finalizing a deal.
With an easily accessible "REQUEST FOR QUOTE" feature, buyers can easily request quotes for their orders – preferably by filling up a form with SKU's or Item numbers, and the store manager can in turn revert with a detailed quote to the customers for the placed orders through emails.
Automating the manual quotation process helps B2B business significantly improves the order as well as customer tracking and maintenance capabilities of a website as well.
Inventory Management
i. Different Base Prices
When you deal with multiple businesses as your customers, you might have to offer different sets of prices for different customers based on the customer's history with your store.
This is applicable to B2B deals happening over your E-commerce website as well.
Merchants must have the ability to sell products at different base prices based on their customers.
A tiered pricing structure that varies from customer to customer allows you to analyze the behavioral analytics of your potential buyers and what is being offered by your competitors as well to come up with a competitive price to stay ahead of the competition.

A value-based discount strategy and effective execution of discounting policies can help a B2B business to prosper and stay ahead of the competition.
Hence, having an easy to manage sales/discounts management system that either allows you to manually or automatically manage the sales value and duration is a norm for all B2B E-commerce stores.
The discounts can be based on the cart value, cart quantity, or any other factor that suits the product niche, the gist is it should complement your B2B discount policy.
ii. Product importing
It is the essential feature of a B2B E-commerce website and usually the most time to consume once.
Often, the product import will mean the store manager will have to create a CSV file with all the product information including product categories, attributes, and other relevant data.
Not only is this process slow due to the huge product listing of a B2B website, the chances of a pilot error also increase.
However, if we can configure your E-commerce system to import the CSV data in multiple steps, it will substantially decrease the loading time as well as silly blunders during data entry.
Here's what we did for one of our B2B clients:
We divided the CSV upload process into three steps:
Category import: Merchant can import categories or subcategories of their product in this section.
Product import: Only products need to be imported here.
Log file: Missing attributes and product details can be added here later.
By dividing the import process into above three steps it made the product upload process substantially quick.
iii. Real-time inventory data
You don't want your B2B customer to order 1000 pieces of stationery items just to find out at the checkout page that you are 100 short of their desired quantity in your inventory.
Hence, Keeping the inventory data transparent with the customers is essential.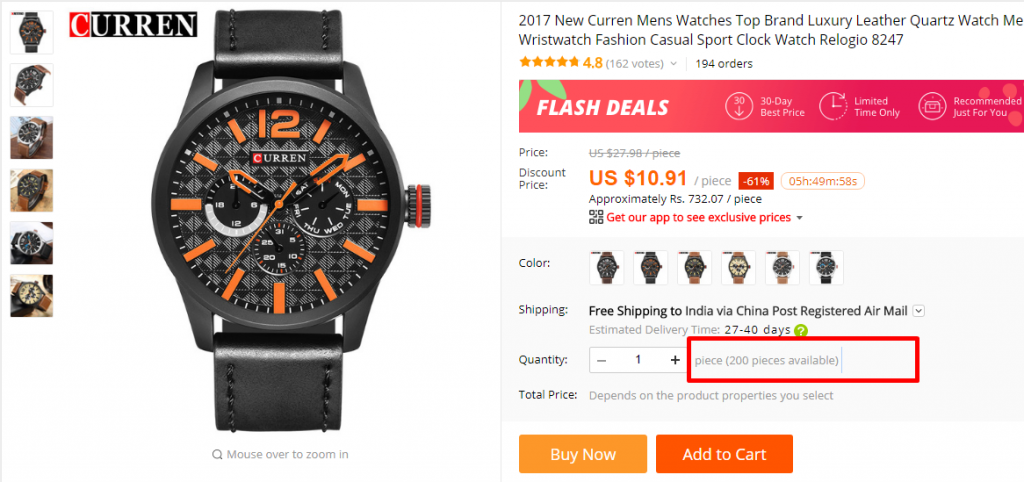 You can have a centralized database for your Ecommerce website and integrate multiple sales channels like POS and ERP with it as well.
This will not only make sure that you are always displaying the correct inventory values, but will also improve your forecasts for the next inventory refill.
Get in touch with our Ecommerce development company to synchronize your POS and ERP data with your B2B E-commerce store.
Customer Support
i. Order Status Tracking 
In B2B model, customers might have customers of their own.  This means, the status of an order might be providing updates to other business processes.
Order tracking is a key to success in all different types of supply chain models, whether it is a Just in time model or Distribution model.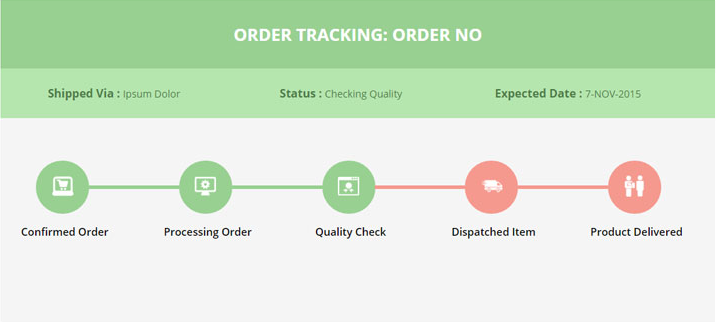 B2B E-commerce websites should show the detailed order status to their merchants.
This can be effectively achieved by integrating a 3rd party CRM with your website and using it to effectively communicate the order status with your customers.
For instance, we recently integrated Zoho CRM for one of our B2B clients which allowed the client to provide the following order status to their customers automatically:
Order received or not
Confirmation sent
Order approved
Paid in full
In production
Shipped
Delivered
It also shows the order confirmation details like Order number, "Bill to" and "Ship to" addresses.
Consider consulting our Ecommerce experts to integrate a CRM with your B2B E-commerce store.
ii. Sample orders
According to Kenneth Laudon and Carol Guercio Traver, in their book, "E-commerce – Business. Technology. Society – Eleventh Edition", there are seven steps in Ecommerce procurement process – Search, Qualify, Negotiate, Purchase Order, Invoicing, Shipping, Remittance Payment.
Providing product samples during the "Search and Qualify" process is one of the ways to make the buyer more confident.
This will also raise buyer awareness, generate feedback and reviews, and determine the effectiveness of a product.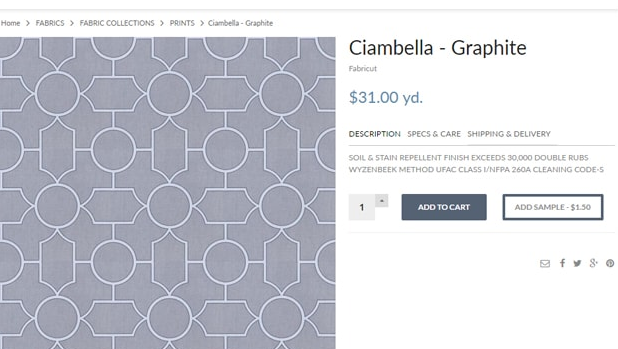 If your product niche doesn't allow selling product samples, then you can try sending out samples along with customer orders.
While this fulfills the task of product sampling, it will also act as a great Cross-sales strategy.
The Future of B2B Commerce is B2C-like Experiences
Remember that your B2B clients are not faceless account numbers. They are, at their core, humans who are conditioned to expect seamless, personalized shopping experiences online.
Deliver on those expectations (across all touch points and channels), and your business will enjoy greater process efficiency, lower cost of customer acquisition, and generally more satisfied customers.