Global Shopping Cart Shopify: A Single Cart For Entire Internet
Believe it or not, more than 50% of online buyers use different touch points before completing the purchase. It often results in cart abandonment costing millions of dollars worth of revenue for the eCommerce industry each year. Solutions like a Global shopping cart development can contribute to a seamless checkout experience to overcome this problem.
"A universal shopping cart helps to increase eCommerce sales while lowering the abandonment rates. A global cart that functions seamlessly across e-retail stores without requiring to register on each site can turn the tables for eCommerce players." – Max Goldberg. President, Max Goldberg & Associates.
As per our understanding, the online retail industry has already started focusing on unified shopping experiences. It's easy to find online retail stores providing facilities like buy-online-pickup-in-store or buy-online-pickup-at-curb to online buyers. Custom universal carts are also emerging as a leading player in this league with a promising concept to overcome the cart abandonment rate.
Today we will try to understand why Universal Shopping cart development is gaining so much popularity. We will also try to understand why building a custom global cart solution can become your next big thing. Before that, let's get introduced to the concept of unified shopping carts and how they benefit eCommerce businesses.

What is a Universal Shopping Cart and its key challenges?
Despite so many Big Box stores, it is still hard to find everything in a single online store. The buyers are often forced to browse different stores due to limited choices. It happens even with stores that bring multiple departments under a single roof.
A custom global shopping cart can be shared across direct commerce channels to allow the buyers to add, remove, modify and purchase products from multiple online stores using a single unified cart. Seem like we just cracked a puzzle, isn't it? But wait a minute!
As you dig, you will discover a lot of things to think through before imagining the meaningful adoption and implementation of a custom universal cart. Let's go through some of the considerations that leave entrepreneurs planning to invest in unified shopping carts scratching their heads:-
Price differences across multiple selling channels.
Challenges with changing inventory levels and prices
Holding the inventory till the user makes the purchase.
Updated promotions like coupons/vouchers for merchants
Differential shipping rates and return order processing
Features to focus on while building a unified shopping cart solution.
There is a lot to consider for building a solution to deliver on the promise of a universal shopping cart. Factors like operational limitations, brand experience, complex integrations, and adapting to the eCommerce ecosystem can pose challenges.
There are a lot of features that you need to consider for the success of your global shopping cart development. Our eCommerce development company recently delivered a Global shopping cart Shopify solution. Let's go through some must-have features we identified to turn your global cart into the holy grail of unified eCommerce experiences:-
Global Shopping Cart Features for Merchants
The first thing you need to consider while building a global shopping cart Shopify solution is its utility for eCommerce merchants. As merchants are going to integrate your solution into their stores, it should have some essential features like:-
Add to Cart Button Customization
If the merchant is integrating your global cart on his store, the buttons that reflect on the product pages should match the look and feel of the store. It becomes necessary to offer the feature/functionality that enables the merchants to customize the add-to-cart button to match the brand guidelines.
Customized Summary Dashboard
The next thing to consider is a customized summary dashboard. It is required to collate heaps of scattered data and present it as visualizations and actionable reports. The dashboard will help the merchants to know crucial data like customer behavior, completed orders, revenue generated, and much more.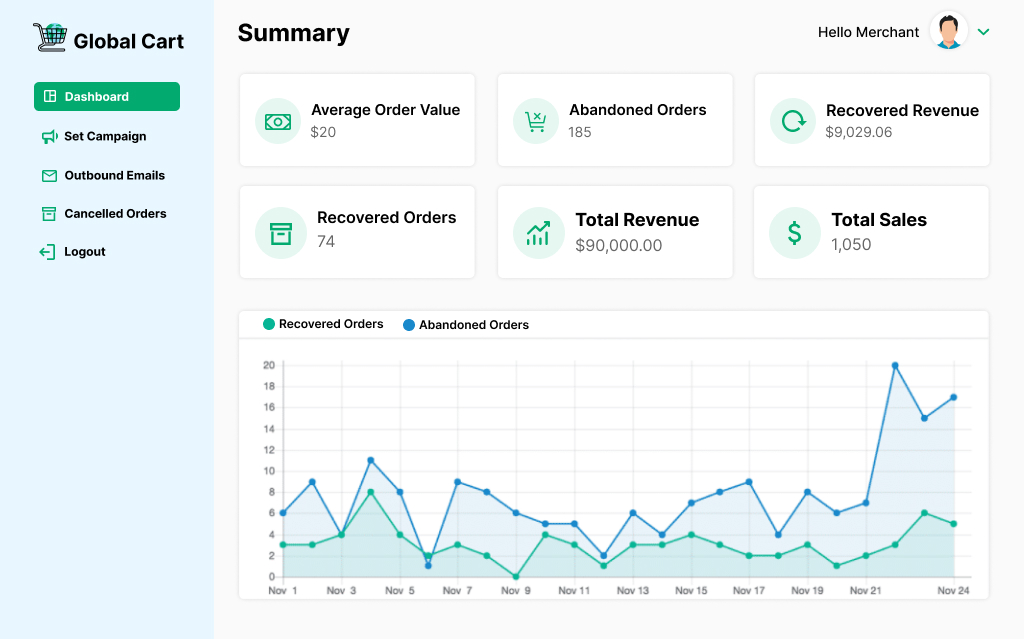 Abandoned Cart Emails
Features like the ability to send abandoned cart emails to customers are a big plus point for merchants suffering cart abandonment. The merchants will love a universal cart solution able to send automated emails to customers who abandon the products after adding them to their cart.
Customized Packages for the Merchants
Different merchants have different scales of operation. Thus a tailored package to meet the business-specific needs can work well for your Global cart solution. Catering your universal cart solution using customized packages will tempt more eCommerce stores to integrate your shopping cart into their stores.
Global Shopping Cart features for Buyers
Not paying heed to the experiences of buyers can turn tragic for your universal shopping cart solution. Apart from a good look, feel, and seamless integration, many additional features can contribute to unparalleled buying experiences. Let's have a look at a few features we added to our global shopping cart Shopify solution:-
Option to View Carts by Brand
The users will add the products from multiple shopping platforms. So, viewing products accumulated from each store will be a great plus point for a universal cart. Apart from enhancing the user's experience, it helps the users to manage the products across stores in the network.
Recently Added Products
A user of a global cart may accumulate hundreds of products from multiple stores. An option to view the recently added products helps them view the products added in the current or recent session. It will eliminate the need to browse through all the products added to the cart, thus helping to enhance the user's experience.
Option to edit the product quantity.
Just imagine the inconvenience the user faces by visiting the individual store for updating the product quantities. Apart from consuming a lot of time, it will also deteriorate the experience for your users. What about adding the functionality to update the product quantities in the global cart itself?
What makes Universal shopping cart development so promising?
As per a recent report by Globe News Wire, the unified shopping cart market will cross the $4.6 Billion mark by 2027. The growing popularity of already existing Global cart solutions like Honey, OneCart, and other players is tempting more and more entrepreneurs to invest in universal shopping cart development.
However, most companies/individuals willing to build global carts often find themselves in daunting situations while deciding on earning models. If you are also wondering about how to get returns after building universal cart solutions, the below revenue models will definitely solve the puzzle for you:-
Subscription-Based model – Earn by offering multiple subscription packages.
Commission-based model – Earn on sales using an affiliate or revenue-sharing model.
In-cart Ads – Don't want to charge the users? You can use in-cart ads to earn.
Apart from it, a custom global cart development can help the stores to foster a deeper relationship with the customers. It is not wrong to say that such solutions have a huge potential for increasing eCommerce sales, elevating brand loyalty, and surpassing the competition with a decisive edge.
Conclusion
These were some insights into the concept of the Global Shopping cart development and some out-of-the-box features to ensure its success. Shopping for products online using different carts is indeed a time-consuming process and solutions like universal shopping cart development can ease this practice.
If you are also planning to build similar solutions for the eCommerce universe, our seasoned eCommerce development team can deliver them while overcoming the challenges of unified commerce. Let's get connected and explore the endless possibilities for your custom global cart solution.