Google Sheets Add-on for Amazon Central: Sync Your Data
When Amazon brought in Seller Central as a trading platform for sellers worldwide, it came with a zillion opportunities equally thrilling and challenging. Whether you're handling financial reports, inventory status, or the hours spent on these repetitive tasks can take a toll on your productivity altogether. We created just the solution to simplify this tedious manual task of copying and pasting data from your Amazon Central Account by automating it with the help of Google Sheets Add-on for Amazon Central.
According to Gartner,
"Poor data quality is responsible for an average of $15 million of losses per year in leading business organizations."
Amazon sellers, are no strangers to the relentless stream of data, the necessity of real-time insights, and the perpetual quest for ways to stay ahead in a highly competitive marketplace. In such scenarios, it becomes very important to remain updated.
Scenario Before the Google Sheets extension for Amazon Central
Our client, a leading entrepreneur creating business reports for Amazon Sellers was struggling with the tedious manual tasks involved in creating accurate business reports. All this struggle led to constant losses and led to an utter mess.
Outdated Data: After one day (or less), Amazon Seller data gets old, it needs constant updates.
Manual data cleaning: Waste time cleaning up raw data files, and copy-pasting rather than understanding data and providing sellers with insights into their business.
Monotonous, Unproductive work: Repeating the same task over and over or hiring someone to perform work that could be automated with just an extension is a waste of both time and money.
Human Errors: Manual data entry is highly susceptible to human errors. Further this results in financial discrepancies, inventory mismanagement, and reporting inaccuracies
Limited Insights: With manual data entry, gaining in-depth insights into sales trends, customer behavior, and financial performance is challenging. This happens evidently due to time constraints involved in data extraction.
Data Security Risks: Manually handling sensitive financial and sales data caused data security risks, as there was a potential for unauthorized access or data loss.
Google Sheets Add-on for Amazon Central: An Automated Solution
Client Requirements
Our client had a specific desire for an extension that could simplify their processes. Additionally, they sought automation for the manual task of fetching real-time updates from individual seller accounts. They also aimed to automate the tedious process of constantly updating spreadsheets. Furthermore, they wanted a solution for preparing updated reports of finance, inventory, and order details.
Here's where the automated solution by our Extension Development Agency came into play by connecting Amazon Central accounts to Google Workspace.
Tech Base of Our Amazon Central to Google Sheets connector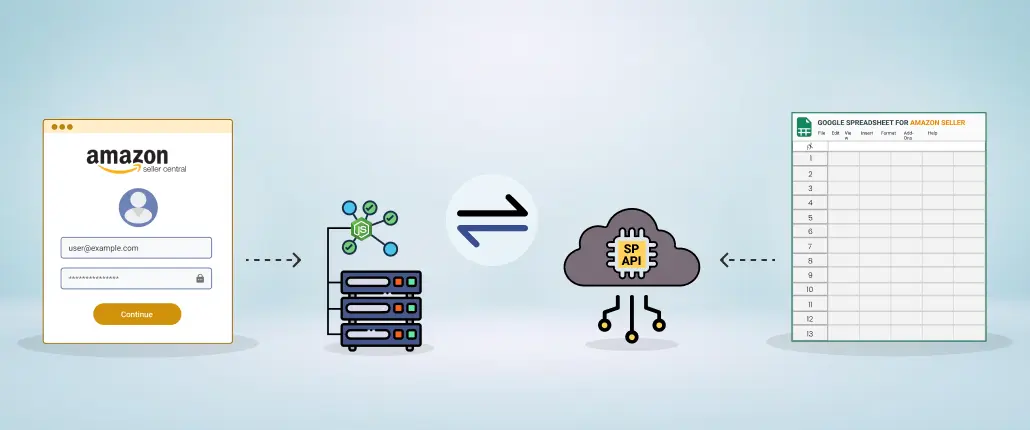 We coded our extension in Google Apps Script to ensure seamless integration between Amazon Central and Google Workspace. It utilizes the Amazon SP API to fetch real-time data from the seller's account. Finally, we used the Node.js server to pass API calls synchronizing Amazon Central and Google Workspace to auto-generate reports in Google Sheets.
Highlights of Google Sheets Add-on for Amazon Central
1. Real-Time Sales Details
Google Sheets extension for Amazon Central ensures that sellers receive quick, on-time updates about the sales of their products. Whether it's their best sellers, worst sellers, or order details, they'll always be on track, allowing them to act promptly to meet customer needs and stay ahead of the curve.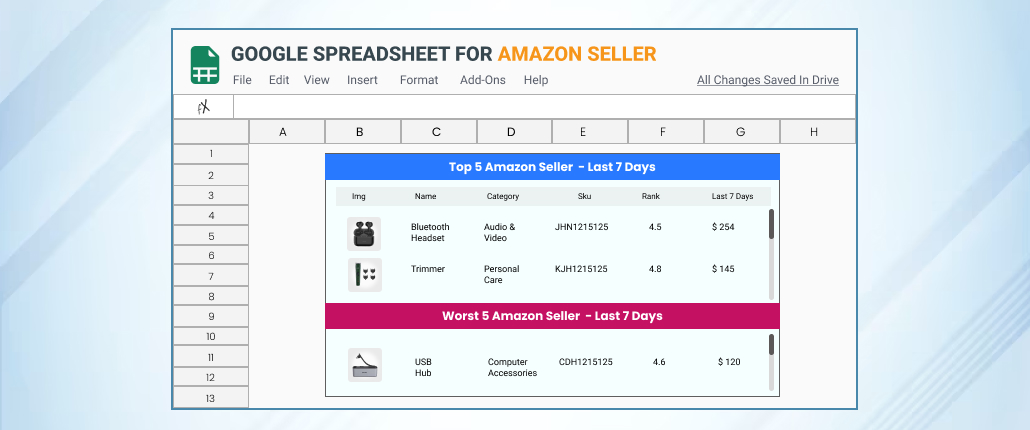 2. Accurate Financial Reports
Financial details are crucial for effective decision-making. Our Amazon Central to Google Sheets connector fetches finance data from Amazon Central accounts in real-time. It further compiles this data into a comprehensive report. Accordingly, one can easily track their revenue, expenses, and profits. Altogether this helps them stay informed about their financial performance.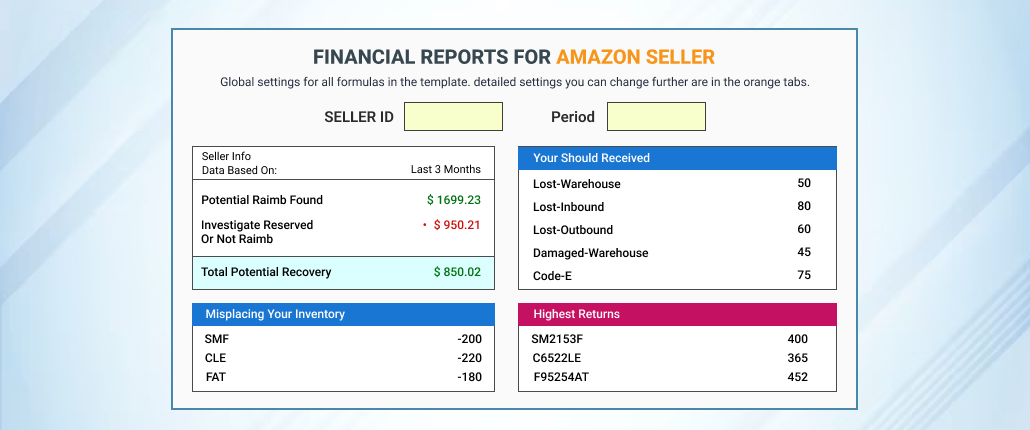 3. Simplified Inventory Management
It is essential to stay a step ahead to avoid stock-outs or overstocking in the inventory. The Google Sheets extension for Amazon Central ensures sellers have a clear view of what's in stock and what's not. This is done by providing updated inventory reports. It also provides a clear picture of what to send.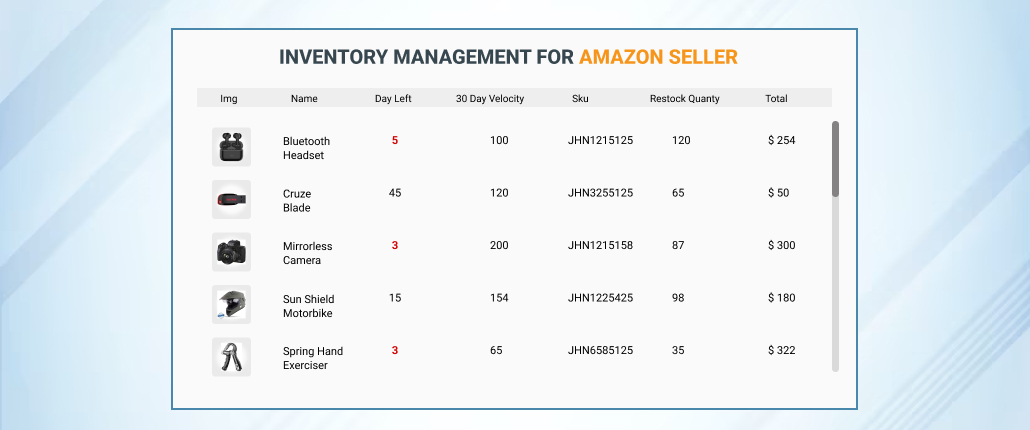 4. Effective Reviews and Price Tracker
Our Amazon Central to Google Sheets connector helps you track Amazon reviews and pricing management. It helps you monitor negative reviews so you can monitor them as a priority. Additionally, you can effortlessly monitor your pricing strategy and stay a step ahead while updating your Buy Box.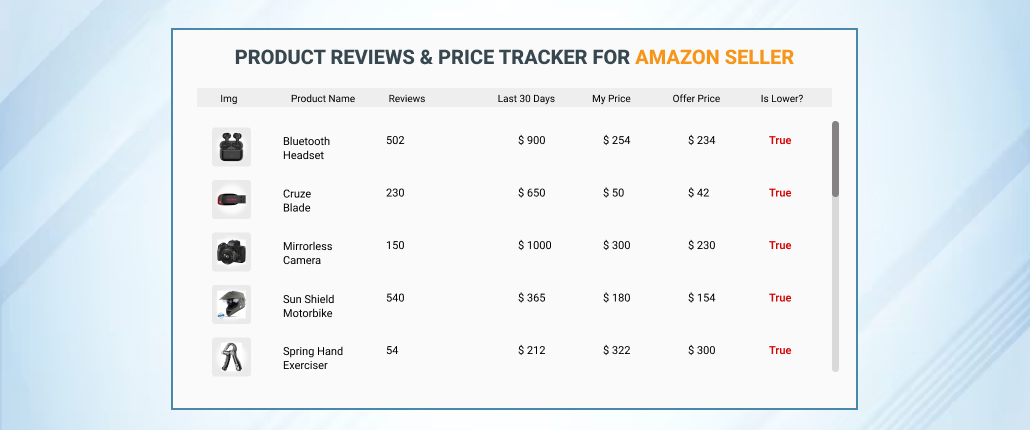 5. Quick Product Details Updation
It is important to keep track of details like ASIN, FNSKU, parent ASIN, BSR, and categories for each product. The Google Sheets Add-on for Amazon Central helps you keep a record of product details from a single and simple spreadsheet for each SKU you sell. It also enables sellers to identify the changes to their listings and product details.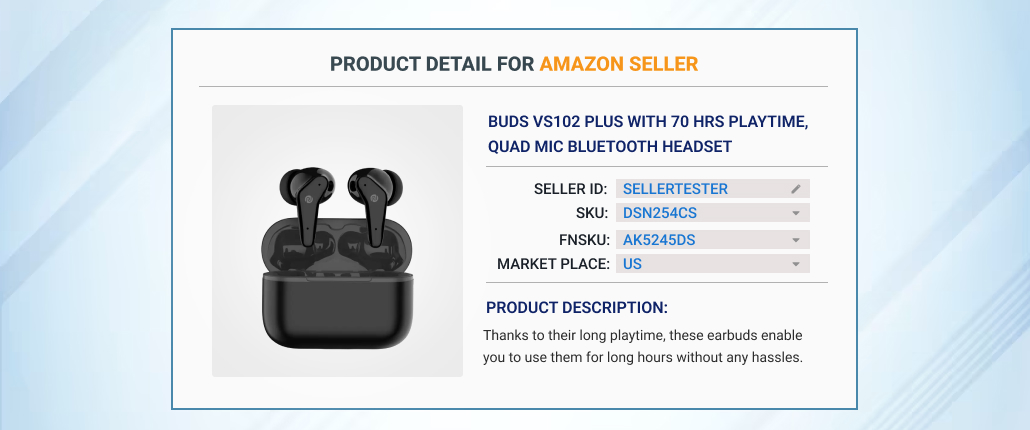 On a Final Note
In this fast-track world where time is money and data is the backbone of any business. Our Google Sheets Add-on for Amazon Central is way out from the tedious manual tasks of data entry, and the struggle to generate reports.
With streamlined automated operations, real-time data updates, and user-friendly functionality our tool helps you stay in the loop. Whether you're an Amazon seller looking forward to simplifying your task with a custom extension or a startup agency looking forward to getting a similar extension for your clients.
For a similar customized tool, Connect with our expert Extensions Development Company today and let us know what we can help you with.