Guide to E-commerce Strategies for Holidays 2019
BFCM 2019 is round the corner. The e-commerce businesses are preparing themselves for it. If you aren't prepared yet, here are a few stats that might concern you: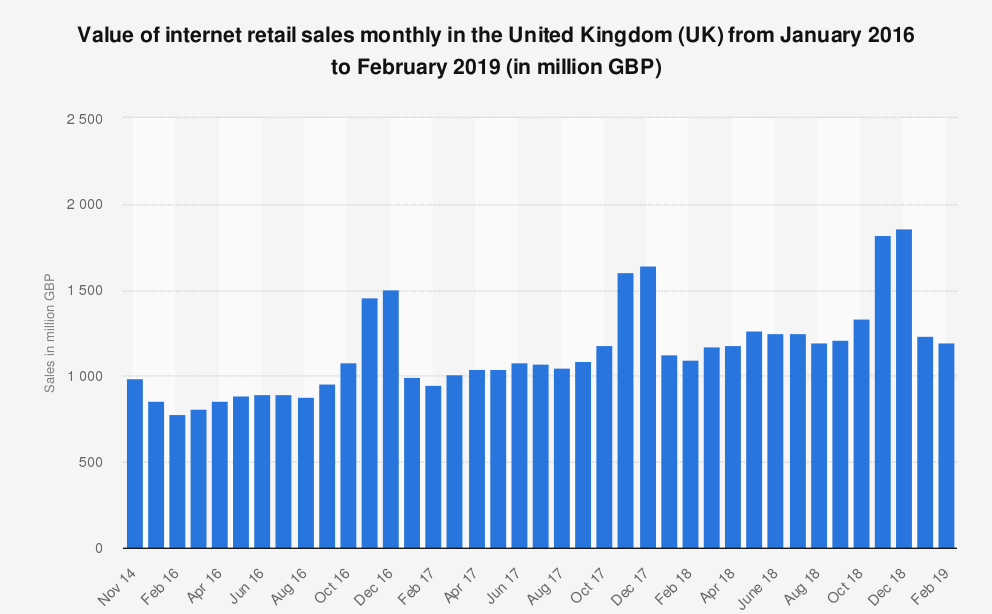 Image source: Statista
In the past three years, online retailers in the UK have seen a continuous spike in their sales during Q4. By spike, we mean that the surge limits itself between November and December. And the trend is expected to continue this year as well, even with a better margin.
As an e-commerce business owner, you shall consider these numbers as a part of your upcoming business strategies where you have the opportunity to clear away your annual stocks in a snap. This blog is for all the e-commerce businesses out there which aim to sell endlessly this holiday season.
Through this blog, we will discuss various factors that make you a favorite for the consumers, weeks before the season starts and actionable measures you can put through.
Effect of customer type on sales during the holidays
Not every consumer is the same. Your potential consumer can be a Millenial who is excited about the new gadgets or a middle-aged who desires to decorate the surroundings or an elder who is expecting an alumni meet. Consumers will have their set of preferences and choices which are far from our predictions.
With that variation in consumer base, the businesses need to segregate their marketing strategies. However, that will be a bulky task in such a short time-frame. As a solution, we classify the customers in two halves-
First-time holiday purchasers

Users who have purchased during the last season.
Both consumers will expect different deals for them. While the first-timers might lookout for big discounts while the existing consumers might seek more generalized offers based on their past year purchases.
You can pull them differently keeping in the eye of the hit and trial marketing strategies that have worked for various online stores across the globe. We bring you the best marketing tips for eCommerce for the upcoming holidays.
Optimize holiday E-commerce sales with effective customer relationship
Does a relation formed during the holiday seasons have the same results as a long term engagement between the brand and the customer? A big no to this.
Klaviyo claims that first-time Black Friday consumers don't return to the brand. That implies you can't rely on them entirely. They are approachable and convertible, but highly random. The very same source also confirms that nearly 48% of the BFCM sales in 2018 came from customers who interacted between Q1 '17 and Q3 '18. Further breaking the data by customer relationship age, a majority, 24% comes from customers who have interacted before 12 months of the holidays. Meanwhile, 6% and 14% come respectively from customers within 6 months and 6-12 months of sales nurturing.
Here, we mention a few actionable measures to nurture the old leads:
Email Marketing Campaigns
Mailing content seems highly conventional, though not outdated. Stats find Email as the leading marketing campaign that helped Shopify merchants sell Billions in the last year's holiday season.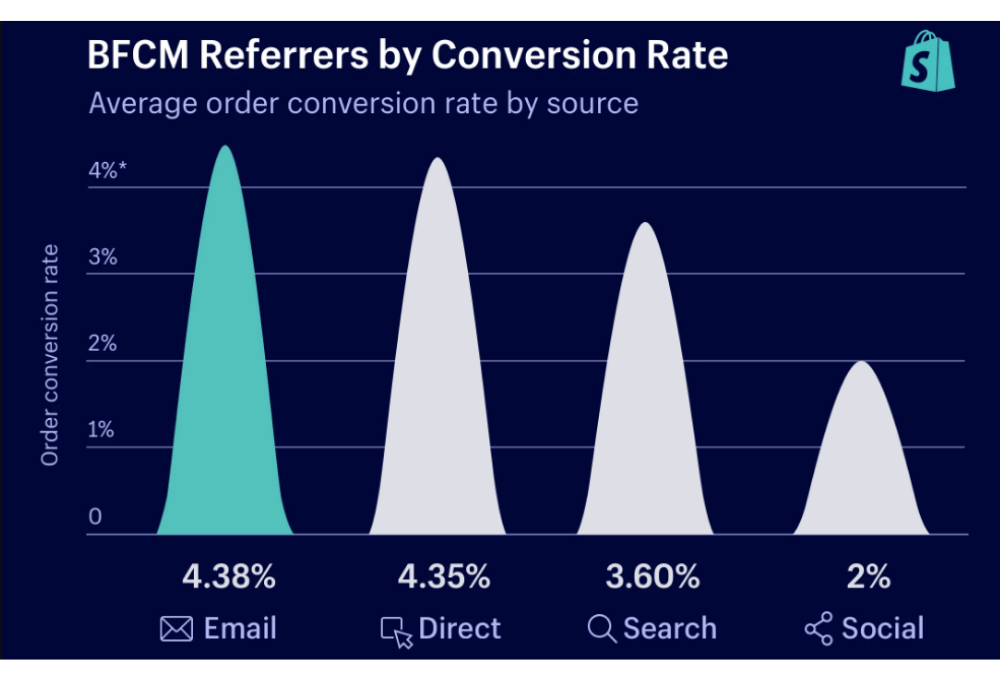 For obvious reasons, the questions that pop up at this point is: why will a user open your email among several other unopened emails? Following are some solutions that can make them feel special:
To empower email marketing campaigns:
→ Notify your months and years old leads with early access to the sales.
→ Categorize your customers on the basis of their past searches and pitch discounts accordingly.
→ Pitch them discounts and coupon codes on their searches
E-Commerce selling tips in holidays for new consumers
Your brand might be new to e-commerce sales for holidays. However, your competitors have seen several seasons by now. They will pull up the best strategies to stay upfront. And the same will be followed by a hundred other brands.
At this, you can either be a part of the crowd or shall stroll the insights of your business.
We list a few points you shall not miss during the holiday sales this year:
Prioritize the products
Last year's BFCM offers significant data for e-commerce merchants across the globe. Here are few stats by CedCommerce one should consider while preparing for the holiday season:
Top 5 favorite categories:
Electrical gadgets- 42%
Gaming- 34%
Clothing- 12%
Health and Beauty- 8%
Household- 4%
Sort your products accordingly. Though there are lesser chances that you might be selling products from more than one category, you can make better benefits if you do, especially if they are up the order in the given pie chart.
Bundling offers
Lets us learn this with a case.
Product 1:
Discounted cost: $150
Product cost: $70
Advertising cost: $30
Profit: $50
Product 2:
Discounted cost: $70
Product Cost: $20
Advertising Cost: $30
Profit: $20
After Bundle:
Discounted Cost: $220
Products cost: $90
Advertising cost: $30
Profit: $100
Had it been sold individually, the net profit would have been $70 instead of $100.
Bundling products need no introduction to e-commerce businesses. They had been implementing it for decades. The comparison above only brings it more to your attention that you are saving more than just efforts- marketing campaigns.
Create a buzz on Social media
Your prospects should be aware of the huge discounts you are offering this season. For quicker visibility and brand awareness, opt-out for the following campaigns:
Use popular hashtags
You can try out #blackfriday. Chances are, you might find a place at the top of google searches.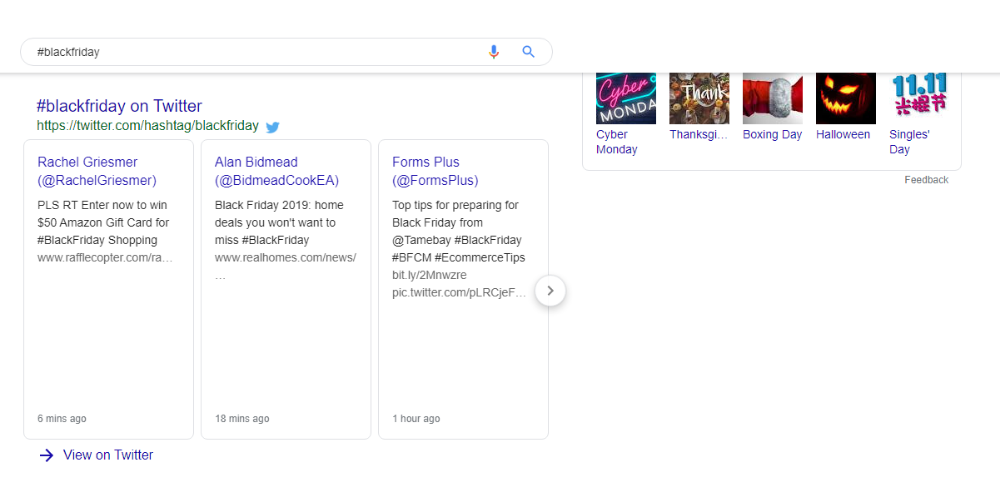 Gamify the offers
Sandcloud is one example that adds a gamified option on its home page. As a seller, you can use this as a game in your social media ads to engage your prospects.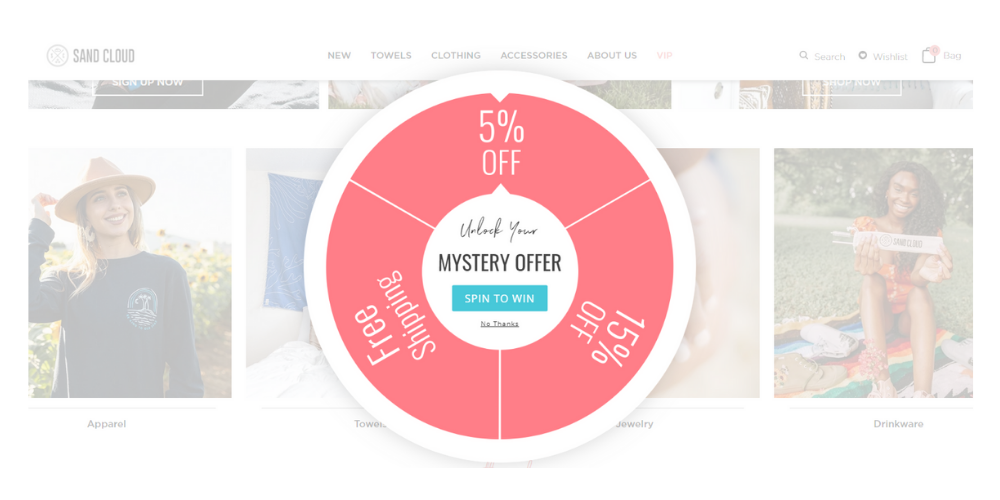 Run planned ad strategy
Lead Warmup
Nov 1- Nov 15:
Fill the top of the Sales funnel with maximum potential buyers with the ad costs being low.
Pre-holiday week
Nov 16-Nov 27:
Have pre-sales, Sale previews to engage prospects and target early shoppers.
Black Friday-Cyber Monday
Nov28-Dec 2
Pitch huge discounts
Planning for Christmas
Dec 3- Dec 13
The ideal time for ordering and receiving gifts for Christmas. Target a lead magnet to drive traffic to the store. By lead magnet, we mean the products that have worked as the USP in your store with a considerable margin as a discount.
The Last touch up
Dec 14- Dec 20
Retarget to grab the last-minute shoppers.
Beyond this schedule, you can keep the sales up with pitch-perfect strategies. We have discussed the same in one of our blogs: effective ways to overcome the post-holiday sales slump.
Rise above the noise and sell more
While you are working out on the tips offered by us, your competitors might already be implementing them. That makes you a part of the crowd again.
All you need to do now is to find the points where your brand can outpace them.
Everlane is one of the best examples in this case. The brand donates a part of Black Friday fundings for noble causes. Last year, they helped to remove 20,000 pounds of plastic off beaches along with a $260,000 donation to Surfriders.
Your initiation for a noble cause might land you publicity entailed by handy brand awareness.
Prepare for roadblocks during Holiday e-commerce sales
If we manage to tick all the right boxes, you can expect a huge rise in brand promotion at the user circle. Naturally, this will lead to a hike in traffic followed by sales. For obvious reasons, this is how a successful strategy works out.
On the other side of the coin, we need to emphasize on the infrastructure and the weak points at every stage. You need to calculate if the intermediates are really capable of handling the overloads and the repercussions.
Contingency plans and Abandoned carts
It is obvious that your business isn't much acquainted with that many orders. The shipping partners will be busy sorting their jobs while the influx of orders on your side can only add to the burden. Delay in expected delivery time leads to a 16% cart abandonment rate.
With that in mind make sure you have enough resources to ship the products in the desired time gap.
The surge in website traffic for sales in holidays
Your website can accommodate traffic to an extent. Make sure your server is sufficiently capable of handling the users. Apart from that, you might need to upgrade your site speed and performance, for which our experienced e-Commerce developers can be helpful.
They can test your store based on common customer pain-points and can help you enhance the overall CX.
A surge in the inventory during holidays
You need to consider this as well. Make sure you have enough suppliers by this time so that you don't outrun stocks. Popular inventory planner tools can help you at this.
Final words on e-commerce strategies for holidays
Through years of experience at understanding e-commerce businesses and working for them, The Brihaspati Infotech understands the current market trends and beyond. We understand how important it is to make plans and preparations for the upcoming sales seasons.
If all the boxes are ticked right, you can expect a loyal customer base waiting out there for the coming seasons.