Lots of things have been changed in our lives with the involvement of the internet, especially we can see the major shifts in the consumer's behaviour with it. Every year the number of online shoppers has been increasing more and more and thereby mushrooming the eCommerce stores. Now, people are more interested in the purchase and selling multiple products online with these handy eCommerce sites.
No business owner who is running an online store can ignore this huge trend of opportunity. So, an entrepreneur should choose or integrate use a suitable tool or technology such as Infusionsoft Payment Gateway for Magento to build up sales.
The user can choose a suitable platform to run your online store or other convenient solutions i.e. CMSs. It helps users to provide with comfortable admin panel, customizable templates and several plugins or tools for a fully operational eCommerce website. One of the popularly used and functional CMS is Magento.
Magento 
It is a famous open-source online store platform. You can customize it to create your custom-built and efficient shopping cart. Although it is hard to customize, still if you manage to fine-tune it to your requirements then it will become an excellent platform to run your online business.
A good marketing strategy is always helpful for the success of your brand and online business.
By spending some money, you can opt for the perfect marketing automation solution like the InfusionSoft payment gateway for Magento.
Infusionsoft Magento Integration helps you to successfully run your business at a faster pace. It offers you many features from organizing campaigns and managing sales to emails and social engagement.
Both Infusionsoft payment gateway and Magento can be ideally integrated to build effective sales.
Infusionsoft CRM
It is a complete one-stop solution, with literal business intelligence and powerful CRM potential to complement the shopping cart.
It helps to track customers' life-cycle, manage a sales team, convert leads, automate and assign tasks, and many more.
Every time, the user can track customer clicks or a prospect on a link, takes an action, or makes a purchase.
On an automated basis, it helps to track faxes, webinars, postcards, emails and phone calls etc.
Helps small business owners in terms of marketing automation, saving time, converting leads and growing sales.
Helps all customer data to centralize at one location with easy access from everywhere.
Performs email marketing to allow a customer to create emails for getting new clients and improving sales.
Allows the client to create a system with their automation to activate behaviour-based communication, and workflow to save time and manage the marketing and sales process.
How Infusionsoft Magento Integration can work simultaneously?
Here we can explain the working of Infusionsoft Magento Integration as follows:
Take an example of a jewellery site, if you attract traffic to your e-commerce Magento store, then it will cost you money.
I suppose a customer ordered a diamond ring from a Magento store, then with your current system, you will fulfil this order.
With a plug-in, Magento sends the details of orders and customers to Infusionsoft.
Marketing activity will be automatically triggered by Infusionsoft on receipt of the order details and contact.
Infusionsoft will stop the marketing campaign for the earring, once the diamond earrings will be purchased by the customer and then it will automatically switch to offering the matching diamond necklace.
All this occurs automatically as shown: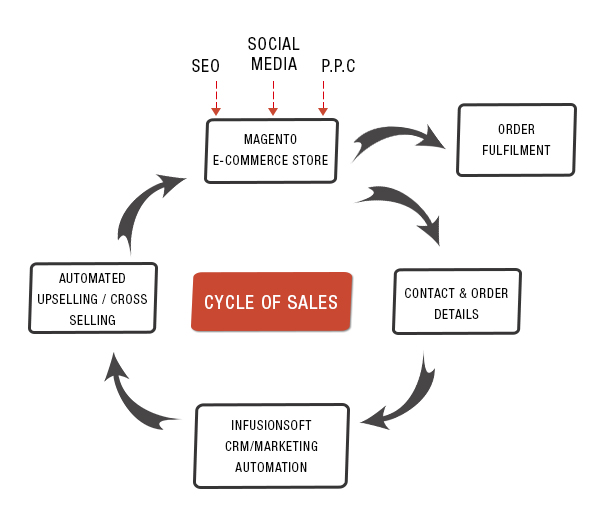 Magento eCommerce payment process through Infusionsoft API
Infusionsoft payment gateway allows users to set up triggers and tags are applied whenever a purchase occurs.
Magento works hand-in-hand with Infusionsoft API and also effectively implements Infusionsoft's PCI security to manage customers' credit/debit cards safely and securely.
Usually, Infusionsoft supported the Following Merchant Accounts and gateways:
Infusionsoft Payments
Internet Secure
PayPal
PayPal Payflow Pro
PowerPay
WorldPay
Beanstream
FirstData
Moneris
DPS (Payment Express)
USA ePay
CartConnect
Network Merchants / NMI
SagePay
UK
eWAY
It is important to mention here that fees, order thresholds, qualification requirements, and services may vary.
We at The Brihaspati Infotech can provide you with a new Infusionsoft payment gateway for Magento that helps you with the following features:
Monitoring script to check for newly placed orders through Magento store.
Magento store also can be set to initiate follow-up steps based on products or categories purchased. It helps to allow customers to find the full range of your website products as per their choice and thereby enhances your bottom line.
This script helps to keep your Infusionsoft application up to date by setting to run it every minute, every hour or every day according to your customer's order history.
Are you willing to import data automatically regularly into your Infusionsoft API?
OR
Are you interested in growing your online store, automatically?
If yes!
Then combine your Infusionsoft automated marketing power with the Sales Information from a shopping cart.
We offer exceptional Magento Development Services and have an experienced in-house team of 30+ Magento experts who can help you completely integrate Infusionsoft payment gateway API with your Magento website. It will automatically send all details of your new customers registered on your Magento website to the Infusionsoft database using an API.
Also, if your clients like to update their information in Magento, the same will be updated in Infusionsoft too.
Moreover, if Admin wants to delete any user account, then the respective user will be deleted from the Infusion-soft database too.
This Infusionsoft Magento API integration will be more beneficial for your Magento database if you have some preferred users and you are willing to send all of the marketing emails.
We are committed to offering you the deepest available integration having a list of various value-added features and a customized Infusion-soft specially created for your online business.
If you want to share with us more information related to the integration of the Infusionsoft payment gateway for Magento, then please let us know by reaching us.