Magento Custom Product Designer for Badges
Badges are an essential feature in organizations of all types and sizes. They serve several purposes such as identity governance and access control across all industries, including law enforcement, armed forces, healthcare, security, and information technology.
Due to the surge in the adoption of badges across all industries, selling badges online has become a lucrative endeavor. This explains the rapid increase in the number of online stores selling badges, insignia, seals, and other similar merchandise.
However, customers often have unique needs, which means no one badge fits all. Moreover, in today's age of 'experience-centric shopping', customers always want to be sure of what they are ordering online. They prefer to preview an exact visual representation of a product tailored as per their preferences to find precisely what they are looking for.
For an eCommerce merchant selling badges, it is difficult to showcase all variants and possible customizations of a product on a web page. In addition, badges have some specific inscription that is different for each customer and can't be showcased on the product page. This lack of customization to provide a preview of user-defined badges leads to a drop in sales. To solve this merchants can seek assistance from an expert Magento development company to access suitable business solutions.
That's where a product configurator tool for badges comes in handy.
A badge customizer tool helps customers alter the characteristics of a product such as material, label, color, font, text, and more to get a visual representation of the custom badge in real-time before adding it to the cart. Merchants can set different prices for a product based on the selected configuration, which increases cart value.
A custom product configuration tool for badges has several merits on offer, such as:
Provide personalized shopping experience to users to gain confidence and accentuate conversion

Get word-of-the-mouth marketing for your store as customers are more likely to recommend you to their connections

Ensure the manufacturer gets the right order to reduce the product return rate

Update marketing strategy based on a catalog of potential combinations and sales trends
This article documents the case study of our recent badge customizer tool development project for a law enforcement supplies provider running a Magento eCommerce store.
Magento Platform and Reasons for its Popularity
Magento allows businesses to create eCommerce business solutions for their unique needs. With the help of versatile features offered by Magento, users can easily make their business thrive online. Below is a list of few reasons that make Magento a perfect eCommerce solution for integrating tools such as the product configurator software for designing custom badges: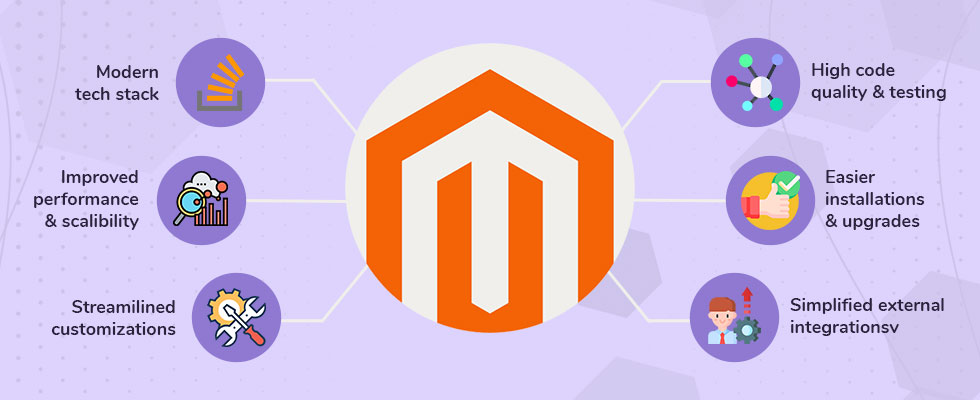 Benefits of Magento platform for an eCommerce Store
Security:

eCommerce stores are highly vulnerable to third-party attacks and data theft. But with Magento, merchants can easily improve their store security as it provides regular security updates.

Scalability:

Magento can easily work with numerous third-party business solutions. This makes extending the functionality of Magento-based stores easier for merchants.

Multistore Support:

Magento also allows merchants to cater to their global audience as well with its multistore feature. With the help of Magento multistore, merchants can effectively maintain multiple views for different locations. This allows them to go global.

Community: Magento offers free community-backed support provided by a massive community of experienced developers. This makes the development process of Magento easier faster and efficient.
Recently, a law enforcement supply services provider decided to hire Magento developer from our software development agency for the development of a Magento custom product builder for badges and insignia.
The client had a Magento store that provided badges and other law enforcement supplies to their users.
To cater to the unique needs of their customers, they needed a solution that would communicate the requirements of a particular customer with the merchant. They needed the following solutions for their business:
A Magento custom product designer for badges

Preview for the final product along with the final product cost

Easy-to-manage admin panel
To cater to these business requirements, we decided to build a Magento custom badges tool for our client.
Why choose custom development for Magento custom badges tool development?
Although there are a variety of Magento product configurator extensions available in the market, we decided to go with the development of Magento custom product builder for badges because the available extensions have multiple limitations, such as:
The Magento Badge customizer tool needed multiple unique fields and customization options. With usual product customizer extensions, providing so many options was not possible.

The usual product customizer tools also didn't provide enough backend management options, which was a must in the case of a Magento custom badges tool.

Moreover, the pre-made tools come with numerous unnecessary features that make investing in them a poor business choice.
Our Approach for Magento Custom Product Designer for Badges Solution
After studying the client's requirements carefully, we decided to create the Magento custom product designer for badges from the scratch. To implement this, we used PHP and Visual API integration.
Features in Magento custom badges tool
Our Magento badge configurator development team delivered a scalable solution with the following features:
Customization Options:
For customization, the user could easily choose fields such as the finish, seal, attachments, shape, color, etc. Further, with the help of the Magento custom product designer for badges, they can also view the changes in real-time. 
Also, this custom badge customizer tool is available for both desktop and mobile browsers. This makes the Magento badge customizer tool more easily accessible to the target users.
Visual badge API integration:
To enable the users to get a real-time product view of the customization choices they made, we integrated Visual badge API. With the help of Visual badge API, the custom badge customizer tool provided customization options and showcased the results in real-time.
Product Preview: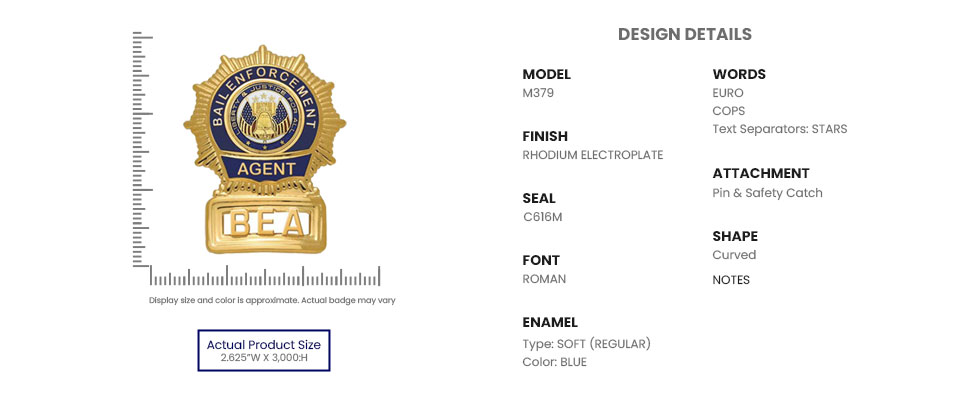 Once a user has customized the badges before adding them to the cart, the Magento custom product designer for badges also showcases the price and product preview. The user could view the final products and details related to them by generating a final product preview before they pay for the product. This reduces the chances of ordering the wrong product and improves the user experience.
Admin Panel Management Options:
To help the client manage their tool's backend, we also created an easy-to-manage admin panel. In this, the client could also add more options according to their availability for each customization field.
The Result
Our solution offered two major benefits to the client:
Improved user experience: Our solution provided an easier way for the client's target user to access the products they need by using the badge customizer tool. This facility to create unique products on-demand helped the client to improve the user's experience.
Improved conversion and sales: The badge configurator tool allowed the client to cater to every target audience who needed unique badges for themselves. As a result, they were able to have higher conversion and sales
Different product configurator tools we've developed
Apart from the Magento custom badges tool, our eCommerce developers have developed several product configurator tools for a variety of business niches.
3D Product Configurator:

Our developers created

a 3D product customizer

for a Magento store. In this, we implemented ThreeJS to create a 3D image library of the required products.

Photo framing customization tool:

Our dedicated Magento developers also created a

photo framing customization tool

for one of our clients. In this, we used HTML canvas to combine the pre-existing products with customized frames.

Custom gift builder box:

We have also created a custom gift builder box for one of our Magento clients.
To wrap up
To improve the shopping experience on your Magento store, showcasing all variants of a product is a must. This is best achieved with customizer tools such as the Magento custom product designer for badges as they help merchants efficiently showcase their products in different customized variants to boost sales.
If your business needs a similar customization tool, contact us now. With our unique and industry-specific solutions, we can easily cater to the business needs of your eStore.