Migrate Your Store from Magento to WooCommerce without Plugin
Magento is about to close its support for Magento 1.0! So if you are a happy merchant running a business on Magento 1.0 store its high time to plan your next move and migrate your store to a new platform. As without regular updates and support from Magento, your store will become harder to manage and you'll also be putting your store's security at risk. Hence the daunting task of migrating to a new platform is inevitable and there are a number of options at the periphery that can cater to your requirements.
However with a plethora of options available at every click choosing the best platform for migration can be quite troublesome. But if you're looking for the availability of the same level of freedom of customization as Magento 1.0 with something that'll hurt your pocket a little less then WooCommerce is undoubtedly the best platform among all. As it also has an open-source code base just like Magento and combined with unlimited features of WordPress and ease of use this is one of the worthiest options to consider.
Benefits of Migrating from Magento 1.0 to WooCommerce
Migrating from Magento to Woocommerce can open up the gateways of making your store scalable in a number of ways. Its flexibility and the vast sea of features can be a breath of fresh air in case of your Store's management. Here are a few unavoidable reasons that make WooCommerce a worthy platform to migrate into.
Easy On Pockets: Running a store on WooCommerce is way cheaper than Magento in all aspects. With its easy to handle admin panel and a number of plugins at a click away to support your store's functionality, it can save a significant amount of time and effort. This will easily eradicate the need for frequent customization to a great extent. Moreover, the Woocommerce plans are also really affordable as well making it a perfect choice for SMBs.
Easier to use: The Admin panel of WooCommerce that comes with WordPress CMS is relatively easier to use. So you don't have to spend hours to wrap your head around basic functionalities and with easy to integrate plugins you can easily manage your store's backend without much hassle.
Flexible: With Open Source Codebase just like Magento. The scope of customization is limitless with WooCommerce. Apart from providing its merchants with thousands of easily integrable plugins, one can also customize their WooCommerce with a custom solution to heart's content making this yet another extremely flexible platform. Hence, with your store running on WooCommerce it's unlikely that you'll miss Magento's highly customizable environment.
Unlimited Plugins and resources: One of the greatest facts about migrating from Magento to WooCommerce is that you'll get all the help you need with its larger than life community. As a result, you'll have access to unlimited functionality and all the tech support you need to improve your scalability.
Hence, choosing WooCommerce as your choice of platform to Migrate into can open up your online store to unlimited possibilities. However, while migrating from one platform to another delivering the same UI experience along with similar performance can be one of the major challenges one needs to overcome. And to ensure your migration process does not affect your storefront having experts that can efficiently handle the migration is a must.
Our Experience:
Recently our expert developers at the Brihaspati infotech also had a chance to migrate an online store from Magento to WooCommerce. However, the process wasn't all flowers and petals as there were a number of constraints that we needed to handle to carry forward the migration without affecting the store's performance. Here's a brief list of those constraints that we were expected to handle during the migration:
We had to maintain the site's ranking while migrating by using the same URL for pages as they were in the Magento Store.
We had to custom create the filter tags on the WooCommerce store to replicate the functionality of customization and traversing on the WooCommerce store.
Hence, we had to take extra caution and add a number of customizations to carefully migrate data from Magento to WooCommerce in order to completely replicate the website without affecting the frontend and ranking as well.
Before starting up the process of migration it was important for us to have a backup of Magento's database.
Our Accomplishments during Migration
Although Migrating from one platform to another can open up a number of new possibilities but preserving the brand image while doing so is also an important aspect. For this, we had to carefully handle the data transfer and recreate a number of functions to replicate the whole eCommerce store into WooCommerce. Here's how we migrated the whole website into WooCommerce while preserving the UI and all the data stored in the Magento's backend:
1. Creating Data Backup
Before starting up the process of migration it was important for us to have a backup of Magento's database.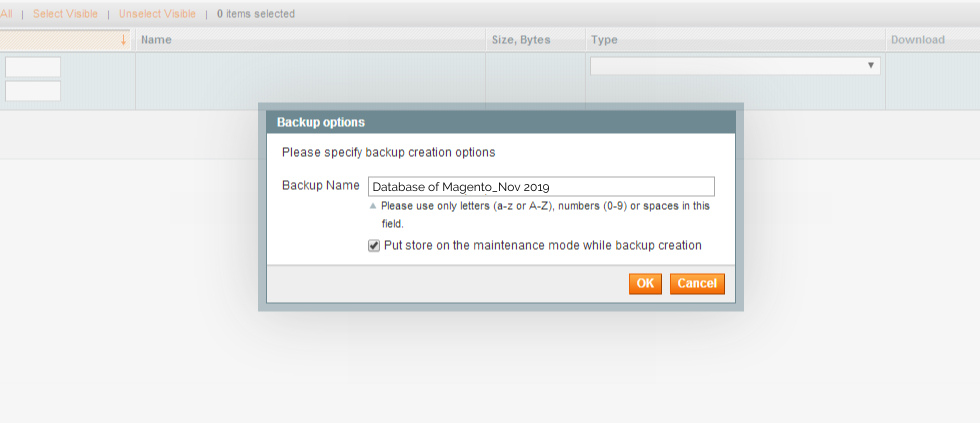 Creating a backup was a must for proceeding with the migration. By storing data through creating a backup, we were able to safeguard the client's data before migration. Hence with backup safeguarding, information about Orders Products and customers can prevent the data loss and guarantees smooth operations of the client's online store.
2. Customization the Store's UI
After creating the data backup we decided to set up the stores' UI. One of the major challenges in doing so was replicating the storefront exactly as it was in Magento's storefront. For this, we used a paid WordPress theme and customized it according to the UI standards of the original site creating an exact replica of the store's frontend on WooCommerce as well. This allowed us to deliver a seamless browsing experience to the shoppers even after switching platforms.
3. Product Migration To WooCommerce

After setting up the theme for the site it was time to migrate all the products into the storefront to get started with the store. However, while doing so we had to keep in mind that all the fields and attributes of the products were the same including descriptions as well. This was a must for the merchant to preserve the site's ranking. To achieve this we created custom scripts that would automatically fetch data from Magento's database and save it in WooCommerce creating an exact replica.
4. Migrating Customers Data

After successfully Migrating all the products with all its attributes we also transferred all the customer's data as well as using custom scripts. With the use of custom scripts, we fetched all the users their details and password to WooCommerce's database. With this transfer, all the users would be able to place an order on the WooCommerce storefront as well without any hassles. As without the transfer of customer's data such as their full name, address and billing information they won't be able to use their accounts on the store that runs on the WooCommerce platform.
5. Merchant Data Migration
Apart from moving all the products and customers' information to make the WooCommerce site functional we also had to transfer the data related to all the orders as well. As without the information about past and present orders, the merchant would be unable to fulfill the customer's orders and his migrated store om WooCommerce would cease to function.
6. URL migration to maintain the Site's Ranking
We also decided to migrate all the URLs as well since to maintain the site's ranking we couldn't change the URLs. As the new URLs would create a huge blow and it can dramatically affect sales as well. So to handle this issue we migrated all to product URLs and Categories URLs to maintain the site's ranking.
Hence by carefully doing the data transfer, replicating the UI and creating the same store on WooCommerce, we were successfully able to migrate the store from Magento to WooCommerce without effecting the site ranking and UI.
Speed breakers during the Process:
Although we have migrated a number of businesses to other platforms such as Magento to BigCommerce, this one case was particularly tricky for our expert developers. As while performing the migration, there were a number of challenges that we had to overcome tactfully. Here are a few of those hurdles which we overcame during the migration successfully:
One of the biggest challenges that we faced was securely transferring all the required data from Magento to WooCommerce. To do this we used custom scripts that would fetch the data from Magento's database along with its attributes and store it in WooCommerce. With this, the database in WooCommerce became the exact replica of that in Magento and with this, we were also able to fetch all the URLs as well for the site to maintain the site's ranking.
Another challenge was that WooCommerce does not offer customizable filters to its merchants. To apply the filters we had to create custom scripts and map them with the products carefully to enable easy browsing experience to the Shoppers.
Although these challenges were quite a hurdle during the migration process, with critical thinking and experience we handled all the hurdles that came along the way and replicate the client's site successfully on WooCommerce.
Conclusion
Migrating from one platform to another can be much more of a tedious task then it looks like. Transforming your whole store without changing the way it looks might require the incorporation of a number of customization. As no two platforms are ever the same when it comes to providing services and functionality to merchants.
If you are also planning to migrate to woo-commerce from another platform you can Contact us or drop us an email at any time. With the help of WordPress migration services, we can help you with migration and store setup with ease.