Mobile App Development for IMGR: Brand Marketing By Messaging
Whether you surf the internet on your laptop or switch on your favorite TV channel, if there is something that grabs your attention and time, it will always be coupled with some brand advertisements.
This has been the modus operandi for your favorite social media websites as well including:
Facebook: Where profile pages will always have sponsored or suggested posts for you.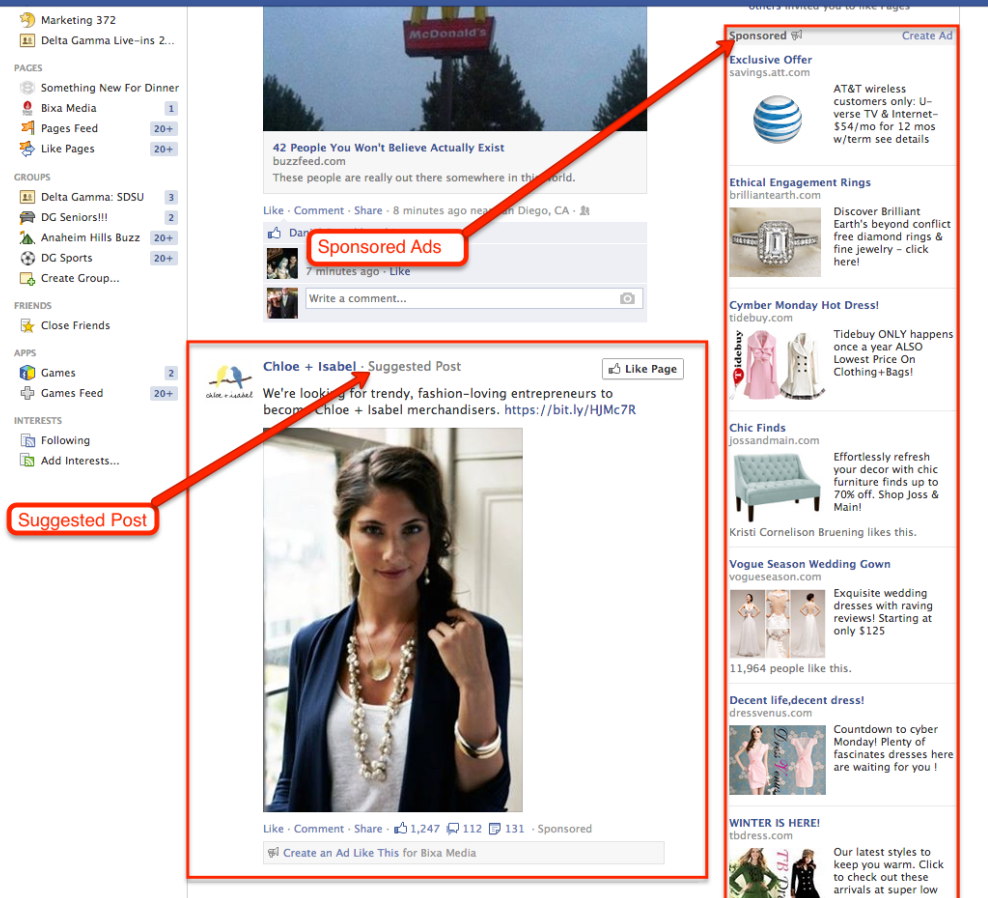 Twitter: Where sponsored tweets are highlighted on your wall and brand profiles are sponsored in your suggestions so you can follow them.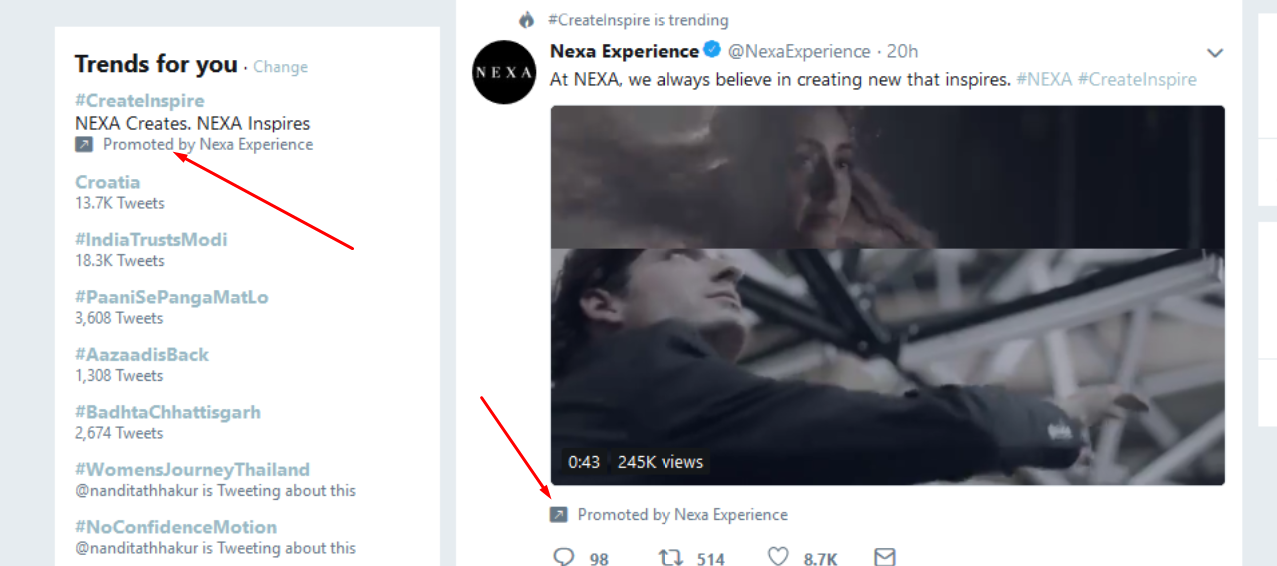 Skype: Where your active conversations always involve an ad banner.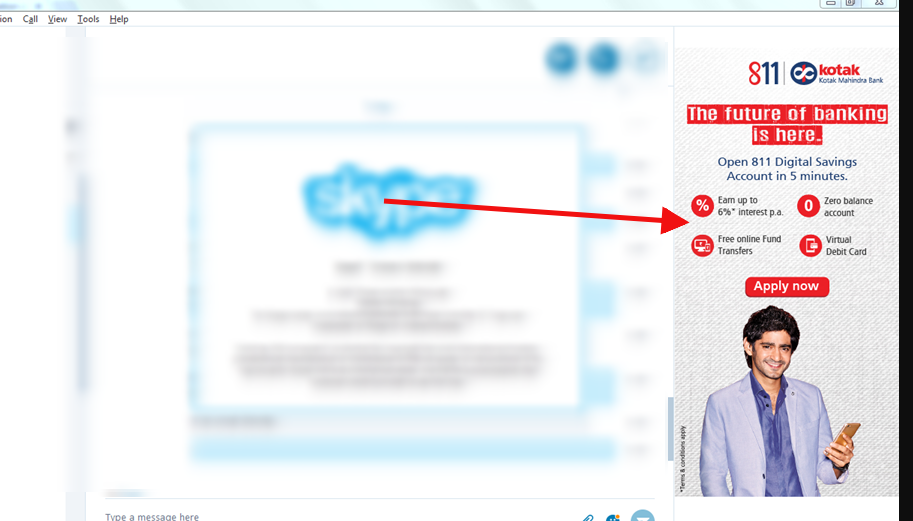 These ads are usually just pushed on us without an option to turn them off. That's the cost of using a free to all social platform. While a tried and tested method for brand endorsements, this enforced marketing strategy is not the best the internet has to offer. There are always more sophisticated ways to bell the cat and with this blog, we are sharing just that – a unique and user interactive way to include brand advertisement in a social media platform.
IMGR Live chat application
Enter IMGR, a live chat messaging platform engineered by the mobile app development experts at The Brihaspati Infotech. This unique and groundbreaking live chat application has brought a new dawn in the digital marketing era by incorporating brand advertisement within a live chat session in a non-troublesome, user-centric and conversion oriented fashion.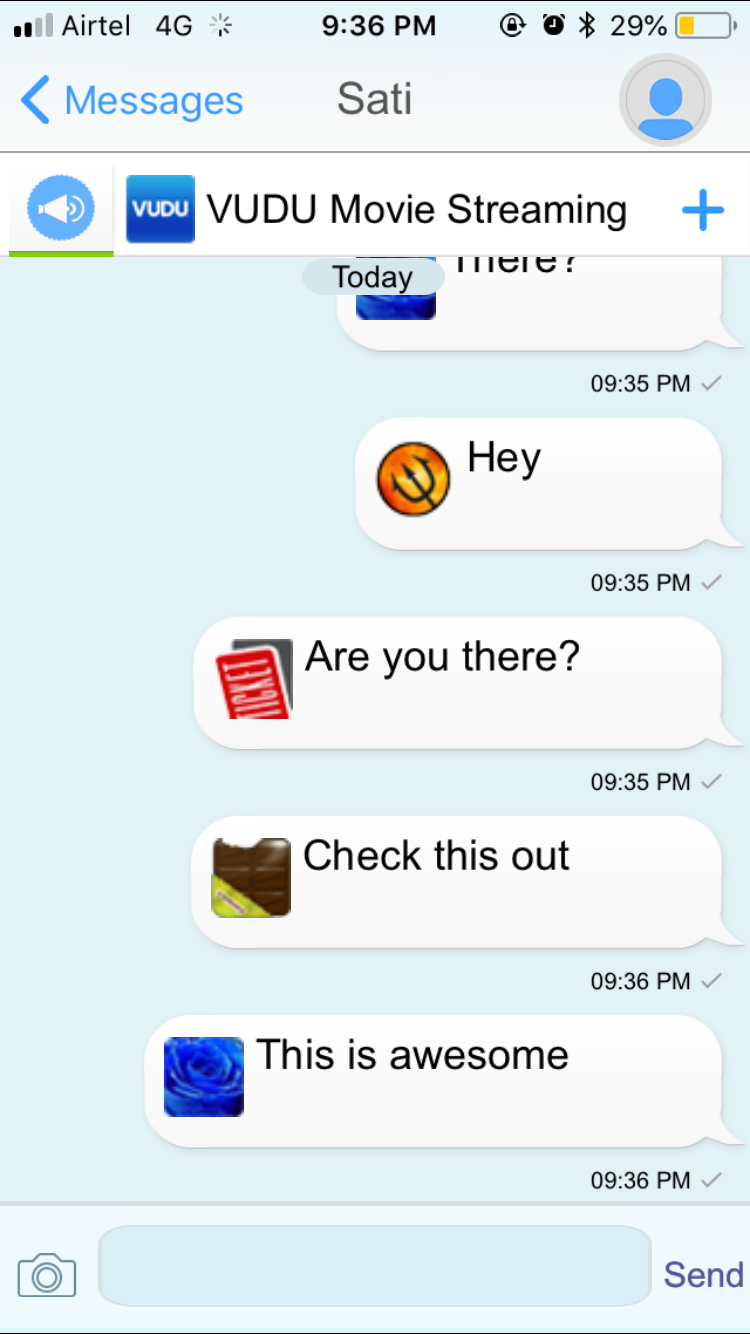 Brand marketing through messaging: The architecture
With over 75% of the mobile users preferring instant messaging apps over traditional communication methods like Emails and phone calls, live chat is without any doubt one of the most engaging ways to communicate.
Building upon this ideology, the IMGR chat app development is done to utilize the user engagement model of a live chat app for brand marketing by incorporating Brand images aka signatures within messages in a minimal fashion.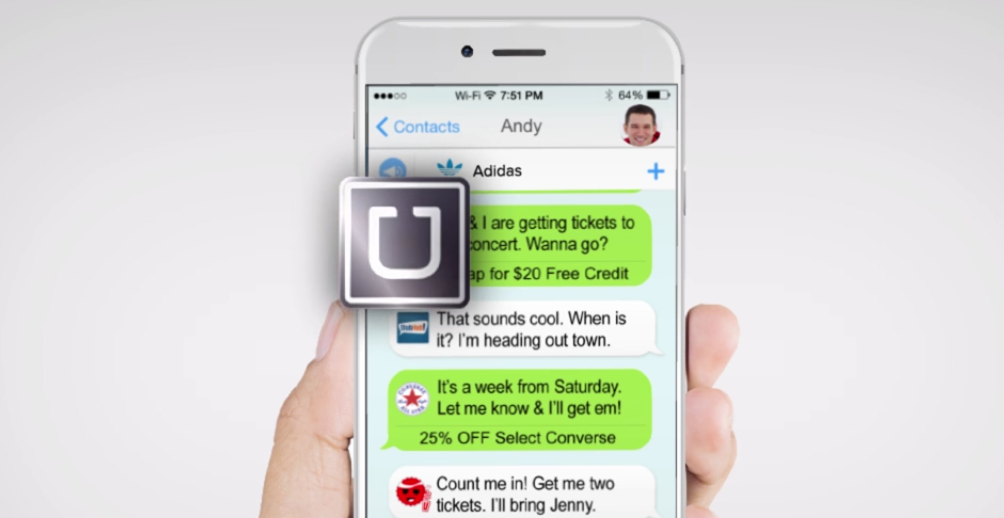 Each message includes a logo of the brand which is being promoted, a title and a link which when clicked takes the user to the brand's URL.
Contrary to the traditional enforced marketing strategy, these ads are not enforced on the chat participants. Instead, the application gives complete control to the chat participants for selecting the ad they want to display in the chat, creating their own advertisement or turning off ads if they are not interested – and yes, it still works free of cost.
So what is the trigger for users to include an advertisement within their chat session? There are not one but two distinct reasons why you want to use IMGR for advertising your brand.
Credits for each message sent
Imgr allows you to select a brand that you wish to promote before starting a conversation. These brands are assorted in an alphabetically sorted list which lets you find and select your favorite brand with just a few taps.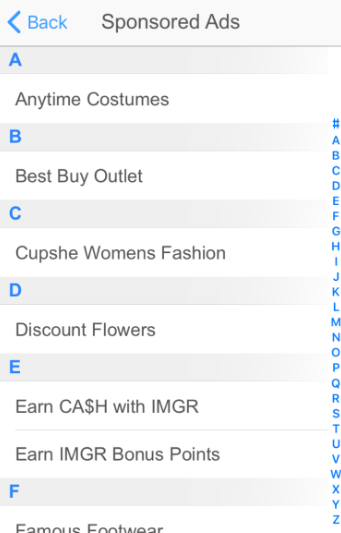 Once you have selected a brand that you want to promote, all that you need to do is keep messaging. With each IMGR message you send, you will earn credits which can be converted into Cash (no loopholes, no conditional purchases, straightforward cash). Both chat participants can earn up to $50 per month just by messaging each other.
With IMGR, the more messages you send, the more cash you earn. The accumulated rewards points can also be redeemed as:
1. Paypal Cash
2. iTunes Gift Card
3. Google Play Gift Card
4. You can donate your earnings to charity (Please see below for details)
To top it off, IMGR also provides bonus points depending upon how often you use IMGR and receive bonuses, and how strategically you select your brands.
Using IMGR, the chat participants have complete control on what branding needs to be displayed within a chat session. It includes the ability to create your own promotion. This is helpful for instances if you are looking to promote your own brand or social media page.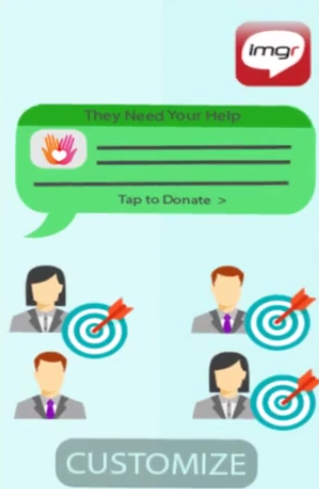 With IMGR, you can send messages to anyone in your contact list and carry out marketing campaigns by just interacting with chat participants. Knowing who would want to hear the most about your brand, IMGR is one of the most effective ways to carry out targeted promotions.
IMGR Mobile app development: The technology stack
For any live chat app that we develop, the core architecture remains more or less the same. It involves:
A server-side language to develop the app logic >> Java or C
A chat server to enable RTC protocols – either XMPP or Websockets.
The IMGR app is built natively for both IOS and Android utilizing their respective IOS and Android SDK's while the chat functionality is powered by Openfire XMPP chat server. The chat functionality is established over a decentralized XMPP powered connection where the data is shared through an HTTP based transport layer.
Utilizing XMPP, we were able to establish an extensible, secure and flexible architecture for our chat application.
To manage the sponsored advertisements, we also built a YII based web admin panel for the app admin where admin can set up promotions which will be displayed within the app's sponsored promotions page. Other than that, the admin user is provided complete access to personal promotions created by the user in order to monitor and step in if there is any violation of terms and services.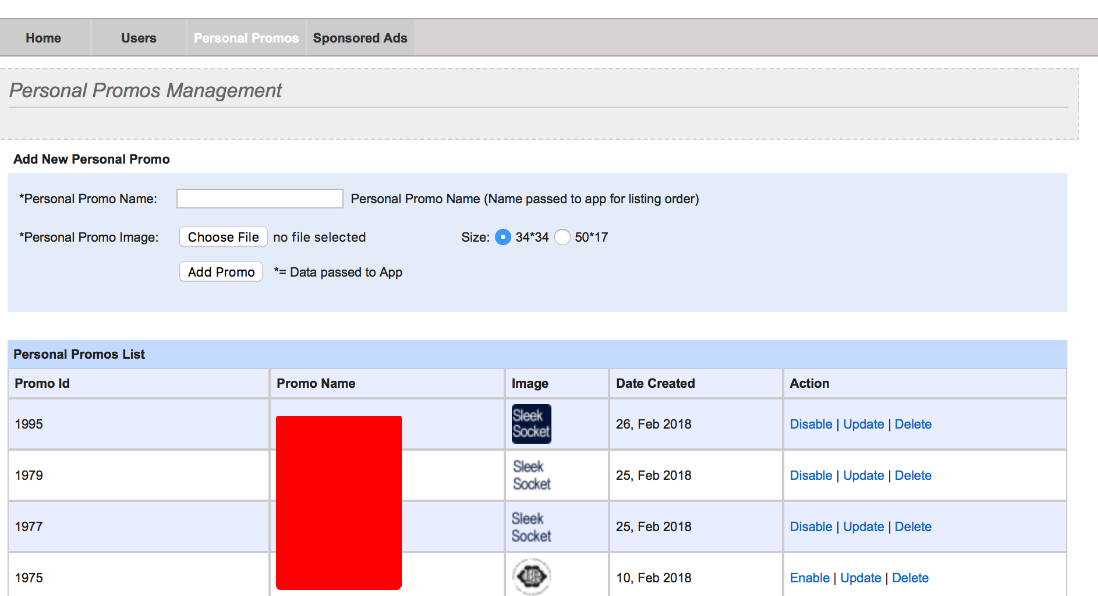 The web admin is synchronized with the mobile application databases of both IOS and Android apps through a custom developed REST API's where the promos and user data is kept in sync between the apps and admin dashboard with the help of JSON data feeds.
The roadblock we faced
While carrying out mobile app development of this scale, it is common to run into a couple of roadblocks due to several technological dependencies that are discovered during the course of app development. To track and make sure such loopholes are not missed and pushed to the production server, The Brihaspati Infotech always assures dedicated Quality Assurance tests in a phased manner.
Our specialized QA team was quick to figure out that the XMPP server was not effectively managing the deliverability of offline messages. Most of the time the messages which were sent when the receiver is offline were being missed.
The reason and the solution: In an XMPP based RTC app, the messages are sent as data packets. When a user is online, these data packets are delivered by recognizing unique identifiers at the end and at the beginning of the messages that are sent. However, for an offline user, unique identifiers were not being tracked effectively due to which the messages were being lost.
Once this bug was tracked, the developers just had to apply a patch on the server end which tracks the offline data packets and makes sure that correct identifiers are assigned to them even in offline mode. Once done, the messaging functionality worked seamlessly for both offline and online scenarios.
Words from the client
Blake Lind, CEO of IMGR Instant Messenger, continues to use The Brihaspati Infotech because of our excellent mobile app development services. He spoke to Clutch (a B2B ratings and review firm ) and commented on our partnership. He said:
"We've received a lot of positive feedback from users of the app. TBI helped us achieve features that users enjoy, enabling them to earn rewards for things they do every day. They manage projects very efficiently and professionally, which is why I continue to work with them. They're accessible through Skype and continue to manage their workload effectively."
Conclusion
Advertisements have been a part of our lives for what seems like an eternity. Collaborating with IMGR, we have made an attempt to utilize the evolution of the internet and mobile app development to bring back the power in the hands of the end user through advertisement control and earning ad revenue.
As mobile app development partners for IMGR, the future is certainly a promising one with new updates being planned for real-time money transfer and group-based chats. With new technology trends and our escalating experience with web application development, a similar trendsetter application can be just around the corner.
If you are looking for live chat mobile app development then get in touch with us and book a free consultation session today.