Mobile App For Listing Hosts Directory
The Mobile era is here today, the number of mobile users is more as compared to desktop users! It has become imperative for businesses to have a mobile app for reaching out to potential customers as well as for diversification of business services. Similarly, the tourism industry is no exception where mobile apps for listing hosts directory are remarkably attaining attention.
According to a recent survey by eMarketer, travel-based mobile apps are the seventh most-downloaded app category and almost 60% of Smartphone users regularly use travel apps while planning trips.
Recently, a competent team of Mobile App Development at THE BRIHASPATI INFOTECH has accomplished mobile app for listing hosts directory. Specifically, this app is associated with the 'Travel Category' i.e. it's useful for those who are planning trips and looking to find reliable hosts to stay.
Going forward in this blog we will be explaining the scope of listing hosts directory mobile app project as well as the solution offered by THE BRIHASPATI INFOTECH.
Scope of the project : Developing mobile app for listing hosts
Our client has a 'Tourism' business and THE BRIHASPATI INFOTECH had already built the website for that. The website was not proving to be good enough to meet business demand. So eventually the client felt the need for getting the mobile app. Mentioned below points enumerate the scope of the project :
Design & develop user-friendly mobile app for an existing website
Current website to be used as a 'Web-Admin Panel' for managing mobile app
App needs work on Android as well as iOS platforms
Our solution : React Native mobile app
Based on client requirements and on the lines of the existing website our experienced in-hour team of React Native Developers accomplished a seamlessly working cross-platform mobile app. A simple working flow was introduced in the app which can be seen in the below image.

Some key features of the mobile app for searching hosts
1. Simple UI for screens :
People form 75% of their judgment on a mobile app credibility purely on its aesthetics.
UI stands for 'User Interface' and most important part of the mobile app.
It is the way through which users can interact with mobile app.
Simple is the UI more users will keep using the app.
In order to facilitate the user with an easy-to-use app, our team has designed an elegant UI for mobile app screens.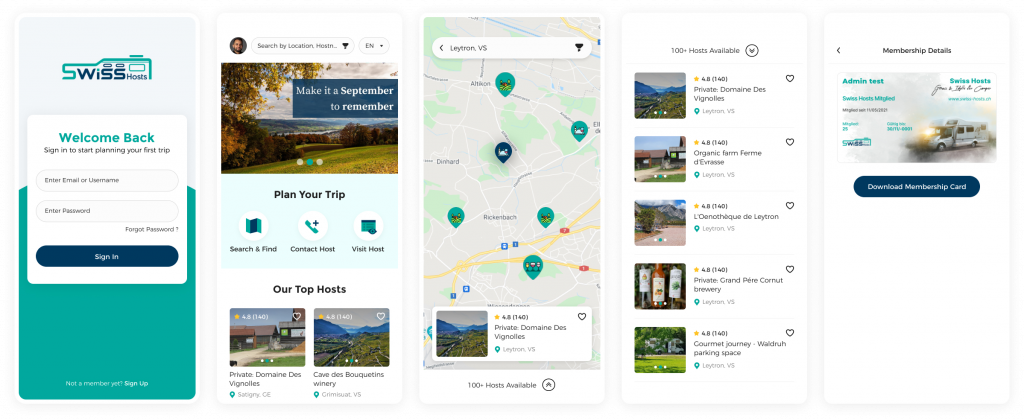 2. Membership functionality :
The mobile app has a membership feature. Users need to subscribe to the membership offered by the app in order to access hosts (Wineries, Breweries, Farms, Restaurants, etc.) information. After subscribing to membership users can :
Get digital membership card
List view with all hosts
Search function by category, by equipment
Numerous filters (toilet, shower, electricity, water, etc.)
Detail page with information & photos from the host
Interactive map
3. Searching hosts :
Our team has integrated Google maps into the mobile app. Together with various searching filters users can easily find hosts as per their needs. Searching filters available in app are such as :
Location based
Name of the host
Category
Services offered by hosts
4. Comprehensive hosts details :
As soon as the user selects the required filters for searching the hosts thereafter the mobile app fetches the hosts data and reflects the information to the user. Comprehensive details of specific hosts include:
Description (history, services etc) about the searched host
Photo gallery
Vehicles parking information
Contact details
5. Multilingual :
Another key point that our team has included in the app is multilingual. Users can make selections from various languages in order to use the app. The mobile app for listing hosts directory is available in various languages such as:
English
Deutsch
Italian
Francis
Final Words
If you want to build the mobile app for your existing website OR you want the mobile app to be built on your idea. Then, kindly reach out to us today!
With THE BRIHASPATI INFOTECH, you can get any type of app built. Our team has rich experience in developing cross-platform as well as native mobile apps.
'Contact Us' to know more about our mobile app development services OR seek an affordable way to get the app for your business.