Cashless Payment Solutions for Mobile – NFC mobile App Development
NFC: Another day, another acronym, right? But when it comes to NFC, it's one you actually want to understand. Because it's the technology that enables you to make contactless payments with your mobile devices via NFC mobile app
Near Field Communication (NFC) has a growing popularity among consumers as an easy, secure, and low-cost way. Thus, they prefer this to connect Android and iOS mobile phones to appliances, or other electronic systems.
"The total mobile market is worth $1 trillion. According to LearnBonds, and eMarketer estimates there will be 69.4 million NFC mobile payment users by the end of 2020. And that number will rise to 80.1 million users by 2023."
With new uses for NFC, it's more important than ever to communicate the added value of your NFC-enabled products, making NFC app development extremely popular.
The reach of NFC technology in today's era
All of today's smartphones are equipped with NFC technology. Whether you realize it or not, your phone is likely using NFC right now. But don't worry, NFC uses minimal battery and processing power while offering a host of benefits.
Convenient – NFC makes its easy to make payments without a wallet or credit card.

Versatile – It works with more than just payment systems.

Interconnection – It provides a seamless communication in between devices.

Secure – NFC payments are generally more secure than credit cards
NFC mobile app is capable of so many tap-and-go functions — digital wallets like Apple Pay, Google Pay, and Samsung Pay covers just a tiny fraction of its capabilities. It can bring many revolutionary changes and tons of distinctive functionality, as well as use-cases in unimaginative ways.

NFC mobile app development : The Solution
Thus, the experienced NFC mobile application development team at The Brihaspati Infotech recently developed an NFC compatible app for android and iOS platforms.
The app serves as a platform for the users to make contactless payments via mobile wallets like Apple Pay, Android Pay, as well as contactless cards.
For NFC app developers, NFC brings distinctive functionality and powers previously unimagined use cases.
To understand the development approach of our NFC Payment Application Development team, let's divide it into three different sections:
• Simple and Interactive UI's
UI is the way through which users interact with the mobile application. The user interface includes all the controls, buttons, blocks, and elements of the app.
The primary objective of the user interface is to provide easy, enjoyable, and effective interaction between the user and the app.
While developing such apps, the very first task that comes at the top of our priority list of our NFC app developers is to create simple yet interactive user interfaces.
Our Android NFC App Development created an intuitive UI that provides provide end-users with a satisfying experience.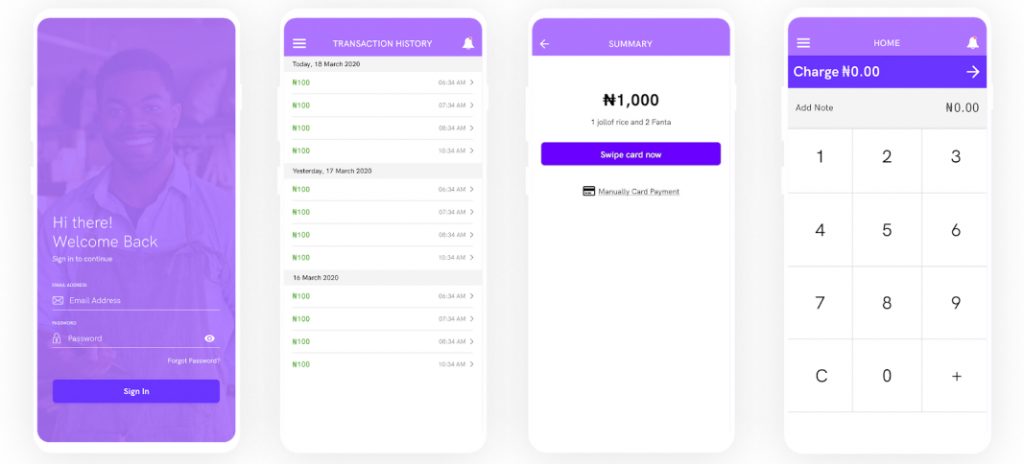 • Implementation of NFC functionality
To implement NFC functionality within the app through NFC Payment Application Development, APIs( Application Programming Interface) are used. An API is a software intermediary that allows two applications to talk to each other.
Our NFC Mobile App developers are not bound to work using any particular API, if our client wants to use a specific API, we are flexible enough to use it to enhance the functionality of the application.
• Connectivity with hardware devices
NFC compatible app would never be effective if it does not connect with hardware devices. There are many SDKs that can be used to achieve this goal.
At The Brihaspati Infotech, we have a really experienced team of Android app developers & iOS developers who can work with any SDKs(Software Development Kit) to accomplish a seamlessly working mobile app.
For this particular app development, we used iMagPay SDK to add on the connectivity of our NFC-compatible app with hardware devices.
With that our Android NFC App Development team was able to deliver a top-notch solution. You can Hire NFC developers from TBI to build a custom NFC app supporting your business as well. Moreover, we do have an iOS NFC App Development team as well who can build such apps for iOS devices.
Features NFC mobile app would be offering
There are plenty of reasons which would attract users to this app, lets go through a few of them:
No Upfront cost to users : Users can sign up for this app and use it right away. No hidden cost is there.

Easy to set up and use : It is easy to set up and keep track of each & every transaction using this app.

Increase sales : Put your business on top by prospering from offering NFC compatible app.

Compatibility : The app is compatible not only with android mobile but with the iOS platform as well.
Our Experience in Custom Mobile App Development
This particular app was all about NFC Application Development, but, if the demand comes, our mobile app development team can deliver a similar for any other niche as well

The app can be tailored as per your business model, requirements, and user audience that you will be targeting.
In the past, our team had developed many such apps which got really nice feedback from the clients. Thus, you can Hire an android developer to get high-quality android mobile apps for your business.
Final Words
Our NFC app development team successfully delivered this mobile app to our clients. Having such a mobile app that offers a perfect solution to the users, can be a game-changer for your business.
Thus, if you too feel a similar app can benefit your daily functioning or help you grow your audience, you can contact us right now to build a custom NFC app.