Buy a Drink for Friends at Bar – Custom Mobile App Development

The past few years have transformed the way businesses were seen and managed. Mobile applications have been an instrumental part of business models, thanks to the huge list of in-built features a mobile phone comes with. The ease to operate makes them an instant favourite among the users.
From on-demand services to banking, an average mobile phone has 90+ app downloads, which speaks volumes about the user experience they offer. Business owners simply can't exclude their mobile app strategy, if they want their services to be accessible and popular among customers.
However, is it really that easy to find a mobile app that aligns perfectly with your business model?
The mobile app represents a complete business. You will want everything in the right place – your brand, unique services, colours, offers and more. Everything is supposed to be designed from scratch.
To implement the same, business owners will need dedicated Hybrid app development company that take care of the complete process. They can ask their inhouse team to handle app designs, third party integrations, verify app development standards for the OS platform followed by app testing rounds. Otherwise, they can hire a third-party agency that has specialized teams to handle all the processes.
On a similar note, the mobile app development company recently developed a custom app that helps users buy a drink for their friends. The app was designed and built from scratch keeping in the eye of the client's needs.
How does a Virtual Drink Gift work?
A surprise gift for near and dear ones is always rewarding. Not only it reminds them how special you made them feel on special days, but also encourages them to do similar favours in return.
Generally, the online presence of restaurant management is confined to seat reservation or on-demand orders. The client came up with the idea to extend its abilities. Online payment for a friend's order was an unexplored area and carried lots of potentials for business owners and users alike. While users have the freedom to buy their friends a drink, business owners have an additional revenue-generating user base.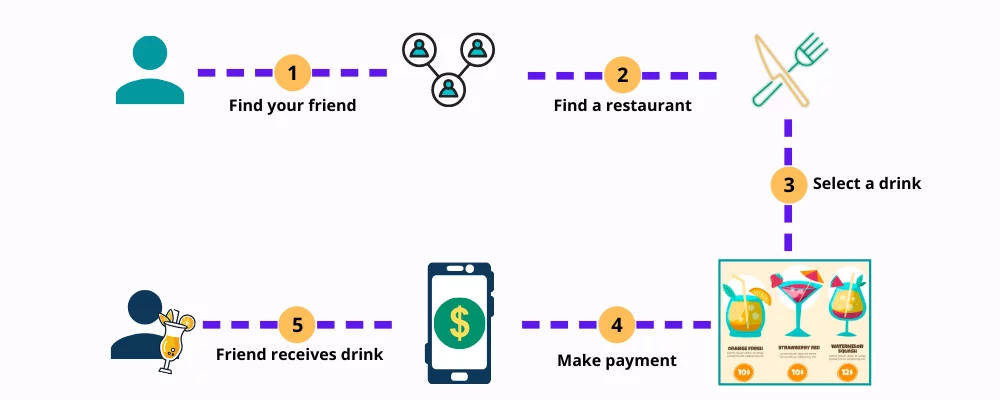 Above all, a user is free to make orders from an entirely different continent. All you will need is to stay connected on our custom mobile app to buy your friend a drink.
Our Development Approach: Mobile App to Buy your Friend a Drink
Unique demands deserve out-of-box solutions. Our experts had to understand every need of the client before initiating the development. Clearly, the app demanded features for internal networking among users, search for restaurants, and pay online.
We have developed the app for both iOS as well as Android users. Our developers have taken great care of the functions and user experience it deserves.
Multiple User Roles in our Custom Mobile Gifting App
The custom mobile app to buy a friend drink supports three users to the core. The app provides a common platform for all users to stay connected.
1.Restaurant Owners:
Users can register themselves as Restaurant owners. They can monitor check-ins and orders placed on the app. They can accept shows by the performers or reject them on a tap.
2.Restaurant Artists:
Users can register themselves as Performance Artists. They can request shows on a given restaurant along with the schedule. Definitely, a feature that reduces that gap between owners who were looking out for more engagement in their restaurants and the performers seeking opportunities.
3.Members:
A member can send drinks for their friends online. They can search for fellow users, make connections, search restaurants, and place orders from anywhere.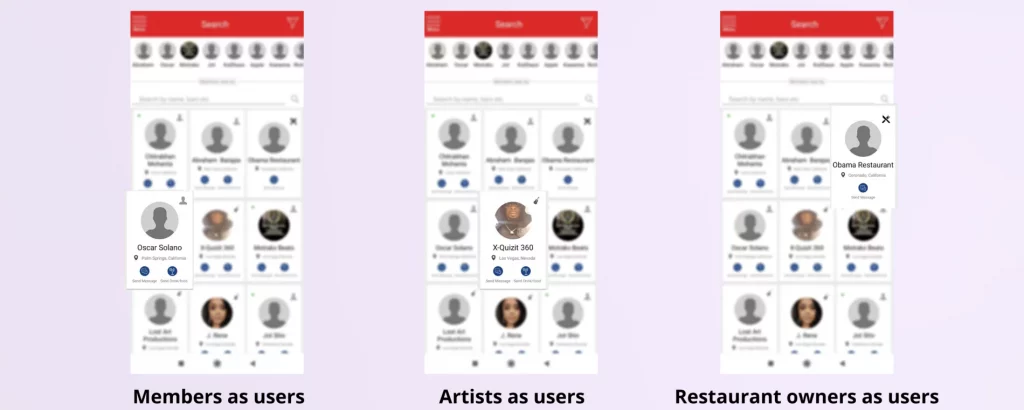 Based on the list of features, we have created separate screens for each user.
Smooth communication between the members ensures that the users can buy their friend a beer on the app with ease. From searching members, to connect and send private messages, the app deserved a long list of social networking features. At this, our past experience at developing private social network apps helped.
Users can create searching based on the member's name or use location filters. Our app leverages Google Map for an effective user search. The app recommends search results based on location. It sorts the users with the nearest ones at the top of the list.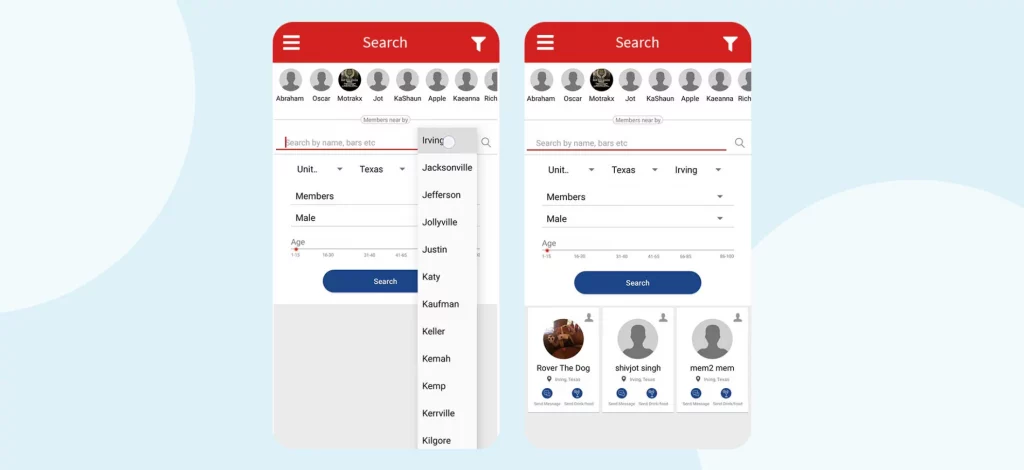 The app offers a "Send Request" option for users where they can request fellow members for connections. The user at the receiving end can accept or reject the request, which is very similar to how Facebook works. Once connected, the users are free to exchange text messages or buy them a drink.
Developing a Mobile App to Buy a Drink for Friend
Users can order drinks for their friends from any corner of the world. Once they are done searching and connecting with a friend on the app, they can buy them drinks. Search the restaurant your friend is in, find the drinks they had like to have and pay it online. Your order is placed.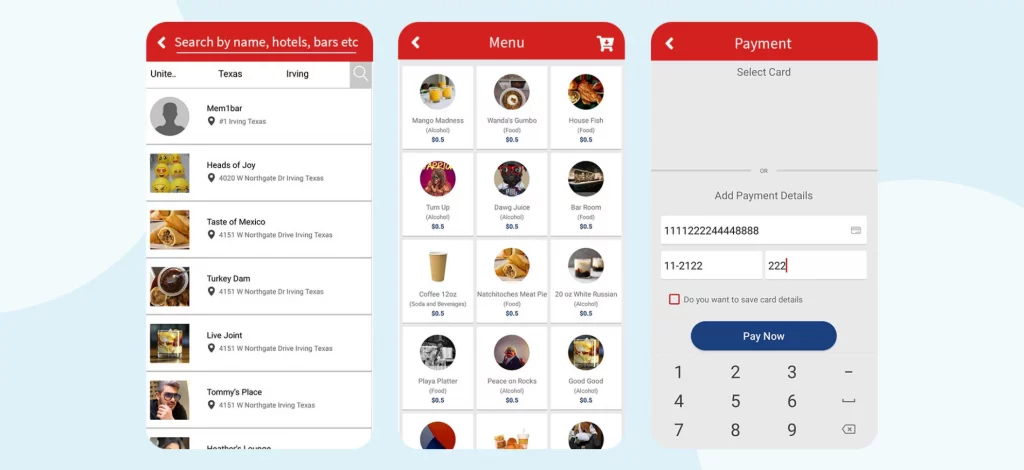 We have used the Stripe payment for an excellent online purchase experience. A user can add any number of cards for the payment. The app can save all the cards if the user grants the required permissions, which is an option.
Real-Time Location Tracking
Our app offers a transparent platform for users to track their friends. Wouldn't this be great when you get notified that your friends are in their favourite bar? The app helps you with this part.
The users can mark "Check-in" at the restaurant they are in. The sender can order the drink of their choice in that restaurant and pay for it. The restaurant owner gets notified for both instances, hence fulfilling the demands. Placing an order online is thus streamlined.
In the picture below, we can find a user with the check-in option. The next screen has the notification for receiving a drink. The last screen belongs to the restaurant owners who keeps a track of all the orders (received/completed).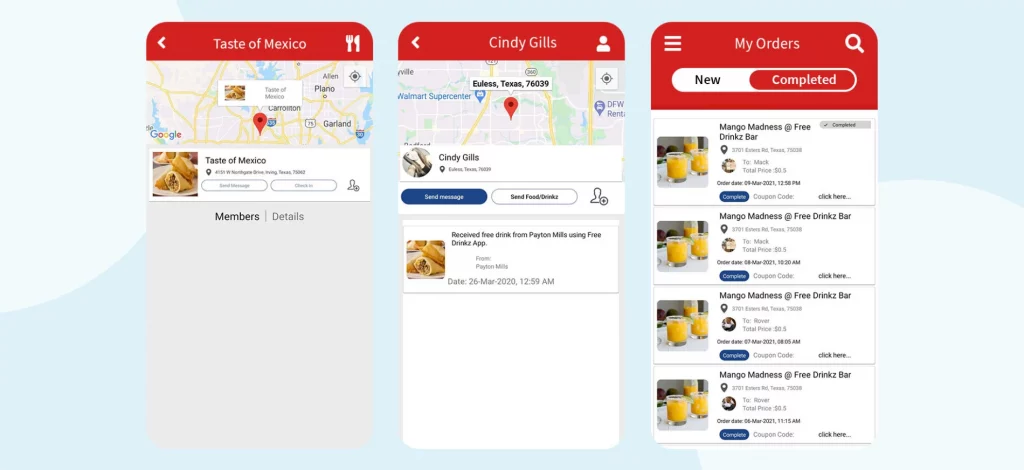 We have furthered the location tracking feature to a whole new level. The app tracks the users in real-time. Users can find the live location of their friends on Google Map. However, it is completely in control of the users whether to let the connections know their live location or not. We have added a custom button for that.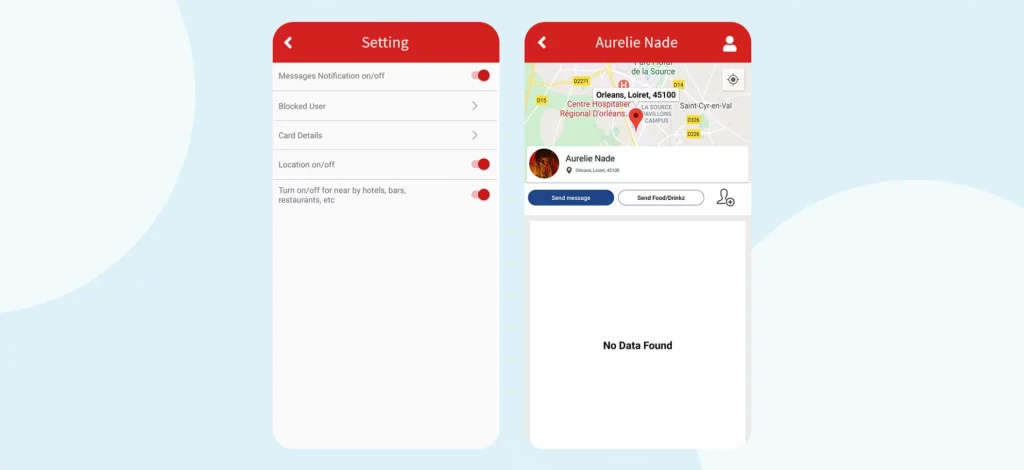 Scheduling Performances on Online Drink Gifting Mobile App
The app offers a separate space for the artists. They can register and earn shows for themselves in the nearest bar. Artists can easily reach out to the restaurants, request them for a show, and add a schedule for their performance.
The owner, on the other hand, has an easier mean to find artists, which can eventually invite more customers to their place. Definitely a win-win for both parties. With that, our mobile app development experts have delivered an app that is capable of high user engagement and helps build a stronger relationship in the friend circles. The app creates equal opportunities for artists lowering the long known gap between performers and the desired stage.
Our Experience with Custom Mobile App Development
The Brihaspati Infotech is a pioneer in mobile app development. The agency has received accolades from several leading business review websites like Clutch for developing industry-specific solutions.
Our Hybrid app development company page speaks a volume about our abilities at developing tailored mobile app solutions. Each article speaks of the unique challenges we came across and the way we helped the client fulfilling the business demands.
If you too want a streamlined mobile app to order food for someone in another country, you are just a step away from getting that done. Now that our Android mobile app development team has already built a similar solution, we can deliver it quicker, saving you time and resources.
Final words
The world of physical outlets and online business is merging. A majority of the job that was handled manually and took up to hours can now be done in a tap. The disruption of tailored mobile apps to physical businesses is revolutionary.
If you too feel that there are gaps in your business, and a mobile app can solve them, you can contact us today. Our experts will help you find an app that perfectly meets your needs.