Popular Magento CRM Solutions For Your E-commerce Website
E-commerce and M-shopping have completely changed the paradigm of how businesses used to approach, interact and persuade customers. The modern-day customer not only seeks better bang for their buck but also prefers to stay loyal towards brands which provides a phenomenal UI and customer experience.
While online CMS systems like Magento are specifically designed to set up engaging UI experiences and better management of eCommerce operations, CRM solutions have cemented their need as a useful post sales tool for businesses to connect with customers, determine their preferences, and understand their expectations.
It goes without saying that the technology frontier of your eCommerce business must be equipped with a highly robust eCommerce CMS as well as an equally effective CRM system.
When it comes to eCommerce content management capabilities, Magento is the king and empowered over 5.5 Million eCommerce websites across the globe.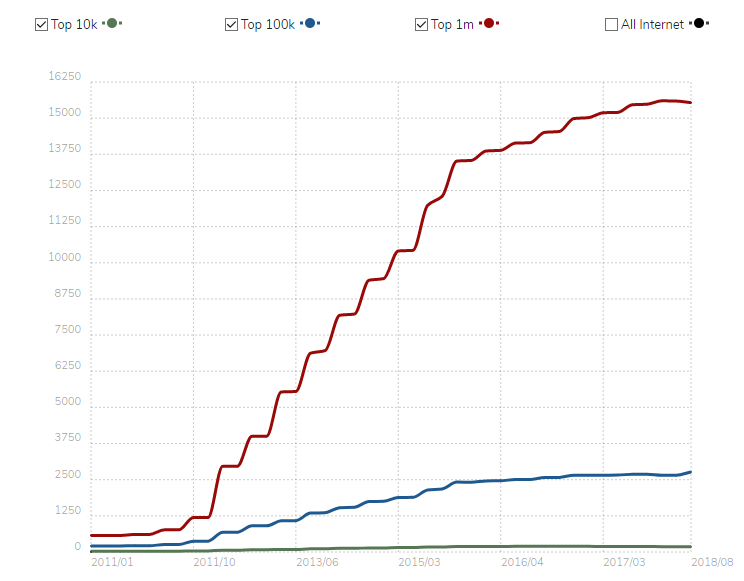 Magento is feature rich, fast, encourages mobile responsiveness out of the box, has a great reporting tool, and most importantly it is open source, which means it provides all the flexibility in the world to be extended in any way imaginable.
Yet, which CRM should be coupled with Magento to effectively carry out Customer relationship management efforts is a debatable topic.
The Brihaspati Infotech has been a leading e-commerce development agency and has worked with several eCommerce businesses. We this article, we aim to put this debate to rest by reviewing 4 most popular Magento CRM solutions for your eCommerce website.
But first, a little theory about CRM solutions
With eCommerce, the factors that contribute to the success of a business have increased manifolds. To cover up as many fronts as possible, organizations have become data hungry about their customers.
Nowadays eCommerce business doesn't just keep a track of their customers and their past orders, but they also fancy exploring other data dimensions like:
1. Order insights:

a. Customer Lifetime Value

b. Lifetime number of orders

c. Average order value

d. Age of most recent order

2. Funnel behavior

a. Funnel Source

b. Funnel steps

c. Cart Abandonment
These insights eventually contribute to calculating and making predictions about when the customer is most likely to order next and through which channel he can most likely be engaged.

This level of granular data is fascinating and priceless in the hands of a skilled marketer. But managing this data and processing it for a business is a daunting task.
This is where CRM solutions come into the picture. An ideal CRM solution for any eCommerce business is expected to simplify the process of not just managing your customer data but to provide adequate tools to act upon this data.
Some key features of effective CRM solutions are:
Leads/Contacts management + Lead scoring

Sales management

Customer interaction and support management through ticketing, emails or live chat

SEO management and Performance Analytics

Automation and workflows setup based on triggers and actions.

Social media channels management



Of course, there are several other features like organization roles setup, AI-based chatbots and more based on which CRM solutions try to outrun each other in the competition, but we can agree to proceed ahead with this list of bare minimum features that define an effective CRM.
Keeping this in mind, here are our picks for Top Magento CRM solutions for your eCommerce website
1. Hubspot
Hubspot is a full stack CRM tool that suits virtually every business type including eCommerce as well. Time and again, Hubspot has proven to boost eCommerce ROI for Magento powered stores.
With Hubspot, you can set up a truly Inbound marketing experience and manage Content marketing, Social media channels, Off-page SEO performance and supports marketing automation.
The complete Hubspot CRM suite consists of 3 core solutions for different business verticals. These are:
1. Hubspot Marketing Hub –

All in one marketing tool

2. Hubspot Sales Hub –

Tool for managing leads and interacting with clients

3. Hubspot service Hub – Tool for providing customer support to your existing customers.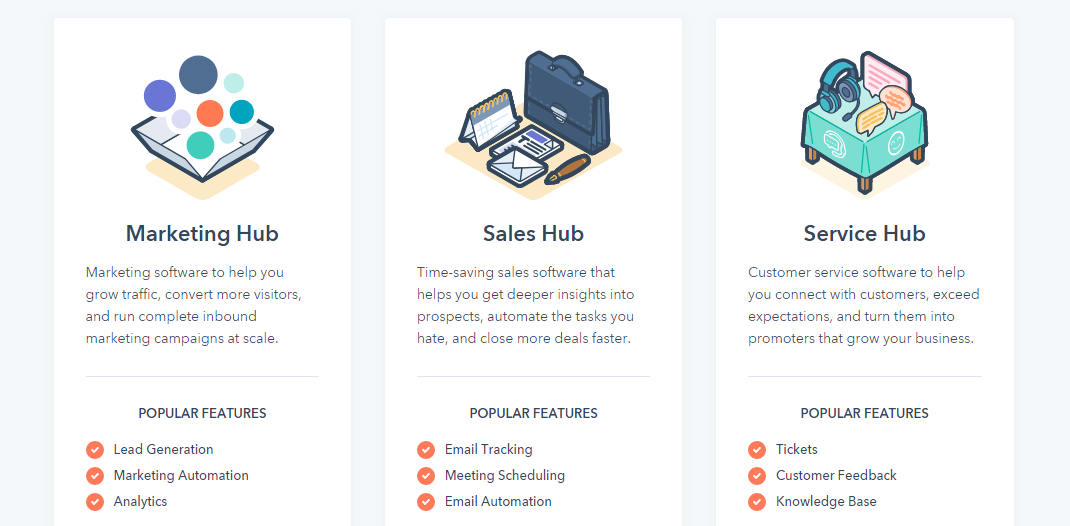 Businesses can choose a tool best suited to them on an A-la-carte basis as well as purchase the entire CRM suite for an end to end CRM operations management.

What all Magento data can be integrated with Hubspot: When integrated with Magento, you can share Customer, Products, Product attributes, Orders, Abandoned cart, and similar data insights with HubSpot.
What can be accomplished with this data:
Setup automation for cart nurturing.

Segment customers and target them with tailored content.

Setup and analyze sales funnels.

Determine ROI based on channel and make smarter marketing investments.



Integration with Magento:

The best way to integrate Magento store data with Hubspot is by utilizing their official Hubspot

Connector

extension. This extension is completely free of cost and is able to synchronize data with Hubspot in real time. The extension is compatible with both Magento 1 and Magento 2 and works like a charm.



2. Salesforce

Salesforce is yet another cloud-based CRM system which has a solution for any business type and vertical. By integrating your Magento store with Salesforce, you can manage several business aspects including Customer relationships, SEO campaigns as well as Paid campaigns in order to manage everything in one place.

One of the key USP for Salesforce is its intuitive interface that can be customized by anyone using their drag and drop ability and has the ability to be extended in the form of custom fields which can be mapped effortlessly with Magento.
What all Magento data can be integrated with Salesforce: When integrated with Salesforce, you can share store data such as Customer details, Orders, Order status, send Invoices, manage Promotion campaigns, and monitor Product performance reports with Magento.

What can be accomplished with this data:
Through customer tracking

Better customer engagement

Personalized marketing campaigns

Better inventory management

Out of the box invoicing tool
Integration with Magento: There are several ways to integrate Salesforce data with Magento. However, the most effective way is using the Magento extension provided by Magenest. However, this extension can cause a serious dent in your pocket if you are using Magento 2 as the extension costs as much as $899.

Another alternative approach is to use Zapier to set up events in Magento which will trigger data exchange between Magento and Zapier.This costs around $20 (but on a monthly basis).
3. Zoho CRM
Another strong competitor in the CRM section is Zoho that provides tons of features to manage the complete lifecycle of an eCommerce business. Zoho provides dedicated tools for CRM, Inventory management, customer support, and help desk, as well as marketing management.
The pricing is fairly set up. However, it's the interface that users will need some time getting used to.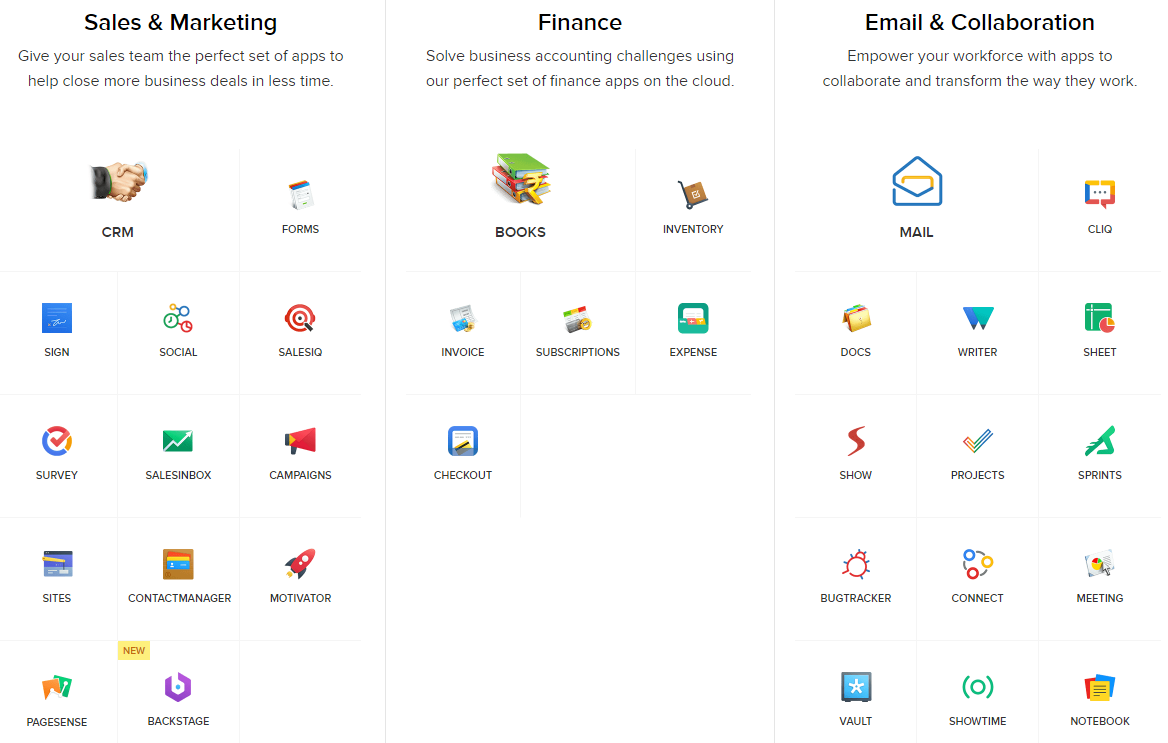 What all Magento data can be integrated with Salesforce: When integrated with Zoho, you can share virtually anything with the Zoho CRM database. This includes your CTA forms, social media channels, inventory, promotional emails, products, orders, customers, and even multiple websites.
This level of data management makes Zoho one of the most powerful CRM solutions in the market and on top of that, it is fairly priced as well starting at as low as $12 per hour.
What can be accomplished with this data: With Zoho, the possibilities are endless as you have an option to extend your CRM capabilities by using Zoho apps. Hence the more data you feed in, the more opportunity you will get to analyze different business aspects and take decisions accordingly.

Integration with Magento: Magenest again takes the cake when it comes to providing a plug and play solution that integrates Magento with Zoho CRM.
The only reliable alternative for integrating Zoho CRM with Magento in the market as of the date this article is being written is Zapier which would need you to sign up for premium accounts as both Zoho and Magento as premium Zapier plugins and will require monthly subscription costs.
4. Sugar CRM
Sugar CRM is everything that you need in a CRM tool, but the catch is that you will have to host it on your server. In addition to that, the subscription is billed annually which means you will be engaging in at least One-year commitment if you purchase Sugar CRM.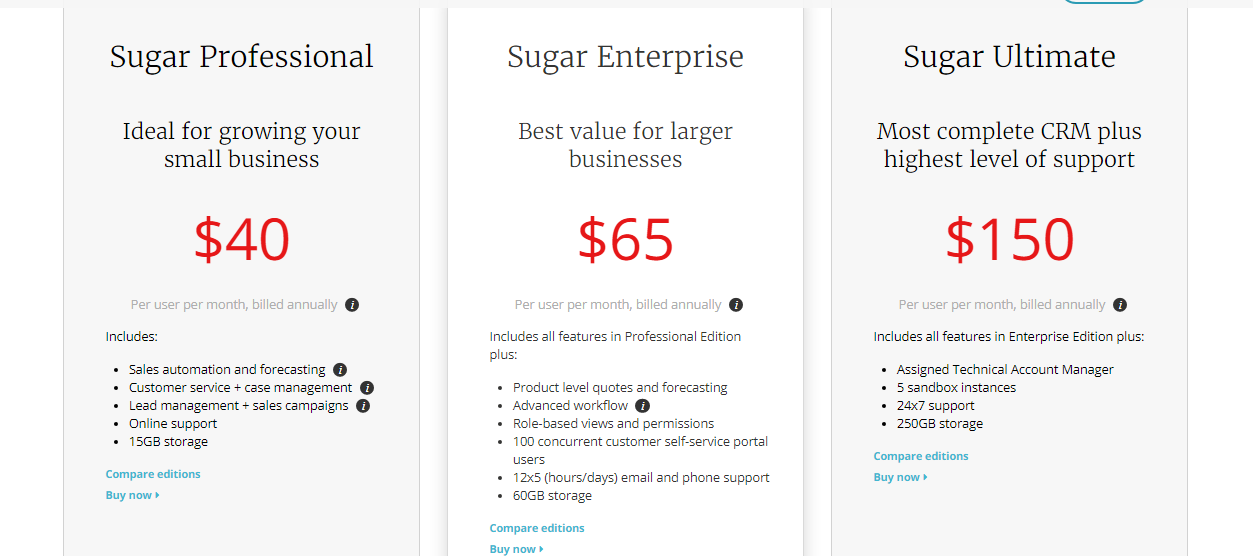 That being said, SugarCRM is still one of the most effective CRM tools available in the market for Magento.
It provides all the bells and whistles to effectively manage your customer relationships.

What all Magento data can be integrated with Salesforce: Integrating your Magento store with SugarCRM would allow you to manage your customers, score them based on their activity, manage social media promotions and campaigns, provide customer support and manage your inventory and orders effectively.
Although we have noticed that the reporting mechanism of SugarCRM might not suit every business type as it is not easy to customize and lacks an interactive tool to customize views.
What can be accomplished with this data: With SugarCRM, you can get a minimal, and clean interface to see how your orders are being handled, how profitable your customers have been, and you can even predict your future forecasts to make necessary optimizations in the business process.
Integration with Magento: Although there have been existing extensions for Magento 1 that integrate Sugar CRM with Magento, the market still lacks a suitable plugin for Magento 2.
At this point, if you are a Magento 2 user, then you can use Zapier for implementing your integration. However, we have seen that currently, Zapier's events for SugarCRM are quite limited in scope.
That being said, SugarCRM provides their own client-side REST API which can you can use and hire Magento developer to implement this integration.
Conclusion
If you have read this far then you could have inferred that most of these Magento CRM solutions have more or less the same features. This is something that is very common when you target the most popular CRM's and consider the competition in the CRM market.

As far as choosing Magento CRM solutions for your eCommerce website is concerned then we recommend you to take a decision based upon the ease of use provided by these CRM's and their integration complexity.
If you are looking to integrate Magento CRM solutions among these with your eCommerce website then contact dedicated Magento development team at The Brihaspati Infotech today for free and discover how we can help you out.