Redefining Influencer Marketing with Gatsby
It's the era of Social networking, with over 80% of active internet users having accounts on more than one social media platforms. Over time, these platforms have evolved from a place to share personal updates into a channel for consumers to share genuine opinions about products and services they use.
Consumers are getting influenced by each other's purchase patterns and reviews over social media channels, while brands who are not recognizing this Influencer marketing enigma are in a state of bewilderment.
For those who are new to Influencer marketing – It is a term that's trending in the digital ecosystem with brands, small and big, seeking an opportunity to capitalize on the social growth of social media influencers.
With ad-blocking and banner blindness being a norm, old-school marketing strategies are growing older.
In contrast, the power of influence and social capital generated through social media channels like Facebook, Youtube and Instagram is being recognized by marketers, forcing brands to make greater investments in influential marketing.
At this point, you might be wondering:
1. Who are the right influencers?

2. Where to find them?
The answer, as oversimplified it may sound is – "They are your existing customers".
And the reason is pretty much self-explanatory.
Your existing customers have tried and tested your brand.

When real customers agree to influence others about your brand, they will share their most honest opinion with others.

If they don't, then they will share their most honest feedback with you as to why they don't wish to do so.
In either case, your customers influencing others leads to the most authentic marketing routines your brand can ever experience.
To help brands leverage the influential potential that lies among their existing customers, Gatsby Tech INC introduced a SAAS solution, with The Brihaspati Infotech as their technology partners and redefined influencer marketing.
What is Gatsby
Headquartered in San Francisco, Gatsby Tech INC is a SAAS web application that allows brands to exploit influencer marketing by converting their customers into their greatest marketers.
Driven by the supreme leadership and digital marketing experience of CEO and Co-founder Brett Bernstein, Gatsby has built upon the most effective form of influencer marketing – turning customers into Micro Influencers.
Gatsby's selling point is not only facilitating a productive approach towards Influencer marketing but the social proof that comes with it – "Real customers, Real Influencers, Real prospects"
Powered by the MEAN technology stack, Gatsby features an easy to use online dashboard and many 3rd party integrations which is redefining how Brands do Influential marketing.
How it works:
Gatsby's all in one web application allows users to generate genuine prospects by:
Building genuine social media followers.

Analyzing customers who can be converted into influencers.

Engaging them to incite word of mouth marketing.

Reviewing performance and conversions with detailed infographics.
All it takes to get started is setting up a Gatsby account and then a Gatsby campaign.
A Gatsby Campaign can be a custom-branded button which can be embedded in any web application that supports HTML, or a direct link that can be sent through newsletters and social posts.
The Button or the link acts as the point of attraction for your new or existing customers. Link it to a giveaway or a promo code to grab customer attention.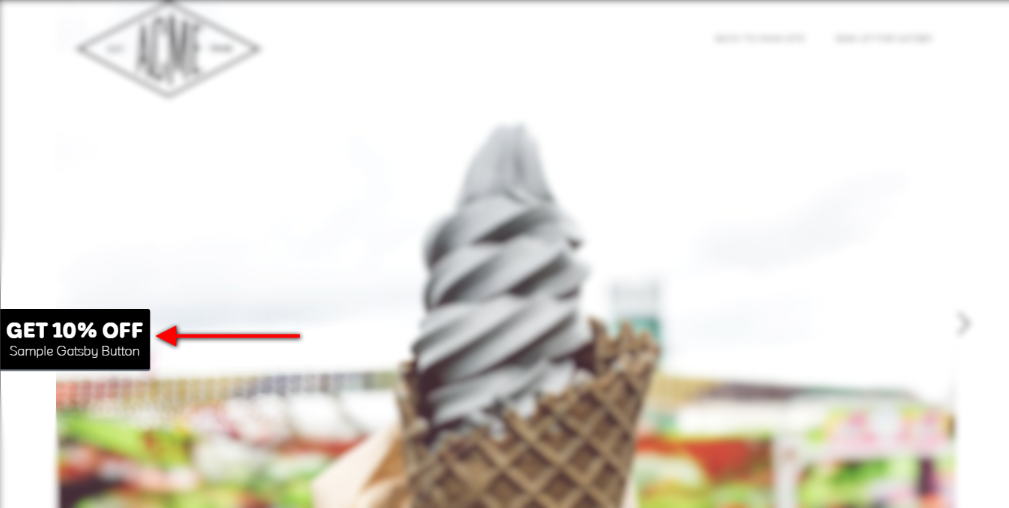 Once clicked, Gatsby asks prospects to follow the brand on social media channels in return for an offer.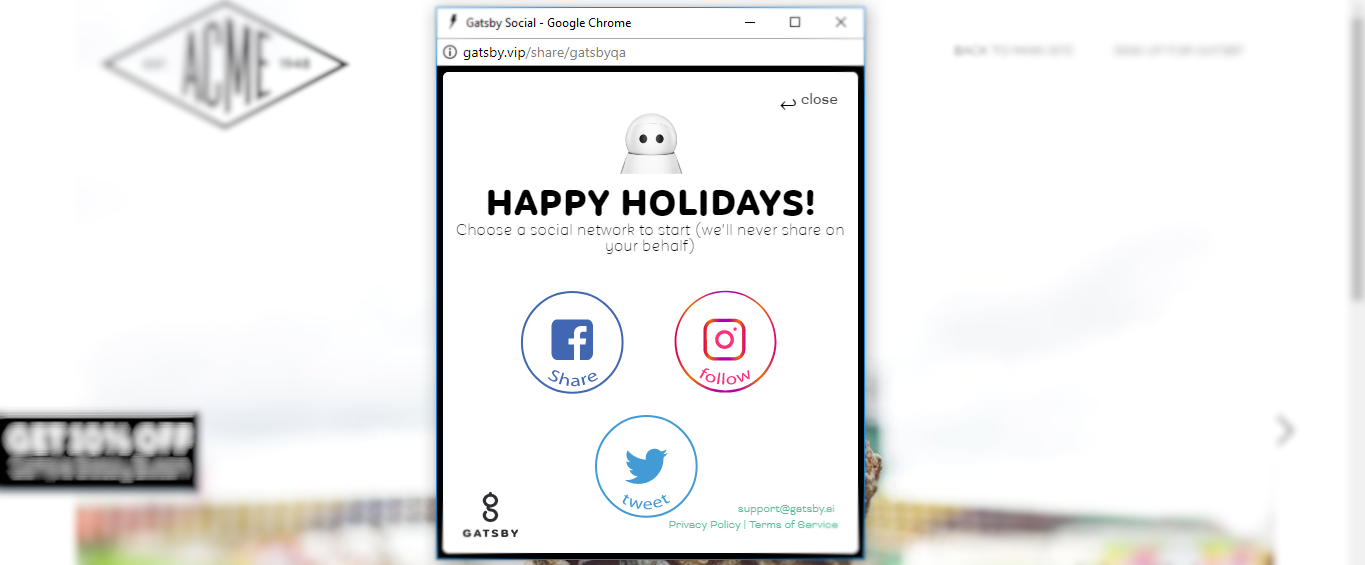 As soon as a prospect links his social media account, all necessary details such as Name, Profile photo, Email address, Audience size are saved in your Gatsby account.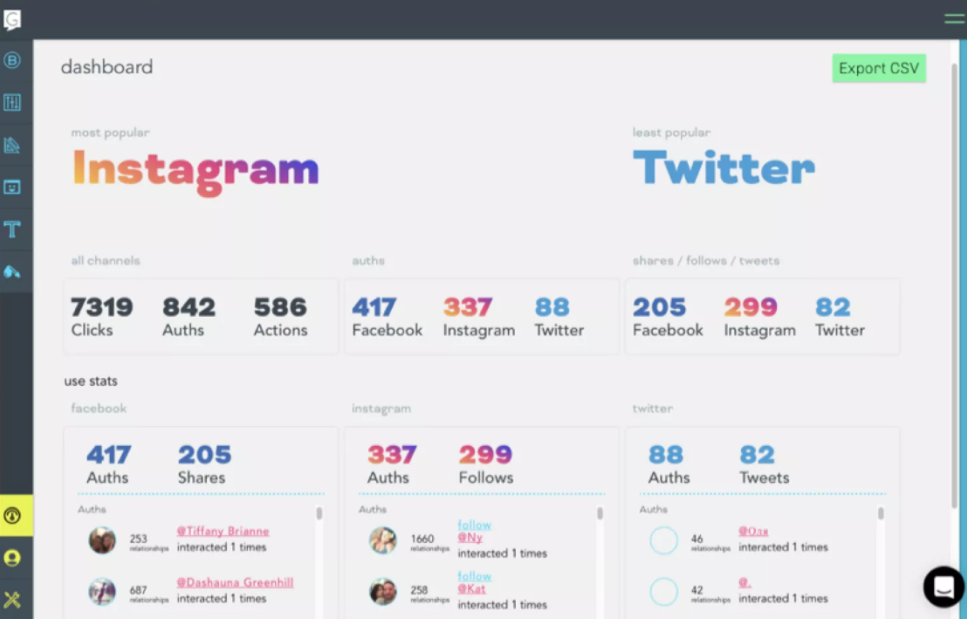 Once your list of potential influencers starts growing, Gatsby automatically introduces you to your prospects through email, while allowing you to take over the conversation anytime and groom your customers into marketers.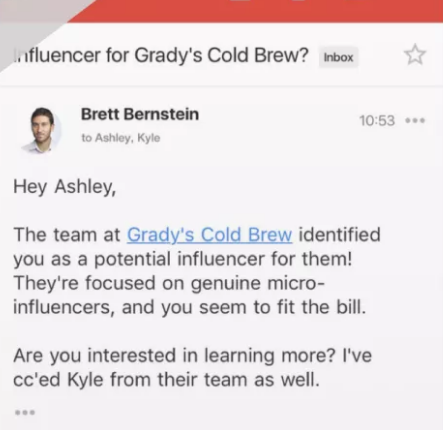 The Gatsby Effect
Gatsby's easy to use interface, powerful reporting and analytics engine and prospect engagement capabilities mean, brands spend less time learning how the application interface works and more on decision making.
Client surveys indicate that after spending 30 minutes configuring their Gatsby account and running a campaign for 3 weeks, brands were able to identify 1,400 social profiles, 25% click-through rate, and 40k+ new followers. Not to forget, these were all genuine prospects.
Kyle Furlong, Co-founder at Grady's Cold Brew (a Shopify powered E-commerce website), noticed an increase of 5% in their online sales. This grew 43% year-over-year with Gatsby.
Nano Stasiak, Co-owner at TeamLTD experienced a 10% increase in sales with Gatsby campaigns.
Gatsby's unique approach towards influencer marketing, empowered with a minimalist web interface has helped 300+ brands over the past few years, emerging as a game changer in the world of influencer marketing.
As of today, Gatsby has published addons for seamless integration with:
Shopify
Hubspot CRM and Marketing
Zapier for Mailchimp
Fomo
This enables brands to synchronize the listing of leads from Gatsby account with their favorite E-commerce and marketing platform in no time.
Our Role
Being their technology partners, The Brihaspati Infotech took upon:
Analysing the project needs and documenting the project architecture in order to keep the platform scalable for future expansion.
Developing Gatsby's proprietary user interface utilizing MEAN development stack.
Carrying out 3rd party add-on development for Shopify, HubSpot, Zapier, and Fomo.
Performing Regression and Retesting based on Agile methodology for optimizing and improving the end product
Deducing the correct server configuration.
Deploying the web application and monitoring it to deliver consistent performance.
What the future holds
Building upon our success with Gatsby in 2017, we are gradually rolling out more exclusive features such as:
Instagram integration.
The ability for Brands to identify the influence of a customer.
Automatic Intro's for Social media customers.
More flexibility in customizing Fonts, Colors, Text, and emails. AKA White Label.
Domain whitelisting.
Integration with Raffle Campaigns.
And many other under the hood optimizations to make the platform even more productive for end users.
What started as an effort from Gatsby to reshape the Influencer Marketing universe has turned out to be an amazing journey that has helped over 300+ brands to carry out Influencer Marketing with unmatched productivity.
While Gatsby is consistently pushing the boundaries of customer engagement through their SAAS interface, being their technology partner it has been a wonderful year for us to test our own limits in SAAS web development and move ahead of them.