Shopify Neon Sign Configurator App: Create Custom Signs Online
According to Forbes,
80 percent of buyers prefer purchasing from a brand that provides a personalized shopping experience

63 percent of buyers tend to avoid making a purchase from brands that offer poor personalization.
This has made personalization a crucial element for making an online business thrive to its full potential. Further, for products that have to be tailor-made for every buyer, providing a personalized experience with customization tools is a must.
With customizer tools such as Product customizers or logo and sign designer tools, it becomes easier for a buyer to explore their options. These facilities also make it easier for merchants to understand every individual buyer's preference and cater to their requirements.
Also, to aid merchants in providing customization facilities easily, platforms such as Shopify also provide pre-made apps. Moreover, for customizing business-specific products with a variety of choices merchants can create customized tools as well.
Our Experience in creating Sign Configurator Apps
Our developers at The Brihaspati infotech often handle similar customization tool development requirements from our clients. Recently, we were approached by a Shopify merchant who owns a sign design store on Shopify. 
The client provides services for making custom neon signs for businesses. However, since every business has a different vision and requirement catering to such requirements through an online store became complicated for merchants.
Client requirement:
A custom application for buyers to design their logo

Options for colors and background

Graphics Elements Option for logo design
Our developers adapted to Custom Neon Sign Configurator Development for Shopify to ensure our clients get their above-mentioned requirements catered to. This helped us to find the right tools and elements.
Our solution: Shopify Custom Neon Sign Maker
After analyzing the requirements, we figured out that having a Custom Neon Sign Configurator where customers can bring their ideas to life is crucial for online sign businesses. As their target buyers will have their own ideas to express through the product. We decided to create a custom Online Sign Design tool for Shopify which worked in a plug-play manner using Liquid.
Why use Shopify Neon Sign Maker App?
The sign design app development for Shopify can easily aid merchants in operating their sign design business by providing real-time interaction with the customers. This is quite similar to how buyers would visit a physical shop and place their order personally to the brand to be custom-made. Below is a list of benefits of using Sign Configurator:
It makes ordering signs from the online store convenient for buyers.

It also helps merchants in making navigation easier and in accordance with user's requirements.

Further,

sign design tool development for Shopify

makes it easier for merchants to cater to the buyer's requirements efficiently. This improves the interaction between the brand and customers
Hence, the use of Custom Neon Sign Configurator can easily aid merchants in improving their buyer's satisfaction and brand image
Features of Shopify Custom Neon Sign Configurator
To create the sign maker app, our Shopify development team preplanned the features needed for the app beforehand. With the help of the feedback-oriented development method, we were finally able to implement the following amazing features.
Create Neon Signs Online
Having buyers choose the custom sign design for their business apart from the premade options available provides more options for them to explore.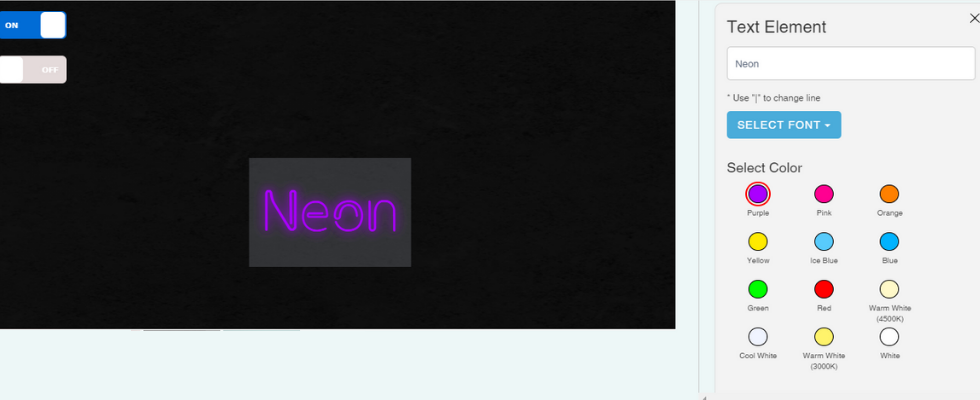 For this, we decided to create a different section in the Shopify site solely for customizing the designs. This made the creation of the design process easier for the users.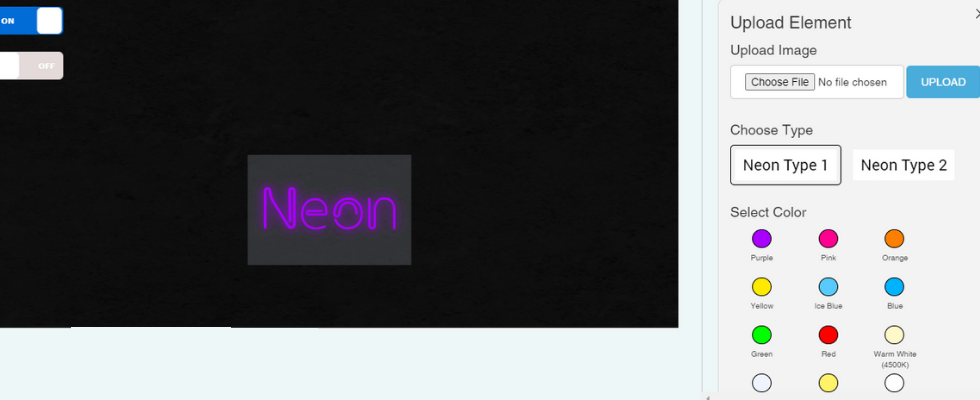 Moreover, through the Custom Neon Sign Configurator, the buyer could directly upload their predesigned signs as well and get them custom-made.
Choosing fonts and texts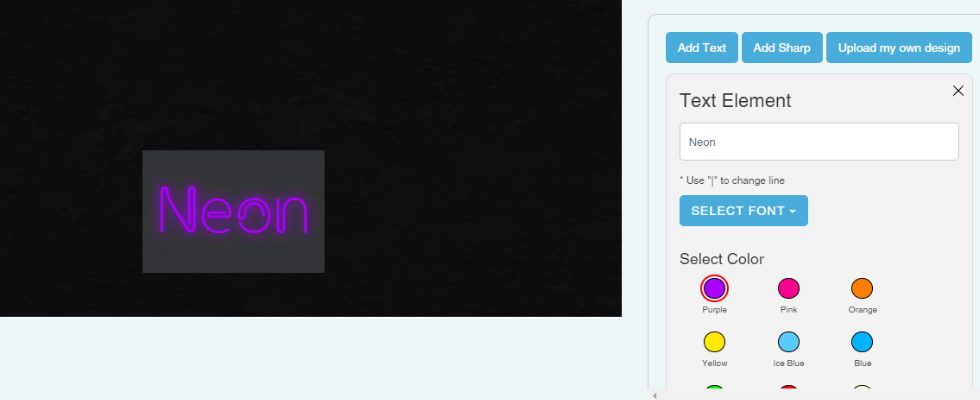 Also, to enable buyers to channel their brand vision, it was crucial to provide them alternatives for unique brand representation. For this, we provided multiple fronts through which the users could design their logos efficiently according to their needs.
Multiple color options for users and backplate
The backplate and colors are essential parts of building a brand logo. Further, the right choice of colors can help individuals in expressing their vision efficiently as well. For this, we provided options for choosing and customizing the color for the backplate and text in Custom Neon Sign Configurator. These color options for the backplate are available separately for the text and backplate. Users can also use the color palette for choosing the right choice of colors for their business.
Multiple Backplate options
The backplate could not only be customized for the choice of colors we also enabled the users to benefit from multiple backplate options offered by the client. The separate section for the backplate enabled the users to choose the shape and size of the backplate as well.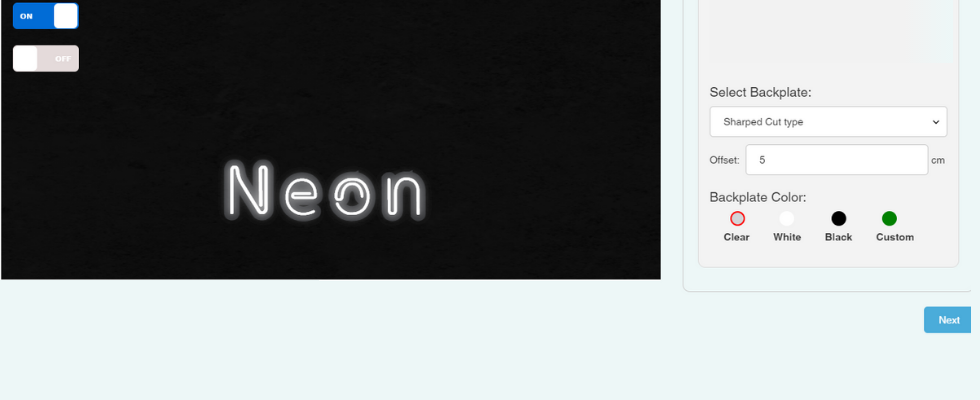 This enabled the users to further establish a unique appearance for their brand through the Shopify custom Sign maker app.
Options for sharp Element selection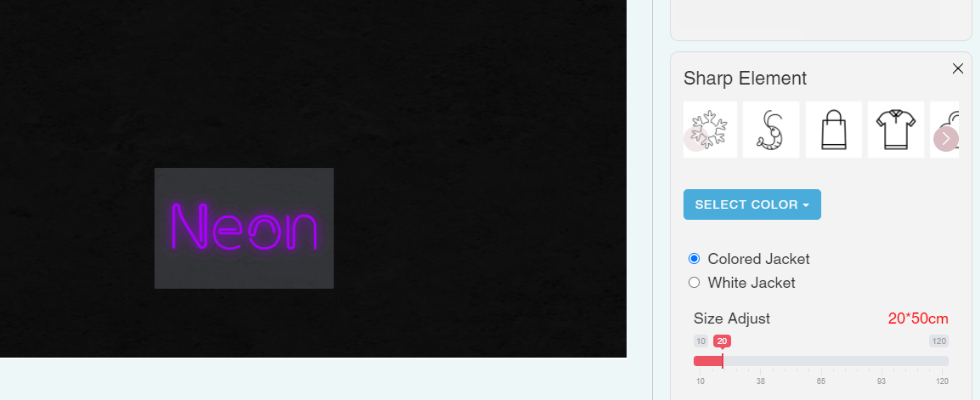 Apart from the font and backplate, the custom sign maker tool for Shopify also provided the buyer multiple sharp elements. The buyers can place any sharp element from the catalog to enhance the look and feel of their sign. Further, they can also easily apply the color of their choice to the sharp element as well.
Choosing the Neon Type and Accessories
After the completion of designing the sign, the buyer can also choose the neon type. The merchants provide two neon-type, LED Flex and Glass Tube. Further, here the buyers can also add extra accessories for their neon signs as well according to their needs.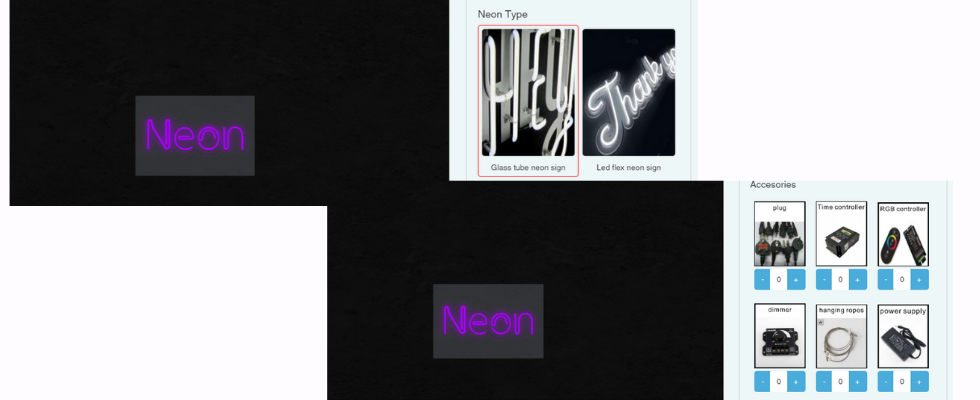 Also, this section provides the cost for the design as well before directing the buyer to the checkout page.
The app has been updated several times post-deployment to align with the client's business needs.
By mid-2021, 15+ businesses have approached us for a similar app that clearly speaks of the growing demand for Neon Sign maker apps and the market gap.
Final words on Shopify Custom Sign Configurator App
Customization tools can efficiently enhance the shopping experience of the users. It also allows merchants to efficiently offer their products and services to the customers through their Shopify store. Hence, apps such as Custom Neon Sign Configurator Development for Shopify merchants can easily improve the shopping experience and brand image.
Our Shopify developers have created similar apps in the past such as Product customizer for popular eCommerce platforms. So, if you are also looking for a similar solution for your online business get-in-touch with us today. Our developers can assist your brand to achieve its goal with unique business-specific solutions.