Shopify Flow: An ultimate tool to put business on Autopilot
Automation plays a significant role in how businesses handle their projects, orders, and customers. Incorporating automation in your workflows using tools like Shopify Flow can turn into a blessing to increase the overall productivity with more time to focus on business activities that matter a lot.
"The first rule of any technology used in a business is that automation applied to an efficient operation will magnify the efficiency." – Bill Gates.
If you own an eCommerce business, you might be spending too much time on repetitive tasks that consume your time every day. These activities often leave less time to focus on core activities to grow your business.
So, what will be your first choice to overcome it? Hiring an assistant for it? Well, in the US hiring a person to manage all these tasks can cost you around $2500 per month. The whole Shopify Plus package will cost you less than it, and did I mention that Shopify Flow App is absolutely free!
Image Credit- Shopify
Why does your eCommerce business need process automation?
Business process automation helps to complete repetitive and time-consuming tasks without human intervention. As a result, your business processes will become more efficient, and consistent while saving valuable time for more vital business tasks.
By eliminating the bottlenecks that cost loss of time and revenue, enhanced control and efficiency will be spread to every department of your business. The below image will help you understand the benefits of applying automation to the business process.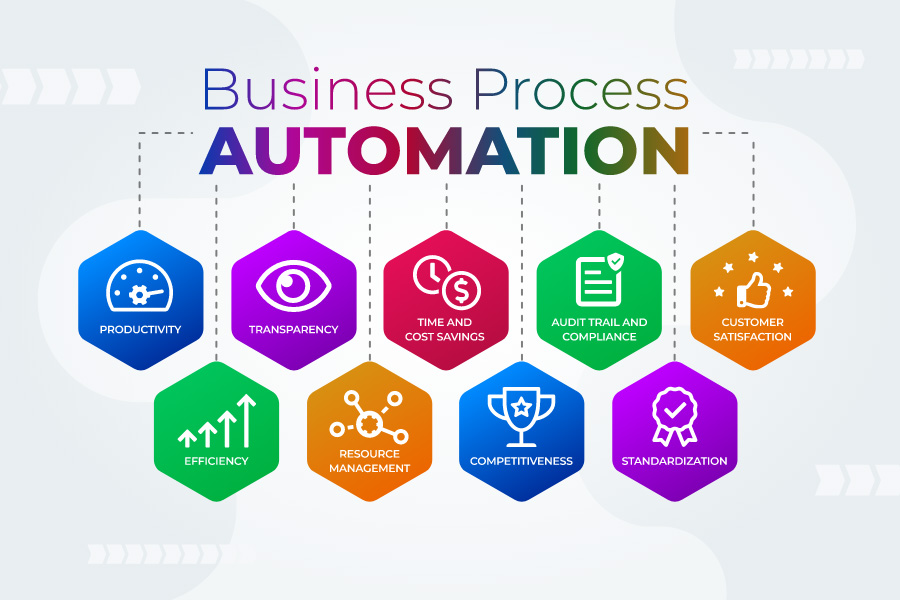 Decrypting the Shopify Flow and its working
Shopify Flow is one of the revolutionary tools for Shopify Plus and Shopify Advanced store owners to automate many business processes without using any codes or technical expertise to make it happen.
At The Brihaspati Infotech, we facilitate our clients with custom eCommerce stores and Shopify development services to optimize and automate operations. We know that Shopify stores and their teams spend too much time dealing with tasks that could be handled efficiently using Shopify Flow.
Being a purpose-built eCommerce automation tool for Shopify, it helps merchants to overcome workflow challenges by automating the business processes for Shopify stores and apps.
Flow lets you design automated workflows using the events that trigger the automated processes. The tool watches all the occurrences in your store or app to set up a reaction sequence whenever the event qualifies the triggers, conditions, or actions set by you.
Image Credit- Shopify
Triggers: It is the component of Shopify Flow that describes the events to initiate the workflow. For example, inventory changed, customers created, & orders.
Condition: It determines whether the action that takes place satisfies the condition you set or not. For example, out of stock, spent over $100, high risk.
Actions: Determines specific actions to take place after meeting certain conditions in the store. For example, unpublish from the store, tag customers, & cancel the order.
The below images illustrate the use of triggers, conditions, and actions to create automation for risk analysis or fraud detection. We will advise you to hire Shopify developer for the perfect execution of such automation using Shopify Flow.
Selecting the Trigger
Adding the condition
Choosing the Action
How Shopify Flow facilitates business process automation for eCommerce?
Shopify Flow provides a convenient way to automate the Shopify plus process by creating complex conditions. It is indeed one of the most invaluable tools that can help you bolster the efficiency of your eCommerce business.
Though there are thousands of 'if this then that' use cases that you can use with Flow, below are some examples to demonstrate the capabilities of Shopify Flow.
Get automated notifications when the store is low on product inventory
Notification for tracking the out-of-stock products in the store.
Auto emailing the discount codes or user-specific coupons
Adding loyalty points whenever the customers complete their purchase.
Notifying and tagging risky orders based on specific risk conditions
Adjusting the product prices according to different customer tags
Adding new products to collections based on tags automatically.
Create different shipping tags for specific users based on customer tags
Hiding, publishing, and changing the various elements of your store automatically.
Automatic tracking and reporting the store performance without manual interventions
How to create automated workflows using Shopify Flow?
The Shopify merchants can create the workflows using common logic without requiring to hire Shopify developers or expertise in coding. The process is easy because you can use Shopify Flow's visual builder to create the flow. For that, you need to choose patterns similar to the processes within your organization. You can either use the freeform canvas or pre-built workflow templates to start automating the business processes.
Steps to create Workflows with Shopify flow using freeform canvas
Step 1: Go to the Apps section on Shopify admin and hit the Create Workflow option under the Shopify Flow section.
Step 2: Click on the Select a trigger option and select the trigger to initiate the workflow. Once done, click on the Output option for creating a new step.
Step 3: Hit the condition option and select the condition to be met before running any action.
Step 4: Click on the Then option to add the action when the condition is satisfied. You have options to add additional conditions or actions here.
Step 5: Hit the new workflow option and enter the appropriate title. Once done, click the turn on workflow option to start using it.
Creating Workflows using pre-built Workflow templates by Shopify
You are not required to create the workflows because freeform canvas doesn't require it each time. Several pre-made templates can help you create a workflow with customizations that you need to trigger specific events.
It is essential to ensure that you replace the values of triggers, conditions, and actions with values you want to use for a specific workflow. You may need to install the connectors for the templates that use triggers and actions from apps.
For example, you may need to change receipt information for sending messages, customers tags, or substituting the action with those you desire.
Steps to create a workflow using pre-made templates
Step 1: Go to the App section on Shopify admin and click the Shopify Flow option to create a workflow.
Step 2: Browse the templates to choose the most suitable one and click on the install option.
Step-3: Once installing the template is complete, edit the template and name the workflow by editing the title.
Step-4: Once renaming the templates is complete, you can switch the toggle to On to start using the workflow you created.
Conclusion
These were some insights about the relevance, use, and significance of Shopify Flow for your business. It is just the tip of the iceberg because there is a lot more to explore about this Shopify tool. An in-house solution by Shopify will become a relief for eCommerce stores.
You can imagine the number of hours you save each month by using Shopify flow and how crucial it can become for the growth of sales and revenues of your business.
At The Brihaspati Infotech, we have seen clients struggling with business automation while using expensive and inefficient third-party apps. We have a team of more than 40 certified Shopify developers who can help you with store automation and other Shopify development services like:-
Theme development and customization
Shopify store setup and customization
Shopify app development and customization
Migration, updating, and maintenance
PSD/Figma to Shopify theme conversion
Shopify Plus enterprise services
We are dedicated to leveraging a wide array of modern solutions because strengthening your business is our prime objective. Enjoy the benefits of custom Shopify development by getting in touch with one of our Shopify experts today.