Shopify Merchants: Is it time to switch to the Dawn theme?
Shopify Dawn theme is the latest addition to the ever-growing Shopify 2.0 ecosystem. Though you can get several themes for Online store 2.0, Shopify's out-of-the-box "Dawn theme" is gathering lots of positive feedback from the Shopify community. There are several new features, performance improvements, and scalability options in the latest Shopify default theme. Today we will try to validate if the Dawn theme actually deserves all the attention or if the tried and tested Debut theme still holds an ace up its sleeve.
"Dawn Theme and Shopify Online Store 2.0 are effective ways to launch your eCommerce store even if you are on a tight budget" – Nishant Bansal, Shopify Expert
Shopify development experts at The Brihaspati Infotech have been working with the Dawn theme for several months now. Over the course of our experience, we have observed some key features that make this theme a worthy successor.
Up to 35% Speed boost with JSON-based architecture
Leverage the latest features of Shopify 2.0
Native support for managing Metafields to facilitate custom development
Cross Browser and Device compatible
Adaptive for different eCommerce models
Why does your store need to migrate from the Debut theme to Store 2.0 theme?
The Debut theme was undoubtedly a great theme available for Shopify developers and merchants when it was launched around six years ago. With time the UX practices and web standards have evolved, and we found that the Debut Theme was lacking on many fronts. Let's explore the vital pain points of using the Shopify debut theme:
Slow store performance affects user experience
Insufficient options for effective store management
Insecurity due to injecting script tags for third-party elements.
Inability to offer options for scalability.
Complexities with design and multi-browser compatibility.
Despite these drawbacks, more than 60K stores were using the Debut theme, and finally, they have an option to migrate to a better platform. Many Shopify experts consider the introduction of Store 2.0 as a solution to meet the latest industry practices while powering the next generation of eCommerce stores.
We believe that introducing Store 2.0 is a revolutionary step as it open ups massive opportunities for both merchants and Shopify developers. The new features like using the enhanced theme editor and compatibility with the JSON files can be seen as a great leap toward building futuristic and customer-centric online stores.
Why Shopify Dawn theme is gaining so much attention?
As per the official page of Shopify and numerous blogs doing Shopify Dawn Theme reviews, it is most suitable for the merchants who wish to run stores dealing in clothing, accessories, health, beauty, home, and garden. However, by hiring Shopify development services, you can customize it exclusively for products your business wishes to offer using an online store.
The Shopify Dawn theme is easy to set up.
Launching your eCommerce store using the Dawn theme Shopify is a breeze. Apart from being a free theme, Shopify Dawn makes it easy to set up your store using the intuitive theme editor. The theme editor contains below three sections to make store setup more convenient for the merchants.
Left panel – Helps change the layout or structure of sections or content sequence on the store page.
Preview section – For real-time mobile and desktop preview of changes made in your store page layout.
Right Panel – A tree view structure to view the section's content and update the page hierarchy.
Dawn is the Most Customizable Free Theme
When we talk about the customization abilities of Shopify themes, you will not find any free Shopify theme as customizable as Shopify Dawn. It lets you create templates and control what you want to render on each page of your store. These templates help you match your vision with your online store. Below are some other customization advantages we found while doing the Shopify Dawn theme review.
Hero banners with clear calls to action
Product features added to your homepage
Flexible layout customization options
Add sections to product pages for more conversion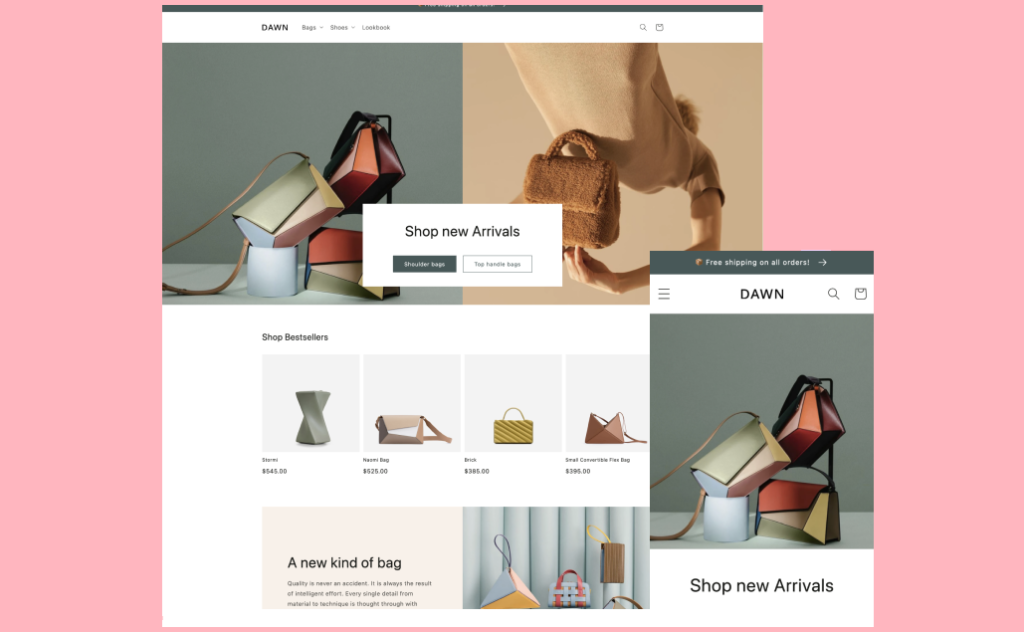 It is Faster and more intuitive than its predecessor.
We found that Dawn is around 35% faster than the Debut theme. If you are into the eCommerce industry for a while, you might know the positive impact that speed can have. The advanced features like the theme editor, meta fields, centralized functionalities, and app blocks make it much faster to modify the store content and pages. The tools you get with Dawn are not only customizable, but they are intuitive to use too.
Adaptable layout for any number of products
The adaptable layout of the Dawn them is the big plus point. Apart from creating visually appealing product pages, it enables you to add any number of products without compromising the image ratio and uniform layout. Almost every Shopify Dawn theme review suggests the advantages of advanced settings of product grids and collection pages to deliver a satisfying user interface to your customers.
App blocks and content sections on Every Page
The Dawn supports the app blocks therefore, you can now add app functionalities wherever you wish using your Dawn theme editor. Apart from it, you also have an extensive Shopify Online Store 2.0 app collection. All these apps will integrate with your store seamlessly. It helps you exercise complete control over content added by apps on store pages and where it is added.
Metafields are available by default in the Dawn theme.
We also found a significant improvement in the Metafields. Now you don't need to depend on codes and APIs for creating the Metafields on your store pages. Metafields have always been a vital element in Shopify that lets you add extra information to any website entity. If you have a customized Shopify store, chances are you have been using Metafields for at least one of the entities. Products are the most common ones.
However, managing such information has always been tricky due to the lack of a Shopify interface for managing metafeilds. You either rely on paid Shopify apps or Shopify app developers for managing information using API code. With the Dawn theme, Shopify finally brings in its own interface to control metafields and information through a native interface. It puts the merchant back in charge of metafields management while making the developer's life a little easier.
Debut VS Dawn. What is right for you?
There are no two thoughts that Shopify has replaced the Dawn theme with a worthy successor as it definitely overcomes the shortcomings of the Debut theme. It is not wrong to say that Dawn is an improved version of the Debut theme. If you are yet on the fence about switching to this new theme, we suggest you do it now, as you have to do that in the future eventually.
Our Shopify Dawn theme review has already listed significant features of the theme earlier. The following snapshots of some eCommerce websites with the Dawn theme give a glimpse of the improved visual storytelling and media options provided by the Dawn theme that takes the look and feel of your brand and products up a notch.
Concerns found during our Shopify Dawn Theme Review
As of June 2022, the Dawn theme has a review score of 43%, and it seems that merchants are pretty impressed with the features and functionalities that this theme offers. We think improved speed, impeccable styling, and unlimited customization possibilities provide a viable edge to the Shopify dawn theme. However, we do not live in a perfect world yet. Shopify community channels and Dawn theme's official Github page is buzzing with bugs being reported. Some of the critical issues we have recently helped our customers with include:
Getting familiar with JSON as the Dawn theme no longer supports Liquid code
Being open-source, there is no direct support channel available for consultation
Minor bugs or compatibility issues with some third-party apps.
Complaints about the inability to customize colors and font without a developer,
Sometimes Add-to-cart button doesn't work correctly.
Merchants often face problems while displaying videos.
Final Words
It's evident that the Dawn theme still has some way to go before it gets as stable as its predecessor. However, its benefits overshadow the flaws, and we highly recommend consulting your dedicated Shopify developer before switching to the Dawn theme.
At The Brihaspati infotech, we are helping ambitious eCommerce entrepreneurs like you to build the custom Shopify Store 2.0 themes that resonate with your brand and enhance the user experience and conversions. You can get in touch with our team for following Shopify theme development services.
Responsive Shopify Theme Design From Scratch
PSD, Sketch, Figma, Adobe XD To Shopify
Shopify Theme Development & Customization
3rd Party API Integration
Support And Theme Maintenance
Our Shopify team has already helped over 60 Shopify merchants to migrate their stores to Online Store 2.0. Whether you want to tweak an already existing 2.0 theme or want a one from scratch, our seasoned experts are just a click away.