Shopify NFT – A comprehensive guide before you get into it
Non-fungible token(NFT) is one of the most interesting concepts facilitating the convergence of digital and physical worlds. The forecast by some credible agencies suggests that the market cap for NFTs will touch the $80 billion mark by 2025. Businesses have already started taking a keen interest in it due to its salient features and inherent benefits.
NFT has remained a constant buzz in crypto markets since its introduction. The concept is expected to stay and transform the investing forever. Though you can trade NFT using decentralized exchanges, the NFT marketplaces are becoming significantly popular for it.
"Most NFT creators fall for the hype without understanding how to create value as they are too focused on the price," – Sidharth Sogani, CREBACO.
Recently, Shopify introduced Shopify's NFT Beta Program that enables your Shopify plus store to sell NFTs using cryptocurrencies and credit cards. Today we will explore the significance and process of creating an NFT store using Shopify development services.
What are Non-Fungible Tokens?
An NFT is a digital asset representing real-world objects like artwork, music, and more. This token holds a unique and non-transferable unit of data that guarantees uniqueness and ownership. These non-fungible tokens are based on blockchain technologies used for popular cryptocurrencies like Bitcoin and Ethereum.
A digital ledger stores the unit of data that every NFT holds using blockchain technologies to establish the owner's proof. Don't confuse a non-fungible token with cryptocurrencies because they are unique and store extra information that elevates it above currency.
The cryptocurrencies are fungible and are also equal in value. The fungibility of cryptos is one of the major reasons behind its unprecedented popularity while transacting on the blockchain. On the other hand, NFTs are always unique and can't be exchanged for each other. We can say that it is a subset of crypto as such currencies are used to buy and sell an NFT.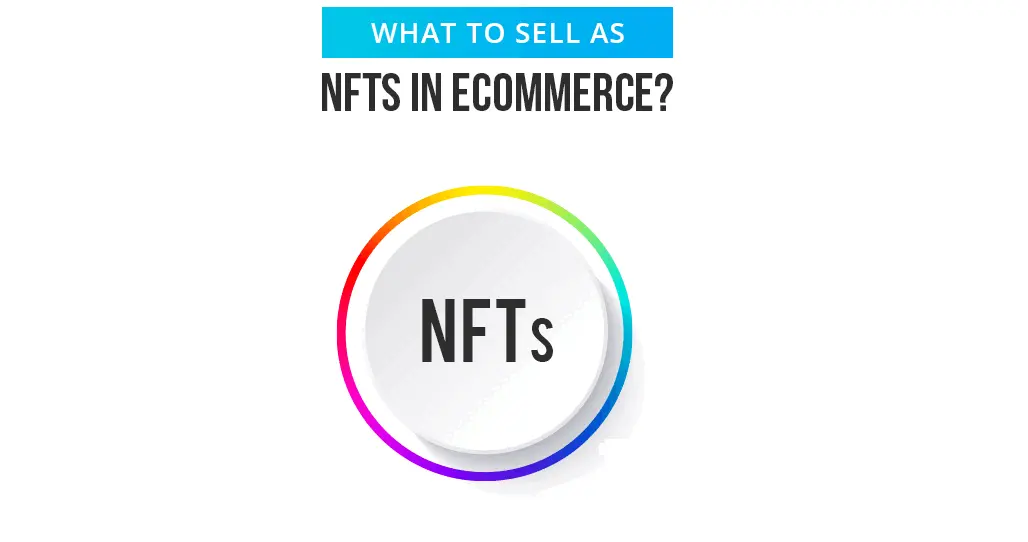 Some promising facts about NFT in 2022
According to Chainalysis, in 2021 people spent around $41 billion in crypto on the NFT marketplaces.
If we talk about the most valuable NFT, its value was a staggering $91.8 million.
The trading volume of NFT rose by around 700% between the second and third quarters of 2021.
According to Exploding Topics, Five of the most valued NFT sales happened using the Cryptopunks
CNET states that around 250,000 people trade in NFT on the OpenSea NFT marketplace.
More than 25% of millennials in the United States are NFT collectors.
The co-founder of Twitter sold his first-ever tweet for $2.9 million.
The most expensive NFT meme in the world was sold for a jaw-dropping $4 million.
More than 75% of people in America are unaware of NFT.
How to create an NFT store using Shopify?
Do you wish to mint and sell your NFTs using Shopify but don't know how to start? Well, if you have a Shopify Plus plan and want to showcase your non-fungible tokens, you can hire Shopify developers to do it using the Shopify NFT Beta program. Currently, this program is applicable to stores based in the United States only.
With 40+ sucessful projects to create platfroms that enables people like you to sell Non Fungible Tokens using Shopify stores, The Brihaspati Infotech gaurantees a convienent and feature-rich NFT platfrom that help you reimagine business for the digital age.
The process to create non-fungible tokens is known as minting and the blockchains like Ethereum, polygon, and Flow are used to register these NFTs. To create a Shopify NFT store, you should mint NFTs on marketplaces like OpenSea or Nifty.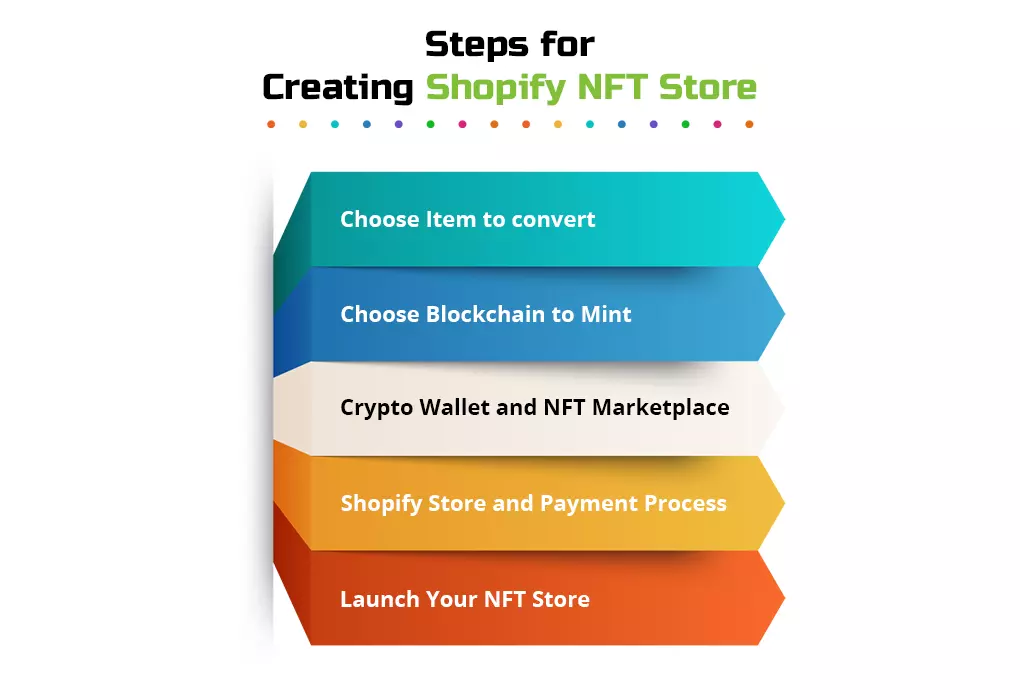 Once you create the non-fungible token, you can list it on your Shopify store just like other products. Let's walk through the steps of building a Shopify NFT store!
Step-1: Finding the Digital item that you wish to convert into NFT
You can convert unique digital items into NFT. The first step to creating a Shopify NFT store is to find unique digital items. Content such as artwork, memes, photos, etc for converting them into a Non-fungible token.
The collaborations with the artists involved in digital creations can help you get unique artwork to list as non-fungible tokens. The creation of NFT is not restricted to a certain kind of content.
Step-2: Choosing the Blockchain to Mint the NFTs
As you need to mint your NFTs using blockchain, you can take the help of any popular NFT marketplace. Below are some of the popular marketplaces to mint NFTs for your Shopify store:-
OpenSea – Ethereum and Polygon
Rarible – Ethereum
Foundation – Ethereum
Nifty Gateway – Ethereum
SuperRare – Ethereum
VIV3 – Flow
Always consider the Gas fees while choosing any of the above marketplaces for minting the tokens. Gas fee refers to the fee charged by these platforms for facilitating the transactions on their network.
Step- 3: Set up a crypto wallet and connect to an NFT marketplace
After deciding on the blockchain, you need to set up your crypto wallet. Ensure that the wallet you choose is compatible with the cryptocurrency you wish to use for minting the NFT. The crypto wallet will facilitate the storage of crypto assets i.e. NFTs. Below are some popular crypto wallets to choose from:-
MetaMask
Trustwallet
Ledger Wallet
After choosing the crypto wallet, it's time to add a cryptocurrency like Ethereum or flow to that wallet for paying the gas fees. After doing it, you can now sign up on the NFT marketplace to upload the item and convert it into NFT.
Step 4: Creating a Shopify Store and enabling the payment process
After minting the NFT successfully, you need to build a Shopify storefront to list it for the customers. This step is not a pain point as Shopify is known for the best tools for creating and managing the store. You can also take help from an experienced Shopify developer for building NFT stores as per the latest industry standards.
Once the store is ready, you can upload the product details and work to enable an appropriate payment process. Ensure to choose the payment processor that supports the blockchain you selected and support configuration and other technical needs.
Step 5: Launch your Shopify NFT store
Once you add the payment processor to your store, you can launch your store so that customers can reach the NFTs you wish to sell. You have to take the ownership of processes involved in selling and delivering NFT purchased on your Shopify store.
Make sure to apply for the NFT beta program before setting up your Shopify NFT store. It will ensure that customers can use Shopify Payments, Shop Pay, crypto payment gateways, credit/debit cards, and more to make the payment.
Conclusion
We hope that this guide will provide you with clarity about the process of creating an NFT store using Shopify. While the world is still exploring NFTs in eCommerce and the Shopify ecosystem, finding creative ways to leverage NFTs is key to exploring the full potential of this concept.
The current partnership between GigLabs and Shopify has made NFTs accessible to ordinary Shopify store owners. We are sure that the future of NFTs in eCommerce is going to be exciting and our experts are just a click away to help you set up your own Shopify NFT store.