Shopify POS App Development: Building A Loyalty and Rewards App in Shopify POS
According to Kolsky, finding new buyers is 6 to 7 times more expensive as compared to keeping the existing customers.
Keeping this in mind, e-commerce businesses are channelizing their efforts to allure their existing customers by providing them with the scintillating customer experience.
As customer experience is turning out to be a 'competitive battleground', business leaders are innovating new strategies like providing integrated shopping experience, guaranteed experience, buyback offers, and more.
One such effective technique is infusing 'loyalty and rewards' feature in your marketing strategy. Loyalty and reward programs provide merchants a direct way to engage with their customers. Customers too, feel esteemed when they are being rewarded their loyalty with a brand.
Arguably, the customer is the king for any e-commerce venture so incorporating their social and behavioral actions into the loyalty and rewards can increase the efficacy of the program and thus the ROI.
On the same note, the dedicated Shopify developers of The Brihaspati Infotech got a chance to develop a Shopify POS App.
Previously, in one of our articles, we illustrated how merchants can redefine the Influencer Marketing with Gatsby, this time we are bringing an extension to the loyalty and rewards app in the POS of Shopify.
Let's get started with,
An Introduction To Shopify POS
Bridging the gap between online and offline sales, the point of sales system in Shopify today stands out as a trailblazing trend in the retail business.
A part of Shopify suite, Shopify Point of Sale(POS) lets merchants handle their retail businesses from anywhere. This app allows merchants to sell their products through various online channels, offline pop-up shops, retail stores and at markets, trade shows, and anywhere else. It enables merchants to search buyer's product, accept payments, and, print/send the receipt via email employing a single cloud-based interface. The order processing and payments can be done from any mobile device and the iPad.
It not only facilitates you with seamless inventory management cloud-based solution but also provides a unified selling experience for the merchants.
Shopify POS comes with the stellar features all gathered into an interface. In a way, with Shopify POS, the customers, products, and the orders are in the sync with respect to all selling channels.
Shopify POS is a great solution for selling products with an omnichannel integrated approach. To further enhance the customer shopping experience within Shopify POS, the loyalty, rewards, or referral program has been introduced.
Under this program, merchants can attain better communication with their customers, attract more customers, increase sales, and gather valuable customer data in Shopify POS. In the wake of this, we developed a loyalty and rewards functionality for a Shopify POS app.
Features of our Loyalty and Rewards app in the Shopify POS
Our loyalty and rewards app in the Shopify POS is the golden ticket to widen your brand's credibility by building faith with the audience. Here are some key features of Gatsby app:
Gatsby is the only and nonesuch app that you can integrate with your Shopify POS for launching the pop-ups that captures Instagram profiles of shoppers with complete information such as their name, profile photo, the number of followers, reach, etc. This allows you to have conversations with the most influential ones and win their trust.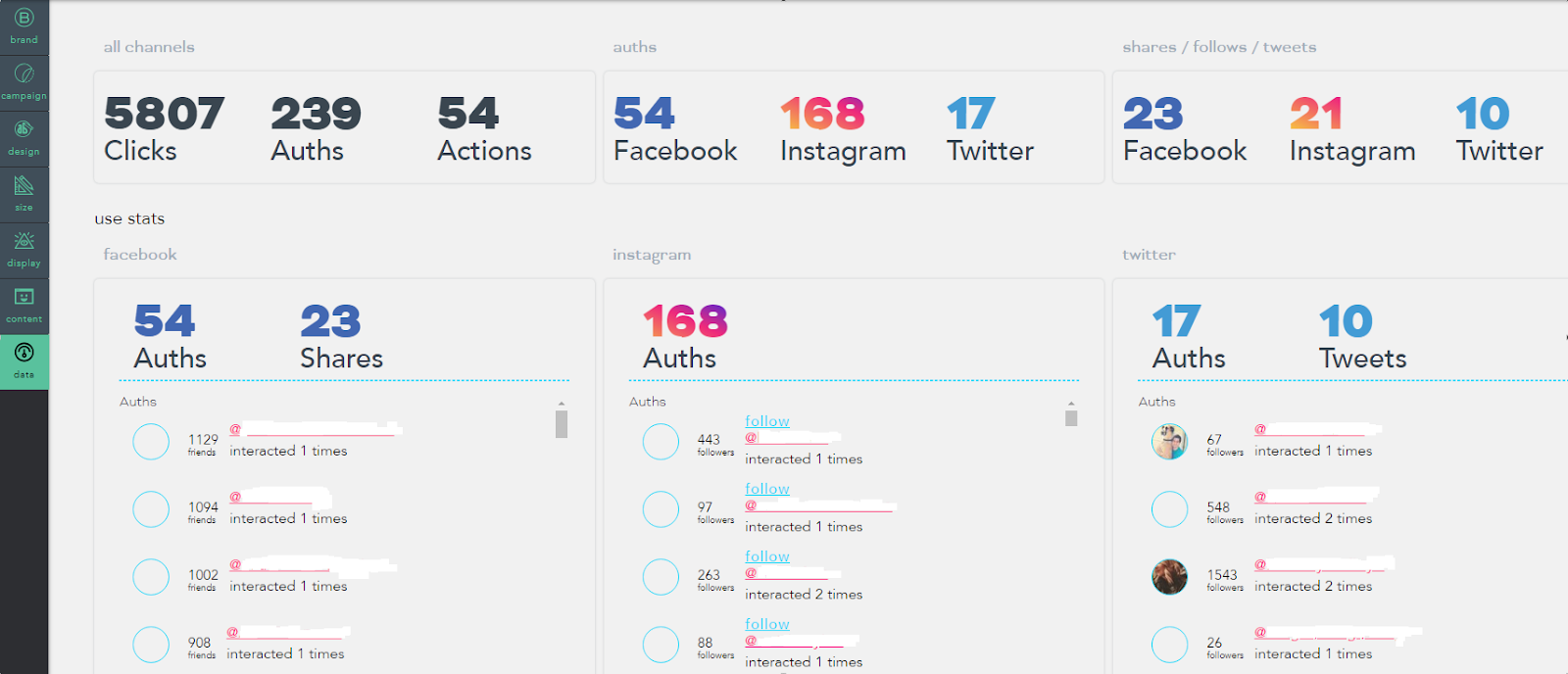 For in-store sales, Gatsby gets integrated with the Shopify POS. It captures your shopper's social profiles for you there too.
Automatic Influencer Outreach
Gatsby automatically triggers the personalized emails to your micro-influencers. This invites influencers to collaborate in their marketing efforts and help to build awareness in return of certain incentives for doing so.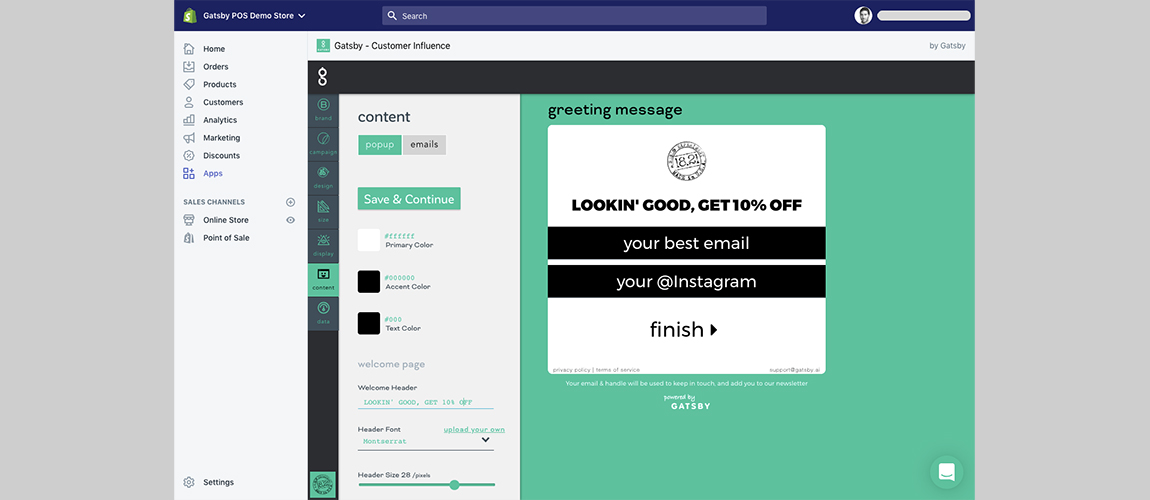 How we built loyalty and rewards app in Shopify POS App development?
In our recent assignment, our dedicated Shopify developers build a loyalty and rewards system specifically to distribute rewards equally across multiple selling channels. This was made possible by integrating the Shopify POS with a popular loyalty and reward aggregator firm, Gatsby.
Core Idea behind the Shopify POS App development
The primary idea was to develop an app that can integrate with the POS setup and facilitate the brand store to ask their buyers about their Instagram handle after checkout. This data is then tied to the customer's record and they are displayed with a promotion/reward that is available for their next purchase when they go to Checkout again.
For our Shopify POS app development, we used the Embedded apps SDK.
In order to integrate the app with client's Shopify POS, the interface and the endpoints were designed using the core PHP.
After building the interface, we loaded it within the Shopify POS as an Iframe by means of Embedded apps functionality.
After a complete development and integration cycle with the POS, our experts successfully helped merchants to leverage the e-commerce merchants to generate a lead.
How our Integrated Gatsby in Shopify POS works?
You can integrate the Gatsby app from the Shopify marketplace, it is automatically available in their ecommerce store & in their iPad, iPhone, or Android POS system.
It functions in a very seamless manner while customers are checking out on the Shopify POS.
After a person completes a purchase,  a screen appears wherein the email address and other details are asked to fill in by the brand in order to send a receipt.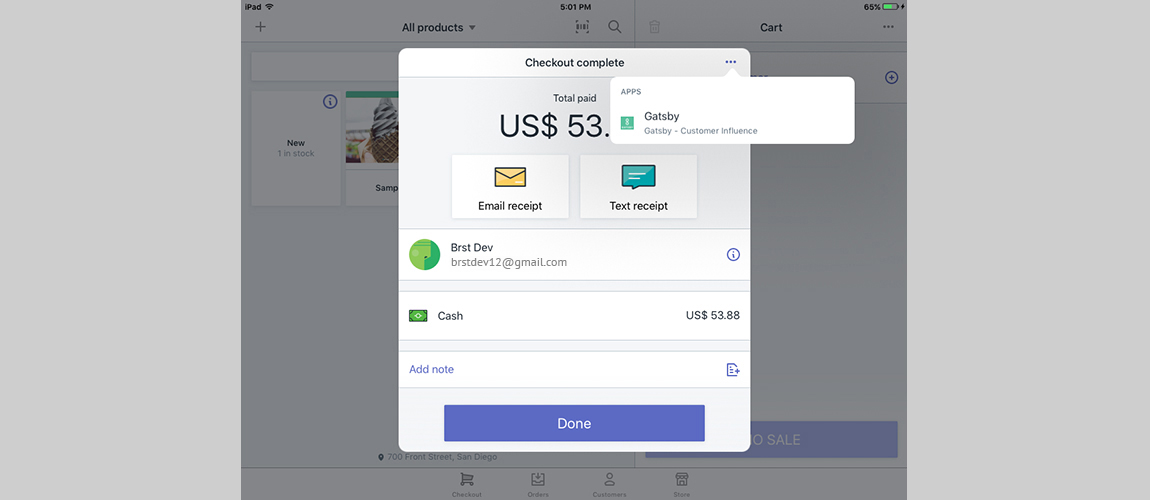 On the same screen, a menu and a Gatsby portal dwell. Whenever any user clicks Gatsby, a field is displayed which allows the customers to enter their Instagram handle.'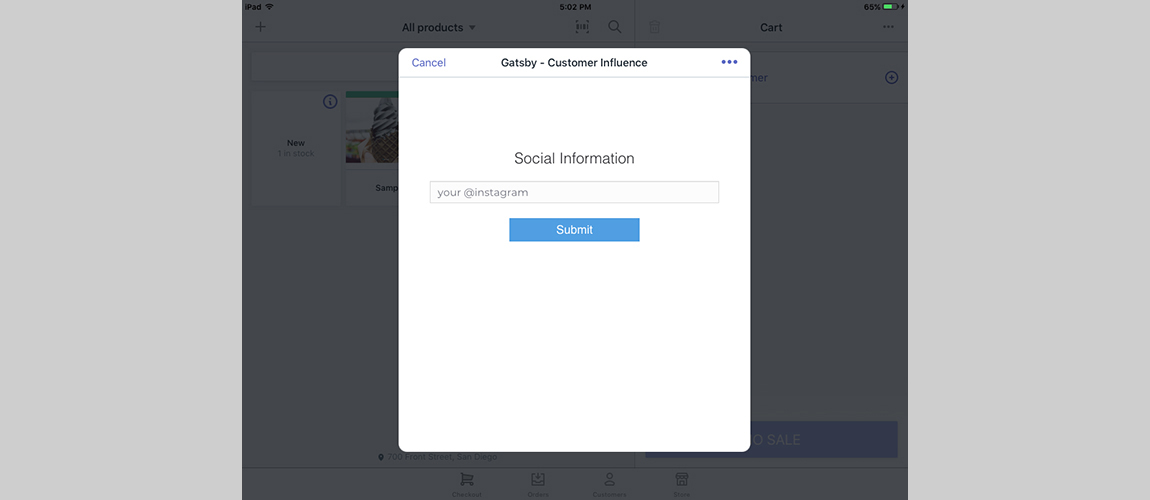 When the Instagram handle is linked successfully to the Shopify POS, it is then passed to the customer's record within Shopify and then the Gatsby for enrichment and other processes.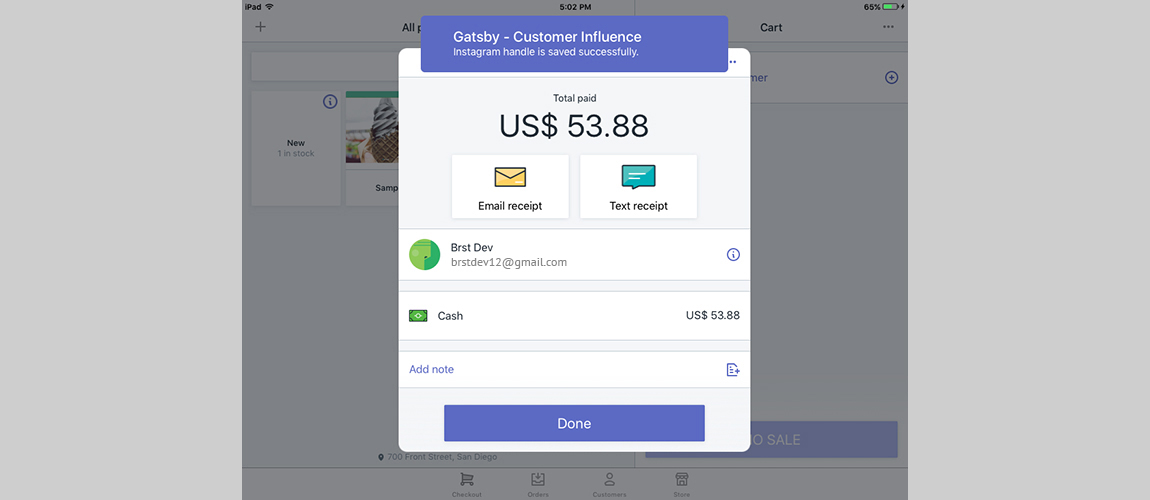 Whenever a customer makes a purchase with the brand again, their Instagram handle will be detected which they had entered during their last purchase. Merchant then automatically appends the pre-decided offer that is redeemable by the customer.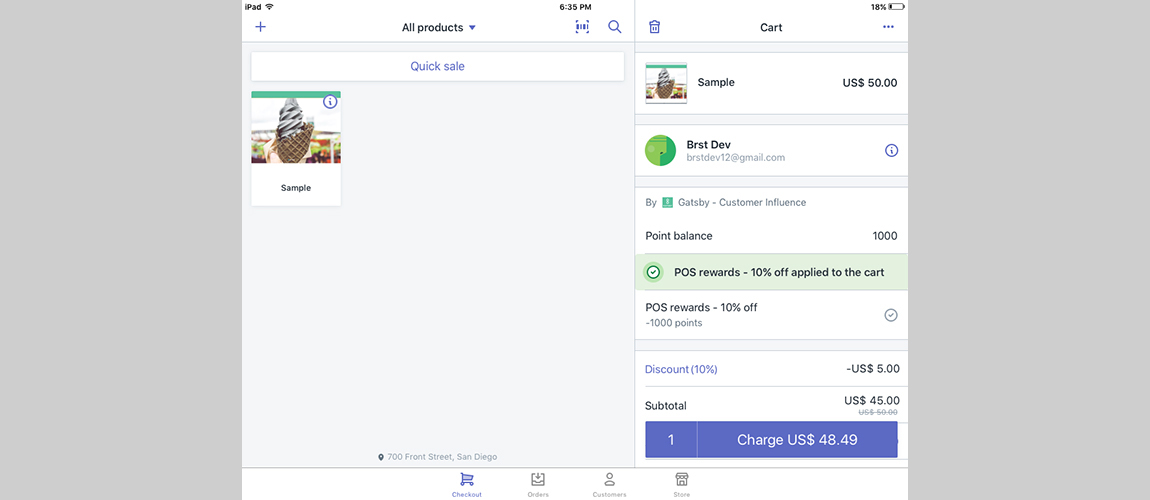 Benefits of Integrating Gatsby to Shopify POS
This integration saves the time of merchants who are spending hours to search for right Instagram followers. The potential Instagram influencers can be helpful in promoting the Merchant's store further.
The customer gets some discount if the merchant has synced their Instagram handles with Gatsby. Shopify POS admin will see the reward points in POS checkout if the selected customer is eligible for rewards based on Instagram handle. This facilitates businesses to build their credibility.
Challenges we faced
One of the major challenges while working in the Shopify POS environment was whenever new changes were suggested under the beta environment, there was a need to contact Shopify team in case we didn't get some major issues which we can not handle at our end.
Wrapping It Up
Clearing all the obstacles in the Shopify app development process our Shopify experts have been successful in making clients satisfied. They have worked on the countless e-commerce apps that involve third-party API integration and customization.
Providing loyalty and reward programs in your e-commerce store can encourage storefront aesthetics and considerate customer engagement.
In case you have any queries regarding the Shopify POS App Development, get in touch with us to share your views. If you are looking to implement a custom solution, hire our Shopify development agency.