Shopify Size Chart App Development – Features & Recommendations
In the next several years, as e-commerce grows globally, "the amount of returns due to size mismatch is going to be over a trillion dollars a year and custom size chart shopify app development is a perfect solution to encounter it"

– Tobin Moore, the CEO of Optoro
Overcoming the higher return rates and increasing buyer confidence are the most significant factors for the success of any eCommerce platform. Thousands of orders are returned due to wrong sizes resulting in unnecessary operating costs for the online stores.
A Shopify size chart app is turning out into a perfect solution for online fashion stores. The Popup size chart Shopify apps let the users store their exact measurement data so that they can get products that are the best match for them.

Why is Size Mismatch a Serious Problem in the eCommerce Industry?
Millions of dollars are spent by eCommerce stores worldwide to manage the returns of the products.

Online stores lose hundreds of customers/orders because of size mismatch problems.

60% of the online shopping stores that have to deal with returns face a negative impact on their business.

Increased costs due to returns force more than 50% of online stores to increase product prices
Reasons for the growing demand to create Size chart Shopify app?
You might have suffered the disappointment of getting the apparel or footwear that doesn't fit. Similarly, there are a significant number of online shoppers who struggle with such problems while buying clothes and fashion products.
A pop up size chart Shopify app can help eCommerce businesses and users to overcome such cases with efficiency.

The custom popup size Shopify app development for encountering the size mismatch challenges can be a great asset in customer experience. The following factor contributes to the growing popularity of such apps within the eCommerce industry:-
Shopify size chart app provides a clear idea about the sizes that suit online shoppers.

Pop up size chart Shopify app helps to increase the trust and reputation of online fashion stores.

It reduces the returns and thus, helping to prevent expenses concerning them.

It helps to spike the overall conversion rate of eCommerce stores

Custom Shopify Chart App Development that Demonstrate Our Skills
Our team has extensive experience in developing size chart apps for all popular eCommerce platforms. Today we will share our experience of building a similar app for one of our esteemed clients.
The client wanted to deliver a solution for the Shopify fashion stores with his size chart Shopify app. Though we used the Yii2 framework to create custom size chart for Shopify, our team has all the skills to develop similar apps using any framework that clients prefer.
The challenge was not only to develop a robust size chart Shopify app. We were also required to add custom functionalities to it. The Shopify app store already had similar apps so, making it unique to match the client's needs was a Top priority.
Some Salient features of our Custom Shopify Size Chart App
Detailed View of Fit Option on Every Product Page
Once any eCommerce store integrates the Shopify size chart app, it will be available for the users on every product page that is relevant to it. The option of a Detailed view of fit is available while browsing the product pages for users who already have an account with the app.
The users can choose any profile by clicking the setting icon available for them and they have an option to add a new profile without even a need to log in to the account they have with this application.

Multiple Profiles under Single User Account
We provided the option to create multiple profiles under the single user account. Users can add the measurements of their family members or other people under their profile. It helps them to buy the right sizes for their loved ones too.

One app for all clothing, footwear, and accessory needs
Unlike most of the size chart apps, the solution we developed was capable of providing an effective solution for all apparel needs in one place. You can see in the below image how we offered a sizing solution for Upperwear, lower wear, footwear, and accessories.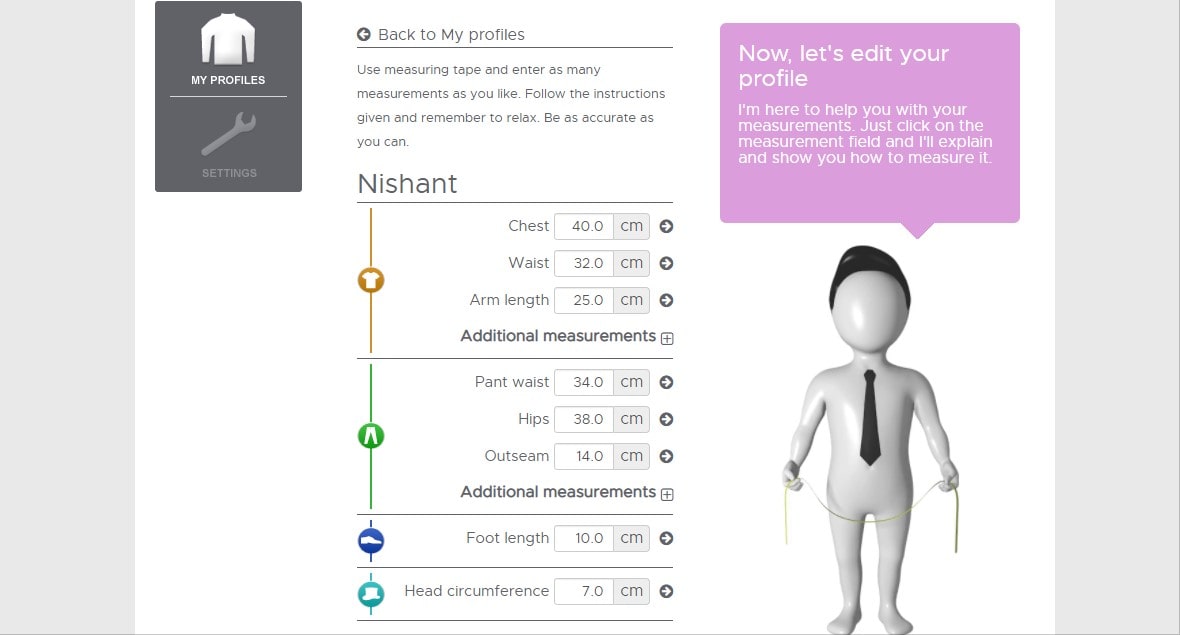 Real time Size Recommendations
Once the user has a profile with our custom size chart Shopify app, he will get real-time recommendations for the appropriate size. In the below image you can observe how the app displays the overlaps with every size that the user chooses.

Mandatory Account for Users
User data can turn out into a great asset for eCommerce businesses. We made sure that every user should create an account to avail of the services of the App.
Users are prompted to sign up or log in once they click the option to use Size Guide.
It helped our client collect a database of active online buyers who shop using his Size chart app.

What makes us the right choice for such Shopify app development needs?
With over 12 years of experience in custom Shopify app development, we have the skills and certifications to build the apps crafted to succeed. Our team can help you to develop unique Size chart Shopify app solutions to serve the eCommerce industry.
Our team can also help you develop apps like product configurators, Gift Box Builders, and CRM solutions. By choosing our custom Shopify development services, you can avail of the following benefits:-
A professional team with exceptional development skills.
Unmatched expertise at budget-friendly rates.
Ongoing support to ensure the success of your app.
Custom features and functionalities to beat the competition.
Comprehensive subscription plans for different target users.
Our expertise is not limited to Shopify. We can help you develop size chart apps for all popular eCommerce platforms. It maximizes your ROI by enabling your size chart applications to serve even those online stores that are not powered by Shopify.
Our Custom Shopify app development company knows all the ins and outs of developing Shopify applications with flawless functionality and an unbeatable user interface.