The Most Popular Shopify Apps for Product Customization.
In the previous blog, 'Shopify vs Bigcommerce? Start your Business with the Best Shopping Cart' we have summarized various fundamental comparisons of both the platforms i.e. Shopify Vs Bigcommerce, to make it easier for you to pick up the best one for running your online website successfully.
Certainly, Shopify has many advantages over 'Bigcommerce' that helps to create E-commerce websites in minimum possible time. Mostly the same core features are needed by E-commerce websites, and 'Shopify' readily provide all of them such as product search, products catalog, order placement, shopping cart, online payment, tracking order and many more.
So, we recommend you to choose Shopify as your Ecommerce platform and choose to hire Shopify developer from us to create a high converting e-store.
You can further establish an out-of-the-box ecommerce experience on your store by using Shopify apps for custom products.
Personalisation has always played an important role in defining the effectiveness of eCommerce experiences, and product customization is one major cog in eCommerce personalization wheel. There are a number of product customization apps available on 'Shopify App Store'.
In this blog, we are putting some light on the some of the most popular 'Shopify Apps' for product customization that will surely make your Shopify web store ahead of the game.
1. Customily Product Personalizer
Customily is the most complete solution for businesses that want to offer online personalization in their stores.
It has unlimited personalization options, such as adding texts, uploading images, choosing fonts and colors, monograms, clipart, and much more! Your customers will be able to customize any kind of product, all while seeing a LIVE PREVIEW of what they are creating!
It lets you automate your work, you can export ready-to-print, engrave or laser cut files, or send them directly to your print-on-demand (POD) supplier. Fulfill and deliver faster than ever before!
It has the best customer support; its dedicated team is always ready to help you create the BEST SHOPPING EXPERIENCE for your users!
Features:
Plug and play installation: No coding required! Just install and start creating your templates.
Add unlimited personalization options to any kind of product
Styling options to match the feel and look of your store
Realistic live preview
Ready to print, engrave or laser cut files in different formats
Connects with POD services like Printful, Printify, and CustomCat
Outstanding Customer Support that will assist you with the configuration of your products
Fully responsive, it adapts to any device
Social media sharing
Pricing:
Customily has a 9-day free trial and a unique plan of $49 monthly + transaction fees per order (no sales commissions!)
The plan includes:
Unlimited product previews
Unlimited ready to print or engrave file exports
Unlimited number of stores
Transaction fees only on sales of personalized products
Volume discounts (the more you sell, the less you pay!)
E-mail and in-app support
2. Infinite Options
With over 3000+ reviews, Infinite Options is one of the most admired Shopify product customizations launched by ShopPad Inc.
It lets the buyers choose the custom product design options for items they want to buy. Customers can personalize their products with text, numbers, dates, and other options, all of which are created by the merchant.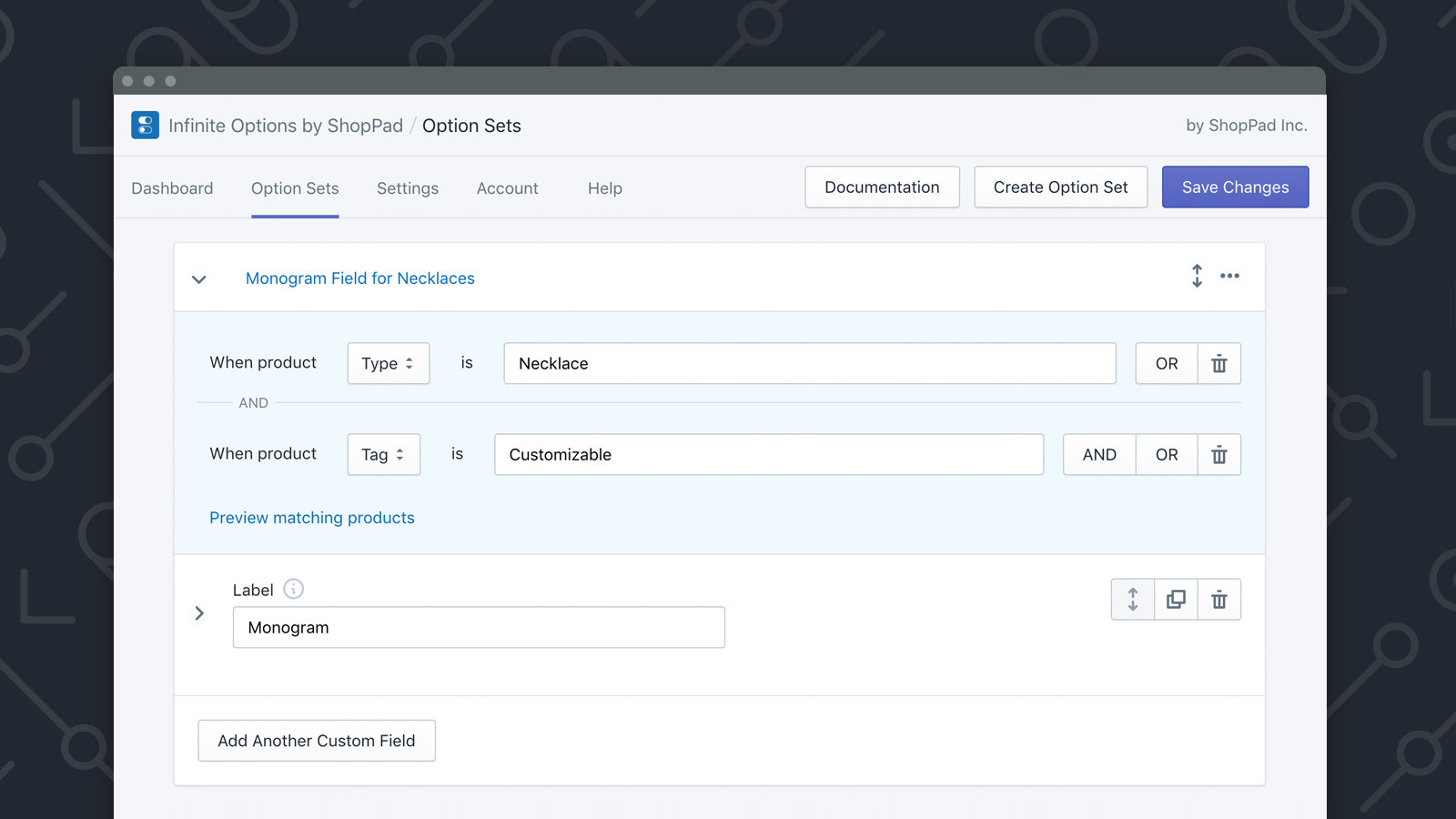 Features:
The merchant can add an unlimited number of product options to their objects.

Placeholder and default values are under your control.

Use the product bundling feature to charge extra for services or add-ons that come with your items.

Create checkboxes and dropdown menus that allow multiple selections.

When you specify a maximum character length, a live count of the remaining characters appears.

Numeric fields should have minimum and maximum values.
3. Product Customizer
Product customizer is a convenient-to-use Shopify app having outstanding customer service.
Product customizer offers unlimited customization options in a simple way for your online products. Here, your customers can enjoy some exciting features benefits for their products like file uploads, text boxes and drop down options etc.
Product customizers have a big part of 'ShopStorm's sales strategy as the core strength for their customer support service. The core focus is on knowledge and friendly attitude of their customer support team. Besides that, they also stress the team's willingness or happiness to assist clients during installation or solve any query.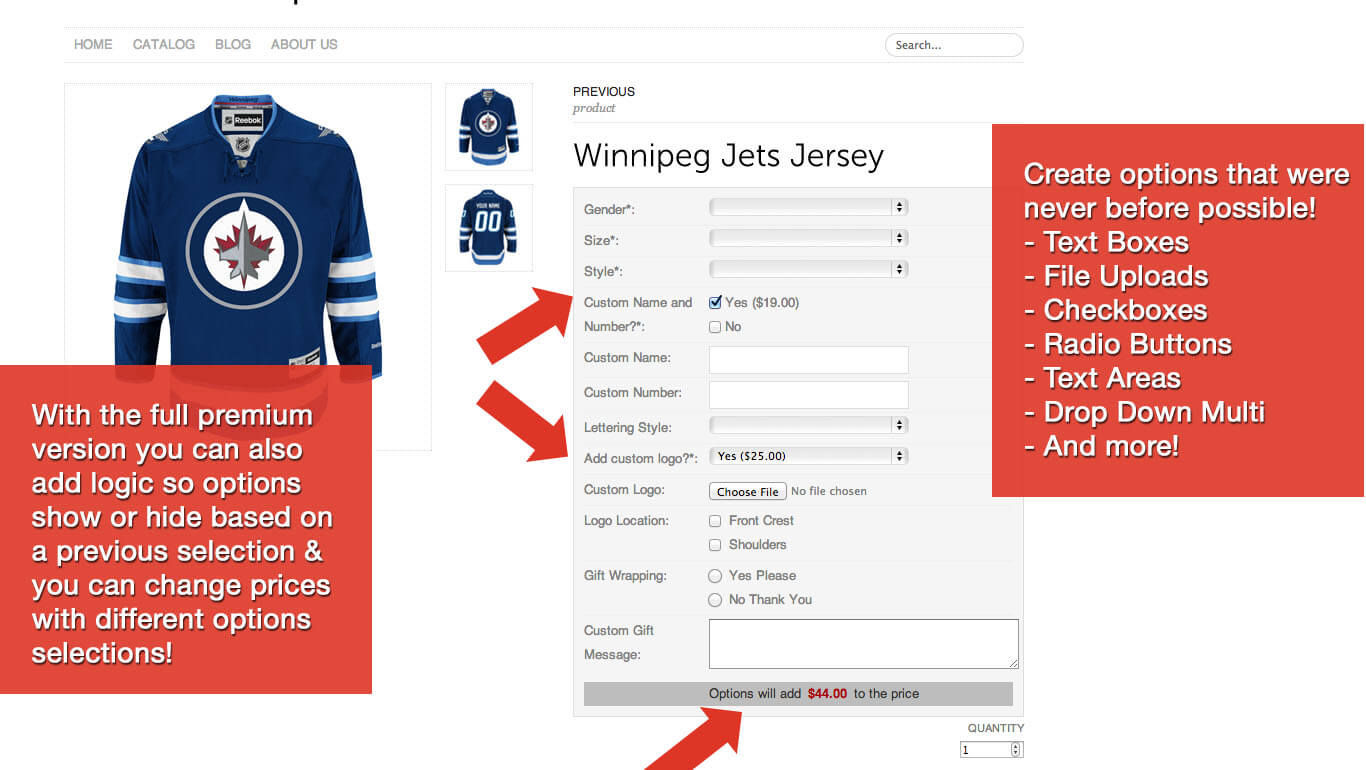 Features:
As a part of an order, it allows customers to fill in the text.
Allows products customization with file upload fields i.e. canvas prints or photo retouching.
Allows adding unlimited options or new option types to every product.
Avoids any version-related confusion to save time by managing all products customization.
Sets of customizations are quickly added to new products using saved sets of options.
The app has been installed on several global ecommerce stores. By July 2021, the app has received nearly 800 reviews averaging 4.6 stars on 5.
Pricing:
The app charges it's users on a subscription basis. Their plans include:
Basic plan: 9.99 USD/month
The tool sets no limitation on customizations based on texts, images, radio buttons and file uploads.

You receive installation and email support.
Premium plan: 19.99 USD/month
Along with all the features offered with the basic plan, the users can have premium level support.

The users have the authority to disable customizations for selected products.

You can charge your clients for added personalizations.



Premium plus plan: 99.99USD/month

Added to the benefits of Premium plans, this package lends you with a dedicated Customer Service Manager who helps you to make the best benefit of the app.



ShopStorm also provides free weekly trial for this App.
Click Here
to read about 'Product Customization Tool' Case Studies
4. Product Builder
Although Shopify provides their users with product versions and options, still it fails to offer the features to allow their users to completely build their products. This need is completely fulfilled by the Product Builder App.
On their website, Product Builder App has also exemplified to fulfill Shopify merchants needs like seen something on car dealership sites to pick any car model, user picks the color choice, then picks style of wheel or may select any other additional option etc. and when user go through the final image, it visibly changes based on user selections.
This Product Builder App can make it possible as a Bold App that a Shopify merchant could only dream of.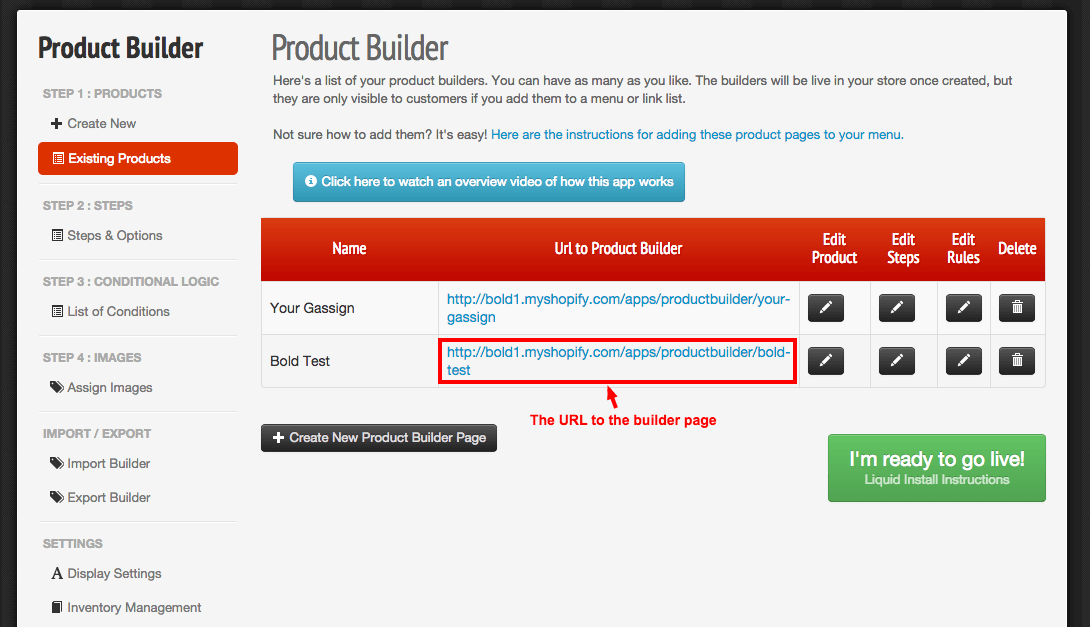 Product Builder main features include:
Adding Conditions
If a user needs some clever conditional logic options, then this Bold App provides it by integrating all options. Also, these clever conditions can be implemented on whole steps or even on the options just within the step. For example; There can be certain options for customers that can be seen in selecting Step 1, Step 2 options can be seen only when Step 1 choices are selected.
Options for 2D or 3D Images
Usually when a user selects a product option, then a standard 2D or a series of 3D images effect appear in the preview panel. It can be seen here on Bold Apps' test site. The provision to use 3D images is entirely optional. If any user is willing to use this feature then there is also provided a list of great photographers on the instructions page of App who can take the 3D images.
Track Your Inventory
There are plenty of choices available for users in the different steps. While creating options in the different steps, you can also link these options in your store with a specific product version.
This will assist you to track your inventory with a great transparency by attaching a price to your choice. You can also select your choice with the app for managing your inventory and even you can hide or ignore any option without inventory.
Customize Completely
Product builder can be massively customizable. It is up to the user who can either change basic settings by selecting a few various current themes or if users have a good command over CSS then they can also completely customize the appearance of the builder.
By July 2021, Bold Product Builder has received more than 160 reviews from its Shopify merchants.
Pricing:
Product Builder is also a fixed-price app and it costs as a standard $60.00 monthly. This Bold Apps offers a longer free trial that lasts for 30 days.
5. Qstomizer
A unique selling proposition should be a major part of any good app like Qstomizer app. It is the only completely responsive product customizer app available on the Shopify App Store. Nowadays in the m-commerce world, any of your online store websites need to be responsive. Using Qstomizer as a responsive product builder is a good way to ensure and avoid losing your customer.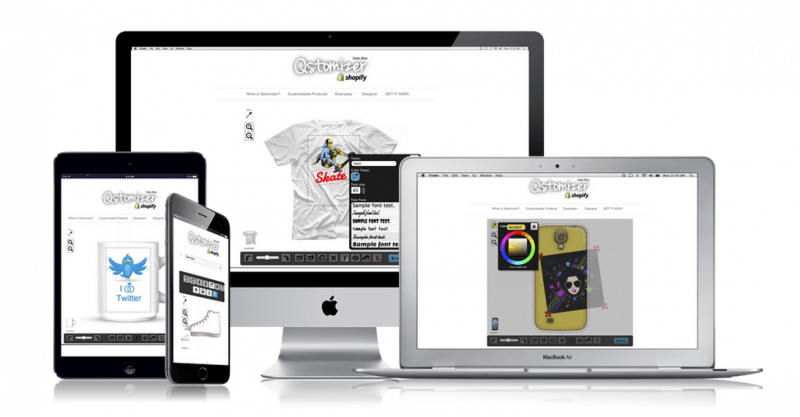 Key Features:
Just like the Product Builder App, here also you can integrate it smoothly into the design of your current Shopify store site.
It would be really interesting to know Qstomizer that how much time and work it saves for you.
Without any manipulation, you can directly print a customer's design. This app can build images of your customers designs in either formats i.e. jpeg or transparent PNG up to a resolution of 2400×1750 px.
You can also add automatic filters to the images uploaded by your clients i.e. Colored, Black and white, edges finder or a mixture of them.
The customer can also directly upload these images via Instagram that is becoming popular socially online.
Automatic multi-language functionality is another great feature, using this customer can automatically detect and translates the builder into either of any desired language i.e. English, Italian, Portuguese, German, Spanish or French. A unique and great feature to globalize your business.
This app is fully compatible with any browser and mainly created with the best possible practices using the latest technology such as CSS3 and HTML5.
With 250+ reviews averaging 4.9 stars, Qstomizer is worth a try for Shopify stores willing to provide product customization features.
Pricing:
Qstomizer price may vary from $19.99 to $49.99 per month. As per the number of products you want to customize, orders you process in a month and storage space you require for customers images. However, it is free to use for 7 days.
6. Zakeke Product Customizer
Zakeke Product customizer offers unlimited personalization options. The best part about this app-the products can be viewed as 3D models. The app renders the right features to setup a 3d visualization of the Shopify products.
Your clients can have stores with more lively 3-d product that can be moved, rotated and zoomed on the live screen. Added to that, the tool offers a handy support team that guides you to bring the best of the app.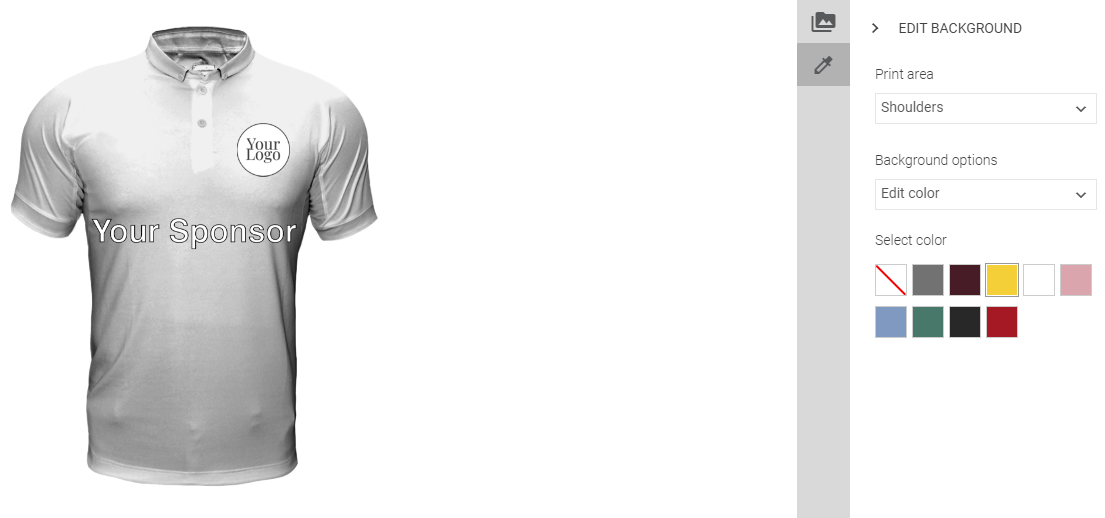 Key Features:
The Product Customizer app can be integrated smoothly with any Shopify store

The app creates a transparent 3-d model that takes live instructions like rotating and zooming

The end customers can add text, change color, font and size to the product.

You can define the part of the image that has to be customizable.

With abilities like custom pricing, you can charge your customers for every personalized need.
Pricing:
The app comes in four pricing models ranging from $8.99 to $199.99 per month based on the services they offer. The cheapest plan doesn't render a 3D model and is suitable for stores that have minimal customization offering with a 10GB storage space.
The Unlimited+ package offers a 3D product configurator along with unlimited customizations and storage.
7. Product Personalizer (Zepto Apps)
The product personalizer app for Shopify provided by Zepto is one of our favorites for several reasons. One of them is the versatility it provides in its admin interface to set up different layers for different product options. The entire setup is compatible with almost all product types and will eventually suit any business in the market.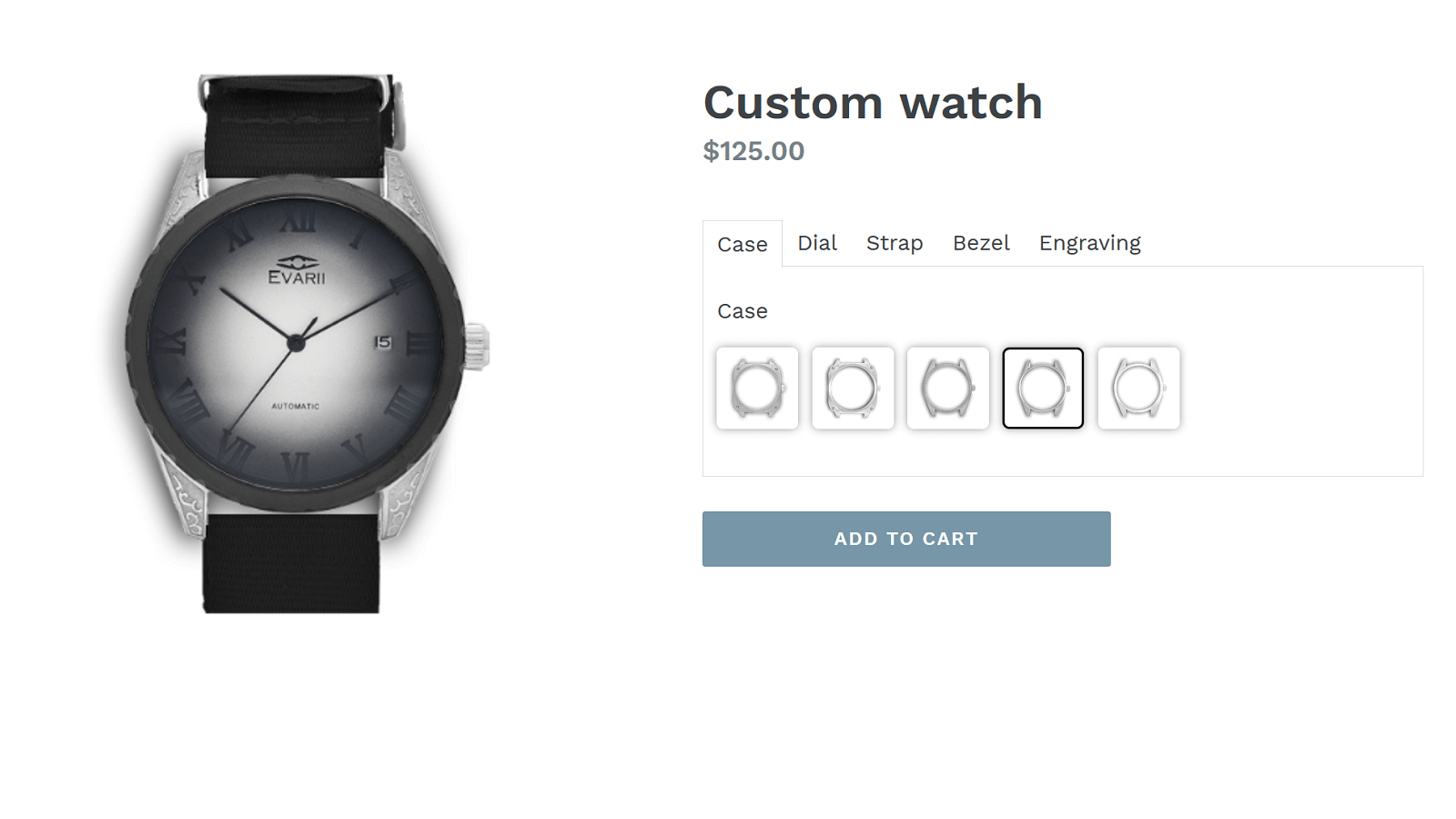 Key Features:
Supports conditional logic editor, which allows merchants to hide and show different fields depending on option values. This lets you create complex product editors.
Supports option to set price for each option that is added to the overall product cost.
Personalized product image is saved and displayed in cart and checkout step.
Fully mobile responsive and optimized for tablets and mobile browser.
Supports custom CSS changes to match the theme you are using.
Allows developers to customize the tabs for maintaining minimal design.
Pricing:
The plugin is available on a 15 day free trial on the Shopify app store.
Post the free trial period, the price starts at $9.99 / month and is divided into 3 different plans which are based on a number of customizable products being used.
Starter: 9.99 USD for customizing upto 49 products
Starter Plus: 14.99 USD for customizing upto 99 products
Moderate: 19.99 USD for customizing upto 299 products
Unlimited: 29.99 USD with zero limitations of product customization
8. Customify – Product Customizer
With over 105 positive reviews, Customify is one of the most appreciated Shopify product customizer app on the marketplace. It supports a variety of design options for different product niches including all major categories such as Tshirts, mobiles, mugs, PCs, Bags etc. If there is a product out of the scope of default products available in the app, then the app development team is readily available to set up custom layers for your product.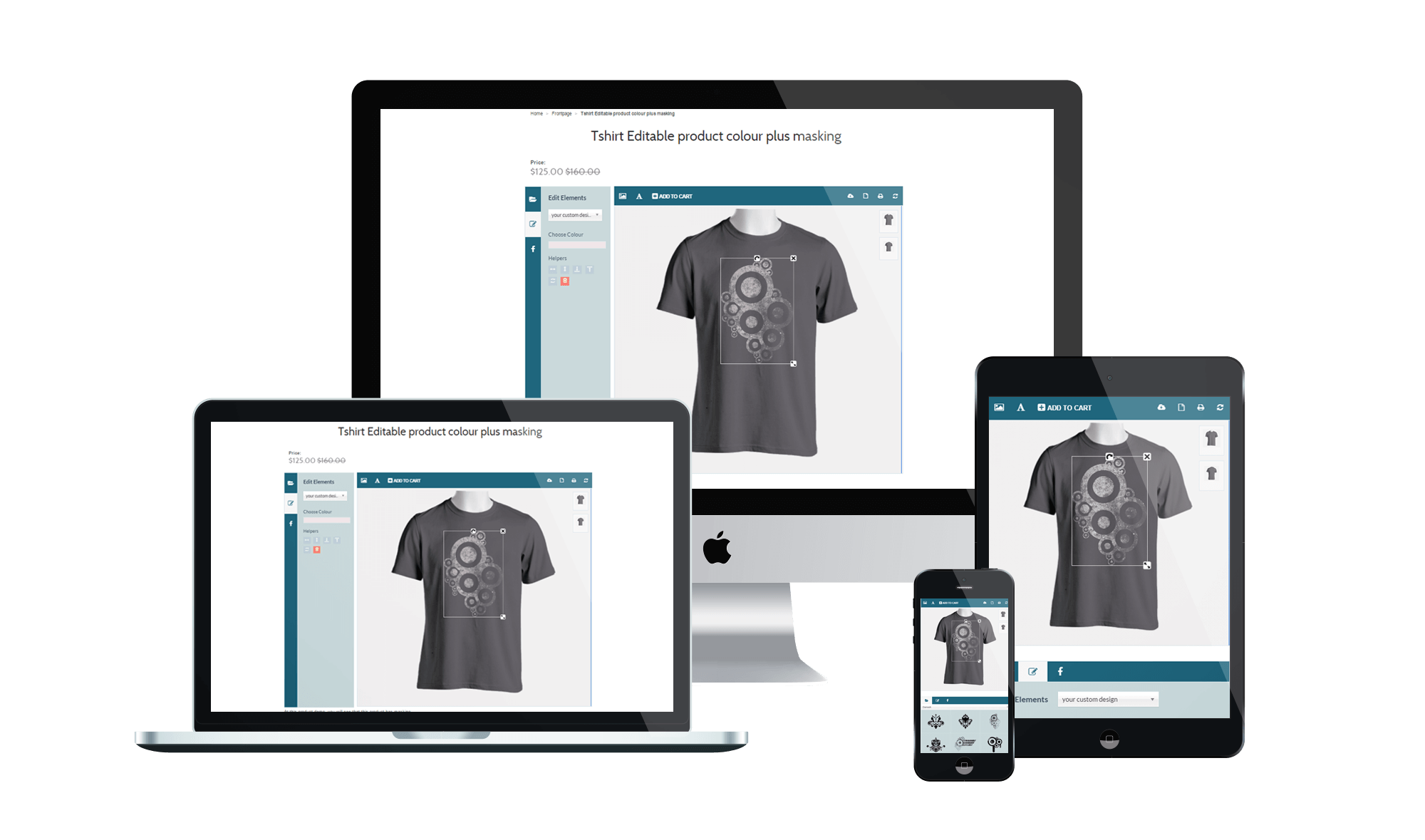 Key Features:
Ability for merchants to define an editable area of the product image in the form of layers.
Great support provided by the developers who are always ready to assist in creating layers of customizable images.
Supports Multiple language packs
Fully mobile and tablet responsive.
By default integration with Social media channels – Google+, FB, Twitter.
Supports custom image upload and editing.
Custom order can be downloaded as image and vector by the customer in real time.
Pricing:
The Customify Shopify app is available with a 14-day free trial and the developers also provide free installation services as well.
The app will cost you $15 per month and if you are a signing up for the first time then the Shopify app page provides an affiliate link which when used gives you a 3 month subscription of the app free of cost.
Basic: $15/month with 100 custom products and upto 200 paid custom orders
Professional: $30/month with upto 200 custom products and 500 paid custom orders
Ultimate: $50/month with upto 400 custom products and 1200 paid custom orders
9. Artistry IO
Artistry IO may sound a little pricey for its competition but its biggest USP is the availability of several quick start templates for different products. These templates really cut down the time it will take for merchants to setup customizable products for their business.
While the overall customer experience is satisfactory, things get a little slow on the admin front with numerous Javascript running simultaneously to setup different product options. That being said, if you get stuck at any point, the support team provides excellent, effective and quick support.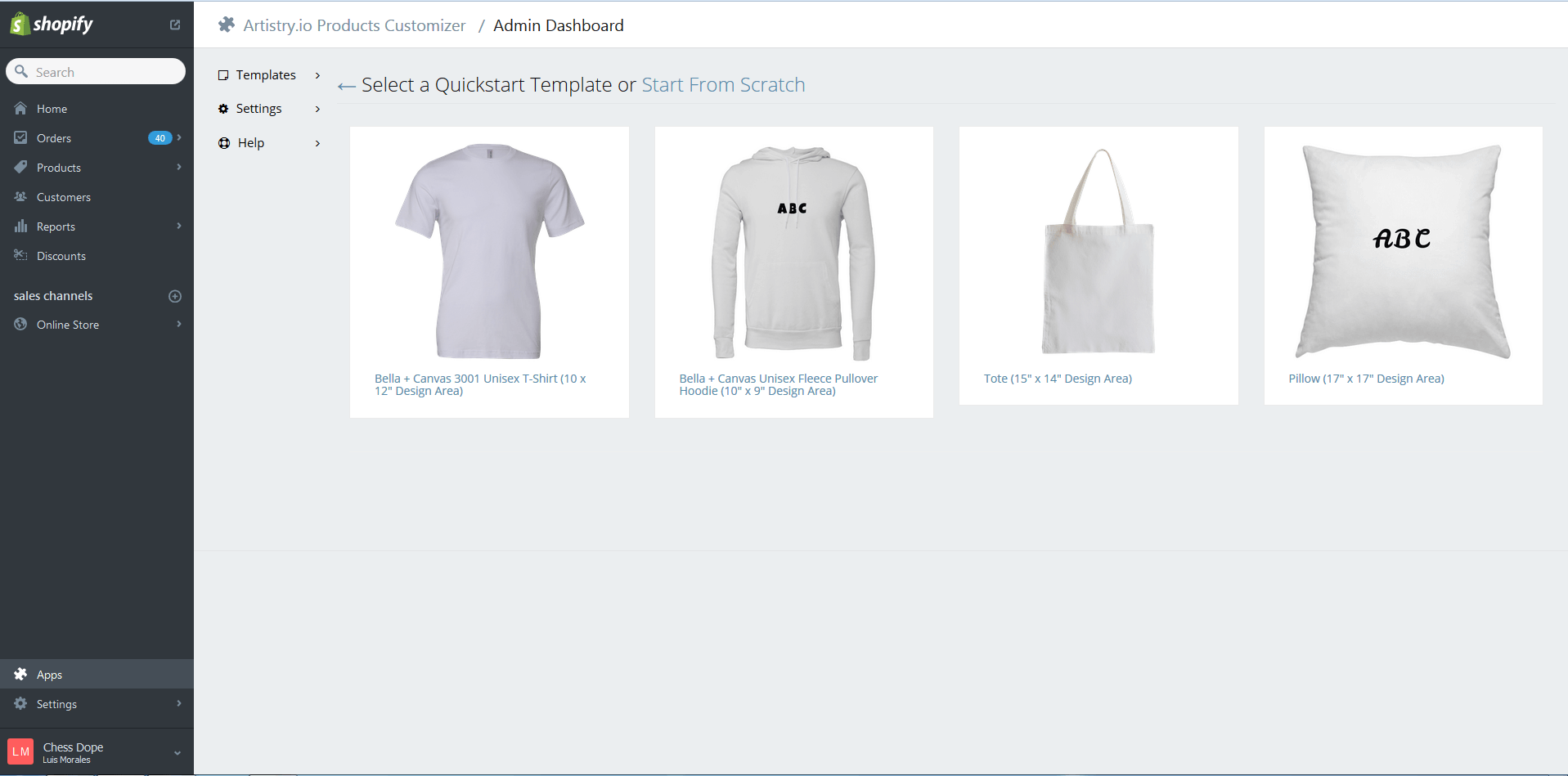 Key features:
Several templates for merchants to start selling customizable products in a flash. Real-time product preview.
Fully mobile and tablet responsive
Customized product images are made available to the merchants in high quality (300 DPI).
Options for merchants to set up their own fulfillment services.
Pricing:
The app comes in three pricing plans varying between $9.99/month to $99/month based on the templates and the order placements they offer.
Small package ($9.99/month): 10 templates and upto 200 custom orders
Medium package($29.99/month): 100 templates and upto 400 custom orders
Large package($99/month): 500 templates and upto 800 custom orders
The app also offers the freedom to select between default packages or pay according to the sales. For example, a user can either select a $99/month package or pay 1.95% of custom product sales, whichever is higher.
They are backing up their services with a 30 day trial period, so if you are planning to invest in this extension, then do make full use of their trial period in order to identify if the app features match your business needs.
10. Solvercircle Product Design
Solvercircle Product Design app has been appreciated for its services. The app not only backs a robust product customization tool but a highly responsive support team. The average reviews of the app says 4.5 stars with 57 reviews on the board. The app keeps itself simple and uncomplicated by minimizing the packages and the gaps between them while maximizing the features set.
The best part about the app- you can let your customers the designs right from the cart.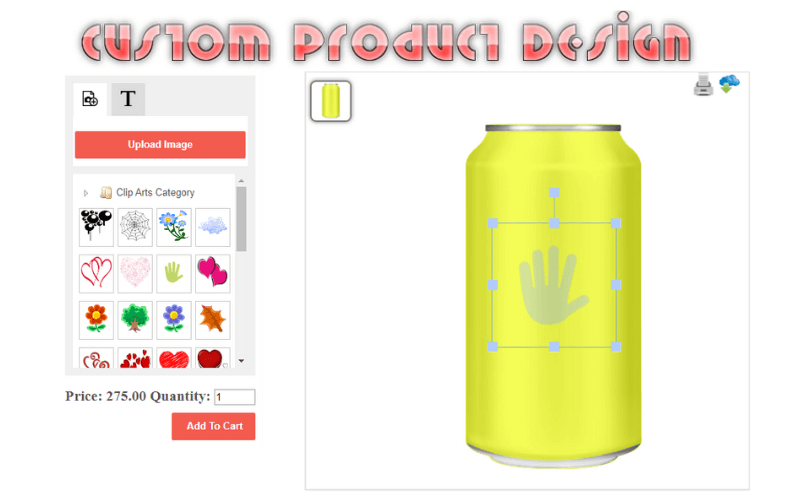 Features:
The app sets no limitation on the number of products and templates.

The app back-end stores the design details as asked by the end-customer

Customers can add their own images or use the default ones along with texts and the product color

Highly flexible with the product models and customized configurations.
Pricing:
Gold: ($29.99/month): It includes all the Premium features along with the ability to download the SVG file.
The pricing plans have been updated recently to encourage Shopify merchants. Customers can re-design the products from the cart right away.
In a considerably shorter time, Inkybay has been able to place itself among the giants of custom product designing stores. The fame comes with a good reason. Everything you have heard about online product customization, they have already implemented them as service.
11. Inkybay
The app goes well with every store regardless of the product you sell or the size they come in.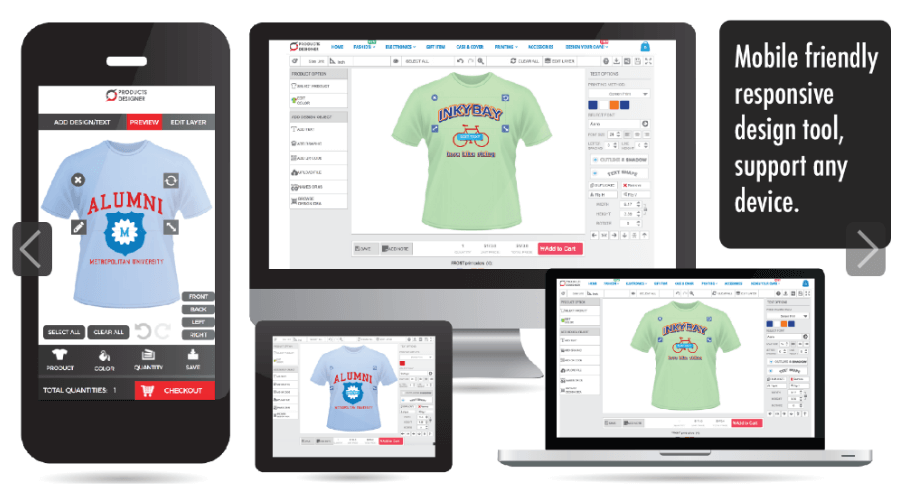 Features:
Supports every printing method- Screen Print or DTG or Embroidery with smooth integration

Customers can have real time product visualization

Offers a printable vector file in PNG or SVG

Comes with custom pricing module

Mobile friendly designer tool
Pricing:
The pricing is slightly higher compared to the rest. The packages are designed keeping in the eye of every range of stores-
Starter($9.99):

Up to 10 Custom products and 30 custom order placements

Advance ($49.99):

Up to 100 custom products and custom orders with added features of Design ideas
Professional($99.99):

Supports up to 2000 customizable products with added benefits of Support and White Labelling.

Unlimited($249.99):

As the name suggests, the plan sets no limitation on any feature. Particularly designed for enterprise-grade ecommerce businesses. This plan is recently added keeping in the eye of the large-scale demands of the businesses.
The best part, the app comes with bulk discount feature. That being said, it saves you from buying another app.
All options discussed above have their own unique traits and available to choose as per your Shopify store site need and differing in budgets.
We hope this blog post would help you to make the decision easier for you. If yes, then reach us to let us know!
Following are the customization and development tasks The Brihaspati Infotech can undertake for you:
Developing and configuring the Shopify store from scratch.
Customization of Shopify Theme i.e. look & feel.
Customization of Shopify page i.e. adding cart Page with custom fields, checkout page, and many similar customizations.
Enhancement of Shopify behavior i.e. Sending information out of Shopify using Shopify web-hooks into other systems.
Integrating Shopify API with 3rd party systems.
Configuring the Shopify Widget. i.e. embedding Shopify store into the external page.
Building a Shopify product customization app from scratch
At TBI, our Shopify E-commerce experts make it feasible for you to create fully customizable products in your Shopify Webshop using Shopify extensions or Apps.
* Prices are subject to be changed. Refer to the plugin site for the latest prices. The Brihaspati Infotech doesn't endorse any of these third-party apps.