Tire Inventory management CRM solution

Customer relationships are at the heart of every business. It doesn't matter what size or type of company you own, there is no substitute to create lasting and strong customer relationships.
As a result, Inventory management CRM solution has grown to be one of the biggest software markets in the world now. Statistics suggest that CRM expects to reach up to $80 Billion in revenue by the year 2025, and its estimates are to be growing at a very rapid rate too.
These numbers point to the fact that companies are realizing the benefits of CRM automation and Customer Relationship Management as a whole, for instance.
The idea behind this tire storage CRM
Tire inventory ownership is a known business nowadays. Custom Tire Inventory management CRM solution is the key for tire distributors and online retailers seeking to optimize operations.
It not only lowers the costs but, reduces overhead as well. Which fortifies their business for sustainable growth.
Keeping cars, trucks, and commercial transporters outfitted with safe, proper tires is a never-ending job. Thus, implementing an inventory management solution is an effective way to ease the stresses and challenges that tire inventory owners experience.
On regular basis, dealers have to maintain:

• Tire inventories

• Spreadsheets of all the customer's information

• Customer's billing cycle

• Vehicle's info

• Tire specifications and Warehouse management

As a result, evaluating the growing demand for such SaaS (Software as a service) solutions, we developed a Custom Tire storage solution. It automates your business and gives you a seamless experience of managing your Inventories & warehouses.
Tire Storage's custom Solution makes storing tires a breeze. Tire Inventory management CRM solution utilizes specialized inventory management and advanced customer tracking to save your time and money!
Why tire inventory CRM….??
"Being prepared is one of the biggest assets in business."

– Keeth Smart

Every dealership needs a customer engagement upgrade. Its simple, tech-forward solution is a game-changer in the automotive industry which empowers the inventory owners with the following features:

• Intuitive Inventory Management: Checking in, tracking, and storing tires has never been easier. Thus, Our Tire Inventory management CRM solution eliminates the need to spend time on a set of tires.

• Online web portal: In this Custom Tire storage inventory management solution, software pages function across any device with any screen size. Moreover, tailored to create a seamless experience in any environment.

• Data Analytics: Our tire storage inventory management solution organizes data into useful charts and analytics. As a result, helping owners track the growth of their program and make decisions to increase the revenue.

• Cross-Departmental Functionality: Delivers necessary information to every user, hence, making cross-departmental communication effortless.

• Complete data protection: Besides, the Custom Tire storage inventory management solution employs the highest standard of data protection to keep all transactions & data safe.

No one can deny the benefits and importance of managing inventories. Thus, every component of this tire storage Inventory management CRM solution was designed with our customers in mind.
The inventory management features are simple and reliable to maximize efficiency. Moreover, It helps inventory owners to retain their customers and make more profits.
Our Development Approach
On the whole, the primary goal of this Custom Tire storage Inventory management CRM solution was to make tire inventory management hassle-free.
So, to make tire storage solutions more convenient and effective for the users, our Laravel Web Developers, decided to create three main users who would be accessing tire storage CRM:

1) Super Admin Dashboard :
This dashboard was particularly developed for the super admins to help them establish full control over the software. These super admins are the ones who are the owners of tire storage CRM solutions.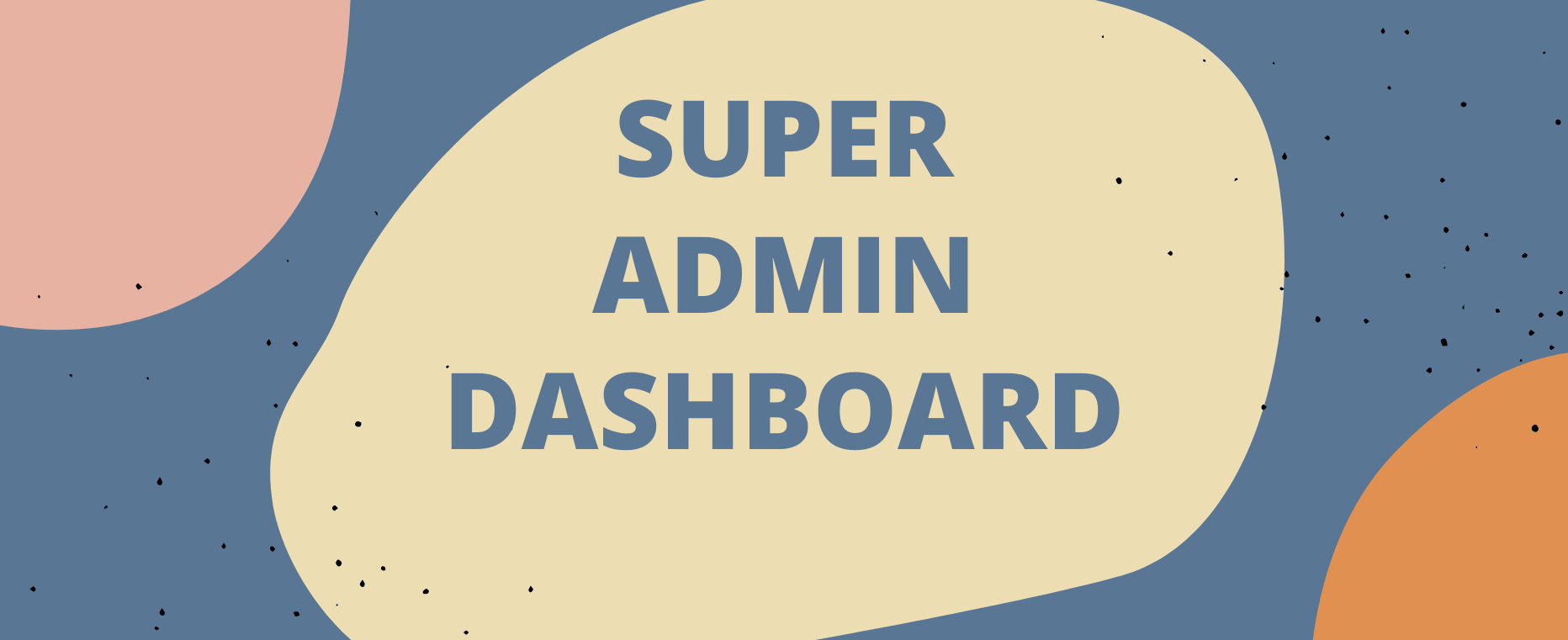 Using this dashboard, super admins will be able :

• To manage the client's data: Check the complete list of all the added clients.

• For assigning new roles: They will be able to add new clients and assign them their type (Dealership, tire store, service facility) along with their complete details.

• To keep track of the inventory: Track all the activities happening within the inventories.


2) Dealership Admin Dashboard :
This dashboard was designed keeping in mind all the major roles of an inventory owner. Keeping it simple yet effective, we were successful in making the whole process easier for them.
As a result, It allowed them to track each and every single activity carried out under the inventory.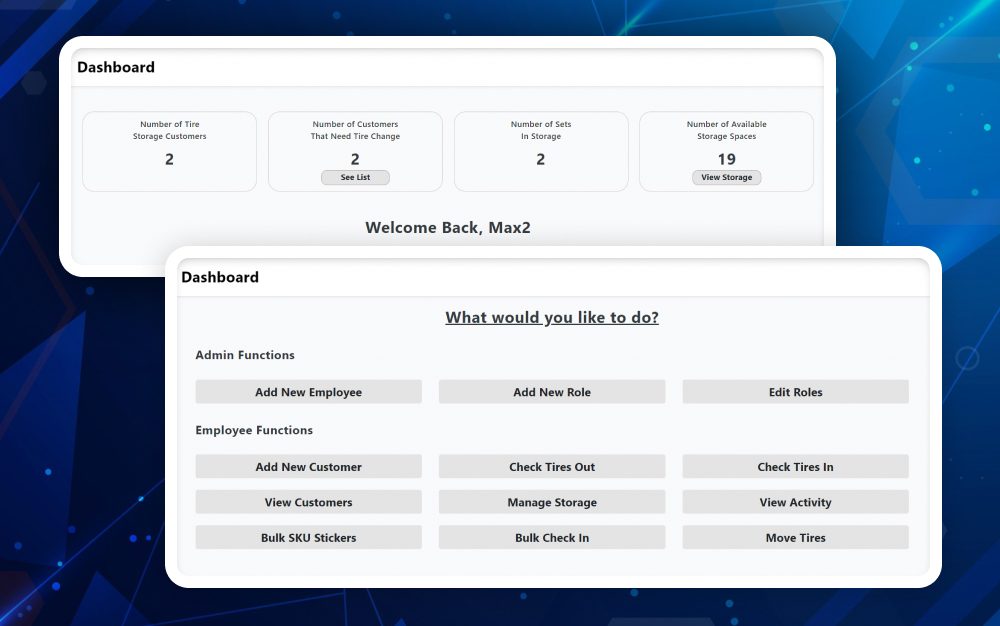 It will allow the Admins to:

• Manage employee's data: They can add new employees, assign them new roles and edit their roles within no time.

• Track the inventory storage: They can check the inventory storage data when it comes to used storage percentage, total no. of spaces, empty spaces.

• Keep an eye on each & every activity: Helps the admin to control the whole inventory from one place.
Moreover, allow them to track all the activities including check-in and check-out times of each employee.

3) Employee Dashboard :
Employees are in direct contact with the customers. If they don't have the ease of access to the platform then the tool won't be that much effective when it comes to reliability.
Thus, we designed a specialized dashboard empowering employees with all the necessary features to manage customers' data with ease.

Employees, being in direct contact with customers, are with effective features:

• It allows them to check the storage status of the inventories.

• Moreover, provides them with the access to check all the activities happening in the inventories.

• Furthermore, employees will be able to create bulk SKU stickers for the tires.

• Additionally, they can check to Move in/Move out tires on the basis of tire tags.

Reasons to shift to a CRM solution
For an established company, going without a CRM solution is throwing caution to the wind. But, If your sales team is running into problems and losing efficiency, a CRM can do a great deal to help. Below are the benefits that the right software can bring to your business.

? More Profits: It can Streamline your sales process, so an increase in profits is a guaranty.

⏲ Less time consumption: It can centralize customer information and cut the need of spending countless hours on maintaining the spreadsheet. Hence, will reduce time and effort.

? Better Interdepartmental communication: CRM can gather all types of information. It can be the rallying point for the different departments in the company to share the information. Hence, will provide a seamless experience to manage your business.

✌ Retention Of Customers: As all of the internal operations will be handled perfectly using a CMS solution, customers would be getting better experiences and services.

Final Words
Are you looking to hire PHP developers to get such wonderful software solutions?
If YES, of course, you are at the right place!
To manage the tire inventories, this Custom Tire storage Inventory management CRM solution was designed.
Our main motive was to help the dealers/inventory owners to manage the inventories, their employees, and customers without any hassle.
Our skilled developers created Tire Inventory management CRM solutions to:
? Help you cut costs.

? Boost your bottom line.

? Capitalize on every customer touch point.

Our experts overcame all the roadblocks by deploying the best Custom Tire storage CRM solution. If you too want to get a similar CRM solution as well, you can reach out to us.
Our experts will surely deliver Custom Tire storage solutions for your business and help you make more profits.