Top 10 Magento 2 MultiVendor Extensions To Setup Online Marketplace
It couldn't just be a mere coincidence that most of the successful E-commerce entrepreneurs are the richest people on the planet.
This includes Jack Ma (Alibaba), Jeff Bezos (Amazon), Pierre Omidyar (eBay) or the Bansal brothers (Flipkart). If you take a closer look into their E-commerce business models, you will notice how all websites are using a multivendor approach that provides buyers an option to choose the seller from whom he wants to purchase a product.
A Multivendor marketplace model, if implemented precisely can be the most profitable way to do e-commerce. Aimed towards benefiting both buyers and sellers, Multivendor e-commerce startups need the least possible time to cross their initial inflection point – simply because buyers have more options to choose from for each product.
In addition, expanding a multi-vendor e-commerce store is cost effective as well. All that is required is for a vendor to set up his account and start adding new products, whereas the store admin can monitor their activities and add or remove new categories as needed.
There are several ways for creating and managing multivendor e-commerce marketplaces.
With this article, we aim to utilize the experience of our expert Magento developers in setting up multivendor marketplaces and assemble a list of Top 10 multivendor extensions for Magento 2 available in 2018 to build and run an online marketplace efficiently.
Let's learn a few basics so we can walk before we start to run.
What is a Multivendor Store
A Multivendor store or a marketplace is an E-commerce website where both buyers and sellers can sign up. A seller can choose the categories for which he wants to sell his products and can set up his own inventory. (Merchants who operate an Amazon or Ebay Seller account might be able to relate with this).
The combined inventory of all the sellers that have signed up will be the total inventory of the store. As each seller is managing his own inventory, the store admins can simply benefit by providing an online platform to both buyers and sellers while generating revenue through commissions from the sales made by sellers.
The core responsibility of the store admin is to provide support for both buyer and seller in terms of the User interface, User experience, Terms and Conditions, Security, Dispute resolutions, and Website Marketing.
If the store can generate a reasonable amount of audience, then multiple vendors can directly sign up and start selling their products without having to open their own online store.
Features to look for in a Magento 2 Multivendor extensions
A multi-vendor marketplace involves different user roles, such as – admin, support staff, buyers, sellers, marketers, etc. To make sure the Magento 2 multivendor extensions you shortlist are capable to support your business, they should possess certain features that we have explained in the list below:
The website should support a robust vendor signup mechanism that involves gathering all the data including Business ID of the vendors and precise location for order pickup.
Every registered vendor should get a unique URL for his shop and an option to manually rename the URL of their Shop.
Vendors must have the option to bulk upload products – possibly using an Excel or CSV file.
Vendors should have an option to request the creation of a new product category if needed from the website admin. Also, by default the product categories should only be created by the website admin and vendors should be able to select the category where they plan to publish the product.
Vendors should have permissions to create different types of products. This includes Simple product, Configurable product, Bundled product, Grouped product, Virtual product and Downloadable product.
Vendors should have an ability to create an invoice, shipment and Refund memo for orders with admin approval.
There should be an option for vendors to choose whether they want the shipping option provided by the website or they want to ship manually.
Admins should be able to define their commission based on per order value.
Admins should have access to detailed sales reports for each vendor, along with an option to make payouts manually and automatically.
The website should support secure payment methods. If the website is meant to operate in multiple countries then it would be wise to integrate multiple local payment gateways.
Building up upon these benchmarks for establishing a successful Multivendor marketplace, we have researched and accumulated Top 10 Magento 2 multivendor extensions that can help you in setting up a professional Multivendor store.
Established in 2012, Vnecoms has gained a lot of success in a small time as compared to other Magento 2 multivendor extensions. It provides a complete package to build an online multivendor marketplace in a modular way. This means admin can easily turn off the features he does not want to use on his website.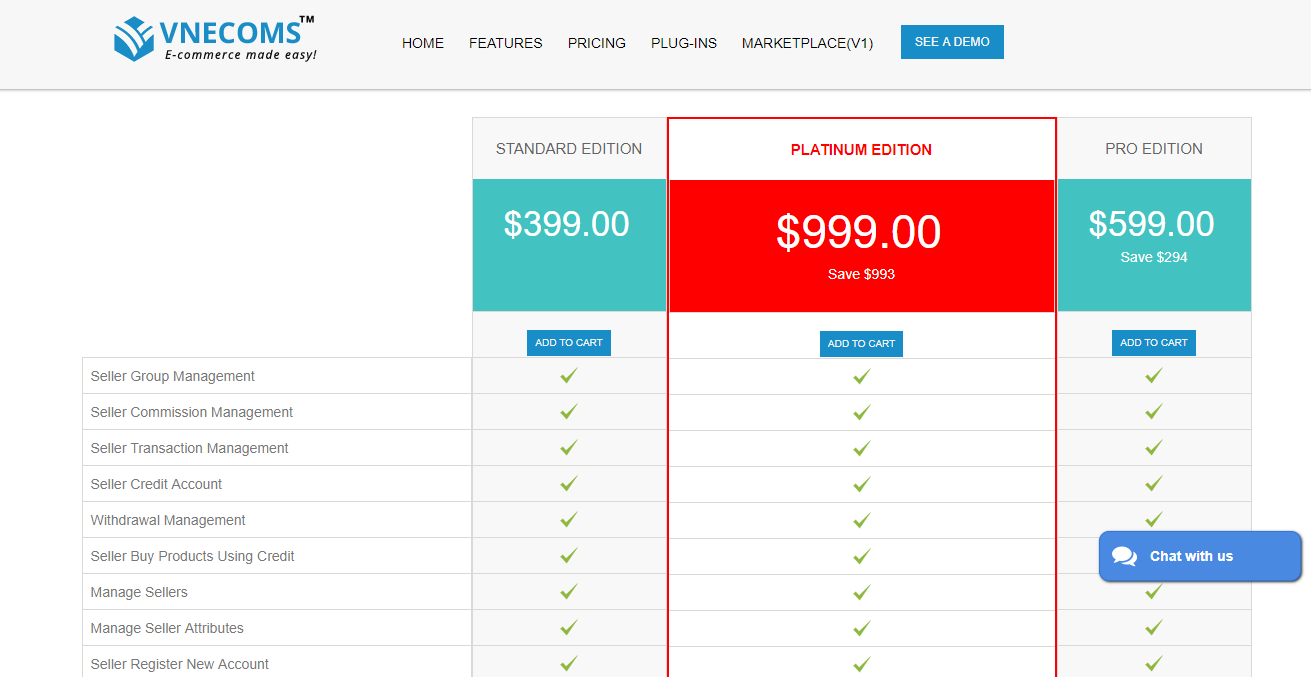 Key features :
1. Setup commissions using different options: Multiple fees or Seller groups.
2. Role-based logins for admin, sellers, and buyers.
3. Supports all payment methods in Magento 2.
4. Support Simple, Configurable and Virtual products.
5. Ability to create seller groups.
6. Vendors can be managed directly from Magento backend.
7. Mobile responsive seller panel.
8. 1 years unlimited support.
Price: $399 – $999
* (prices are subject to change)
Our Opinion
The Standard edition package consists as much as 25+ different extensions that combine together to set up the complete multivendor environment. Many of these extensions are interdependent. This means disabling one of them can affect the others. You need to make sure you are using a high-performance server in order to support this extension. Choosing any rudimentary server can cause some really high page load speed.
Another winner in our list of Magento 2 multivendor extensions is from one of Magento community's most active extension provider and Deloitte award winner. Backed up by effective customer support from the Webkul team, this is a great pick for admins who are looking for a variety of backend management options.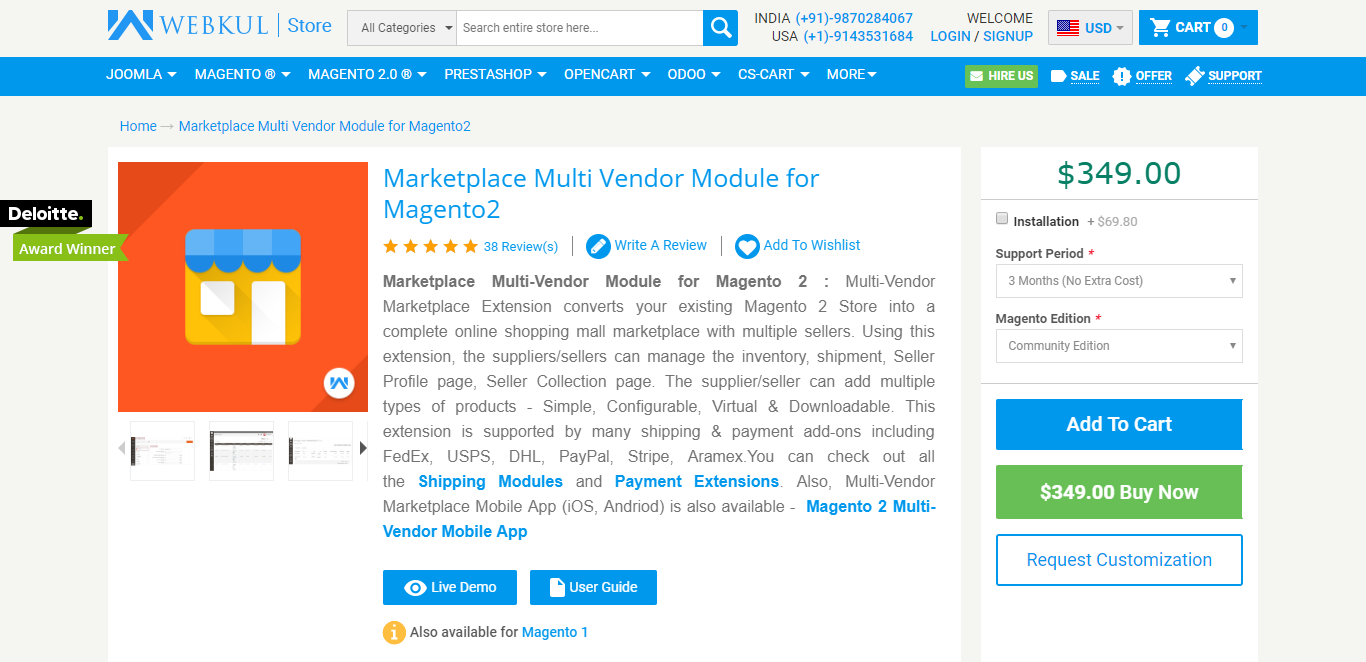 Key features :
1. A complete sales matrix within the seller dashboard where the seller can track his income, latest order, comment and reviews, recent orders and recent comments.
2. Different front-end store layouts for the admins to choose from.
3. Option to setup different seller commission for every seller.
4. Admin can setup auto-approval for orders.
5. Supports Simple, Configurable, Virtual and Downloadable products.
6. Supports countless others Webkul extension for further scalability.
Price: $349
* (prices are subject to change)
Our Opinion
Webkul's Magento 2 multivendor extensions is a superb choice irrespective of any business types. However, keep in mind that Webkul extensions and themes are not very friendly with other 3rd party extensions. You might find yourself stuck with the Webkul ecosystem of themes and extensions once you start using their marketplace solution. But the number of solutions they provide -this should not be a problem.
3. Apptha– MultiVendor Marketplace
Another marketplace extension similar to Webkul is Apptha's Magento 2 marketplace plugin. While most of the features seem the same, Apptha does have few tricks up its sleeves. With default integration for social media and one step checkout, it is a great choice for customers looking for a crisp interface loaded with features for their buyers and sellers.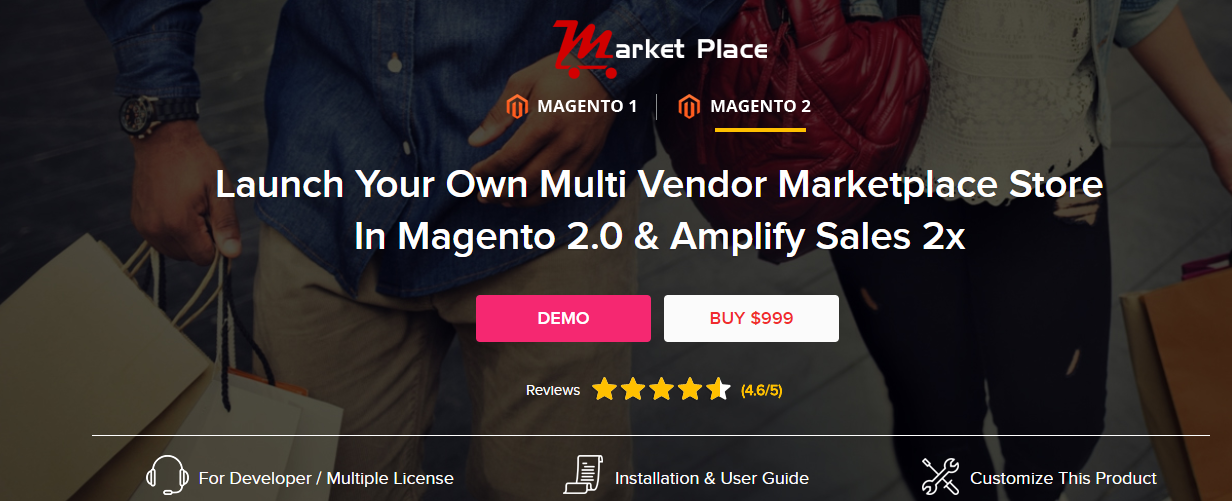 Key features :
1. Completely free to use for first 3 months
2. Admins can define different commissions for different vendors.
3. Subscription functionality for sellers to sell on your marketplace.
4. A bulk email system for admins to contact sellers.
5. Social media login and sign up support by default.
6. Automatic and manual option for product approval.
7. Automatic and manual option for seller profile approval.
8. Information-rich and actionable back-end for sellers.
Price: $0 – $999
* (prices are subject to change)
Our Opinion
Apptha's Marketplace solution is a tad complex then it's counterparts and first-time users could take some time to get used to its numerous features. However, it is backed up by a reliable support team which is always available to help you out.
4. CEDCommerce Magento 2 Marketplace
CEDCommerce might well be the only Magento 2 multivendor extensions on our list that provides its services free of cost. It only charges you for the higher Platinum package that comes along with multiple extensions.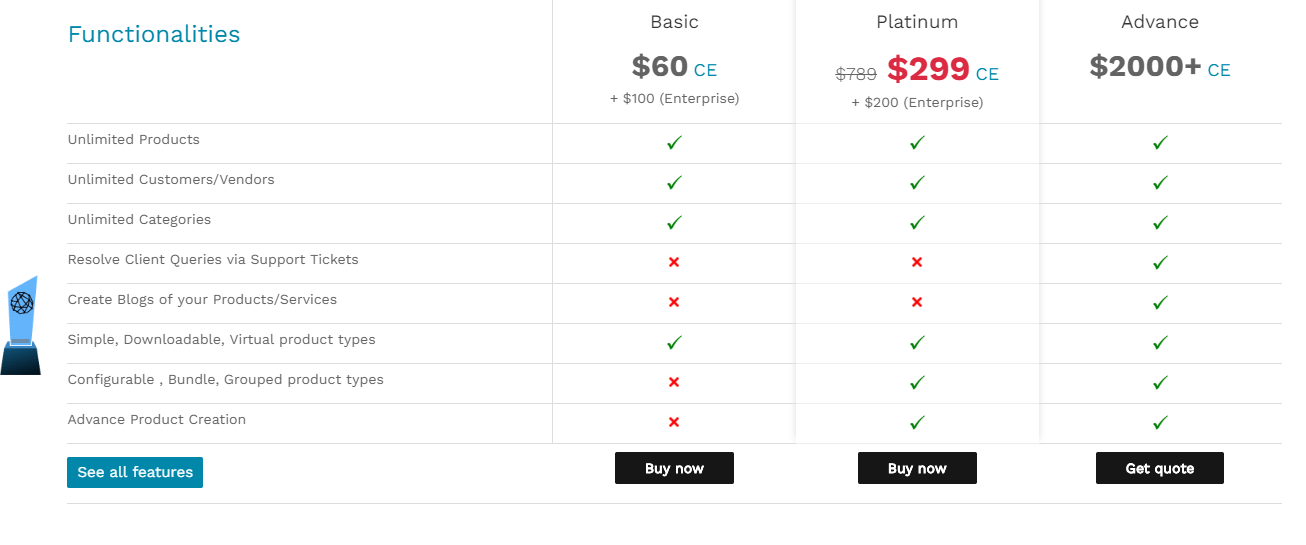 Key features:
1. Completely free to use for first 3 months
2. Admins can define different commissions for different vendors.
3. Subscription functionality for sellers to sell on your marketplace.
4. A bulk email system for admins to contact sellers.
5. Social media login and sign up support by default.
6. Automatic and manual option for product approval.
7. Automatic and manual option for seller profile approval.
8. Information-rich and actionable back-end for sellers with chat support provided by CED commerce.
Price: $0 – $999
* (prices are subject to change)
Our Opinion
CED Commerce is one of the most pocket-friendly options available for setting up an E-commerce marketplace. It provides extensible features which can always be customized for future expansions. With a $0 price point for the first three months, it certainly saves money while your store is under development and being tested.
You might have to indulge with CEDCommerce support on certain occasions to sort out minor compatibility issues of the extension with 3rd party themes, or while customizing certain features. Overall it will definitely turn out to be a value for money purchase.
Next in line is Magenest, whose Magento 2 multivendor extensions can help transform any Magento website into a marketplace. The extension features all the core abilities required to set up an end to end marketplace. In addition to that, there are plenty other extensions available that can be purchased from Magenest in order to extend the default capabilities of this extension.

Key features:
1. Customers can purchase products from different vendors at the same time.
2. Set commissions based on vendor.
3. Monitor all vendor activities.
4. Customers are able to rate vendors after sale completion.
5. Plenty of other extensions available in the marketplace to enhance the store experience.
6. Admin can set up notifications for vendor activities.
Price: $249 – $369
* (prices are subject to change)
Our Opinion
Magenest is for those who only need the bare minimum features of an E-commerce marketplace to get a skeleton ready and then plan to build upon it manually. With a not so active support channel, your best bet is to hire a Magento developer for setting up this extension and maintaining it.
Land of coder Magento 2 multivendor extensions aims to create user experiences similar to Amazon and eBay. They offer top-notch options using which store admins can use any Magento 2 theme they like with this extension. With a mobile responsive seller panel, sellers can manage their accounts on your website from their mobiles or tablets as well.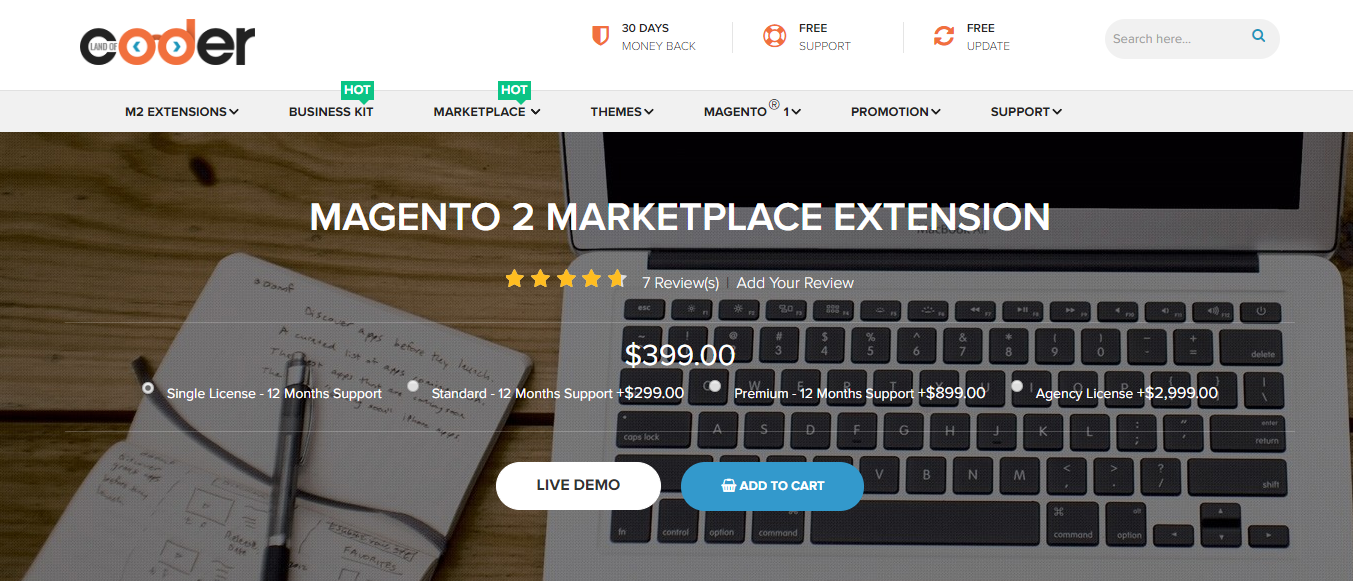 Key features:
1. Compatible with all prominent Magento 2 themes.
2. Multiple gateways and multilingual ready.
3. Auto or manually approve sellers.
4. Unlimited product management.
5. Setup custom commission rules.
6. Advanced reports to recognize sales patterns.
7. Mobile compatible seller panel.
Price: $399
* (prices are subject to change)
Our Opinion
Land of Coder's marketplace extension is one of the very few that comes along with a mobile responsive seller dashboard. Their clean interface is as easy as it gets for vendors. However, the extension could affect the website speed a bit. Hence it is wise to upgrade your server to a higher computation compatibility for a seamless experience.
Magebay is by far the fastest way to set up a marketplace similar to Amazon or eBay. With over 24 extensions combined in a single product suite, Magebay functionalities are sure to delight both buyers and sellers.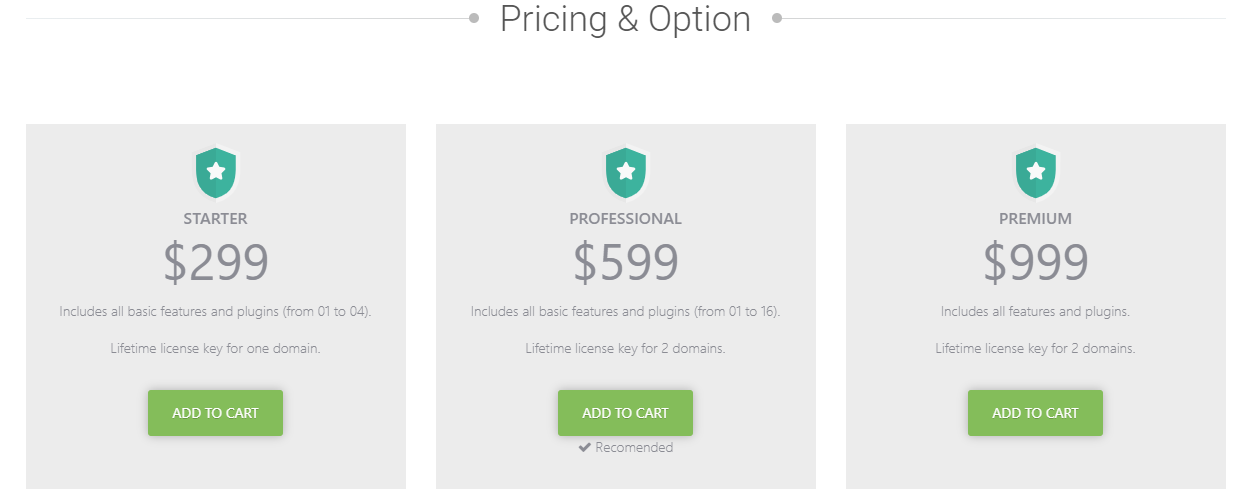 Key features :
1. The fastest way to get websites like Amazon or Ebay
2. Subscription free one-time payment for a lifetime license.
3. Default options for sellers to schedule time-based discounts.
4. Private chat option for customer and seller.
5. Social media sharing is available by default.
6. A combination of 24 Magebay plugins available under one product suite.
Price: $299 – $999
* (prices are subject to change)
Our Opinion
Magebay's marketplace extension features one of the easiest to use vendor dashboard. While features like "vendor messages" makes this extension unique, there are missing features as well such as "scheduled discounts". But at a price point of $299, Magebay's extension is worth every penny.
Medma's Magento 2 multivendor marketplace extensions are one of the cheapest yet effective ways to build a multivendor marketplace. Medma also offers rating and comment features for buyers in order to facilitate a transparent e-commerce experience.

Key features:
1. Robust reporting options for admin to track sales.
2. All product types are supported by default.
3. Additional shipping method by "Medma Product Wise Shipping", which allows both vendor and admin to set separate shipping cost for each product.
4. Free lifetime upgrade.
5. Saves memory by automatically deactivating products if the vendor is deactivated.
Price: $99 – $229
* (prices are subject to change)
Our Opinion
Medma's features are justified by the cost they are charging for their extension. At a price point of $99, Medma is able to deliver all the necessary features to run a Marketplace. The cost-cutting occurs by avoiding a separate dashboard and using Magento's default dashboard to set up vendor account. The idea and the implementation is impressive indeed. If you are running on a tight budget then Medma is a perfect choice.
uMarketplace suite is a comprehensive, powerful and robust online package of Magento 2 multivendor extensions that involves all the features of different marketplace extensions we have reviewed so far and then some. A preferred choice of enterprise-level businesses uMarketplace lets you achieve the trickiest of business goals with ease.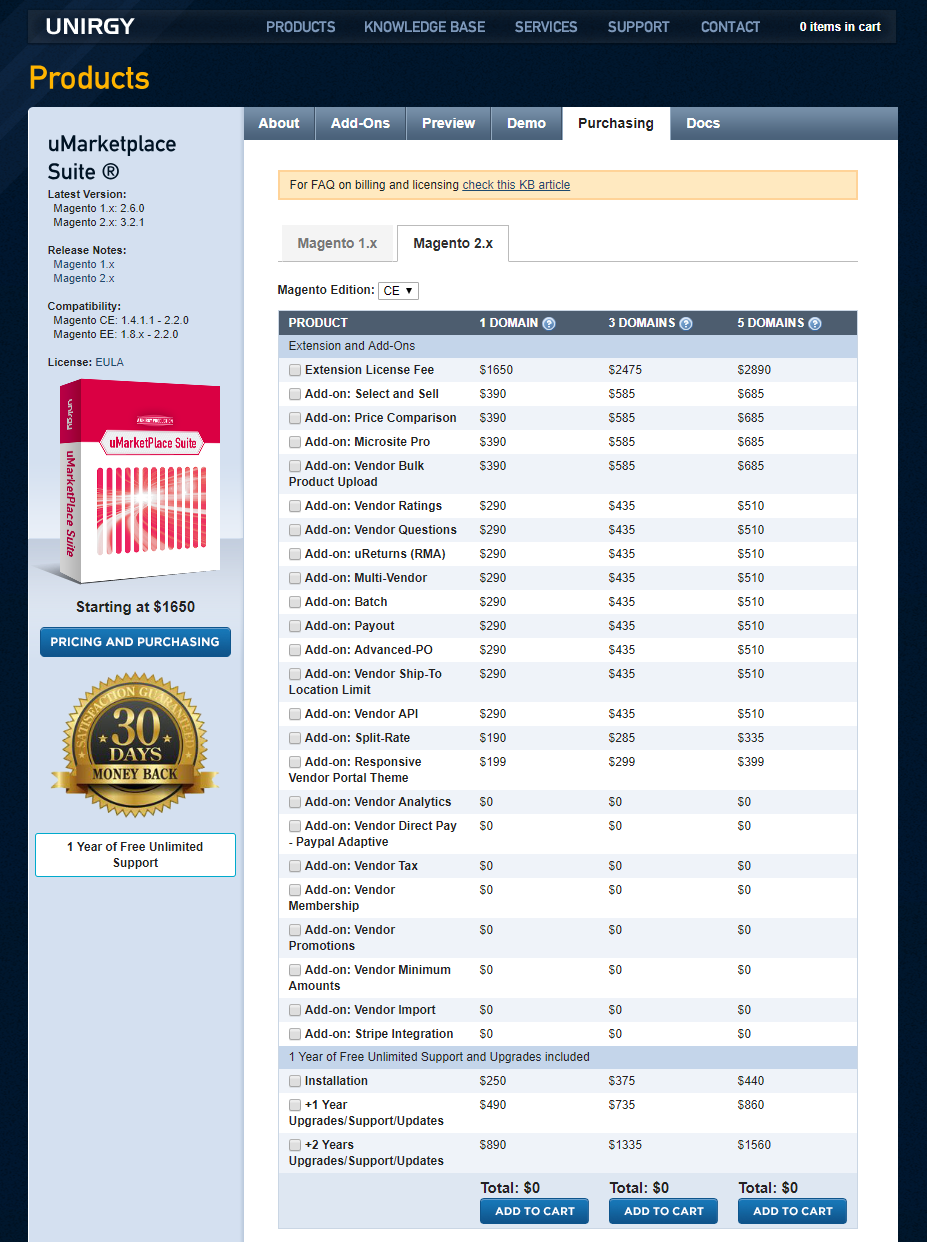 Key features:
1. Single page checkout.
2. Customers can automatically generate purchase orders.
3. Ability to assign admin commissions based on SKU, Product category, Product type and vendors.
4. The ability for customers to directly interact with Vendors (Admins can monitor these interactions).
5. Admins can manually or automatically create financial statements for vendors.
6. Supports all major shipping and payment methods out of the box.
7. Supports vendor defined shipping charges: Live, Flat, Tiered or incremental.
Price: $1650
* (prices are subject to change)
Our Opinion
To work with Umarketplace, you need to invest a lot of time. There are several extensions in this multivendor suite which also put a lot of load on your server. However, it is by far the most professional solution available out there. At the price point and the plethora of functionalities available within this marketplace suite, it is best suited to Large/Enterprise level businesses.
10. MageArray Multivendor Marketplace
MageArray Magento 2 multivendor extensions solution will appear to be exactly similar to Medma marketplace extension, but in reality, it is a lot different. With a vendor dashboard that uses Magento's default options, Magearray has provided an extensible interface for vendors to focus on their store's performance.

Key features :
1. Approve Products automatically or manually.
2. 1-year of free hosting with Amazon.
3. Supports all Magento product types.
4. Admin can set up subscription plans for sellers.
5. Approve sellers and products manually and automatically.
6. A single point interface for admins and sellers with real-time information about Overall revenue, most purchased products, sales analysis, etc.
7. Sellers can keep track of all historic data about all the customers.
Price: $199 approx. + $50 (Installation)
* (prices are subject to change)
Our Opinion
MageArray's Magento 2 multivendor extensions provide a much more refined version of Medma and the same is reflected in its cost. While Medma is built with a vision to cut down cost by using the default Magento interface, Magearray is using the same approach — but to decrease the load that their extension puts on the servers. Being feature rich and having no additional User interface, the extension is fast, extensible and fun to work with.
Bottomline
Building an online marketplace and choosing the right Magento 2 multivendor extensions is unarguably a difficult task to comprehend. The list we have accumulated is in no way sorted based on the efficiency of services provided by each vendor. Instead, we leave it up to you to review the features offered by each one of them and hope that you will find a service provider among the ones we have selected as our Top 10.
If you plan to consult or if you are looking to implement and expand upon the default features provided by these service providers, then feel free to hire magento developers from The Brihaspati Infotech. We are one of the leading service providers with over 7 years of experience in E-commerce development and guarantee complete customer satisfaction.