iOS App Development: Notable Features Of VHS Camcorder Mobile App
With people starting to use smartphones as the prime shooting device, mobile phone applications are gaining importance. They have given a new angle to see how people use their smartphones to connect, communicate, and share media with each other.
Smartphones cameras do not just let the users click photos, but also make videos.
It was reported that every day around 100 million hours of video is watched on Facebook.
This marks the explosion of video usage on social media in recent years. And if you are an avid user of social media, having an aesthetically pleasing social media video gallery for you seems to be all rage. You might have been hopping around your play store's app section to choose the best one for stepping your game up.
With loads of apps available to help you create charming videos for your social media, especially Instagram, the most sought after are the vintage video apps.
The Brihaspati Infotech is a leading mobile app development company with years of experience we have achieved the milestone of launching several iPhone apps like Firebase Real-time Chat and Event Streaming and more. Recently, one of our clients chose to hire iOS developer for an incredible iOS application that is built within an iPhone hardware device to record VHS with multiple filter effects.
Let's get started with,
An Introduction to VHS camcorder mobile app
VHS stands for Video Home System and is a standard for consumer-level analog video recording onto the tape cassettes which are the thing of past today.
However, talking about using a VHS camcorder in your smartphones requires a third-party app in order to record your own video footage and broadcast it. However, if you want or need to do record your videos in retro style there's nothing better than using the vintage filters. Perhaps, vintage-nostalgia-look could be the factor to define aestheticism in your recordings.
A filter app is a great way to quickly enhance your iPhone videos.
These filter apps are the ingredients in your video editing recipe. The real finesse comes from experimenting with several new ways to use these ingredients, varying their flavor and intensity. Thus, enhancing your VHS recording.
Popular VHS camcorder iPhone apps
There is a myriad of apps that are capable of turning your iPhone into a camcorder. Though iPhone's camera recorder is designed to record outstandingly sophisticated videos yet using integrated camcorder simulators are much more exciting.
Plenty of third-party apps are available in the play stores such as:
1. VHS Camcorder
This iPhone app helps you to record videos and add effects of the 80s and 90s time. Using this VHS Camcorder you can record videos that provide an uber-cool vintage special effect.
2. Camcorder – Record VHS Home Videos
This VHS Camera app lets users record videos with a real-time old effect for all iPhone/iPad users. The users can view their saved videos, turn on or turn off the camera light and many such features.
Our iPhone developers were looking for a solution which could provide multiple filter effects for users to record a video. Let's next discuss,
Our VHS Camcorder iPhone App Development
With the aim to let users give their iPhone recorded videos an Authentic aged Vintage Effect, we started with the development process. Using the Swift programming language, overcoming all challenges, our expert iPhone app development team was able to build an app that was fun to use for users.

Major Challenges
The biggest challenge was to obtain a perfect balance between today's cameras and the grainy, not-so-technologically-advanced VHS recorders with the vintage effect of the '80s. With a team effort, our experts were able to develop the tracking lines that flicker just right, the camera shaking, moved, and distorted not perfectly though, but close enough
The second challenge was to create filters/effects, which we developed in "CoreImage" fundamentals. Another was to merge the filters/effects during recording in real-time while maintaining the low file size. So, we exported video in the low quality to reduce the file size.
In order to maintain memory related issues, we used DispatchQueues.
While applying filters it was hard to merge recording on the main thread, due to which the system processes went so high, the app stopped responding, sometimes got a freeze and sometimes got crashed. With the use of core APIs and functions of Apple, it took a lot of time to achieve the right type of filters which the client adopted in the app.
Soon, we were able to do a real-time conversion and render on the phone. With continuous improvements, we successfully integrated our app with the iPhone device and tested the app thoroughly.
How does the iPhone app works?
To operate the camcorder app on the iPhone, open the app, which opens just like your normal camera app. Choose the effects icon and tap the "record" button to start recording your video. Tap the "stop" button once you are finished with recording the video. This will bring up your recently recorded videos and you can choose the file you have just recorded.
To import any file from your email or save to your iPhone, tap the "import" button.
Key Components Of Our VHS Camcorder iPhone App
Let's highlight some of the prominent features of our VHS Camcorder mobile app.
1. Effect Selector icon
A variety of effects are provided by the vendor to record video in different styles.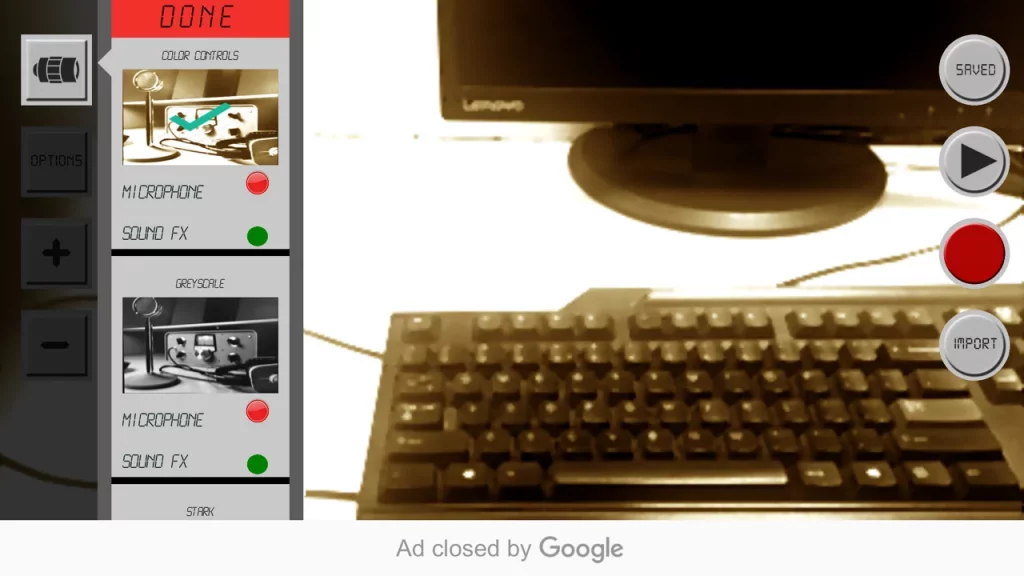 On downloading and installing the app, a user is given access to a default 'Color control' effect.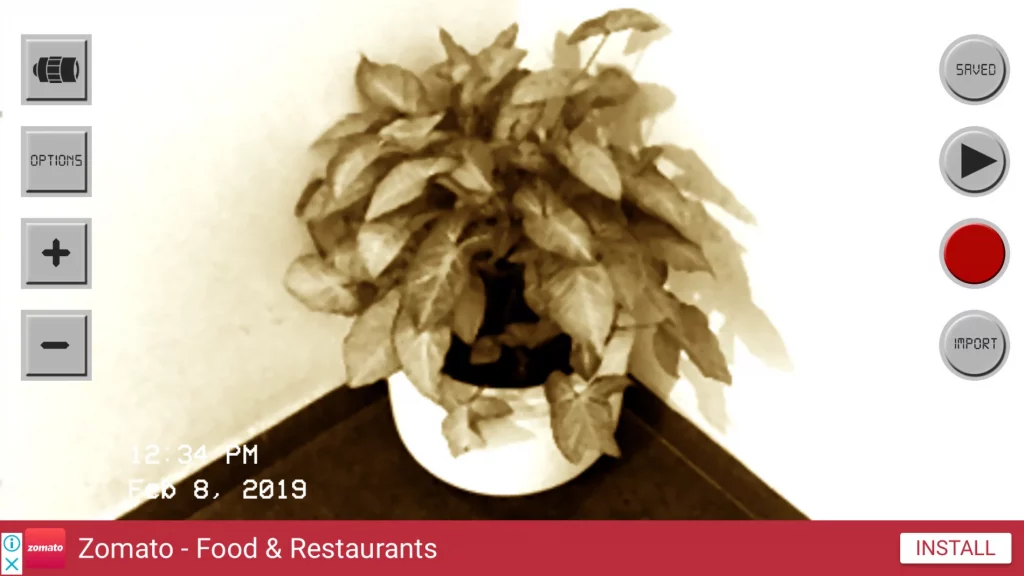 We provide the following effects in our app:
i) Color controls (Free)
ii) Greyscale (Premium)
iii) Stark (Premium)
iv) White Point (Premium)
v) Western (Premium)
vi) Vintage (Premium)
vii) Old Country (Premium)
viii) Sepia (Premium)
ix) Rustic ruby (Premium)
x) Retro space (Premium)
xi) 40's (Premium)
xii) Champaign (Premium)
xiii) X-ray (Premium)
xiv) Comic sketch (Premium)
xv) Megapixel (Premium)
In order to access other 14 effects, a user needs to upgrade to PRO by paying an amount of $4.99.
On upgrading to the PRO version, you get access to the following features: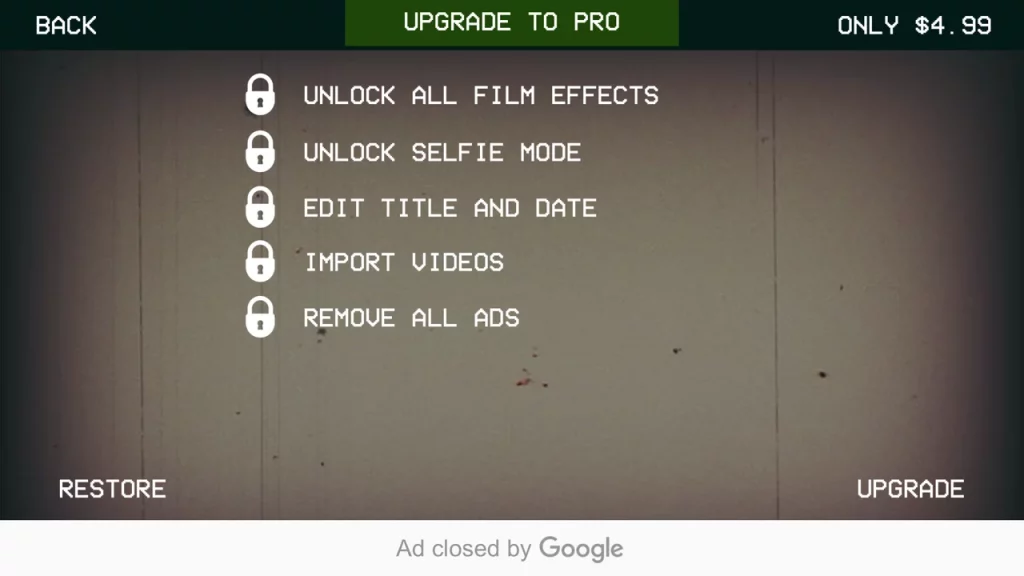 Unlock All Film Effects
Unlock Selfie Mode
Edit Title and Date
Import Videos
Remove All Ads
2. Options icon
This section lets you 'turn on' or 'turn off' the following while recording a video.
Title
Date/Time – Tap to edit
REC Overlay
Selfie Camera
SpotLight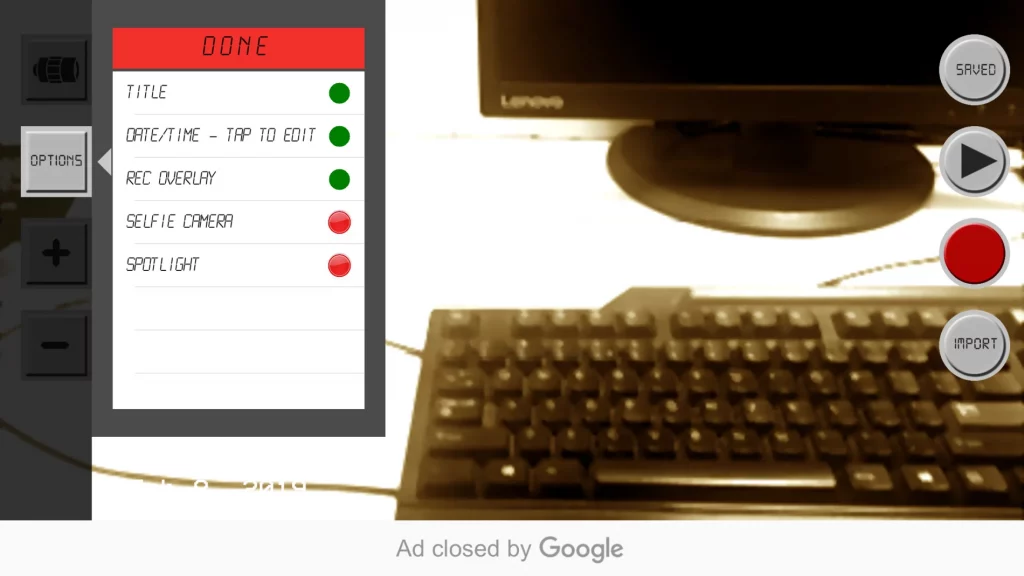 3. '+' icon
This section allows users to 'zoom in' while they are making a video.
4. '-' icon
This section allows users to 'zoom out' during the recording.
On the right section of the screen, the app provides,
5. Red 'REC' icon
This red-colored icon indicates that the recording is in progress.
6. Saved icon
On clicking this icon, all the saved videos appear. The user can access any of these videos.
7. Playback icon
It allows the user to playback the saved videos.
8. Red colored squared icon
This button is used to start and stop the video recording process.
9. Import icon
Clicking this button allows the users to import videos from your gallery to the app and add effect on that video.
Benefits Of Our iOS Mobile App
Have a look at the benefits of our iOS mobile app:
The simple and easy UI design.
No time limit recordings.
Recordings saved to phone for easy sharing.
Users can choose between live audio or vintage sound effect.
Add Date, Title, and "REC" overlay to videos.
Import saved videos to apply a vintage effect.
Allows the user to record in 1 effect or rest we want user should purchase the app, which let the user buy the premium feature.
Google Ads are visible in the free app after purchase ads will be removed.
Add Title and Date on the video itself.
A user can restore the purchase if the app gets deleted.
Recorded video would be saved in his app name folder in the photo app of ios.
Conclusion
With the mobile app development evolving at a rapid pace now, our expert iOS app developers ensure you to provide you with UI/UX that is compelling enough to leave any competition astray, a quality check process, and publishing on the iTunes and keep tracking of initial reception.
If you are looking to hire iOS developer or integrating any mobile app with your smartphones, reach our experts. We would provide you with all kinds of assistance for developing the complete application for your hardware device.