Why Magento – Preferred as Best Cloud-Hosted eCommerce Platform?
With the eCommerce market blooming in its full potential, the online store owners are constantly aiming to achieve higher freedom over their store to make it attractive to customers. So, to cater to its merchant's needs, Magento has brought the Magento Commerce Cloud for both Magento and Magento 2 which can be the ultimate tool to achieve better performance and higher profits.
This managed automated hosting platform can be the solution to all your scalability, speed and security woes with ease. As it provides easy deployment and greater bandwidth to its client to make their store run at a blazing speed.
According to statistics, Cloud commerce might be the next-gen of eCommerce store providing unlimited room for growth along with easy maintenance. Here are a few figures to prove the statement:
Cloud commerce is responsible for $26.3b in revenue in the year 2019.

The quarterly revenue of amazon has exponentially grown to $8.36b in 2019 from $ 1.05b in 2014.
This clearly indicates that Cloud is the future of the web. With multilingual websites, and international brands such as Osprey shifting their stores to the cloud, the trend is swiftly changing the way buyers shop and giving them an unmatched online experience.
What is Magento Commerce Cloud?

Before we dig deeper into how an Online store created on Magento Commerce Cloud can scale up your sales, let's have a brief discussion about what is Magento Commerce Cloud.
Magento/Magento 2 Cloud commerce edition is basically a platform as a service eCommerce platform that can host and run eCommerce websites. This platform is basically designed from omnichannel merchants and runs on Amazon Web Services which facilitates its unique features such as high security and reliability.
It provides separate integration environments for integration, staging, and production which makes testing and applying changes to the live website easier. Further, its easy functionality can easily be credited to technologies such as fastly, Blackfire and Git which makes testing easier in this platform.
Therefore, in short, the Magento Commerce Cloud is an eCommerce website platform hosted on amazon web services that enables online retailers to run their stores at a lightning speed with added security at low cost and maintenance.
Magento Open Source Vs. Magento Commerce
The Magento Commerce Cloud can be the best plan to choose for your website if you need unlimited customization. Although Magento's previous plan such as Magento Open Source were both feature-rich and highly functional their features were still very limited. However, the Magento Commerce Cloud Scope of personalization is endless making this the best platform for your click store.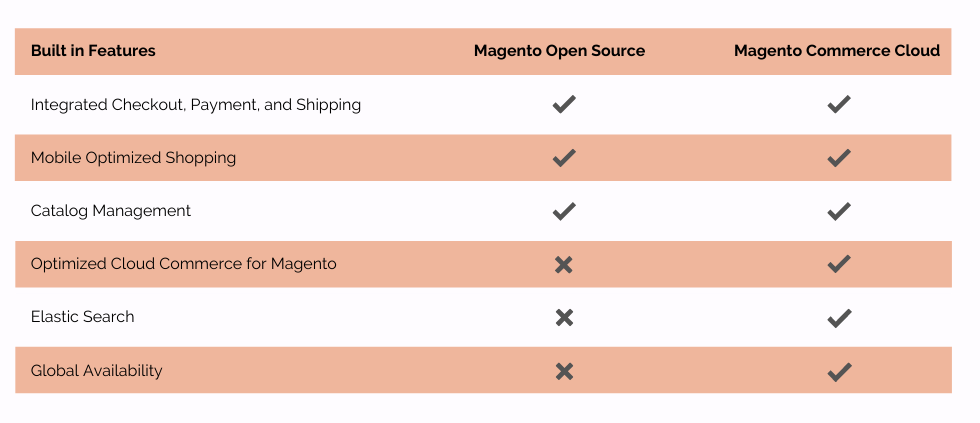 Why Choose Magento Commerce Cloud Over Other Cloud-Hosted eCommerce Platforms
Apart from Magento, a number of other eCommerce platforms such as Big Commerce and SalesForce are also providing Cloud hosting services. All of these have their own unique features and facilities which can make choosing a Cloud Hosting Platform for your click store a tough task. However, the final conclusion always boils down to the compatibility of your requirements with the services provided.
If you are looking for a platform that provides an Unlimited scope of improving user experience, then Magento Commerce Cloud hosted on amazon web services might just be the best.
Magento Commerce Cloud Vs. BigCommerce

If you are looking for a platform that provides an unlimited scope of improving user experience, then Magento Commerce Cloud hosted on Amazon Web Services(AWS) might just be the best. As with BigCommerce although it has shifted to Google Cloud the features provided in it are pretty limited. Let's have a quick look at key features difference between AWS & Google Cloud Platform: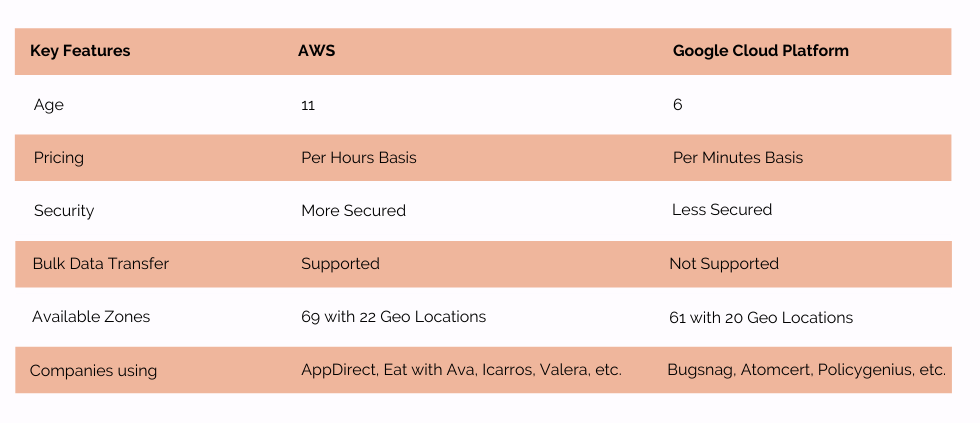 The features offered by the Magento Cloud is quite different than the other cloud eCommerce platforms. Instead of being a complete solution whose backend is hidden it works on a layered architecture that uses third party components for enhancing functionalities.
The scope of customization is very limited in BigCommerce. However, in Magento Commerce Cloud since its code is open to all the extent of its customization is endless. Also with its integration with technologies such as fastly which can provide additional security the websites hosted on Magento Commerce Cloud receives higher data security. Hence, the wide scope of customization along with better security makes the Magento commerce cloud a better platform in a number of ways.
Magento Commerce Cloud Vs. Salesforce Commerce Cloud

Magento Commerce Cloud is also one of a kind service that provides a layered architecture to build a Click Store which makes developing and customization in it very easy. However, similar platforms using AWS such as Salesforce are basically CRM which is usually used for building strong customer relations.
Functionality: Magento Commerce Cloud mainly helps you in focusing on the improvement of the user experience through customization. Whereas with Salesforce you can build better customer relationships by using a variety of tools.
Pricing: The pricing of Magento Commerce Cloud is quite transparent however Salesforce keeps a part of each product you sell as "Sucess Tax"
Business Needs: Magento Cloud can cater to both B2B and B2C business needs with its highly customizable environment and variety of tools. However, the SalesForce can only provide B2C solutions to its merchants.
How to set up an eCommerce website using Magento Commerce Cloud
To set up a Magento Commerce Cloud click store first you need to get its subscription plan. After subscribing to it you'll have the access to your project and its complete code as well. After that, you'll also be able to create the technical admin and secure admin access.
The next step involves installing relevant technologies that would help you in testing and staging your website's changes easily. The amazing technologies supported by the Magento Commerce Cloud which will help you develop and deploy your codes with ease: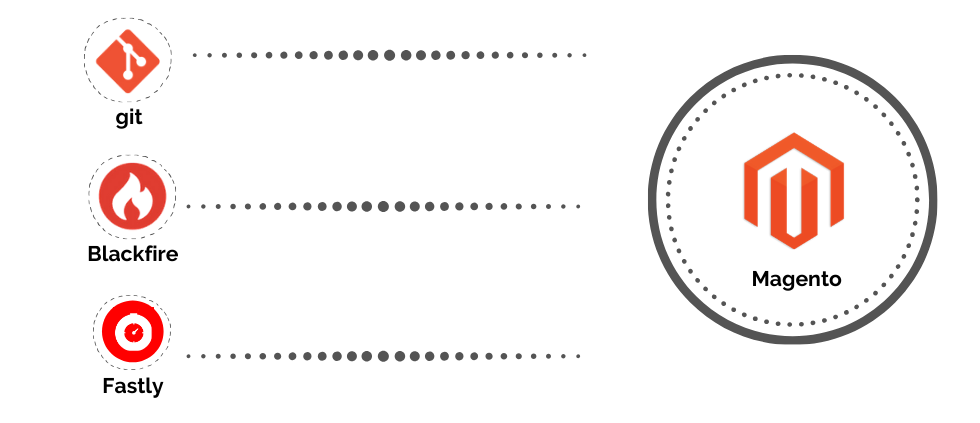 Git: Git is a version control system that makes updating your codes easier and helps multiple developers to update and work on the same project independently. With the git involved in your eCommerce platform updating changes and managing your projects are just a piece of cake. As with this you can push your changes easily and revert them back to their previous forms as well without any hassles. This makes the management of your store easier and quicker.
Fastly: Fastly is the Content Delivery Network that is responsible for delivering the page requests faster and is also customizable for adding an extra layer of security. Magento Commerce Cloud has integrated this CDN to make the user experience better. Further, with a Content Delivery Network, you won't have to think about constantly updating your codes to make your site faster. Also, with it, you can also add extra layers of security as well to enhance your click store's infrastructure.
Blackfire: Blackfire is yet another important tool to have for testing your website as a merchant and it can also be used for testing during the integration(development) phase. With Blackfire, the testing is much easier, quicker and accurate. It analyses the bugs in one go and gives insights to the site's performance as well. With this, you can save your costs of hiring a tester and also you'll be able to save your time as well.
#1 Themes Selection
After successfully creating your account and set up for the staging and integration you'll have to decide the look and feel of your click store through theme selection. You can either choose a theme from Magento's catalog or you can also get a custom made theme especially for your store. Carefully selecting your theme is quite an important step during the development phase of your eCommerce store as it can largely affect your sales.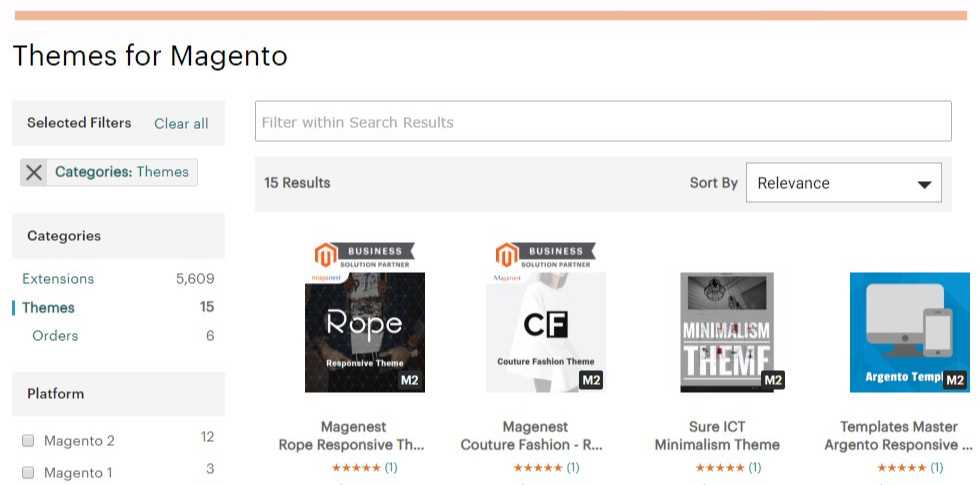 Therefore choosing a theme that is mobile-friendly, and gives the best user experience is a must if you want to use your click store to hype up your sales.
#2 Integration
After selecting a suitable theme for your click store you can also integrate a variety of third-party applications as well. The third-party integrations are a must if you need some extra features on your store that would elevate the user's shopping experience.
You can easily integrate following functionalities into your Online store or get a third party app custom made by us to give your users unforgettable shopping experience.
A payment gateway

A preorder feature

An email marketing tool
#3 Testing
Testing is the final step of your setup before your online stores take a flight in the world of the web. For testing in Integration(development) or in Staging (pre-production stage) Magento commerce cloud provides BlackFire. This tool lets you test the performance of your site and helps you in fixing bugs as well before going live.
Testing in the staging phase as a merchant helps you in getting an overview of the user experience your online store will provide. This phase is a must if you want to ensure that your customers make it to the checkout phase without any hassles.
#4 Going Live
After you have tested your store in the preproduction stage to go live you'll have to raise a ticket with the intended date and time to launch your store online.
The Final Outcomes of Using Magento Commerce Cloud
Using the Magento/Magento 2 Commerce Cloud for your online store will lead to visible performance differences. With added security and features that open up the gateways for endless customization using a PAAS can revolutionize the performance of the online store and make it stand apart from the others.
The first visible distinct feature that you will notice is the minimalistic page loading time and the blazing speed even during peak traffic which rules out the possibility of your site's crashing.

Further, cloud commerce made it very easy to test the site with Blackfire, also its layered architecture is bliss as it allows you to make changes instantly.

Lastly, with the added layers of security from the Cloud commerce infrastructure, there is no need for you to invest in security features which reduces the overall cost.
To Wrap it Up on Magento Commerce Cloud
Cloud commerce is one of the most unique Magento eCommerce platforms. Being the first platform as a service eCommerce service provider, this technology has unique perks for online retails. From high performance to unbeatable security, this is the perfect platform for those trying to scale up their SMB to a global level.
So, if you need a website that runs on Magento Commerce Cloud you can drop us a mail anytime. Our expert Magento developers can create a robust website that can cater to your individual needs using Magento Commerce Cloud in the blink of an eye.