WooCommerce Multisite Plugin: Optimizing Multistore Abilities
Our WooCommerce Multisite plugin is updated/upgraded from time to time and is compatible with the latest versions of WooCommmerce (version: 5.4) and WordPress (version: 5.7).
E-commerce business is hitting new heights and is just getting bigger over time. To beat the competition around, using the most popular and robust Content Management System- WordPress, is suggested by experts. It supports several popularly known e-commerce plugins and the recent arrival on the scene is Woocommerce. Woocommerce is the default e-commerce plugin for WordPress.
Built on top of standard WordPress custom post types, it comes with the easy installation which can be managed from the admin panel easily. Compatibility with all the latest versions of WordPress and WooCommerce is also one of the significant features of this plugin. So, many come to us looking to hire WordPress developer to extend their website's abilities as an efficient online store.
Often, e-commerce business needs are not met by a single website, as the web stores are targeted towards selling different products in different categories. This makes a single web store nothing but a chaotic and messy e-shop.
Prime reasons to centrally control multiple Woocomerce stores
Arbitrary distribution of products across multiple stores
Varying traffic stats for each store
Inventory management in multiple stores
Updating product details in individual stores
Updating attributes for separate stores
Woocommerce multisite deployment is a full-fledged solution to this.
From a viewpoint of a WordPress administrator, it is essential to have a single user account for all sites, especially for multiple stores. Also, it is convenient to use and easy to manage by the user.
So, merchants today are always searching for options that could help ease their work, and they can concentrate on their core work. So, our team of developers created WooCommerce Multistore plugin where an online seller could handle multiple websites from a single admin to streamline the selling and distribution of products of various websites.
Across all stores, our WooCommerce Multistore plugin offers a possibility with a common search box to sell or offer the products related to each other. Moreover, across all stores sites, it provides advantages for a user to offer a single shopping cart & a single checkout.
WooCommerce Multisite plugin normally works like any other plugin that can be readily integrated on any WordPress site. In a network, each site shares a database by storing information in separate tables. Therefore, each store or site has a different setup.
Even though we can network activate plugins just like WooCommerce and its extensions, still in the network across the sites, it wouldn't be possible to share product databases, user accounts, and checkout, etc. Themes and plugins are the only things that can be shared across the site network.
So how does WordPress Multisite work? Above all, how to create a multistore platform in WooCommerce? Let's find this out.
Our Woocommerce Multisite Plugin
This plugin was built to meet the requirements of managing different websites from a single admin panel. The idea was to segregate various products based on taxonomy and separate them out using multiple sites.
Its striking feature is that all the websites are connected together, where every activity on every site is monitored through a single admin panel. A multi-store network loses its advantages if each site is to be managed independently.
We were required to set up a multisite woocommerce platform, where different products should be presented on a different site. With too many products on the store, it was difficult to manage all the functions adequately.
We followed agile best practices to develop various components and add functionality as mentioned in the requirements. The WooCommerce multistore plugin was created with functionalities and features to manage different web stores through a single admin. You can also consider to hire woocommerce developer from us for further customizations in the plugin if needed.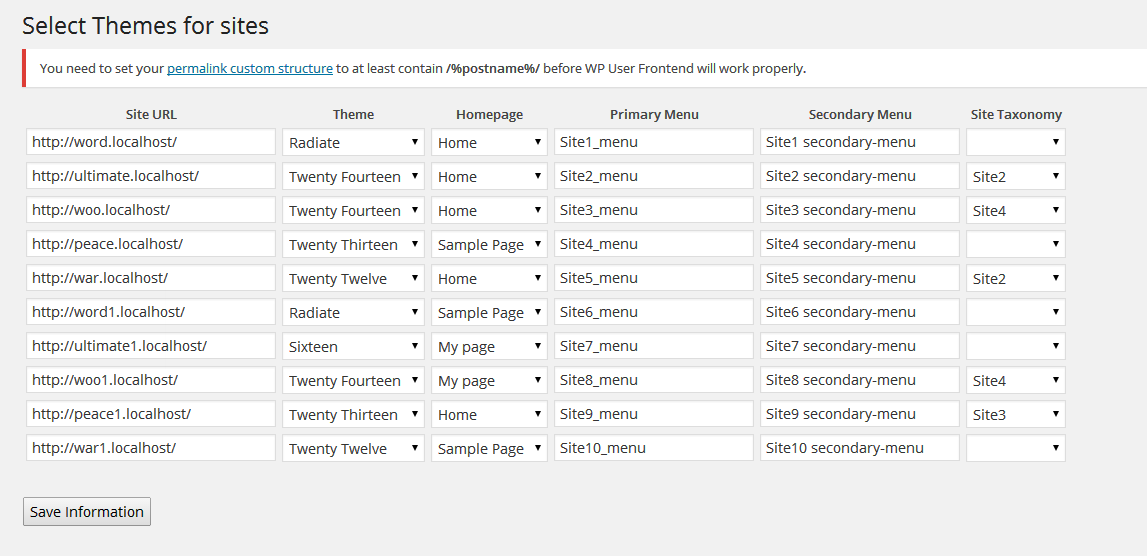 In our Woocommerce multisite plugin, the WordPress admin can monitor and manage everything from the same place. The different site URLs were listed on the extension, where admin can add all the themes, menu pages, and products. Admin can use this plugin to select the desired theme, relevant homepage, relevant menus, and desired products for a particular subsite and this can be done without having to go to every sub-site or to the main site.
It is a good option for you if you want to have multiple eCommerce sub-sites to be managed through a single admin panel. Also, this offers Woocommerce filtering for product segregation as well as WordPress filtering to create different themes/designs for sub-sites.
Features of Woocommerce Multistore Plugin
The custom Woocommerce plugin enables multisite e-commerce along with features and various benefits:
Easy management of user account:
The WooCommerce multisite plugin not just makes the experience easy for customers but also allows admin to manage user accounts. The user account management is not done at a site level but at the network level. The user is automatically registered across all the sites, which makes it relatively easy to manage activities regardless of the number of sub-sites you have.
Domain Based Price Management:
A store owner can add different prices for the same product for each domain. This can be managed under the "Product Data Section".
Better product reach:
The Woocommerce multistore plugin allows a seller to increase his product reach and present users with only the required or desired products. This makes admin keep an easy track of the products being searched by different users.
Independent shopping cart and checkout:
The checkout and cart functionality works independently for each store. If you have a web store with multiple sites, the checkout process will be independent of each source. A separate checkout process with an independent shopping cart allows each website to be treated as a unique experience for the end-user.
Also, the admin always gets the information from where a particular product has been purchased. This provides a hassle-free transaction process to users.
Note – If you are looking to achieve a single cart and checkout for all the websites, we can deliver that by customizing our plugin to suit your needs. Kindly feel free to contact us.
Compatible with WordPress SEO YOAST Plugin:
The woocommerce multisite plugin is compatible with SEO YOAST plugin that allows you to add separate Meta tags for different products on different sub-sites.
Separate Contact page for Sub-sites:
The multisite WooCommerce plugin allows to add separate contact page for every website.
Easy maintenance:
Since the websites share a single database, the seller saves a huge sum on maintenance costs. Everything is handled from a single point, whether it's about triggering upgrades or managing transactions through each site.
Watch Video:
Jotting down all the benefits of the WooCommerce multi-site plugin together:
Control over all product across every Woocommerce store

Centrally manage the available quantities

Better grip on inventory

Manage the Product details from a single location

Saves you from switching between stores

Saves you from repeating tasks across multiple WooCommerce stores

Controlling separate content on multiple product pages

Installing separate Themes for individual stores from the same panel

Managing different user interface for separate stores on Woocommerce

Separate carts for separate stores along with checkout page
Being said that, the WordPress multisite plugin for Woocommerce comes up as the ultimate solution for managing multiple stores in a more efficient manner.
However, coming up with unique solutions never comes with that ease. Our Woocommerce experts witnessed few obstacles while developing this exclusive plugin for store owners on Woocommerce.
Major challenges while building Woocommerce multistore plugin
WordPress and WooCommerce are leaders in their respective niches. While WordPress excels at managing everything to stabilize a website, WooCommerce steps up for a robust E-Commerce store.
Blending them together allowed them to exchange themes and plugins more easily across the stores. However, there were a few points where the plugin faced roadblocks:
Inventory management:
The admin was supposed to monitor stock levels for individual stores from the same screen.
However, the store failed to exchange the database.
As a result, managing stock levels was one issue that deserved a solution.
Managing user accounts
Much like the stock levels, the stores have their sets of user accounts and related information.
At first, that appeared a difficult task as the stores had nearly no interlinking nodes that could help.
The final results speak for themselves as the admin can manage all the user accounts with ease.
Our WordPress experts overcame all the roadblocks by deploying the best technology to create the system. The expert developers at The Brihaspati Infotech:
Have years of experience in designing websites and stores

Understand E-Commerce business models

Value custom business needs

Well aware of platforms, their pros, and shortcomings

Have the remedy to every known issue
Above all, with a decade worth of experience working on leading CMS platforms and E-Commerce, we have nearly touched every known technology. We save unique designs keeping in the eye of future demands thus saving you hours at developing solutions from scratch.
The designs can be readily released or can be customized as per the needs. Our experts update the plugin with the CMS and eCommerce platform editions.
By July 2021, the plugin actively serves 50+ stores and has been updated several times in order to meet specific business requirements.
Concluding with WordPress plugin for Multisite WooCommerce
With WordPress acquiring WooCommerce, more businesses will be looking forward to launching their stores. The ease to manage the website along with the store at the same place is a decisive factor here. The existing traffic on their website only adds another reason to choose WooCommerce.
If you are here, you probably are one such WooCommerce seller who wants to expand the store numbers. We can help you handle different WooCommerce stores along with a hassle-free single management system.
You can contact us to buy the WooCommerce WordPress multi-site plugin code or hire our experts. 
Save
Save
Save
Save
Save
Save
Save
Save
Save