Hybrid App Development Company
Hybrid apps allow you to leverage all the popular mobile platforms out there. Our hybrid app development company can help you make the most of this technology so that your business can succeed.
Our experts can combine the popular web development technologies like HTML 5, jQuery and Javascript with trending mobile frameworks like Ionic, React Native and Flutter to deliver the solutions crafted to succeed in the real world.

Hybrid App Development Services For Feature-Packed Solutions
We are EXPERT
Our cross platform hybrid mobile development company codes the apps that can be integrated across every major and minor platform. With a single code, you get an app for iOS, Android, Windows Phones, and Mobile Web Browsers. This comes along with low development costs and a quick turnaround. You get apps that support device-specific features and native functionality.
We use multiple frameworks for a wide array of amazing features allowing our mobile app development company to build customized apps as per the client's requirement. Our skilled developers can work on a variety of robust features including camera sync, Compass, Accelerometer, Contacts Sync, File manager, Geo-Location, Media Manager, Network Configuration, Storage and push notifications.
The Brihaspati Infotech is a renowned cross platform mobile app development agency with more than 150 successful projects under our belt. We blend our agile hybrid app development services with robust features and technologies for developing unbeatable Hybrid Apps for your business.
We are Trusted Partners of Entrepreneurs & Business Owners
William Geronco
Founder - Cacele Digital
The client primarily wanted to build a medical consulting app to make healthcare more accessible to patients.
Read More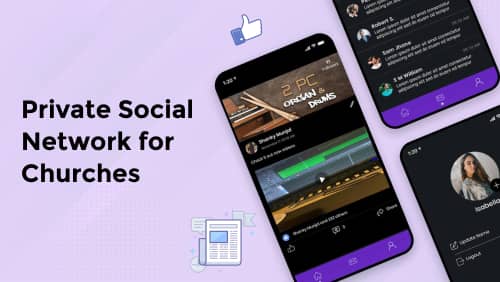 The client was looking for a private social media app that allows users to discuss forthcoming religious programs, quotes, ideas...
Read More
Clear scope. Predefined budget. No surprises.
Everything you need to build and maintain Hybrid App Development
Cross Platform Mobile App Development Agency
Explore the services offered by our Hybrid App Development Company

Hybrid Application Development
Hybrid Web-Based Applications

Industry-Specific Hybrid Apps

Native Hybrid App Development

Custom Cross-platform Apps

API Integration
3rd Party API Integration

Integrate with GPS/Navigation Camera

IoT, BLE & Wearable Integration

Chat Server Integration

Migration and Upgrade
Migration to Hybrid Frameworks

New Version Upgradation

Adding New Functionalities

Overall Performance Optimization

Support and Maintenance
App Security Management

App Performance Management

Application Compliance Management

Re-Architecting and Containerization
Hybrid Application Design
MockUps Using Figma, Adobe XD, Photoshop Tools

UI/UX Upgradation for Cross-platform Applications

Wireframing using Balsamiq and similar tools

Hybrid Application UI/UX Maintenance Services

Testing and Deployment
Performance and Security Reviews

User Cases & Test Cases

App Store Management & Monitoring

Source Code Repository & Versioning
Served more than 2500 clients globally, and retained 97% of them
Our Knowledge Base
Hybrid App News, Hybrid App Integrations, website Project Launches & more
The Hiring Process: Cross Platform Hybrid Mobile Development Company
We offer flexible hiring models for our Hybrid app development services. Hire experts from us as we keep you updated on the project's progress and follow a standardized approach towards app development and ensure 100% client satisfaction.
1
Book a free consultation
If you have a project on your mind, you can book a Free consultation with Hybrid App Development experts over any communication channel like Skype, Email, etc.
We will get back to you in no time.
2
Discuss details with business analyst
One of our team members will contact you at your convenient time for further project discussion.
Your project will be scrutinized by us so that we don't miss any detail related to the same.
3
Hybrid Project term Finalization
Afterward, we will present you a detailed project proposal that will include a fair time and cost estimate along with smaller milestones set for the project execution.
4
Agile-based execution and delivery
Our Hybrid App development company follows the best coding practices. We offer you completely bug-free and well-tested projects.
5
Project deployment and maintenance
Our Hybrid app development services come with a post-completion support and maintenance period of 30-days.
You can hire dedicated Hybrid App developer and extend this period
Frequently Asked Questions
Experts at our cross platform mobile app development agency know all ins and outs of data security. We use some latest and highly efficient tools like MDM, encryption, remote wipe, and more to ensure flawless security of your data.
We follow all updates and security advancements on leading platforms to arm your applications with them.
Yes, you can get in touch with our experts at our cross platform hybrid mobile development company for all kinds of upgrade needs for your Hybrid apps. We can help you to port your apps from outdated technologies to the latest ones.
Yes, we will provide you with the ownership and copyrights for the code of your application. We add this clause to the agreement at the time of contract signing.
Our hybrid app development company believes in full transparency on intellectual property rights.
We strictly adhere to a professional and transparent approach while giving you quotes on time and cost. First, we collect every single requirement of your project and calculate a fair time estimate to achieve that goal while breaking it down into smaller milestones. Then only we present you a proposal that contains the time and cost for every milestone.
So, it would be really appreciated if you book a free consultation with our cross platform mobile app development agency and do let us know your project requirements to know the quotes.
Yes, we do provide you with a complete 30-day support and maintenance period. During this period, we look for any kind of bugs found, performance optimization, SEO-related tweaks, and more.
Also, you can extend this support in the long run with us while paying a nominal fee.
We follow a goal-oriented approach to every project committed. From business analysts to developers to project managers to quality analysts, we have a team of experienced professionals.
Once you come to us with your project, it undergoes different departments of our Hybrid app development company for different purposes like designing, development, quality testing, etc which ensures that you get the best possible end product.
Helping Our Customers Succeed
Hear what our customers are saying about us

"How a leading global franchise development company scaled faster with the help of The Brihaspati Infotech."
Jeff Baietto, M.A.,
COO & Co-Founder of InJoy Global