What's New From Shopify In 2019: Latest Updates In Shopify
Empowering independent business owners across the globe, Shopify has successfully generated $100B total sales til now.
In the wake of improving Shopify's experience, the masters of Shopify have been continuously working in order to benefit their partners, merchants, and third-party developers.
This article covers all that every Shopify development company should know about the latest updates in the Shopify platform has done on its platform in the year 2019.
Latest Updates in Shopify
Let's have a walk through the Shopify's latest updates for the Merchants:
1. Shopify Shipping Toolkit as a sales resource
If you are a novice in online business, making first sales and handling all the shipping on your own for the first time can be a time-consuming and intimidating experience.
The Shopify's Shipping toolkit is a sales resource that facilitates the merchants to better understand the details of Shopify Shipping as well as the ways on how to effectively pitch it to your merchants.
The Shopify Shipping Toolkit comprises two resources which help you know what the Shopify Shipping is all about and provide viable solutions for your merchants.
Pitching Shopify Shipping: This guide pertains to everything that fits the merchant's Shopify Shipping requirements be it the set-up qualifications or hardware recommendations.
Shopify Shipping 101: This guide highlights the top features and benefits of Shopify Shipping which is beneficial for your merchants or prospects. Additionally, you can add this content into your branded promotions.
There are three Shopify shipping toolkits and here is what they comprise of:
Shopify Sales Toolkit: This toolkit will instruct you how to position Shopify to your existing and prospective merchants and show them why Shopify's hosted ecommerce platform is appropriate for their business.
Shopify POS Toolkit: It is a comprehensive guide which provides insights to the Shopify Point-of-Sale (POS) system including a basic understanding of the system, its features, and how to position it to the merchants.
Shopify Plus Toolkit: This toolkit guide contains information that indicates how to identify the sales opportunities and convey the value of Shopify Plus to the merchants. It contains all that you need for selling to fast-growing and high-volume merchants.
2. Translated Partner Dashboard providing a multilingual approach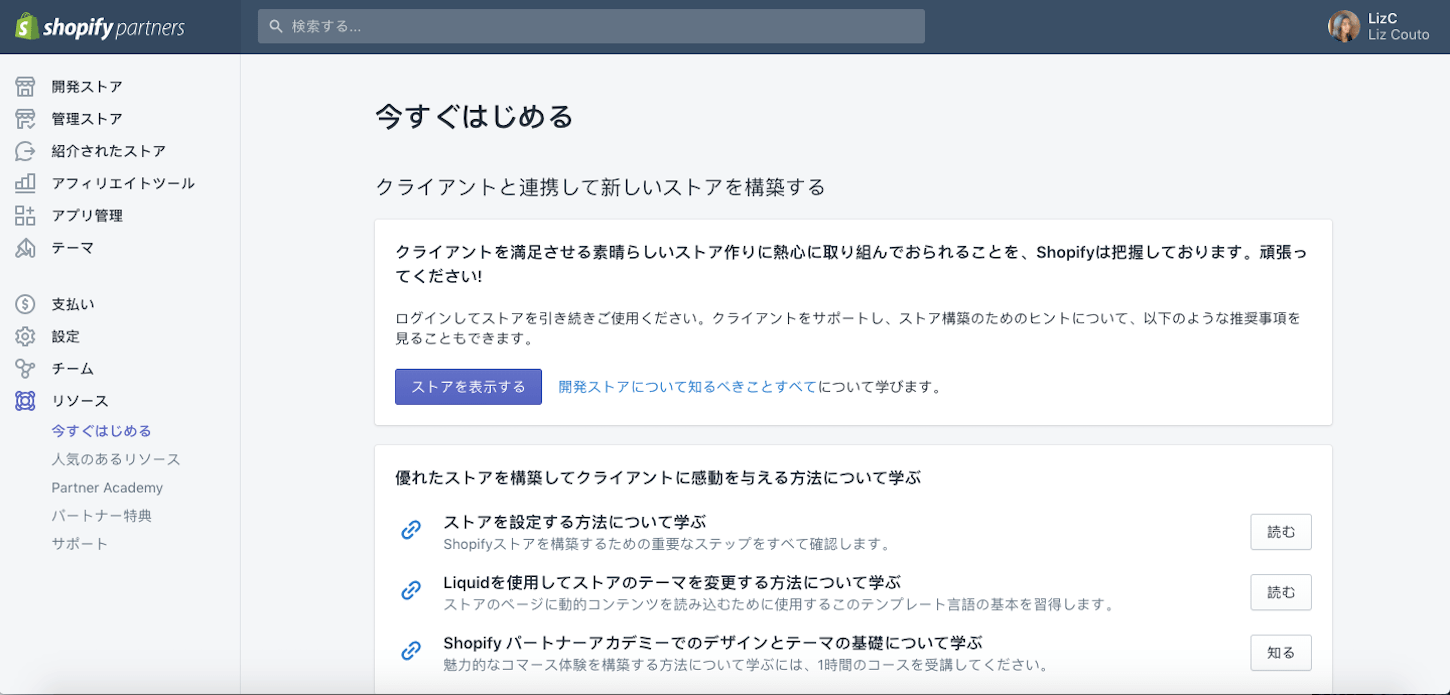 Source: Shopify
Another good news about Shopify dashboard is that it is now providing a translated and localized dashboard which helps the partners and merchants who are not fluent in English to begin building their Shopify E-commerce.
Thus, small business merchants get an opportunity to take advantage of native language support.

This feature allows you to change the language of your Partner Dashboard by clicking on Settings, then Edit profile. Shopify offers 6 languages:
German
French
Spanish
Italian
Japanese
Brazilian Portuguese
3. Partners Go Global launch for partners
Bearing in mind that global is the future of commerce, this January Shopify launched the 'Go Global launch' for their partners. This facilitates merchants to help scale their business internationally and let them grow their customer-bases across the borders in:
France
Germany
Japan
Singapore
Shopify provides its partners with a chance to earn 1.5X standard revenue share. And, in order to support the cross-border e-commerce, Shopify gives two special offers that are running until 19th November 2019.
(i) Affiliate link referrals: With each new Shopify store owner located in Germany, France, Singapore, or Japan who signs up via your affiliate link can earn 300% commission bounties. For the increased commission, a limit of 100 merchant referrals per partner is eligible.
(ii) Development store referrals: An opportunity to earn 30% revenue share of merchant's monthly subscription fees for development store referrals of Shopify merchants located in four countries of Germany, France, Japan, and Singapore. What is good is, you can receive the increased revenue share even after the promotion period ends. All you need is to remain active.
4. Improvements In Merchant Experience
With the improvements in merchant experience, the full potential of Shopify partners can be explored. Here are the improvements that have been provided for the merchants:
Switching between stores is easy: With this update, the Shopify Plus merchants can have access to a dropdown which allows them to switch between different stores easily. This enables your merchants to enjoy a seamless experience between all storefronts which are associated with their email addresses and contacts. Thus, with the mere click of a button, staff members can easily switch to a different store without the need to manage multiple logins.
Upgrade to Shopify Plus checkout: The latest upgrade in the Shopify Plus checkout page contains a variety of attractive visual and functional enhancements that help to provide an appealing design to the merchant 's checkout process. So, with this update, Shopify Plus merchants with a customized checkout have started upgrading to the latest version.
New permissions granted to the merchants: This update is introduced so that your merchants can control who is accessing what on their ecommerce store. New permissions to access the app and channel have been created so your Shopify Plus merchants can feel confident that they're giving the right app and channel permissions to the right staff members.In order to assign and select specific apps or channels to the individual staff, the account owners can go to the account page and select the apps for them to use.
To create App and Channel Access for your merchants in Shopify Plus, go to Settings> Account> click on your staff member's name> select the Limited apps permission to see the app selector.
5. Shopify Community with enhanced forums experience
Shopify's community is another thing that is new on Shopify. Shopify community gives you a chance to connect the ecommerce professionals by providing accepted solutions, improved search functionality, and participation rewards.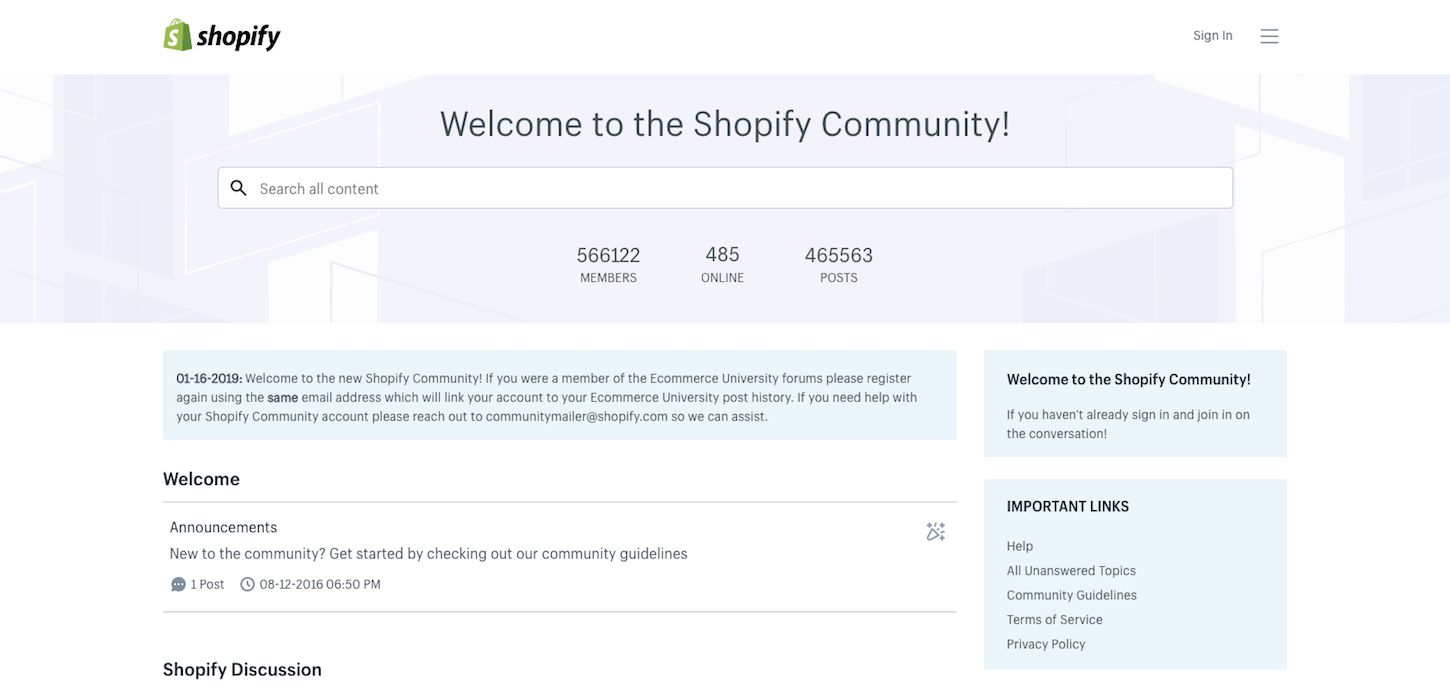 Shopify's community is another thing that is new on Shopify. Shopify community gives you a chance to connect the ecommerce professionals by providing accepted solutions, improved search functionality, and participation rewards.
The interesting features of Shopify Community are:
Search and keyword subscriptions: The users to subscribe to particular keyword mentions through the search subscriptions.

Access to accepted solutions: The posted solutions if accepted are

elevated for easy access and are highlighted as a "solved thread".

Multiple languages: By knowing the multilingual problems of merchants across the globe, you can grow your merchant base.

Participation rewards: The active participants can

earn badges and ranks when they demonstrate their expertise to the community.
E-commerce professionals can exchange their thoughts and information related to Shopify Website Development with one another on a global scale. The community section assists both the partners and the merchants.
Merchants can find a solution to their problems by inquiring their problems and reaching out to the community to help. They can share tricks and tips as well as share some expert advice. This is further moderated by Shopify support official who can help with apt answers to the query.
For partners, the Shopify community comes out as a chance to connect with the store owners and find out what services they need.
Conclusion
The innovations in Shopify will definitely attract potential merchants towards the platform. The new and interesting features in Shopify will help you provide better e-commerce solutions.
Hoping that these newest merchant improvements can help you grow your expertise as a Shopify Partner. In case you are seeking for Shopify website development, hire Shopify web developers from us.