Multi-Store eCommerce: In-Depth Comparison of CMS Solutions

Reaching out to a wider customer base has remained a well-known challenge for eCommerce businesses. Taking a Multi-store eCommerce approach can become a great choice to launch several web stores or store views for international expansion, multi-segment targeting, or brand separation.
Multi-storefronts give merchants the flexibility to grow their brand, segment, and geographic scope within the scalable context of a single account. – Brent Bellm, CEO at BigCommerce.
However, before you open a website with multiple storefronts, you should know the most suitable CMS solutions for Muti-store eCommerce. As Shopify, BigCommerce, Magento & WooCommerce are top picks for eCommerce players, Today we will compare & investigate their worth for building a Multi-store website.
Let's start from the beginning.
Multi-store eCommerce – A Quick Introduction
The eCommerce journey generally begins with a single store. Then the second one comes, and eventually, you realize that you need to have more. Managing multiple stores can turn overwhelming due to factors like complex store management. Well, this is where multi-storefront development comes into play.

With multi-store ability, you can create separate storefronts to target different customer segments while managing everything from a single admin panel. Apart from that, the multi-store approach is equally helpful to multiply the brand visibility & traffic to increase overall conversions. Check out a few more advantages:
Manage different business models from a single admin panel.
Brand separation to facilitate the targeted marketing campaigns
Smart business decisions with the unified data source for insights
Improve the customer reach and overall shopping experiences
Cut down the costs of expanding to new geographical territories
Typical use cases for multi-site eCommerce
Before we dive into our investigation, it's crucial to know whether or not a Multi-store setup suits your business. Running multiple storefronts at the same time is not easy. Additionally, it also requires huge development costs & resources. So before you decide to use multiple storefronts for eCommerce, here are some use cases to determine its suitability.
1. Selling under multiple brands
Diversifying the brand portfolio has always remained a popular strategy for business expansion. Having a separate store for each brand not only helps you manage the multi-brand business but also helps in keeping a watch on the ROIs from individual product line offerings.
Moreover, creating individual storefronts for each brand helps to improve the user experience. It lets you target the audiences using different branding, messaging & pricing strategies on storefronts for your eCommerce offerings.
2. Selling on multiple channels
Multistore websites make it convenient to sell products using multiple sales channels while managing them all in one place. Apart from that, it also helps the storeowners to process orders & track inventories for different sales channels using a single admin.
3. Running both B2B & B2C sales
It's a common practice to sell products directly to customers or other businesses simultaneously. Yes, we are talking about the B2B & B2C sale model. Creating separate storefronts for your B2B & B2C customers is much more convenient than operating two different stores.
4. Entering New Regional Markets
Targeting audiences using native languages has always remained a popular strategy, especially for e-commerce players looking for global expansion. Individual stores for each region enable your customers to find your products in their local languages, currency & shipping options, thus improving the chances of conversions.
Choosing the right platform for Multi-Store eCommerce
We hope that now you have better clarity on whether the multistore eCommerce model suits your business or not. The first challenge you face before diving into a multi-storefront model is choosing the right platform to set up and manage multiple eCommerce stores.
So which eCommerce CMS should you side with? The abundance of CMS platforms for online commerce can put you in a daunting situation while deciding on the best for your business. However, our experience says that when it comes to multi-stores, around 90% of eCommerce players opt for the following options:-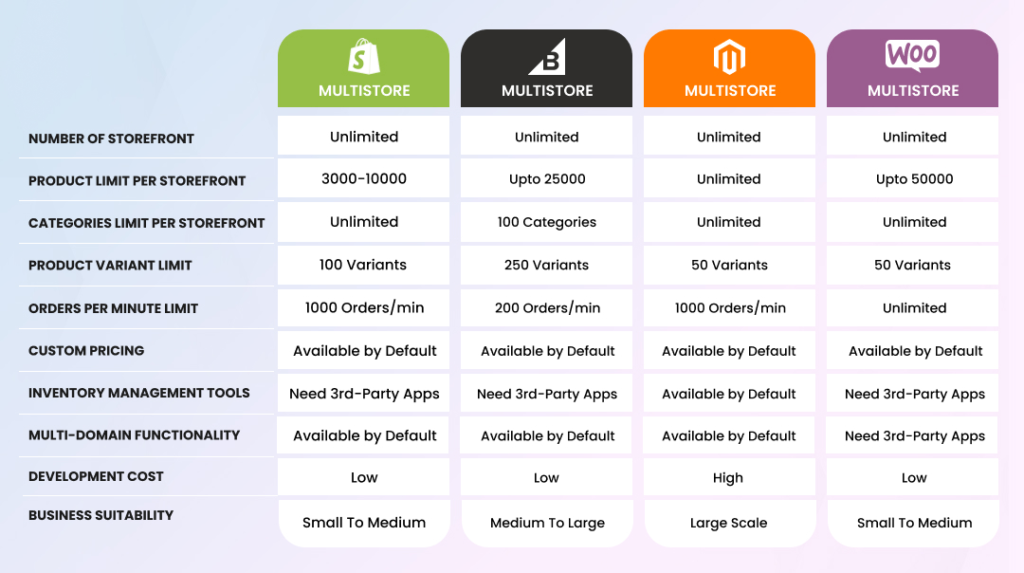 Let's review all these turnkey platforms so that you can choose the most suitable platform for diving into the Multi-store eCommerce model.
BigCommerce multi-store website development

BigCommerce has recently launched the MSF feature to let merchants create and manage multiple storefronts using their BigCommerce dashboard. The BigCommerce MSF feature lets you create multi-storefronts by visiting the storefront section in the channel manager.
The platform also gives you the option to power your new storefronts using the Native Stencil framework or third-party headless solutions. Additionally, you also have the option to apply the global settings on all storefronts or custom settings for each. Let's have a quick overview of default multi-store features on BigCommerce.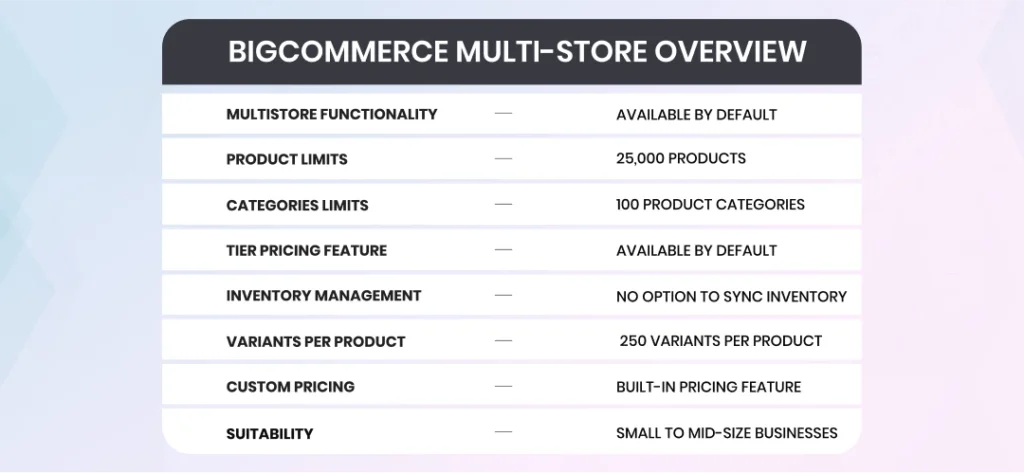 Creating multiple stores on BigCommerce has become a cakewalk since the introduction of the MSF feature. You can also refer to our five step guide to create BigCommerce multistore to do it with ease.
With inbuilt multi-site features, BigCommerce can be of the top priorities when choosing an eCommerce platform for multi-site commerce. Below are a few more features that make it a strong contender in the list.
Customize themes, scripts, widgets, & pages for each storefront
You can set or change the currency for each storefront separately
Get default options to set custom pricing rules & customer groups
Ability to apply unique product filters & templates for each storefront
Option to connect distinct domains and SSL with each storefront
BigCommerce Multistore Price Point
BigCommerce plans – Monthly payment between $29 and $299.
Additional Storefront Fee – $30 to $100 depending on subscription plans.
Theme template – One-time payment between $0 and $180.
BigCommerce apps– Average monthly cost of around $150
Considering the monthly subscription fee and additional cost of $30 to $100 for buying storefront seats once the complimentary quota is over, BigCommerce can cost you high when compared to other platforms in the list.
However, the high price point will be overshadowed by an extensive range of eCommerce features available with BigCommerce MSF.
Magento multi-store eCommerce development

Magento is yet another eCommerce CMS that can help you overcome the battle with multiple administration panels for multistore commerce. It's a highly suitable platform to start multiple store views with different attributes from a single instance of Magento CMS.
One of the most noticeable advantages of Magento for Multistore is that it lets you create as many stores as you need. In addition to it, Magento also offers a convenient way to have multiple teams working on different storefronts.
If you are considering Magento for your Multi-site business model, check out the default features of Adobe Commerce to decide whether it got what you exactly need.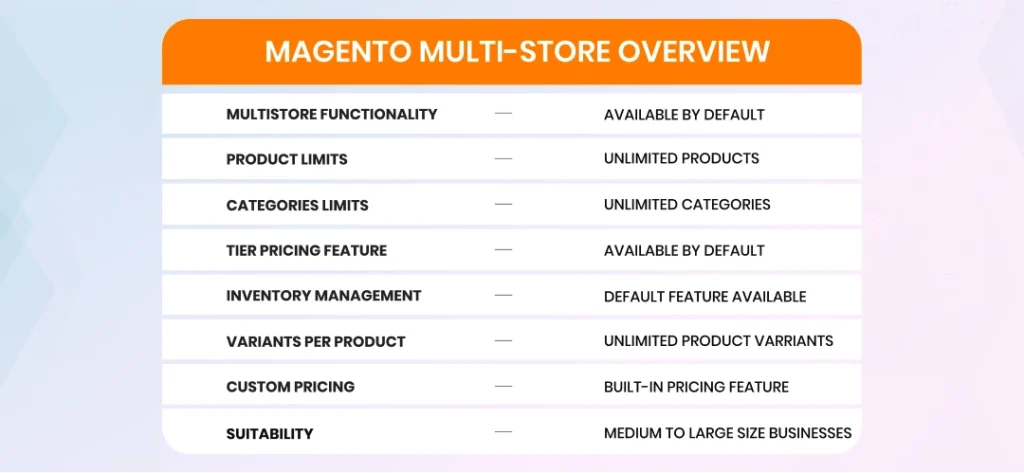 Our experience says that Magento is the best platform for expansion-minded merchants willing to manage complex eCommerce businesses using a single interface. You can take help of our guide for quick steps to launch Magento multistore to it even more conveniently. Before that, lets have a look on few more points to support Magento's upper hand in multistore eCommerce management.
You get the ability to change themes & extensions for each store.
Setting up different payments & shipping on storefronts is a cakewalk.
Magento doesn't have any product limits for using the multi-site feature.
Integrated multi-lingual, SEO management and marketing features
Ability to create distinct branding, URLs, & Micro-sites for brands
Magento Multi-store Price Point
Estimated Cost Based on Magento Editions – $0 to $22,000/year
Magento Extensions Pricing – $50 to $500/year
Magento Themes Pricing – $0 – $200
Magento requires a third-party extension to enable multi-store functionality. Apart from paying a subscription fee( If you are not on the community edition), you need to pay for the off-the-shelf multistore extension that can cost you around $50 to $500 annually. So, if you want to opt for Magento Multi-store, beware of the high development costs!
Shopify multistore eCommerce development

When we talk about eCommerce CMS solutions, Shopify holds a significant market share. But when we talk about running multi-store websites, the Shopify Plus plan is the only solution for business owners with scalability in mind. Basic Shopify, Shopify, or Advanced Shopify plans don't offer the store management feature that helps to manage multiple stores on Shopify Plus.
Shopify Plus allows you to create up to 10 stores under a single account. Each store can have its own inventory, payment & shipping options. However, you need to manage each store separately by switching between Shopify stores. Let's check out what Shopify got when we talk about its default features for a multi-store setup.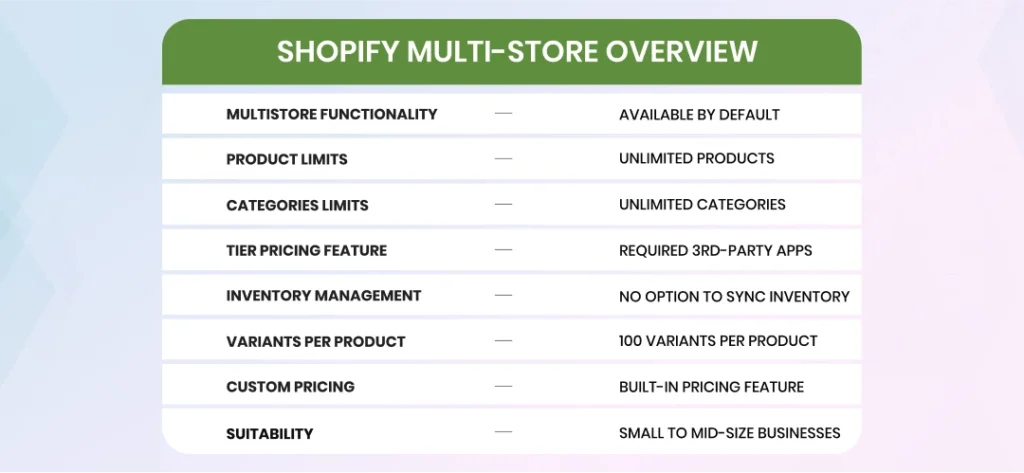 However, don't get disheartened if you use the standard Shopify plans. You still have the option to have multiple stores by registering a separate account using the same email address. Though it sounds like a cakewalk, multi-store management on standard plans can become a mess.
So here are some points that you need to consider before opting for Shopify for Multistore setup:
You can't create more than 20 stores unless you are on Shopify Plus.
Shopify has no native feature to manage orders in multiple stores.
You need to add/update products separately in each Shopify store.
Integration of stores with ERP or POS systems can become a challenge.
There is no feature to update inventory in each store automatically.
Shopify Multi-store Price Point
Shopify Plans – $29 to $299 per month, depending on your plan.
Theme/Template cost – One-time payment between $0 to $200
Third-Party Apps – $125 per month on an average
Now multiply these costs by the number of stores you wish to have and you will realize that Shopify's multi-store setup is not for the faint-hearted. However, it can become an incredible moneymaker if done right! You can refer to our step by step guide to setup Shopify multistore to avoid bottlenecks in the process.
WooCommerce multi-store eCommerce development

WooCommerce is another powerful option to create multiple stores using a single database. However, by default, it supports only a single store, and you need to install multi-site plugins to make it work multistore eCommerce. The CMS allows you to use sub-domains or subdirectories to create a multi-site network of as many stores as you want using the same account.
You also have the option to assign multiple lower-level admins to each store. Additionally, the Themes & plugins you install for one store get updated on all other stores automatically, thus reducing the efforts to add them to all stores manually. Let's check out the features WooCommerce has for multi-store commerce.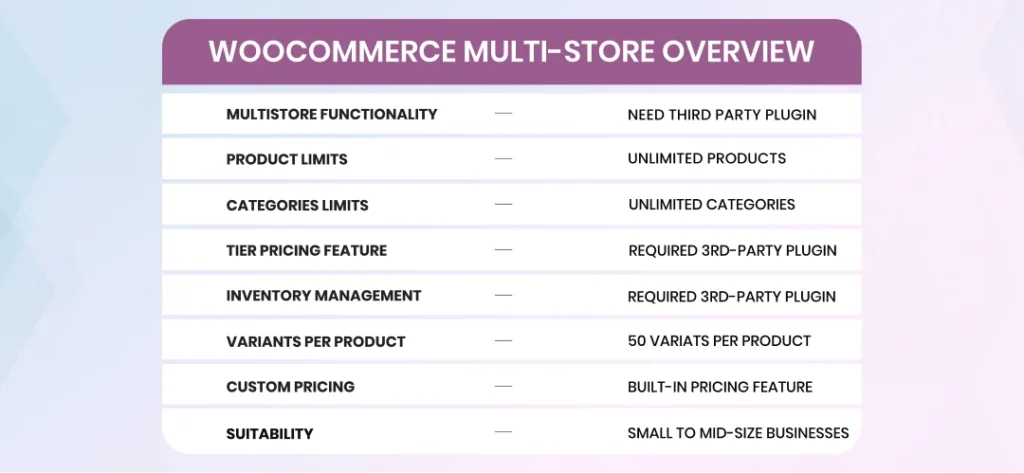 Though WooCommerce depends on various third-party plugins for an ideal multi-store setup, it is still a popular choice for many eCommerce entrepreneurs due to its agility and ease to use. However, you can't ignore the downsides that can restrict you from scaling in the future.
For storeowners who already use WooCommerce, setting up multiple stores can bring some unforeseen challenges. However, you can take help of our guide to setup woocommerce multistore to avoid confusions in the process. Here are some quick points to decide whether WooCommerce suits your multi-store approach or not:
Plugins you currently use may not work with the multisite network.
Error in the database/server force all the stores to go down together.
You have limited choices for themes compatible with multi-store websites.
There are limited hosting providers to support Woo multi-site setup.
Woo multi-stores have limited capabilities to handle large store traffic.
WooCommerce Multi-store Price Point
Cost of Multi-store Plugin for WooCommerce – $ 199 to $ 299 per year
Cost of multi-store theme or template – $0 to $150/year
Cost of other extensions/plugins for the stores – $100-$250/year
Setting up Multiple stores using WooCommerce is a cheaper option when compared to the other options. However, if you are planning to hire WooCommerce developers for your Multi-site network, you may need to pay a development fee that can go up to $1500.
Headless Multi-store eCommerce development

There is an increase in the trend where brands are turning to headless for achieving multi-store capabilities. The increasing demand has already forced the major CMS players to introduce Headless solutions for eCommerce players, and Shopify Hydrogen is the most recent example of it.
However, you have numerous other headless solutions too, and they can become an ideal choice for setting up a headless multi-store. Complete control over the customer experience and way of achieving multi-store make Headless architecture a perfect option. Here's a quick comparison of headless multi-store architecture with popular eCommerce CMS solutions.
However, if you are willing to or are already using a headless storefront, the approach to creating a multi-store website will be different. You can contact our team directly with your architecture details so that our experts can provide the most appropriate solution.
Headless solutions for Multi-site development can be the right choice in the following circumstances:-
You wish to deliver fast, captivating, and responsive user experiences
Don't want to waste time on installation & set up of traditional CMS solutions.
Wish to lighten the server's workload for websites with incredible speeds.
Need to set a higher standard for store security & resource preservation.
Have a good budget to invest in building headless solutions for your business.
Conclusion
Multistore eCommerce offers a wide playground for targeted marketing, thus offering a good scope for growth with minimal effort. We hope this blog will put you in a better position to choose the best-fit CMS platform for building multi-storefronts for your business.
However, a thorough thought on features, cost, customization abilities, scalability, and ease of use is necessary before you choose one of the above options. So, it's time to stop spending your fortune and time on the complexities of managing multiple stores from different admins, as multi-store development can help you do it from the convenience of a single reliable location.
So, are you all set to begin the quest? Let's get in touch to discuss your multi-store development needs.