Social Media Strategies For Business: Driving Sales Via Social Commerce
Something that is very exciting about Social Media is that it gives air to a completely new business – Social Commerce.
"According to a study, 23% of people buy through recommendations and 30% of buyers say that they would make purchases through Pinterest, Twitter, Instagram, or Snapchat.
And, from merchant's perspective, 25% of e-commerce owners are selling through Facebook and 40% of businesses are using social media as a whole to drive the sales."
This fact enunciates that with the world shifting to social, the commerce is shifting towards social as well. With advanced social media marketing tactics, merchants are influencing the visitors and transforming them into potential buyers. In other words, we can say that "Social commerce" is becoming an exciting phrase with the potential to tap a massive younger demographics of consumers via social networks.
This form of commerce is whipping the old-fashioned web shopping as it has brought all the products in one place which eliminates the need to shop from one website to another website. With social commerce, customers are just one click away from comparing prices for the products they are looking for. For Instance, you can know what other people are saying about that Rolex watch.
Undoubtedly, social commerce has been gaining momentum over the past few years, but what does it entail? Let's start with the basics:
What does Social Commerce actually mean?
Social Commerce is the entrance of social media into the vernacular of commerce. It's an effective way to streamline the buying process for customers and increase the efficiency of social media ads for online businesses.
This amalgamation of the 'social web' — friends, comments, groups, discussions and the world's favorite activity 'shopping' has created the term 'social shopping'.
Let's collate some of the benefits of Social Commerce
1. Authentic Engagement and Traffic: Social ecommerce allows e-commerce merchants to engage the audience and widen their reach whenever they share content. With the increasing number of likes, comments, and shares, the popularity of brand increases. Showing up as a brand in your follower's update regularly is a powerful branding opportunity.
2. Higher Search Engine Ranking: The high engagement activity on social commerce can lead to an increase in transactions and even more. It helps to increase the website traffic which leads to increased rankings on your eCommerce store.
Sharing the article links of content on your website via social commerce is an excellent way to drive traffic from the social platform's user.
Also, with an increased chance to attract a lot of users, social media makes the organic search engine ranking going to be higher.
3. Consistent Audience Growth: With more number of people joining the social media, base increasing daily, the visitors interacting on social media, the model that allows the users to interact and shop simultaneously is an entirely unique idea and so the probability of getting the audience on board increases.
4. Brand Loyalty and Customer Retention: Making the customers aware of the new products, special promotions, discounts, and much more, social commerce facilitates you to gain customer loyalty and retain them. Moreover, you can cross-sell and upsell with comparatively less effort.
5. Business Metrics from Social Media: Using social ecommerce makes it easy to evaluate the brand pages performance and measure the ROI accordingly.
For instance, on Facebook, the 'Audience Insights Tool' will help you segment your 'seed audience' based on the preferences and demographic details.
There are numerous social media strategies for businesses that are adopted by e-commerce merchants to generate sales. However, before that let's have a look at some social commerce features next.
Social Media Channels That Support Social Commerce Features
Today's most successful eCommerce merchants are not seeking just to grab customer's attention but also to join the conversation. However, what is the additional social commerce features that turn a normal social media channel into a sales platform?
Let's have a look at some of the features of Social Commerce
Social media channels like Instagram, Facebook, Pinterest, Snapchat etc. are capable of turning into social commerce channels. Each platform has its own approach for implementing social shopping features for brands.
The technical features can be considered as one of the key players in providing the intended online social shopping environment to make your product stand out. Here are some important social media channels that can be converted your into social commerce with features:
1. Instagram
With the increasing popularity of mobiles, Instagram is now coming up as the newest trend among the youth. It is now more than just a social media channel. This has revolutionized the commerce and shopping experience. Instagram enabled the online shopping trend further by introducing a new shopping functionality that will allow e-commerce merchants to create more comprehensive content experiences for the customers within the Instagram app.
With its 'shoppable feature', Instagram has greatly transformed the product discovery experience for the customers and has dramatically shortened the path to purchase. These posts and stories have allured e-commerce owners to choose Instagram which allows merchants to tag specific products. This helps the customers easily figure out the pricing of the product within his Instagram feed. Here is an example of Shoppable Posts: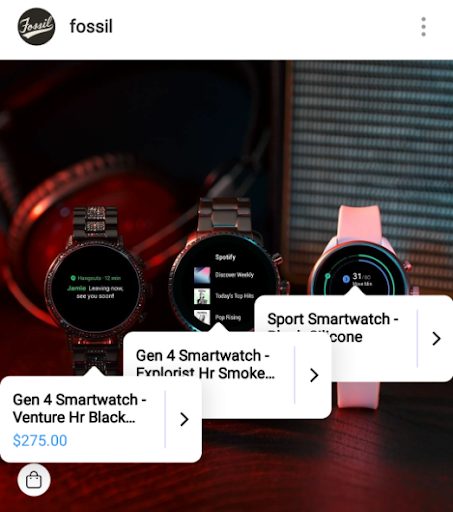 shoppable stories with buttons like 'see more' and 'swipe up'. The customer is then directed to the target product page. Here is an example of shoppable stories: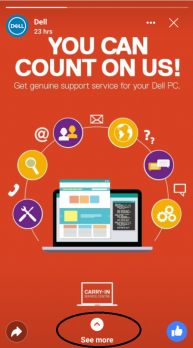 The other enticing feature that Instagram includes for enhancing social commerce is the 'Shop Now' and 'Install Now' buttons which lets the customer make a purchase by directly landing to the product page and checking out there.
The other enticing feature that Instagram includes for enhancing social commerce is the 'Shop Now' and 'Install Now' buttons which lets the customer make a purchase by directly landing to the product page and checking out there.

2. Facebook
According to Statista, 52% of respondents stated that they had discovered a product of interest to purchase via Facebook.
The 'Apply Now' and 'Sign Up' button lets merchants provide the decreased number of touch points to take a visitor from the point of inspiration to the point of purchase. Thus, Facebook is not only a brilliant place to drive engagement but also revenue and conversions.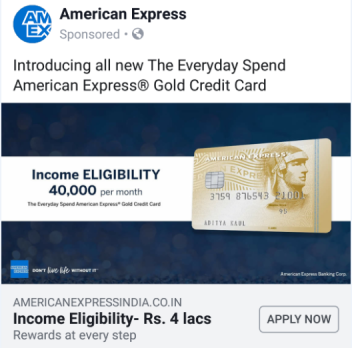 To ensure better targeting and achieve a remarketing success in your Facebook advertising, you should activate the Facebook Pixel in your ads account and install into your e-commerce website.
3. Pinterest
Pinterest is more than just a platform to collect ideas rather it's a marketing machine, where everything can be collected, pinned, and purchased. Merchants are leveraging Pinterest for their context-based search functionality, creating a smooth, relevant product discovery experience.
Social shopping today extends way beyond advertising with new features on social channels added regularly. Pinterest did the same to come out as a social ecommerce platform.
Earlier the brands with a Pinterest business accounts had a 'Buyable Pin' format which is now being replaced with 'Product Pins'. Instead of directly making a purchase on Pinterest, the customers now are led to the checkout pages on retailer's website.
With the introduction of product pins, clicks on products to retail sites have gone up by 40 percent.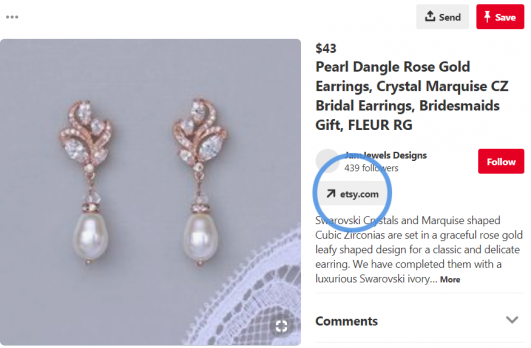 Where this feature facilitates the shoppers to engage with the brands effectively, it also allows merchants to provide easy discovery of their products which is the best way to help both the shoppers and retailers find a value.
Leverage the power of Social Media to generate Sales
Work with Social Media Influencers
The most important way to drive more sales through social media is by utilizing the power of social media influencers. You can get them to feature your product in their videos or photos by telling the customers an engaging story about your brand. If possible, work with influencers who will give honest reviews about your product, and provide tutorials about using your product.
Our team at The Brihaspati Infotech have developed a platform that allows you to identify the right Social media influencers for you from your customers. Take a look at Gatsby.
Educate Your Audience by creating valuable content
Write powerful content about your products. For instance, if you have a fashion accessory store you can showcase the 'look of the day' matching the accessory.
In short, make use of "informational" content which gives your audience some out-of-the-box ideas to using your products, thus providing a broader context to your product. Moreover, this kind of content displayed either in the form of an image or video, provides your target buyers with more reasons to buy your product. This facilitates in increasing conversions.
Investing in Social Media Advertising
Creating ads or promoting your content on social media channels is a good way to earn revenue. This increases your brand visibility among a section of your target audience which further escalate your chances of generating more sales from social media.
You can use the retargeting technique in terms of 'sponsored ads' on Instagram, Facebook, and Twitter to display specific products to a user who has recently viewed those on your website. This might be a reminder to entice them for making a purchase.
Share User-Generated Content
Asking users to share their photos online is a brilliant way to drive more sales through social media. Share those user-generated photos on your business pages will help potential buyers visiting your social media profiles. This way merchants can increase brand loyalty with existing customers.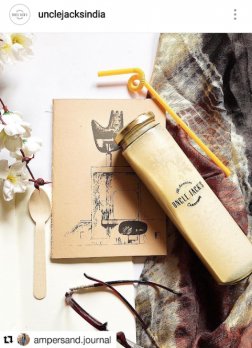 Here's an example of a post from an Instagram user named, @ampersand.journal.
This way you will turn your loyal customers into brand advocates.
Third-Party Apps and plugins for Social Commerce
While the social networks giants competed strong to find the effective ways of implementing social commerce, there are many third-party service providers who launched their apps and plugins to facilitate social shopping in e-commerce stores.
For instance, a third-party app called Boo.st works with Instagram. It allows you (as a merchant) to let your followers see the product, want it and then you boost it. After the buyers see the products of their desire, they post the comment or text and via SMS they are asked to confirm their order. You can use this app by simple registration and then start buying and selling process across platforms.
In a Nutshell
Social Media is the new online shopping medium that can help your retail business thrive. Employing social media strategies for business can help you attain the desired results.
Leveraging your social media is, undoubtedly, a smart way to dive into the pool of audience for driving sales and conversions. The audience insights further help you test and target your customers to perfection. Which means social commerce lets you emerge ahead of the curve and make your products stand out.
For any kind of expertise needed in your business, hire ecommerce developers from us today for a free consultation