Squarespace Audio Player Plugin: Web's Custom DJ 
Imagine a world without music—a world where melodies and rhythms, and are mere echoes of a bygone past. It's hard to even imagine, isn't it? Music is more than mere sound. It's a universal language that surpasses borders, cultures, and time itself. Undoubtedly music is the heartbeat of emotions, our lives' soundtrack, and every memorable moment's pulse. Our recent collaboration with a client led us to create a Custom Squarespace Audio Player plugin that is capable of transforming the way you interact with your audience through your website.
According to a study by the research firm Music Ally in 2023,
" 40% of music listeners surveyed said they use custom music player plugins. The study also found that the most popular custom music player plugins were those that offered features such as audio editing, and playlist management."
For those who organize events, play music, sing, or own a club and desire their website to be the prime destination for their followers, a flawless audio player is vital. However, finding a perfect audio player plugin can be a demanding task.
Squarespace Audio Player Plugin: Quest for the Perfect
Our client had been using one of the generic 3rd party audio plugins for their website on Squarespace. It was not only costing them above 70$ monthly but was also falling short of the unique requirements desired by them. That's where the custom Squarespace music player extension by The Brihaspati Infotech, a renowned Squarespace Plugin development company came into play.
Let's dive deeper to see how we simplified this challenging task
What did our Clients Desire?
They wanted a Squarespace Media Player Plugin designed to cater to their unique needs. They also wanted something that could function on their server.
A personalized admin panel where they can effortlessly create and manage playlists. Something that also seamlessly integrates with the Squarespace custom audio playlist plugin.
Technologies that drive our Squarespace Audio Player plugin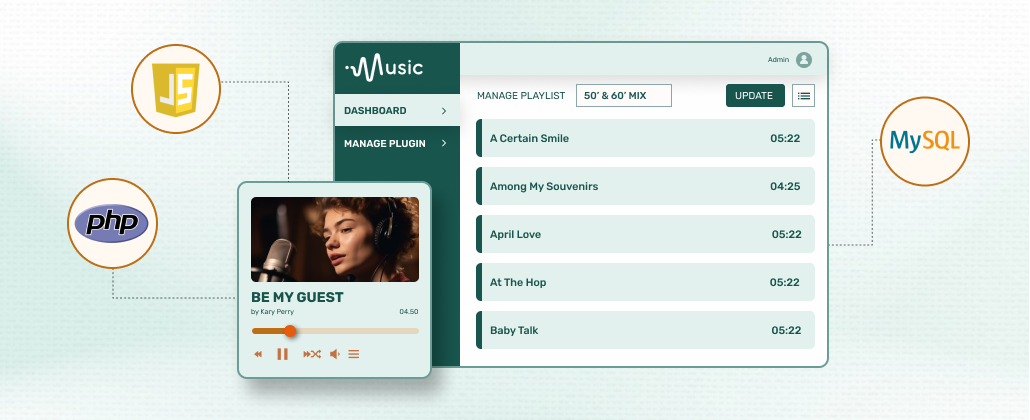 The core of our Squarespace media player plugin front-end is the dynamic collaboration of JavaScript and PHP. Moreover, these two web development giants have been handpicked for their versatility and compatibility. Why? Because we want to make integration easy for everyone, regardless of their technical background.
To manage playlists and songs accurately, we chose MySQL. Also, this powerful open-source relational database system ensures your audio content is organized and ready to use.
Challenges that Occurred through the Journey
Developing our custom Squarespace audio player plugin has been a journey full of dedication and innovation. However, we also faced many challenges. Let's take a look at the challenges we tackled to create a seamless integration for the Squarespace platform:
1. Squarespace Ecosystem Integration
Squarespace operates within its environment with its unique design and functionality. Hence, we had to align our code with its structure and ensure that the Squarespace music player extension functioned flawlessly within this environment.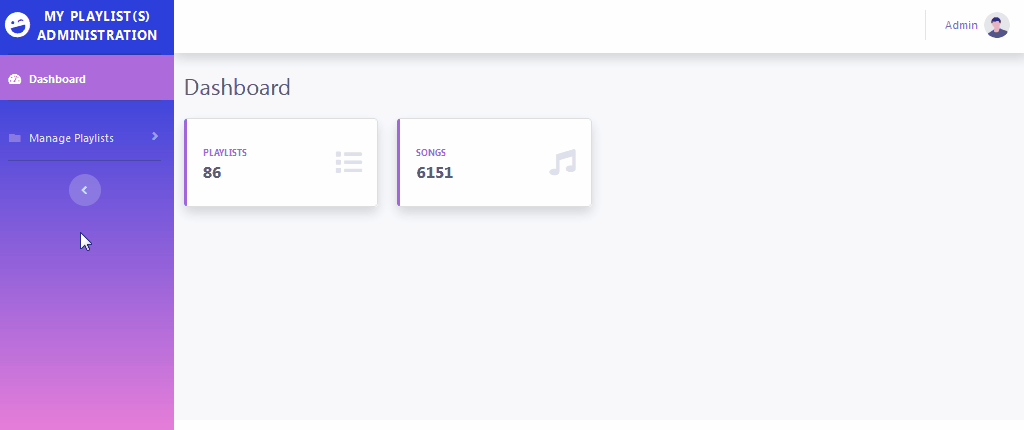 2. User-Friendly Integration of Squarespace Audio Player Plugin
Our challenge was to create an integration process that was accessible to users of varying technical backgrounds. Therefore, to strike the right balance between robust features and simplicity we took in user feedback and made continuous improvements to create an intuitive audio player that can give users an enriching experience without overwhelming them.
3. Database Optimization
Another hurdle was to effectively manage large numbers of audio files and playlists. So, we had to refine our database structure to ensure that it met the diverse needs of our users while maintaining optimal performance. Also, it allows the admin to customize playlists smoothly.
A Look into Finer Details of the Squarespace Audio Player Plugin
1. Customizable Design of Squarespace audio player plugin
The audio playlist plugin developed by our Squarespace Plugin development company seamlessly blends with your website's design, providing an immersive and visually pleasing experience for your visitors. Thereupon, they can change its color and customize it the way they want it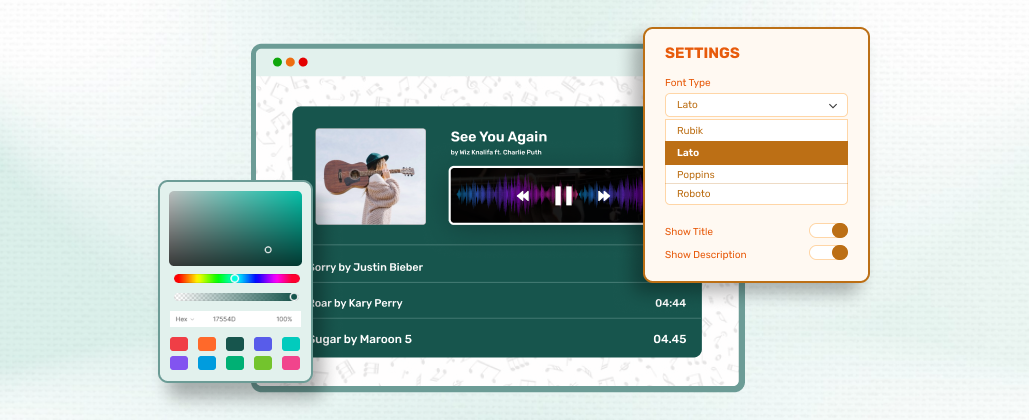 2. Responsive Layout
The Squarespace media player plugin looks great no matter what device you use. In a mobile-first world, this feature can give you a competitive edge in business. Therefore, a responsive design ensures a consistent, enjoyable experience for your audience.
3. Seamless and easy integration of Squarespace Audio Player Plugin
We know your website is the hub for everything related to your music, events, or entertainment business. Therefore our Squarespace music player extension integrates seamlessly with your existing website. No complicated coding, no headaches. Just embed the code and you'll have your audio player up and running in no time!
4. Personalized Layout Selection
Your audience can choose from multiple layouts for the Squarespace custom audio playlist plugin, including mini player to enlarged thumbnails – whichever layout works best for them.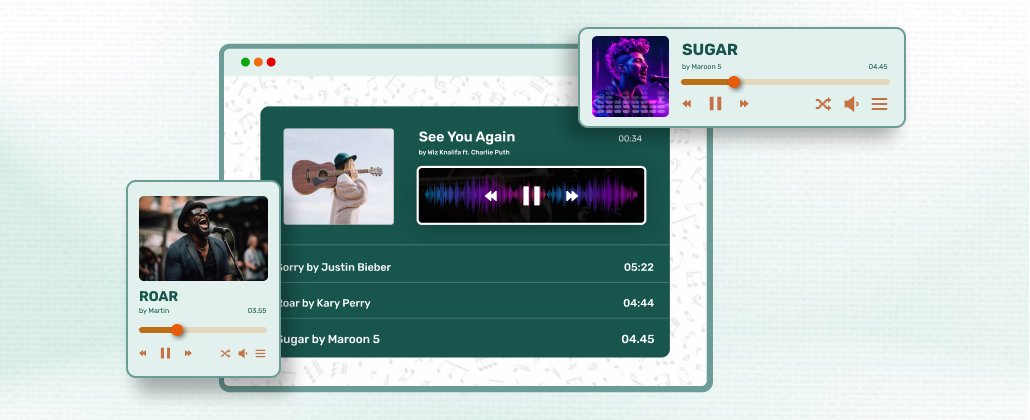 5. Easy-to-navigate Audio Player Widget
Fine-tune listening experience with volume control. Also, effortlessly navigate through playlists with previous/next track options and easily play and pause audio tracks. Furthermore, the progress bar helps to skip to any moment of a track quickly. Users can also easily shuffle the playlist with the toggle option to randomize the song order.
A Glimpse into the Personalized Admin Dashboard
Imagine being able to effortlessly customize the audio experience on your website just the way you want it. Our Squarespace custom audio playlist plugin's admin dashboard does just that. It moreover gives you an easy-to-use space that you can take control of without any technical expertise and easily manage the playlists and widget activities.
1. Add new songs to an existing playlist:
Adding new songs to your playlist is easy. Whether it's the latest chart-topping song or your own musical masterpiece. Simply upload your song, select your playlist, and let your audience enjoy your new creation.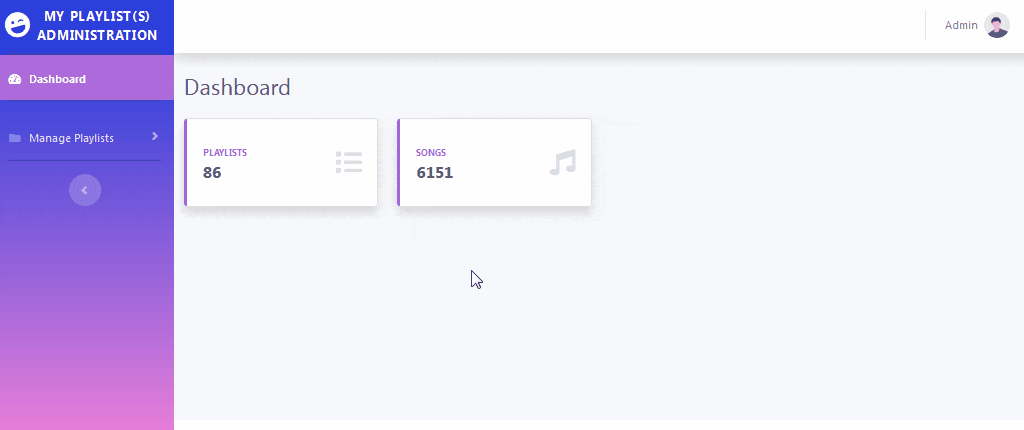 2. Delete existing songs:
Sometimes a title may no longer fit the mood, or you just want something clean. Therefore simply remove those songs from playlists with just a few clicks. Subsequently, adapt your audio content to your audience.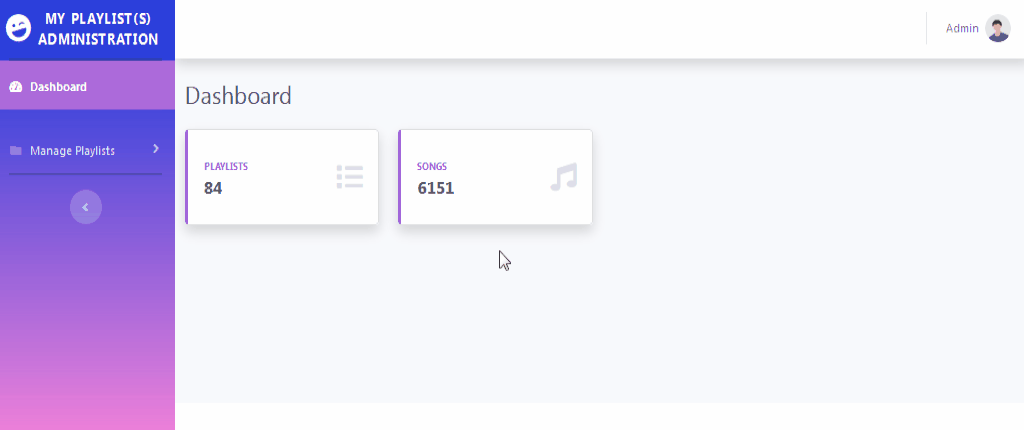 3. Create a new playlist:
New events, different moods, or unique themes – our admin dashboard lets you create new playlists quickly. You don't have to rely on predefined lists; your creativity can shine.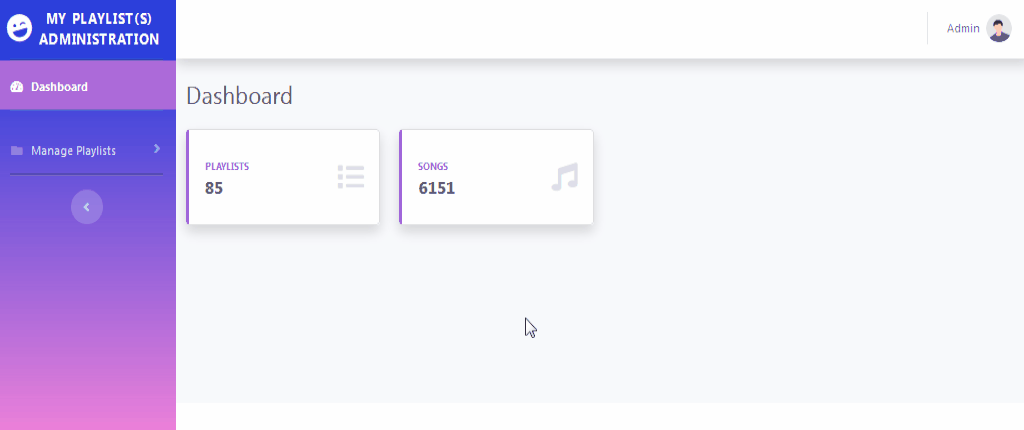 4. Delete an existing playlist:
As easy as creating a playlist, you can delete a playlist that has served its purpose. Thus you can keep your audio content organized and focused on what matters.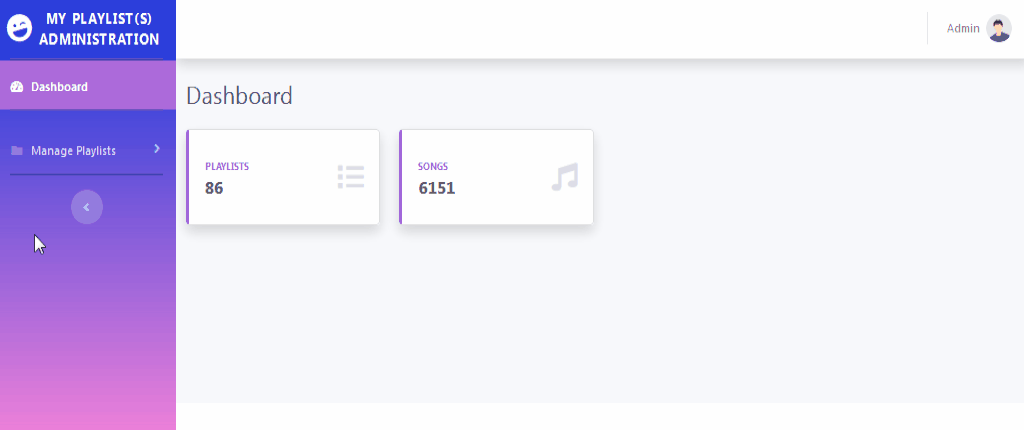 5. Edit song details:
Your audio content deserves the right information. Edit song titles and add artist names to ensure your audience knows what they're listening to, improving the overall experience.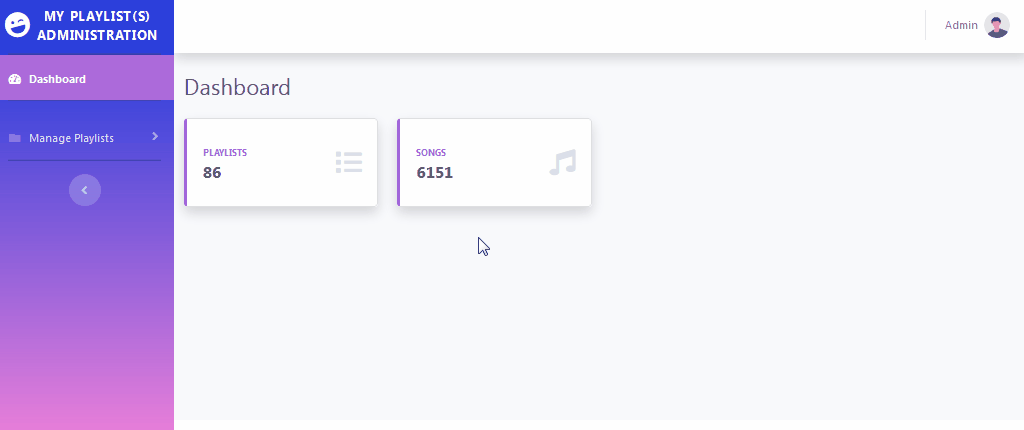 6. Control the appearance of your Squarespace Audio Player Plugin Playlist:
The aesthetics and user experience of your website are very important. Hence, we offer you two different versions to customize the look of your playlist:
Version 1: For those who prefer a minimalist look, this version offers a clean, elegant playlist display with only basic functionality.
Version 2: If you want to make a bold statement, Version 2 puts you in complete control. So you can customize the look and feel of your playlists with add-ons and delight your audience with dynamic features.
Our Final Words
In the ever-evolving digital era of music, events, and entertainment, standing out is essential. So, our Squarespace media player plugin allows you to create a unique, immersive, and memorable audio experience for your audience.
Whether you're a music company looking to showcase your artists, a DJ wanting to share your mixes, a singer aiming to connect with fans, or a club, pub, or bar seeking to set the mood – we've got all your needs covered.
If you're ready to elevate your event and engage your audience like never before. Get in touch with our Squarespace Plugin development company today!