Migrating Squarespace to Shopify – Guide for a Store Migration
Squarespace showed up in a time when the Internet had gradually started to grab attention. The Internet had started expanding its access from large scale businesses to young and ambitious SMBs.
Squarespace was a gamechanger with its unconventional website design approach, primarily targeted for business owners with zero technical assistance.
Currently, more than 2.36 Million Squarespace websites are active worldwide, among which 1.8 Million belong to the US alone.
Reasons are many:
Drag and drop website builder

Ideal for media-heavy websites

User-friendly admin dashboard

Easy Domain registration
The CMS makes an ideal platform for businesses that are taking the internet for mere trials and looking to deliver an eye-catchy website without hiring frontend experts.
However, Squarespace is limited to that. A gradually expanding business deserves a scalable backend for their website, allowing it to handle bulk tasks with ease. For example, an eCommerce website needs to take care of several products, customers, and orders at once. Crashing down is never an option.
We thus have separate eCommerce CMS platforms like Shopify that bring the best of a smooth CMS experience along with a robust backend to handle bulk functions.
In one of our recent projects, our client was interested in getting his Squarespace store migrated to Shopify. Realizing the repercussions of inefficient website migrations, the client had to hire Shopify experts from us.
We moved the store successfully along with the products, content, customers, orders, layout, and more. In the following image, we have a glimpse of the Shopify website we delivered: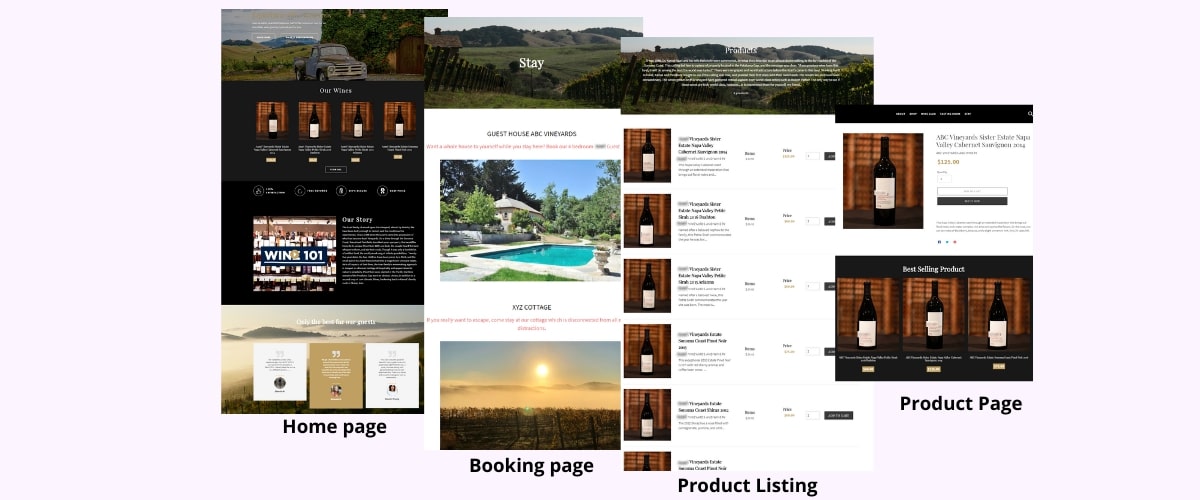 Through this blog, we will delve deeper into the complex process behind Squarespace to Shopify migration and how we managed to put things in place.
But before that,
Advantages of Migrating Squarespace to Shopify
Getting to the roots, Squarespace is a CMS platform that is designed to deliver an intuitive website. The platform adds more emphasis on flexible UI designs than a complex architecture to handle high-end functions.
As a result, it is quite obvious, the vendors are most likely to suffer in the longer run.
On the other hand, Shopify is an e-commerce platform that is primarily designed to smoothly handle complex functions. It can handle a surge in order placement without affecting your store performance. The platform has more to offer:
Managing products
With Shopify, vendors can easily add, remove and export a large number of products. Shopify is capable of handling the job. You can manage all your products with so much ease. There are multiple threads on the online community that speak of Squarespace's inability to export products with success.
Ready-made apps to manage the store
The Shopify app store is the house for thousands of applications catering to specific business needs. You are most likely to find an application that can readily integrate into your store for the unique function you want your store to deliver.
Multiple payment gateways
Shopify supports more than 200 payment gateway options for regional as well as global commerce.
Wider support Community
There is no limit to Shopify's support. Apart from the official forum, there is a huge community of third-party Shopify developers who can help you with tailored solutions per your business requirements.
In short, if you own a Squarespace store and are looking to expand, Shopify is the key. And with an experienced Shopify development team by your side, you don't have to stress out for a successful switching from Squarespace to Shopify.
Migrate Squarespace Website to Shopify: The Approach
Squarespace and Shopify are direct competitors, which adds up to the already complicated migration process. Squarespace offers an option to export the data. The function provides a list of options to export or skip data fields through the migration process. If not handled wisely, you are most likely to lose your precious customers, orders, and above all, products.
With that in mind, our Squarespace to Shopify migration services offered a complete data export before moving them to the new platform.
Migrating Products
Before reaching out to us, the client had tried his hands to transfer Squarespace to Shopify store. However, the exported file missed out on a few products. We tried to analyze the problem only to realize a common error during data export.
Online vendors have this habit of showcasing only the products that are currently available. The seasonal and out of stock products are either hidden or temporarily removed from the store.
These hidden products usually don't show up at the time of data export. And that was something that happened with the client when he took the task to his control.
We made sure that all the products are successfully exported with the related data:
Product images

Price

Product description

Description

Available Variants
And, that helped: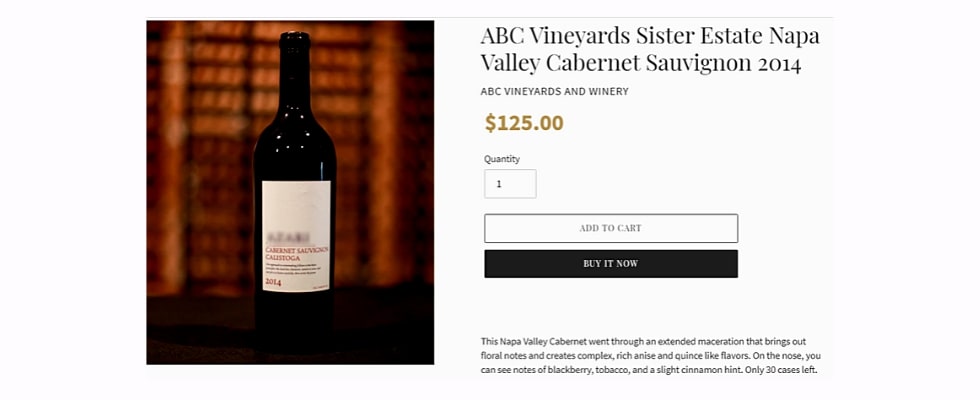 Migrating Content
The website had multiple landing pages, each catering to a different need.
Home page

About us page

The e-Shop

Page for local branches and their addresses

Page for Airbnb bookings
Each page has contents, Heading files, font styles, High-quality images, and more. We copied everything as they were, and keeping a backup before switching from Squarespace to Shopify.
The result: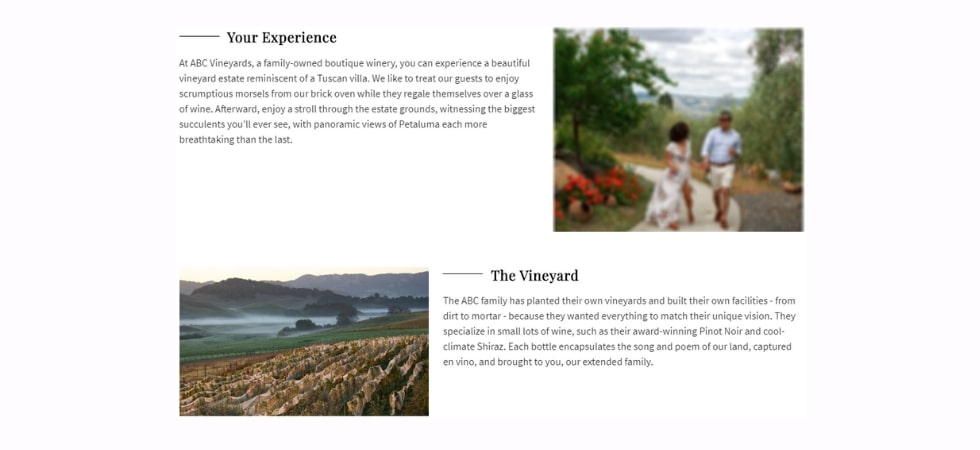 Theme development
The client knows the platform is migrated. As a third party e-Commerce development agency, we know the platform is changed. The end-customers should only have a similar experience with their favorite store, or if possible, better.
The Shopify theme store didn't offer the exact layout we were looking for. We thus installed Shopify Debut Theme. We customized the theme at every front to ensure that the final website seems familiar to the customer base.
Defined regions for content and images

Action buttons were at their place

Uniform color scheme throughout the website

Placing products and related information
The following image is from the home page of the migrated Shopify store.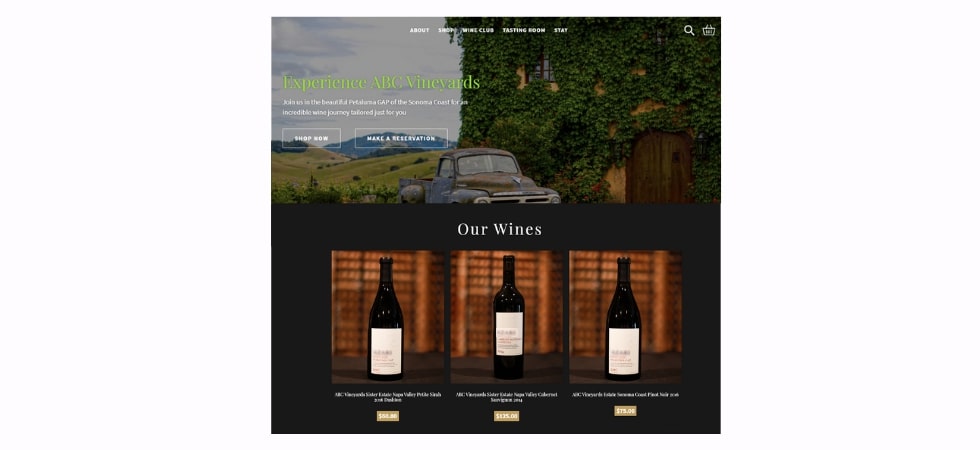 It is noticeable that the Shopify based page looks very similar to a CMS based frontend with a theme background, the shop name, and the action buttons, which are quite unusual for a Shopify store.
The home page also offers space to the products, unlike a usual CMS front. In short, migrating Squarespace to Shopify by our developers brings the best of the two platforms.
Managing URLs:
A website is more than the content and its media files. It is the house for hyperlinks that keep the pages connected internally as well as with third-party online resources. The existing Squarespace website apart from developing a complete network of URLs led the users to the business owner's Airbnb-based listings.
We provided a separate landing page dedicated to the Airbnb accommodations named STAY. The accommodations have a link forwarded to the respective Airbnb listing, as shown in the picture below: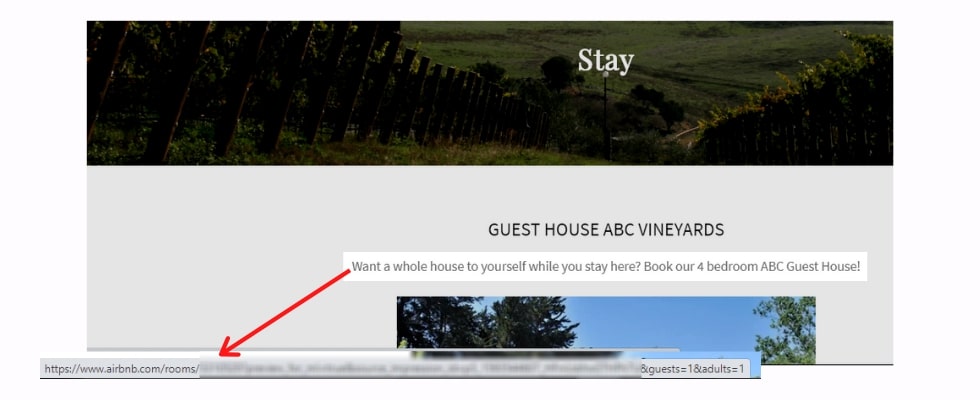 With that, the new store is a complete migration from Squarespace to Shopify. But now that an experienced team was at their help, the client wanted additional help in his store.
Checkfront API integration on Shopify
Having said that the client also offers accommodations that are also listed on Airbnb, the client wanted us to find a way to offer stay bookings right from the store. This was easy, however synchronizing the confirmation across two different booking platforms, certainly wasn't.
At this, we used the Checkfront API that can manage the booking and calendar with ease. The users can select dates, check-in timings, and confirm their Airbnb stay without actually scrolling through the Airbnb portal. The following Gif file explains the rest: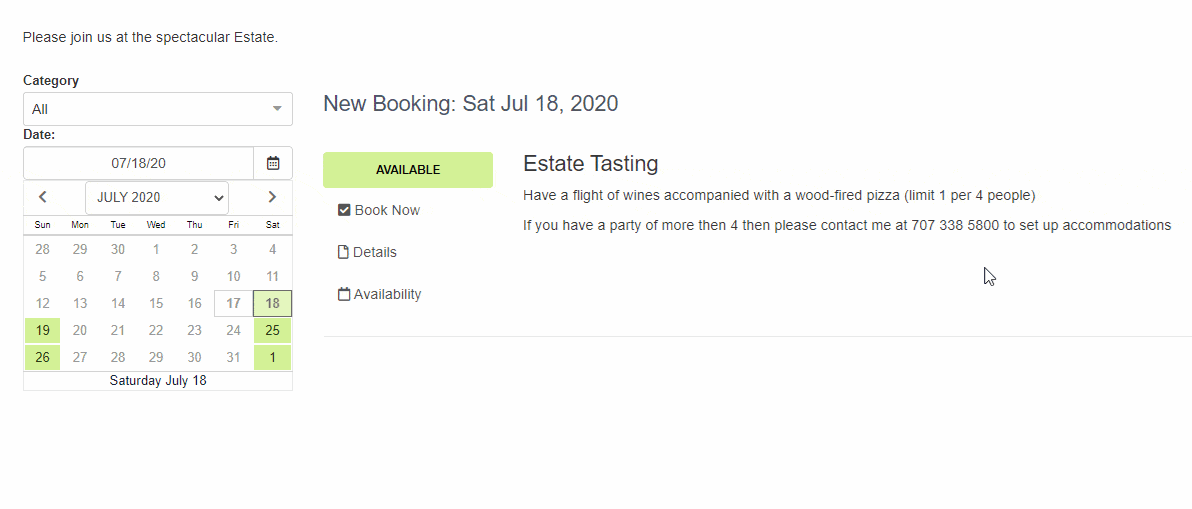 With that, we helped the client migrate from Squarespace to Shopify with success. And all this has taken place without hampering the store performance.
Our Squarespace to Shopify Migration Company
In the past, the expert eCommerce developers at The Brihaspati Infotech have helped several clients to migrate their eCommerce platforms. And, we have done every needful to make the migration process smooth, so that the clients don't lose their precious data while enjoying the best of an upgraded platform.
In one of our previous blogs, we have discussed data migration from Magento to Shopify where we assisted the client in moving his Magento Store to Shopify without losing any data. Even though the terms are very much similar in both the cases (Products, Customers, Data and orders), migrating to an eCommerce store(Shopify) from a CMS platform (Squarespace) and another eCommerce platform (Magento) are really two different concepts. Priorities change, so are the considerations.
Final words:
Businesses are unique. So are the platforms to build a website. It is thus imperative to select a CMS platform that perfectly meets your business demands.
If you too are looking around for an Agency to migrate Squarespace to Shopify or just want a custom eCommerce development for your store, you can always reach out to us.
You can also contact us to book a consultation for your eCommerce business. Our experts are known to offer excellent business advisory.